Antarctic Circle
From $9,620
|
15 Days / 14 Nights
Venture deep
into the
normally
winter
-locked landscape of Antarctica—h
ardly anyone sails this far south, let alone goes ashore.
Experience close encounters with
penguins, seals, whales
,
and birds
, and embark on
hiking, kayaking and snowshoeing
expeditions.
You might even get a chance to
spend a night ashore in a tent
.
This is the ultimate Antarctic adventure.  
View Google Map of Region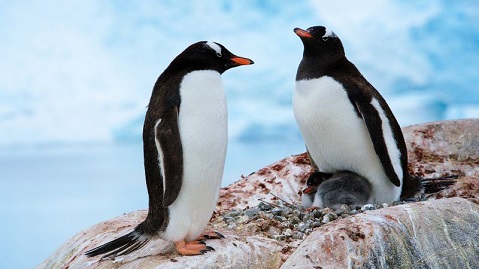 Daily Overview
Day
Destination
Activities
1
Ushuaia
Optional park excursion

EMBARKATION

2
The Drake Passage
Cross the notorious Drake Passage

Lecture series on Antarctic wildlife, history

3
The Drake Passage
Lecture series continues

Prepare for your arrival in Antarctica

4-12
Antarctica
Nine adventure-packed days deep in Antarctica

Hike, kayak, observe wildlife, and explore

13
The Drake Passage
Relax on board after exploring Antarctica

Lecture series continues

14
The Drake Passage
Share photos and experiences on board

Lecture series continues

15
Ushuaia
DISEMBARKATION

Optional excursions in Ushuaia
Note: This is an expedition where the elements rule, and the weather, wind, and ice conditions will determine our schedule. Safety is paramount and the captain will decide the final sailing itinerary during the voyage. Hence, this itinerary is just an indication of what you can experience and why every expedition with Hurtigruten is unique.
Detailed Itinerary
DAY 1 / USHUAIA / EMBARKATION 
Explore Ushuaia for a few hours, where the Andes meet the Southern Ocean. In this busy port and adventure hub, you may also choose to join an optional excursion to Tierra del Fuego National Park. In the evening after embarkation, the ship sets a course through the scenic Beagle Channel, headed for the Drake Passage and Antarctica.
DAY 2 / THE DRAKE PASSAGE 
The Drake Passage is the stretch of ocean between the southern tip of South America, also known as Cape Horn or Tierra del Fuego, part of Chile, and the South Shetland Islands of Antarctica, off the coast of the Antarctic Peninsula. On the way across the passage and towards "the ice," as it's often referred to by our expedition leaders, you can learn a great deal about Antarctica's natural wonders and fascinating history.
DAY 3 / THE DRAKE PASSAGE 
The Drake Passage is famous for having some of the roughest and most unforgiving waters in the world. Here, two oceans meet. Sailors call it the Drake Lake, when the water is smooth, or the Drake Shake, when the water is rough.
DAYS 4-12 / ANTARCTICA 
The Antarctic continent is an endless white wilderness, full of overwhelmingly stunning vistas of nature and wildlife. On this special trip, our ship crosses the Antarctic Circle at latitude 66° 33' 39''. You'll have the opportunity to go ashore at several sites, joining activities such as hiking, kayak trips, and snowshoeing. You might even have the chance to spend a night ashore in a tent. Witness what the winter-locked landscape of Antarctica looks like in summer and set foot where few have gone before you.
Visiting the South Shetland Islands is something to look forward to. Deception Island, Half Moon Island, and Yankee Harbour all feature diverse landscapes, amazing animal life, and spectacular photo opportunities. Errera Channel is a remarkably narrow but nonetheless awe-inspiring passage to and from Cuverville Island, while Neko Harbour is feeding ground for shy minke whales. Paradise Harbour offers another rare opportunity for a mainland landing, with arguably some of the finest vistas in the entire Antarctic Peninsula. The Lemaire Channel is known as one of the most beautiful passages in Antarctica and Petermann Island is a great place to gaze out at icebergs and maybe even spot some whales.
On the British base Port Lockroy, you'll enjoy a peek into life on an Antarctic base in the 1950s. Wilhelmina Bay is feeding ground for whales and seals, and was a preferred hunting ground for whalers back in the days. You'll see evidence of the whaling industry in the partially submerged wreck of a Norwegian whaling ship, which you may see from up-close in a Polarcirkel boat. The 48-kilometre Antarctic Sound is home to an estimated half million Adélie penguins as well as gentoo penguins, leopard seals, and killer whales.
On Brown Bluff, you may have the opportunity to land and take a walk along the beach, admiring the lava "bombs" from the old volcano along with the many penguins. There will be a chance to walk to the viewpoint above the landing site. On Detaille Island we find the former geology and meteorology "Base W" of the British Antarctic Survey. Finally, on Horseshoe Island we'll see an important example of a relatively unaltered and completely equipped British scientific research station from the 1950s.
DAY 13 / THE DRAKE PASSAGE 
After nine unforgettable days in Antarctica, the ship takes you safely back across the Drake Passage. The voyage to Ushuaia at the southern tip of Argentina is roughly 950 km—which amounts to approximately 40 hours of sailing time in good weather.
DAY 14 / THE DRAKE PASSAGE 
On your way back to civilization, partake in our lecture series and relive your experiences in Antarctica.
DAY 15 / USHUAIA / DISEMBARKATION 
Upon arrival in Ushuaia in the morning, join an optional excursion.
Dates & Prices
Itinerary Code (Name of Itinerary)
Itinerary Start Date
 Route
Duration (Nights)
Ship Name
Fare Range
Category Price PP
Polar Inside
Polar Outside
Arctic Superior
Expedition Suite
I
FJ
N
U
F
M
MG
ENAN-02
(Antarctic Circle)
1/26/2018
Ushuaia/Ushuaia
14
MS Fram
Min
$9,620
$10,490
$11,540
$12,980
$14,990
$16,360
$20,500
Max
$12,820
$13,980
$15,390
$17,310
$19,990
$21,820
$27,340
2/9/2018
Ushuaia/Ushuaia
14
MS Fram
Min
$9,620
$10,490
$11,540
$12,980
$14,990
$16,360
$20,500
Max
$12,820
$13,980
$15,390
$17,310
$19,990
$21,820
$27,340
Prices are per person based on double occupancy.
ENAN-02 Port Charges: N/A
ENAN-02 Single Supplement:
Polar Inside: 75%
Polar Outside:75%
Arctic Superior: 75%
Expedition Suite: 100%
*Note: Flight from Buenos Aires to Ushuaia is not included in package; can be purchased at additional cost
Inclusions
Hurtigruten Expedition Voyage in cabin category of your choice on a full board basis (daily buffet breakfast, buffet lunch, and set or buffet dinner)
Wind- and water-resistant jacket
Landings and activities on board and ashore
Professional English-speaking Expedition Team that gives lectures and accompanies landings and activities
Complimentary use of Muck Boot rubber boots
Complimentary tea and coffee
Ship Details
MS Fram
| | | | | | | |
| --- | --- | --- | --- | --- | --- | --- |
| Built | Length | Decks | Cabins | Passengers | Cabin Size | |
| 2007 | 114m | 7 | 127 | 318 | 10.5 - 39m² | More Details |
Travel Tips
Antarctica
Travel Documents / Visas
1. Passport
Canadian citizens must have a valid passport for the entire duration of their stay in Chile or Argentina.
Our cruise partner Hurtigruten requires that your passport be valid for 6 months after the end date of your trip.
Citizens of other countries should consult with their travel agent or our office.
2. Visa
No visa is required for citizens of Canada to enter either Chile or Argentina.
Reciprocity Fee – Argentina (MS Fram expedition programs)
The Argentine government charges a reciprocity fee to Canadians travelling to Argentina. This fee must be prepaid online at the website of the National Immigration office. It is valid for multiple entries for the validity of your passport provided you retain copies of the receipt.
Packing List
A handy checklist of what to bring on your trip can be downloaded here.
Insurance
You MUST have travel insurance to participate in any Antarctica program. Options on coverage are available from your travel agent or here.
Smoking
Not permitted anywhere indoors. There are designated areas on the outside decks. It is also not permitted to smoke on land in Antarctica in the interest of protecting the environment.
Weather
Cold…
More specifically, during the 'summer' months between November and March (the only time of the year that tourist vessels go), the daytime temperatures are usually in the single digits (0-5C). In the evening, temperatures will dip below freezing. It should be noted that the weather in Antarctica at this time of year is usually warmer than most Canadian cities at the same time.
Please remember though, it is really summer in the gateway cities of Buenos Aires and Santiago at this time of year – temperatures could easily be in the 30s. You will need to have both some summer wear and proper winter attire for this trip.
Arrival / Departure
Upon booking, we will provide detail instructions on where to check-in for your trip to Antarctica in either Buenos Aires or Santiago (It will be a centrally located hotel.) You must check in the day prior to departure to receive last minute instructions on where and when you will be picked up for the transfer to the airport. Your trip will begin and end at this same point.
On your return, the charter flight back to the city of commencement will arrive sometime in the afternoon. If you are flying back home this same day, we strongly recommend that you do not book a flight prior to 8:00 PM. We cannot assume any responsibility for missed flights due to any delay of the charter flight.
Money
The currency of Argentina is the Argentinian Peso (ARS).
The currency of Chile is the Chilean Peso (CLP).
Antarctica does not have currency as it is not a sovereign state.
Onboard, you will be issued a cruise card which you can use to charge all purchases during your voyage. You must provide a Visa, American Express, Diners or MasterCard that is valid for at least 3 months after your trip date.
The final bill will be charged to your account in Norwegian Kronor (NOK).
ATM's accepting most international debit and credit cards can be found in abundance in both Santiago and Buenos Aires. However, after you leave these cities for the trip, it is extremely unlikely you will see another ATM until you return. We regret, there is no currency exchange facility onboard the ship.
For small purchases in the Antarctica research stations (i.e. Port Lockroy), you can use US Dollars, while British Pounds and Euros are also accepted.
Gratuities (Tipping)
Gratuities suggested by the cruise line are:
USD 12.00 per guest per day to be divided amongst the entire crew.
Laundry
Laundry service is available for a small fee. Regrettably, dry cleaning is not available.
Excursions
All regular shore landings as noted in the itinerary are included in your voyage. Some additional excursions may be available on board at an extra cost. Please check with us or consult the purser onboard for additional information.
Your shore landings will start a zodiac boat ride to shore where you will land and be assisted onto shore via some portable steps. The ground is usually small rocks / gravel and sometimes could be snow-covered.
Activity Level / Strenuousness
Light to Moderate – Participation in the shore landings requires the ability to board (with assistance) a zodiac boat from the main ship and on to shore. There are no long distances to walk in Antarctica.
Environmental Protection
Antarctica is one of the last 'pristine' environments remaining on the planet. It is a privilege to be able to visit it. As the numbers of visitors are increasing each year, the risk of damage to the fragile ecosystem is large. As a result, relatively drastic measures are undertaken by our ships to ensure the impact is kept to a minimum. All voyages will follow the guidelines set out by the International Association of Antarctic Tour Operators (IAATO). We encourage you to read a copy of those guideline which are available on the IAATO Visitor Guideline webpage.
Food
Breakfast, lunch and dinner are all included in your cruise fare.
If travelling via Argentina, do try one of their fantastic steak houses. 'Bife de Lomo' is the equivalent of a filet. Of course no Argentinean steak would be complete without a glass of terrific local Malbec or one of the many other fine wines locally.
In Chile, the steak is probably just as good as in Argentina. However, Chilean seafood is superb.  'Machas a la parmesana' or clams in parmesan cheese is a local favourite. If you're just looking for a snack, you can go wrong with a few 'empanadas' (little pastry shells with various fillings). The Chilean wine is also equally as good as the Argentinian. Our advice: Avoid the big brand names you can find at home – there are literally thousands of other choices.
Language
Your shipboard staff all speak English and usually at least one other language. Spanish is the tongue in both Argentina and Chile. In most shops and larger restaurants, people will speak a smattering of English. A phrasebook would not be unhelpful though.
Medical Facilities
There is an English-speaking physician and nurse on board at all times. The ship has a small medical facility with the necessary equipment and drugs to handle small emergencies. In the event of a serious emergency, the nearest hospital will be contacted. Medical consultations as well as medicines will be charged to the passenger affected. If you depend on medication, remember to bring sufficient supplies to last through any unforeseen delays. We also recommend that you keep your medication in your hand luggage properly labelled and with clear instructions for its use. If you depend on vital drugs, please inform the ship's doctor upon arrival.  Illness on board can lead to quarantine and orders from the ship's physician and captain, must be followed.
Please note that all guests must have personal travel/health insurance and must provide a confidential medical declaration form to the onboard doctor. Details will be provided well in advance of your departure.
Phone & Internet
There is a phone in each cabin. Call rates are very high as a satellite connection is the only one possible.
Wi-Fi is available in certain areas of the ship at a modest charge. As it is a satellite connection, internet speed will be very slow and we suggest it be used for urgent matters only.
If you would like to have regular data and phone connection while in Chile or Argentina, we suggest either arranging an overseas roaming plan with your mobile operator, or pick up a local SIM card if you have an unlocked phone.
Health / Vaccinations
There are no vaccinations required to travel to Antarctica or via Argentina or Chile. However, we suggest you consult your physician with any specific personal requirements for this program.
NOTE: You must provide a completed, confidential medical declaration signed by your doctor upon boarding the ship as required by IAATA guidelines. If you have any concerns about health issues that may influence your ability to be accepted for travel, please contact us at the time of booking.
You must also have travel insurance to participate on this voyage.
Safety & Security
Antarctica is probably the safest place on the planet.
Buenos Aires and Santiago are large Latin American cities where crime is prevalent and appropriate precautions are recommended.
We highly recommend leaving all valuables at home or at least in the safe deposit box in your hotel room. Be aware at all times, particularly in crowds or at night. We suggest to avoid walking alone in the city at night – best in small groups.
For current advisories, please consult the following
https://travel.gc.ca/destinations/chile
https://travel.gc.ca/destinations/argentina
Suggested Reading
Endurance: Shackleton's Incredible Voyage
The Ferocious Summer: Palmer's Penguins and the Warming of Antarctica
Fixing Antarctica: Mapping the Frozen South
Ordeal by Ice: Ships of the Antarctic