Enticing Douro
From $5,060
|
11 Days / 10 Nights
Spend three nights in
vibrant Lisbon
before
cruising the
Douro River, with its dramat
ic gorges and sleepy
fishing villages.
See the ancient city of
Lamego
and explore
Salamanca,
Spain, a UNESCO-listed living museum.
Experience the luxuriant Palacio de
Mateus
before returning to Porto, where you'll learn about local traditions and sample the city's famous wine. 
View Google Map of Region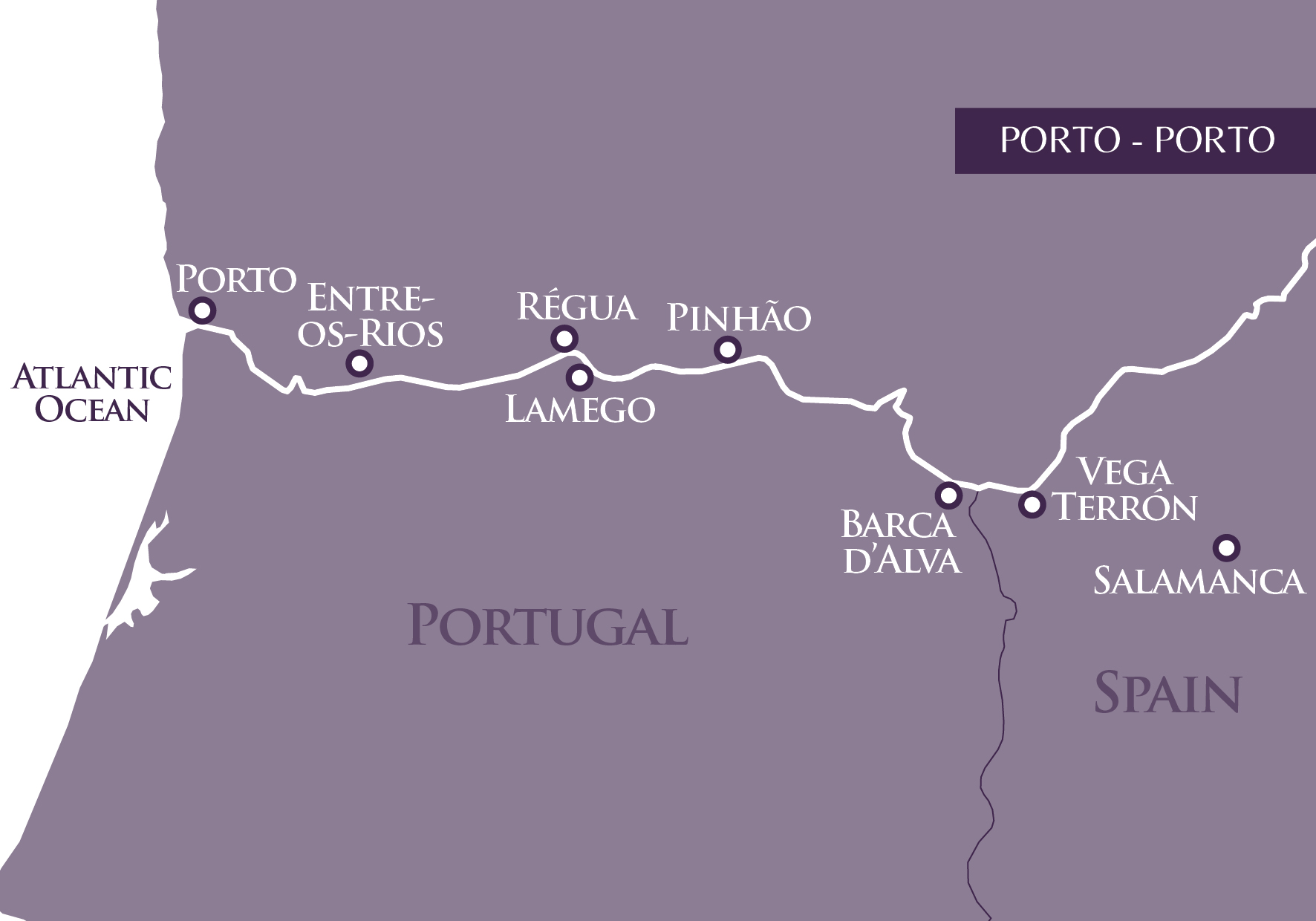 Daily Overview
Day
Destination
Activities
1
Lisbon
Hotel check-in

Free time to explore the Portuguese capital

2
Lisbon
City tour featuring iconic landmarks

Afternoon exploring Lisbon at your leisure

3
Lisbon
Excursion to the hilltop town of Sinta de Serra

Wine tasting or free afternoon in Lisbon

4
Fatima

Porto

Explore Fatima, an important pilgrimage site

EMBARKATION

5
Régua
Optional Lamego city tour and wine tasting

Optional Bolas de Lamego tasting

6
Barca d'Alva
Morning spent cruising

Tour the Figueira de Castelo Rodrigo

7
Barca d'Alva

Vega Terrón

Excursion to Salamanca, Spain and city tour

Evening flamenco show

8
Pinhão
Morning spent cruising

Wine tasting and lunch at Quinta da Roêda

9
Régua

Entre-os-Rios

See the Palacio de Mateus

Dinner at Casa de Vila Verde

10
Porto
City tour and port wine tasting OR hike OR walk

Taste of Matosinhos tour

11
Porto
DISEMBARKATION
Detailed Itinerary
DAY 1 / LISBON  
Arrive in Lisbon and check in to your hotel. The remainder of the day is free to explore the Portuguese capital on your own.
DAY 2 / LISBON
One of Europe's most beautiful cities, Lisbon lies sprawled across the hilly banks of the Tagus River. On a guided tour, see Belém Tower, a fortified four-story limestone tower, and visit the Late Gothic Jerónimos Monastery, the burial place of Portuguese kings and heroes. You will also see the Padrão des Descobrimentos (Discoveries Monument), which commemorates Portugal's Age of Discovery and honours some of the country's greatest maritime explorers.
Spend an afternoon exploring the city's many attractions at your leisure, including the Castle of São Jorge or the Santa Justa Elevator overlooking the castle, river and Rossio Square. Mooring overnight.
DAY 3 / LISBON / SINTRA
Enjoy a morning excursion to Serra de Sintra, one of Portugal's most charming mountain villages and the preferred summer residence of the royal family for more than five hundred years. A long-time source of inspiration for artists and poets, Lord Byron once called this village "the most delightful in Europe." You will also tour the Romantic-era Castelo da Pena, a storybook castle perched atop a rocky hilltop. Afterwards, enjoy a wine tasting or a free afternoon.
DAY 4 / LISBON / FATIMA / PORTO / EMBARKATION 
After breakfast, enjoy a scenic drive through the Portuguese countryside to Porto. On the way, make a stop in Fatima, a pilgrimage site famous for its shrine to the Virgin Mary, who is said to have appeared before three children here in 1917. Explore the town and enjoy free time over lunch before continuing on to Porto, where your ship awaits. Tonight, gather on board for a welcome dinner.
DAY 5 / RÉGUA 
This afternoon, set off on an excursion to picturesque Lamego, home to one of the most significant pilgrimage sites in all of Portugal, the Santuário de Nossa Senhora dos Remédios (Sanctuary of Our Lady of Remedies). The shrine features a staircase of nearly seven hundred steps, all beautifully decorated with white and blue tiles. Other attractions include a Gothic cathedral, a museum, and charming cafés. Your tour ends with a visit to the local Wine Museum. Alternatively, you may choose to sample regional specialties such as Bolas de Lamego, bread filled with smoked ham, presunto, smoked ham, and espumante, a Portuguese sparkling wine. Mooring overnight in Régua.
DAY 6 / RÉGUA / BARCA D'ALVA 
Spend a leisurely morning soaking up the beauty of the Douro River as you cruise from to Barca d'Alva. Upon arrival, join a tour of the Figueira de Castelo Rodrigo, a small fortified, 16th-century village perched high on a hilltop with centuries-old walls, steep narrow streets, and fantastic views. Stop in the market square to admire the Chafariz dos Pretos, a distinctive fountain decorated with black faces, then sample some delicious locally grown produce.
DAY 7 / SALAMANCA / VEGA TERRÓN 
Set off for Salamanca, Spain today for a tour of this UNESCO World Heritage Site, located at the center of the Spanish Castilla y León region. Built of golden sandstone, Salamanca is a living museum, offering visitors the opportunity to step back in time to the Middle Ages. During your guided tour, you will see the city's elegant university buildings, the twin-towered Cathedral, the intriguingly decorated House of Shells, and Plaza Mayor, which is widely considered the most magnificent main square in Spain. Later, enjoy a Flamenco show in Vega Terrón.
DAY 8 / VEGA TERRÓN / PINHÃO
Enjoy a leisurely morning as you cruise to Pinhão, Portugal. This afternoon, enjoy a special lunch and wine tasting at Quinta da Roêda.
Day 9 / RÉGUA / ENTRE-OS-RIOS 
This morning, cruise to Régua for an excursion to the Baroque-style Palacio de Mateus and its gardens the beautiful Trás-os-Montes region near the city of Vila Real. Inside the house, you'll see exhibits of religious images and paintings, as well as stunning furnishings, all under a ceiling of intricately carved wood. The gardens here are considered some of the most beautiful in all of Portugal. Alternatively, you may wish to visit Quinta da Pacheca, where you will enjoy breathtaking views over the Douro River and picnic in a terraced vineyard. You may opt instead to sample the region's famed port wine at Quinta do Seixo. Return to the ship for lunch and cruise to Entre-os-Rios, arriving this evening. Tonight, you will journey to a nearby winery for a delicious traditional Portuguese dinner at Quinta de Vila Verde.
DAY 11 / PORTO 
Your ship arrives in Porto, the capital of northern Portugal, early this morning, where you have a choice of one of three excursions. Your first option is to join a guided tour of the historical quarter, a UNESCO World Heritage Site, including a number of iconic sights: the Porto Cathedral, one of the city's oldest and most impressive monuments, the bustling main square, and the São Bento Train Station, which is renowned for its magnificent blue and white tile panels depicting scenes from Portuguese history. You'll also enjoy a tasting of port wine, a drink named after this very city. Your second option is to take part in a guided hiking tour of Porto, exploring the old harbor, passing through medieval city streets, and crossing the Dom Luis Bridge. Lastly, you may prefer a walk along the Atlantic coast and seaside promenade of Porto, stopping in a local café for Portuguese coffee.
Later, take a short journey to the nearby coastal town of Matosinhos, where you will visit a traditional restaurant to see a demonstration of how to cook pataniscas, a traditional Portuguese cod fish cake, and other regional snacks. Mooring overnight in Porto.
DAY 11 / PORTO / DISEMBARKATION 
Your cruise comes to an end in Porto. Bid farewell to your fellow travelers and prepare for the next step in your journey.
Dates & Prices
Itinerary Code (Name of Itinerary)
 Itinerary Start Date
Embark Date
 Ship name
 Route (Start/Embark/End Locations)
# of Nights (Cruise, Cruise + Land)
Category – Cruise & Land Pricing PP
E
D
C
B
A
A+
Suite
RREU-24
(Enticing Douro)
15/04/2017
18/04/2017
MS AmaVida
Lisbon/Porto/Porto
7, 10
$5,060
$5,440
$6,560
$6,810
$7,190
N/A
$9,060
22/04/2017
25/04/2017
MS AmaVida
Lisbon/Porto/Porto
7, 10
$5,190
$5,560
$6,690
$6,940
$7,310
$9,190
13/05/2017
16/05/2017
MS AmaVida
Lisbon/Porto/Porto
7, 10
$5,690
$6,060
$7,190
$7,440
$7,810
$9,690
20/05/2017
23/05/2017
MS AmaVida
Lisbon/Porto/Porto
7, 10
$5,690
$6,060
$7,190
$7,440
$7,810
$9,690
10/06/2017
13/06/2017
MS AmaVida
Lisbon/Porto/Porto
7, 10
$5,690
$6,060
$7,190
$7,440
$7,810
$9,690
17/06/2017
20/06/2017
MS AmaVida
Lisbon/Porto/Porto
7, 10
$5,690
$6,060
$7,190
$7,440
$7,810
$9,690
08/07/2017
11/07/2017
MS AmaVida
Lisbon/Porto/Porto
7, 10
$5,560
$5,940
$7,060
$7,310
$7,690
$9,560
15/07/2017
18/07/2017
MS AmaVida
Lisbon/Porto/Porto
7, 10
$5,560
$5,940
$7,060
$7,310
$7,690
$9,560
05/08/2017
08/08/2017
MS AmaVida
Lisbon/Porto/Porto
7, 10
$5,560
$5,940
$7,060
$7,310
$7,690
$9,560
12/08/2017
15/08/2017
MS AmaVida
Lisbon/Porto/Porto
7, 10
$5,560
$5,940
$7,060
$7,310
$7,690
$9,560
02/09/2017
05/09/2017
MS AmaVida
Lisbon/Porto/Porto
7, 10
$5,940
$6,310
$7,440
$7,690
$8,060
$9,940
09/09/2017
12/09/2017
MS AmaVida
Lisbon/Porto/Porto
7, 10
$5,940
$6,310
$7,440
$7,690
$8,060
$9,940
07/10/2017
10/10/2017
MS AmaVida
Lisbon/Porto/Porto
7, 10
$5,810
$6,190
$7,310
$7,560
$7,940
$9,810
28/10/2017
31/10/2017
MS AmaVida
Lisbon/Porto/Porto
7, 10
$5,440
$5,810
$6,940
$7,190
$7,560
$9,440
04/11/2017
07/11/2017
MS AmaVida
Lisbon/Porto/Porto
7, 10
$5,310
$5,690
$6,810
$7,060
$7,440
$9,310
11/11/2017
14/11/2017
MS AmaVida
Lisbon/Porto/Porto
7, 10
$5,060
$5,440
$6,560
$6,810
$7,190
$9,060
RREU-24 Single Supplement:
Cruise Portion: 50% of twin price; Suites are 100% of twin price
Land Portion: $600 PP
Inclusions
3 nights hotel accommodation in Lisbon at the InterContinental Lisbon (or similar), including daily buffet breakfast
Transfer from the hotel to Lisbon to the ship in Porto
7 nights deluxe cruise accommodation in an outside stateroom – most staterooms with balconies
Life enriching tours and excursions daily with personal headset included
Complimentary Internet access in all staterooms
Complimentary Wi-Fi access on board
Fine dining including complimentary local wine, port wine, beer and soft drinks with lunch and dinner on board
Bottled water in every stateroom replenished daily
Cocktail Reception, Welcome Dinner & Captain's Gala Dinner
Sail Away Mimosa and Sun Deck BBQ
Special highlights including lectures, theme dinners, onboard music performances and afternoon/evening piano music
Services of professional Cruise Manager
All English language on board in a non-smoking environment (smoking permitted only on the Sun Deck)
Transfers between hotel and ship are included with the purchase of cruise and land package; airport transfers are included with the purchase of airfare from AmaWaterways
All local taxes
Ship Details
MS AmaVida
| | | | | | | |
| --- | --- | --- | --- | --- | --- | --- |
| Built | Length | Decks | Cabins | Passengers | Cabin Size | |
| 2013 | 80m | 4 | 53 | 106 | 15 - 30m² | More Details |
Travel Tips
The Douro
Travel Documents / Visas
1. Passport
Canadian citizens must have a passport that is valid for at least 6 months after the last date of travel to enter Spain or Portugal (EU).
Citizens of other countries should consult with their travel agent or our office.
2. Visa
No visa is required for citizens of Canada travelling to Spain or Portugal for leisure stays of up to 90 days.
Packing List
A handy checklist of what to bring on your trip can be downloaded here.
Insurance
We very strongly recommend the purchase of appropriate travel insurance for any trip outside of Canada. Information on travel insurance options can be found here.
Smoking
Not permitted anywhere indoors. There are designated areas on the outside decks.
Weather
April / May – warm days usually in the high 10's to low 20's. Occasional rain.
June to September – warm to hot days in the mid to high 20's. Evenings in the low 20's. Mostly dry.
October – cool days in the low to mid 20's. Minimal rain.
Arrival / Departure
Upon booking, we will provide detail instructions on how to meet your ship on embarkation day. If you have not made any pre or post tour arrangements with us, you will have to arrange your own transportation to and from the port of embarkation. We are happy to provide advice or to assist in arranging transfers.
The ship will not be ready for check-in before mid-afternoon. If you have luggage that you need to deposit so you can enjoy some free time in port, the purser may be able to accommodate you provided we know in advance.
The cruise will finish in the morning (usually around 9am) on the final day. It is necessary to have settled your onboard account and to have disembarked by this time as instructed by the cruise director on the day before.
Money
The currency is the EURO. It is uncommon for local shops and restaurants to accept any other currency.
Credit cards are acceptable for larger purchases in retail shops, but often not in restaurants or cafés.
ATM's accepting most international debit and credit cards can be found in abundance.
Gratuities (Tipping)
Gratuities suggested by the cruise line are:
EUR 3.00 per guest per day for the cruise director
EUR 12.00 per guest per day to be divided amongst the entire crew.
Laundry
Laundry  service  is  available  onboard  at  a  nominal  additional  cost.  Unfortunately  dry cleaning services are not available.
Excursions
Most of our programs include a full complement of excursions. Some additional excursions may be available on board at an extra cost. Please check with us or consult the purser onboard for additional information.
Excursions will usually involve a lot of walking, often on cobblestone streets. If you have difficulty walking any distance, please let us know in advance and we will advise how best we can accommodate you.
Regrettably, many of our excursions are not suitable to those in a wheelchair due to the amount of stairs involved.
Activity Level / Strenuousness
Light – At most, participation in the shore excursions requires the ability to walk reasonable distances and some stairs.
Food
Breakfast, lunch and dinner are all included in your cruise fare so you shouldn't be too hungry. It is worthwhile to sample the local cuisine though.
The 'catch of the day' (so to speak) in Portugal are "sardinhas" which are sardines. In fact a large variety of seafood is available in this region and it's all well worth sampling. If seafood isn't your fancy, try the "Quejo da Serra da Estrela" which is a superbly rich cheese, among the best in the country.
While stopping over in Lisbon, you would be remiss for not trying the "Pastéis de nata" which are basically little custards in pastry shells. One will unfortunately not be enough.
Portugal is probably also most famous for its port wine, which originates from the area of the Douro Valley. However, there are many other fantastic red and white wines to choose from.
Language
Your shipboard staff all speak English of course, but when you are wandering through the shops in small villages, the local folk may have little English. Bring along an English-Portuguese phrasebook or a suitable translation app.
Medical Facilities
There are no medical personnel onboard the ship. However, the purser can contact onshore medical people for emergency and non-emergency situations and rapid evacuation can easily be facilitated in the most urgent cases.
Phone & Internet
There is a phone in each cabin. As is typical, the charges for overseas calls are relatively high.
Free Wi-Fi is available in the main public areas of the ship but not necessarily in all cabins. As internet is provided through a mobile network, bandwidth (speed) will vary depending on the number of concurrent users, the proximity to a cell tower and other factors.
If you would like to have regular data and phone connection, we suggest either arranging an overseas roaming plan with your mobile operator, or pick up a local SIM card if you have an unlocked phone.
Health / Vaccinations
There are no vaccinations required to travel to Portugal. As always, we recommend being in good health prior to any long distance travel. Consult your physician with any specific concerns in regard to this program.
Safety & Security
Despite recent events in Europe, Portugal is extremely safe. Particularly the small cities and towns on this voyage, you should have nothing to be concerned about. This being said, being constantly aware of your surroundings and not taking unnecessary valuables with you is always recommended. Leave your passport, extra money and any other belongings you do not need during the day in the safe in your cabin.
You can access current information about the security situation in Portugal by referring to the Canadian government travel advisory site at https://travel.gc.ca/destinations/portugal
Suggested Reading
The Portuguese: The Land and Its People