From Canada to Greenland
From $14,990
|
15 Days / 14 Nights
On this one-of-a-kind Arctic cruise, experience Newfoundland's forests, fjords, mountains, rivers, and countless lakes. In Labrador, discover UNESCO World Heritage Sites, then visit Baffin Island, which has sustained an indigenous population for some 4,000 years. Finally set sail for Greenland, visiting small settlements and taking in awe-inspiring scenery.
View Google Map of Region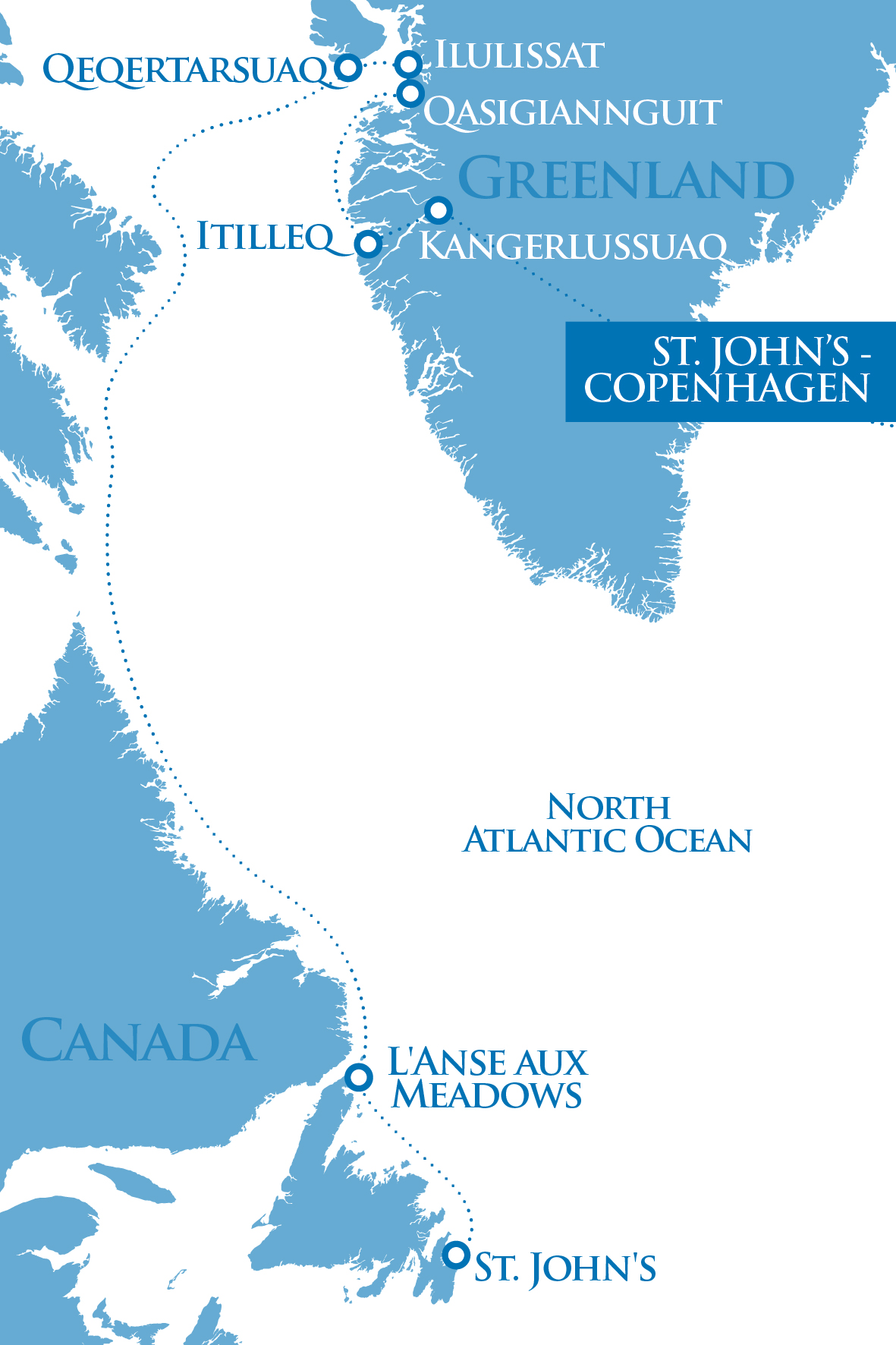 Daily Overview
Day
Destination
Activities
1
St. John's
EMBARKATION
2
The Newfoundland Coast
Experience Newfoundland's geology and wildlife

Try to spot humpback whales from the deck

3
L'Anse aux Meadows
Explore a UNESCO-listed former Viking camp

4
The Labrador Coast
Hike countless wilderness trails

Learn about local culture and traditions

5
The Labrador Coast
Cruising the Labrador Coast

Possible visit to Red Bay, a UNESCO-listed site

6
The Labrador Coast
Cruising the Labrador Coast

Choice between several offered excursions

7
Baffin Island
Experience the spectacular home of the Inuit
8
Baffin Island
Learn the history behind "Helluland" in Norse Sagas
9
Baffin Island
Discover artifacts left behind by the Vikings
10
At Sea
Cruising towards Greenland

Enjoy lectures or relaxation time on board

11
Northwest Greenland
Join an optional excursion in Qeqertarsuaq

Pay a visit to the museum in Qasigiannguit

12
Northwest Greenland
See Itilleq, the "Arctic Circle Village"

13
Northwest Greenland
Join a final excursion to the Greenland Ice Sheet
14
Kangerlussuaq

Copenhagen

DISEMBARKATION

Overnight flight to the Danish capital

15
Copenhagen
Arrive in the early morning

Prepare for your onward journey
Detailed Itinerary
DAY 1 / ST. JOHN'S / EMBARKATION 
St. John's is the oldest and most easterly city in North America, and it is said that this is where heritage lives. With its narrow streets and hidden alleyways, it is a city full of character and experience. We recommend you explore the history of this place, including the Basilica of St. John the Baptist's striking twin clock towers, before you embarking on your adventure.
DAY 2 / CRUISING THE COAST OF NEWFOUNDLAND 
With its tiny seaside communities, vast forests, freshwater fjords, bogs, barren lowlands, and striking cliffs, and shorelines, Newfoundland is world-renowned for its complex geology. The wildlife is extremely varied, with large seabird colonies, huge moose and caribou populations, and rich marine life, including several species of whales. With some 10,000 humpback whales visiting the area every year, don't be surprised if you inadvertently capture a whale in a photograph you take on deck!
DAY 3 / L'ANSE AUX MEADOWS 
In L'Anse aux Meadows, you'll see the first known evidence of the Vikings settling in North America. This is probably where Thorfinn Karlsefni and several others settled in 1010 AD. In 1960, two Norwegian archaeologists started excavating in this area and discovered the fascinating remains of the Viking camp. In 1979, L'Anse aux Meadows became a UNESCO World Heritage Site. On the recreated camp, you can see original artifacts from this internationally renowned archaeological find.
DAY 4 / CRUISING THE COAST OF LABRADOR 
Spend three days sailing along the coast of Labrador and exploring this area. Outdoor enthusiasts will enjoy hiking along countless miles of trails, with much wilderness to explore, whilst others will appreciate learning more about regional history, cultures, and traditions at the numerous historic sites you'll visit.
DAY 5 / CRUISING THE COAST OF LABRADOR 
Today, the ship may stop at Red Bay. The discovery of vessels used for whale hunting made Red Bay one of the most exquisite underwater archaeological sites in America. It is now a UNESCO World Heritage Site.
DAY 6 / CRUISING THE COAST OF LABRADOR 
Today, you may visit picturesque Rigolet. With a population of only 300, Rigolet is also the southernmost Inuit community in the world. Though this small, isolated town cannot be accessed by road, it is accessible by ship year round, and in winter, by snowmobile.
Here, choose from several offering outings: explore the beautiful waters in a speedboat, or try fishing, riding, or whale watching. You may also see Hopedale, which was originally an Inuit settlement named Agvituk, meaning "place of the whales," and Hebron, a former Moravian mission that served as the northernmost settlement in Labrador.
DAY 7 / BAFFIN ISLAND 
Baffin Island, with its vast and wild landscapes, is the spectacular homeland of Inuit and an accessible Arctic playground for the adventurous. The vast geographical area that is now fondly known as Nunavut has supported an indigenous population continuously for over 4,000 years.
DAY 8 / BAFFIN ISLAND 
Today, most historians identify Baffin Island as the Helluland, the "place of black rocks," described in ancient Norse sagas. It is believed that both the Dorset and Thule inhabitants of the region had regular contact with Norse sailors over 1,000 years ago.
DAY 9 / BAFFIN ISLAND 
Viking artifacts, including architectural materials, yarn spun from a hare, tally sticks, and a carved wooden face mask depicting white European features, have been discovered on Baffin Island.
DAY 10 / AT SEA 
As we cruise towards Greenland, enjoy lectures, take in the view from the observation lounge, or simply relax with a good book.
DAY 11 / EXPLORING NORTHWEST GREENLAND 
Qeqertarsuaq is the lone town situated on the old volcanic island of Disko. The area offers amazing Arctic experiences. Join optional excursions including a tour of the town, kayaking, or an ice cruising boat tour. If you appreciate archaeology and history, be sure to pay a visit to the local museum in Qasigiannguit.
DAY 12 / EXPLORING NORTHWEST GREENLAND 
Today, you will have a unique opportunity to witness the true power of nature on a visit to the Eqip Sermia Glacier, which calves icebergs into the open ocean. The town of Ilulissat in the Ilulissat Icefjord was added to the UNESCO World Heritage List in 2004. See enormous icebergs at the mouth of the fjord and enjoy a variety of optional shore excursions such as hikes, historic town walks, and a boat tour to the Icefjord.
DAY 13 / EXPLORING NORTHWEST GREENLAND 
Itilleq means "the hollow," and as the name suggests, this small settlement is situated in a hollow, surrounded by majestic high mountains and glaciers. With the Arctic Circle passing just 200 metres south of the village centre, Itilleq can rightly claim the title of "the Arctic Circle Village." Its 130 inhabitants are mainly engaged in hunting and fishing activities.
DAY 14 / KANGERLUSSUAQ / DISEMBARKATION / COPENHAGEN
As we reach Kangerlussuaq, your expedition comes to an end. Take the opportunity to join a final excursion to the Greenland Ice Sheet, a vast icy wasteland stretching 2,400 kilometres north. Your plane to Copenhagen leaves late in the evening.
DAY 15 / COPENHAGEN 
In the early morning, arrive in the Danish capital, where you may have time to explore "Wonderful, Wonderful Copenhagen" before heading home.
Dates & Prices
Itinerary Code (Name of Itinerary)
Itinerary Start Date
 Route
Duration (Nights)
Ship Name
Fare Range
Category Price PP
Polar Inside
Polar Outside
Arctic Superior
Expedition Suite
B
I
K
J / AJ
A / N
O
P
U
QJ
Q
MG
MX
ENAR-06
(Canada to Greenland)
7/24/2017
St.John's/Copenhagen
14
MS Spitsbergen
Min
$14,990
$15,830
$16,530
$17,220
$18,930
$19,480
$20,200
$21,120
$24,070
$25,020
$26,190
$32,210
Max
$19,520
$20,640
$21,570
$22,500
$24,770
$25,510
$26,470
$27,690
$31,630
$32,900
$34,450
$42,490
Prices are per person based on double occupancy.
ENAR-06 Port Charges: N/A
ENAR-06 Single Supplement:
Polar Inside: ~45%
Polar Outside: ~70%
Arctic Superior: ~70%
Expedition Suite: ~95%
Inclusions
Hurtigruten Expedition Voyage in cabin category of your choice on a full board basis (daily buffet breakfast, buffet lunch, and set or buffet dinner)
Transfer from ship to airport in Kangerlussuaq, incl. excursion toward ice sheet and dinner
Economy flight from Kangerlussuaq to Copenhagen
Wind- and water-resistant jacket
Landings and activities on board and ashore
Professional English-speaking Expedition Team that gives lectures and accompanies landings and activities
Complimentary use of Muck Boot rubber boots
Complimentary tea and coffee
Ship Details
MS Spitsbergen
| | | | | | | |
| --- | --- | --- | --- | --- | --- | --- |
| Built | Length | Decks | Cabins | Passengers | Cabin Size | |
| 2009; Refurbished in 2015/16 | 97.8m | 6 | 100 | 335 | 9 - 33m² | More Details |
Travel Tips
The Arctic
Travel Documents / Visas
1. Passport
Canadian citizens must have a valid passport for entry to any of our Arctic destinations.
Our cruise partners require that your passport be valid for 6 months after the end date of your trip.
Citizens of other countries should consult with their travel agent or our office.
2. Visa
No visa is required for citizens of Canada to enter any of our Arctic destinations.
Packing List
A handy checklist of what to bring on your trip can be downloaded here.
Insurance
You MUST have travel insurance to participate in any Arctic program. Options on coverage are available from your travel agent or here.
Smoking
Not permitted anywhere indoors. There are designated areas on the outside decks.
Weather
The weather in the Arctic regions of the North Atlantic can vary greatly depending on fronts that can move fairly rapidly in conjunction with ocean currents. We advise to be on the safe and bring adequate warm cloting.
Summer days often do not exceed 10C, although it is possible for temperatures to reach into the high teens under the strong sun in protected areas like Greenlandic fjords.
It is typically quite dry in the summer months but can be very windy, particularly when crossing open stretches of sea. The wind combined with the cool temperatures could make it feel colder than it actually is. As is so often suggested, dressing in layers is the best way to stay warm and yet account for the changing temperatures.
Arrival / Departure
Upon booking, we will provide detail instructions on where to check-in for your Arctic expedition depending upon your embarkation point.  We strongly suggest arriving at least one day prior to avoid any chance of missing the sailing since there is no easy way to join the ship after it has departed.
On your return, if you are flying back home the same day as the ship arrives (assuming you are not on a program where the charter flight is part of the program), we strongly recommend that you stay over at least one night were possible. Although very rare, weather conditions could delay the exact return time and we cannot assume any responsibility for missed flights due to any delays.
Money
The currency of Norway is the Norwegian Kronor (NOK).
The currency of Greenland is the Danish Krone (DKK).
The currency of Iceland is the Icelandic Krona (ISK).
Onboard, you will be issued a cruise card which you can use to charge all purchases during your voyage. You must provide a Visa, American Express, Diners or MasterCard that is valid for at least 3 months after your trip date.
The final bill will be charged to your account in Norwegian Kronor (NOK).
ATM's accepting most international debit and credit cards can be found in abundance in Norway and Iceland. However, after you leave these cities for the trip, it is extremely unlikely you will see another ATM until your voyage ends. We regret, there is no currency exchange facility onboard the ship.
For small purchases in Iceland and Greenland, you should have some of the local currency as USD may not be accepted.
Gratuities (Tipping)
Gratuities suggested by the cruise line are:
USD 12.00 per guest per day to be divided amongst the entire crew.
Laundry
Laundry service is available for a small fee. Regrettably, dry cleaning is not available.
Excursions
All regular shore landings as noted in the itinerary are included in your voyage. Some additional excursions may be available on board at an extra cost. Please check with us or consult the purser onboard for additional information.
Many shore landings will start a zodiac boat ride to shore where you will land and be assisted onto shore via some portable steps. The ground is sometimes covered with small rocks / gravel.
Activity Level / Strenuousness
Light to Moderate – Participation in the shore landings requires the ability to board (with assistance) a zodiac boat from the main ship and on to shore. There are generally no long distances to walk on the Arctic programs.
Food
Breakfast, lunch and dinner are all included in your cruise fare.
Should you have the opportunity to sample Greenlandic fare, you should jump at the chance. Much of the food here comes either from the sea like the infamous Greenlandic halibut, but also truly 'free range' meat from animals like the reindeer, muskox, and local lamb.
When in Iceland, you'll find that the food is somewhat more "Europeanized". However, local dishes such as "Hangikjöt" (smoked lamb) or "Skyr" (kind of like yoghurt but not), are well worth trying. If you are really brave, look for "Svið" which is boiled sheep's head. They say it's delicious.
Language
In all the stops along the way, you will find that the local people speak at least some, if not fluent, English. You may find run into a real native Greenlander who doesn't understand you, but then you'd be lucky.
Medical Facilities
There is an English-speaking physician and nurse on board at all times. The ship has a small medical facility with the necessary equipment and drugs to handle small emergencies. In the event of a serious emergency, the nearest hospital will be contacted. Medical consultations as well as medicines will be charged to the passenger affected. If you depend on medication, remember to bring sufficient supplies to last through any unforeseen delays. We also recommend that you keep your medication in your hand luggage properly labelled and with clear instructions for its use. If you depend on vital drugs, please inform the ship's doctor upon arrival.  Illness on board can lead to quarantine and orders from the ship's physician and captain, must be followed.
Phone & Internet
There is a phone in each cabin. Call rates are very high as a satellite connection is the only one possible.
Wi-Fi is available in certain areas of the ship at a modest charge. As it is a satellite connection, internet speed will be very slow and we suggest it be used for urgent matters only.
Health / Vaccinations
There are no vaccinations required to travel to Arctic destinations. However, we suggest you consult your physician with any specific personal requirements for this program.
You must also have travel insurance to participate on this voyage.
Safety & Security
Our ships are equipped with the latest in emergency communication, life boats and other equipment to deal with any kind of problematic event. If you have any questions or concerns, please contact our office for more details.
The destinations involved do not currently have any security threats.
Suggested Reading
This Cold Heaven: Seven Seasons in Greenland
Arctic: A Guide to Coastal Wildlife
Vikings: The North Atlantic Saga
Baffin Island: Field Research and High Arctic