Guadalquivir & Guadiana
From $2,680
|
8 Days / 7 Nights
Cruise the majestic Guadalquivir River as it reveals Andalucía's enigmatic cities—from the warmth and charisma of Seville to Granada's gritty grandiosity and Córdoba's old-world sophistication. Up the coast, the Guadiana River marks the border between Spain and Portugal, revealing glimpses of Portuguese culture.
View Google Map of Region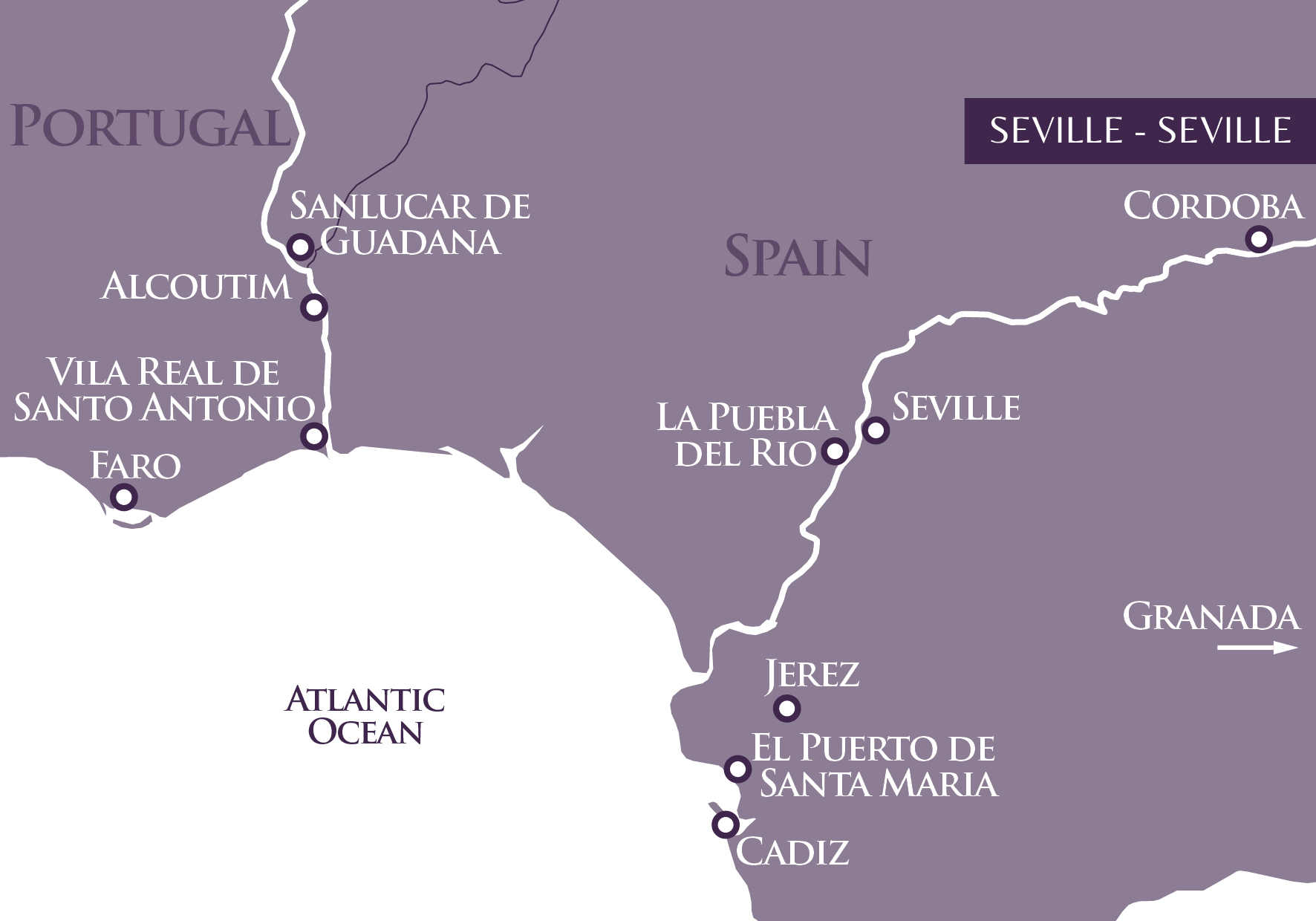 Daily Overview
Day
Destination
Activities
1
Seville
EMBARKATION

Evening at your leisure in Seville

2
Seville
Guided walking tour of Seville's landmarks

Flamenco show in the heart of Cádiz

3
Cádiz
Excursion to Jerez and a bull farm

Guided exploration of Cádiz and its cathedral

4
Alcoutim
Free time in the fascinating city of Alcoutim

Excursion to Faro

5
Puerto de Santa María
Tour and wine tasting at the Osborne Bodega

See an Andalusian hacienda and equestrian show

6
Granada
Guided tour of Granada's many monuments

Free afternoon to explore Granada

7
Córdoba
Full-day excursion to sunny Córdoba

Gala dinner

8
Seville
Breakfast

DISEMBARKATION
Detailed Itinerary
DAY 1 / SEVILLE / EMBARKATION 
Embark in the evening, settle into your cabin, enjoy a welcome cocktail, and meet the crew. Following dinner, the evening is yours to discover the flamboyance and charisma of Seville at your leisure. Mooring overnight.
DAY 2 / SEVILLE / CADIZ 
This morning, set off on a guided walking tour of sunny Seville—a city which, according to Greek myth, was founded by Hercules three thousand years ago. You'll see the city's numerous cultural and historical landmarks, from the vast Gothic palace of Alcázar to the Giralda minaret towering over the utterly awe-inspiring Cathedral next to it. On your walk through the city, you'll also discover the dreamily lush gardens at the Parque de María Luisa.
In the afternoon, set sail on the Guadalquivir—a name which comes from the Arabic al-wadi al-kabir, which translates to "great valley." The name is just one of many remnants leftover from the Moor kings, who reigned over Andalucía (then al-Andalus) from 711 to the fall of Granada in 1492.
Upon arrival in Cádiz, venture out on foot for a night of authentic Flamenco music and dancing. Enjoy a glass of wine while you experience this iconic Spanish tradition firsthand. Mooring overnight in Cádiz.
DAY 3 / CÁDIZ 
This morning, embark on an excursion to Jerez de la Frontera, where you'll be treated to sights of the town's colossal medieval fortress and the Catedral de San Salvador, which sits perched atop a rocky hill. After, visit a ganadería, where you'll have the chance to come face to face with a living symbol of Spanish culture: the bull. As you tour the property, you'll learn about the process of preparing a bull for its "career" in the ring.
In the afternoon, you'll have the chance to see more of Cádiz, one of the oldest cities in all of Europe. In the city's historic centre, discover old-world mansions with pastel-coloured façades and ornate wrought-iron balconies. Finally, see the majestic Baroque-style cathedral, which took 116 years to build. Back on board the ship, spend the evening cruising to Alcoutim.
DAY 4 / ALCOUTIM / VILA REAL 
Take in the rugged landscapes and vast blue skies, marvelling as you float past villages forgotten by time en route to Alcoutim. Upon arrival, lose yourself in this hillside town's steep streets or see the castle and archaeological museum.
After re-boarding the ship, cruise to Vila Real de San Antonio, where you will set off by coach on an excursion to Faro, the capital city of southern Portugal's Algarve region. Here, visit the impressive Cathedral of Faro, a National Monument of Portugal. Back on board, an evening of traditional Fado music awaits you. During the night, cruise towards Puerto de Santa María.
DAY 5 / PUERTO DE SANTA MARÍA / ISLA MINIMA 
After arriving in the early morning, set off on foot for a tour of the Bodegas Osborne. In business since 1772, this family-owned winery is one of the oldest in all of Spain—chances are you'll recognize the black bull which has been the winery's emblem since 1956. Following a tour of the estate's massive cellars, enjoy a wine tasting.
The latter half of the day will be spent cruising to Isla Minima, passing through Doñana National Park, a designated UNESCO World Heritage Site and established nature reserve. The Guadalquivir joins the Atlantic Ocean at Sanlúcar de Barrameda, where you will disembark for a tour of a genuine Andalusian hacienda followed by an evening equestrian show. Tonight, cruise to Seville.
DAY 6 / SEVILLE / GRANADA  
Today, set off by coach for Granada, the Iberian Peninsula's last Muslim stronghold. Internationally recognized for its Moorish architectural heritage, contemporary Granada is mysterious and alluring. Your tour begins at the magnificent Alhambra palace, with its idyllic gardens and trickling fountains, straight out of 1001 Nights. Next, the summer residence of the Narid Emirs, which also boasts lavish gardens, before enjoying a lunch of local fare in a nearby restaurant. After lunch, explore this fascinating city—from the Albayzín district to the Sacromonte gypsy caves—at your own pace before returning to the ship. Mooring overnight in Seville.
DAY 7 / SEVILLE / CÓRDOBA 
Córdoba is home to one of the world's greatest feats of Islamic architecture: the Mezquita. This vast mosque-turned-cathedral represents a forgotten time when Muslims, Jews, and Christians lived side by side in Islamic Spain's sophisticated and cultured capital. Explore the narrow streets of the former Jewish quarter, along with its 14th-century synagogue—the only one in all of Andalucía. After lunch, you'll have free time to succumb to the sensual charms of this storied city. Back on board the ship, you'll be treated to a gala dinner in celebration of your final night.
DAY 8 / SEVILLE / DISEMBARKATION 
After a leisurely breakfast, say farewell to the crew and your fellow travellers and disembark in Seville.
Dates & Prices
Itinerary Code (Name of Itinerary)
 Itinerary Start Date
 Ship name
 Route
Duration (Nights)
Main Deck Pricing PP
Mid Deck Pricing PP
Upper Main Deck Pricing PP
Suite Deck Pricing PP
RREU-12
(Guadalquivir and Guadiana)
5/11/2017
MS La Belle de Cadix
Seville/Seville
7
$2,680
$2,990
$3,110
N/A
5/18/2017
MS La Belle de Cadix
Seville/Seville
7
$2,680
$2,990
$3,110
5/25/2017
MS La Belle de Cadix
Seville/Seville
7
$2,680
$2,990
$3,110
6/1/2017
MS La Belle de Cadix
Seville/Seville
7
$2,680
$2,990
$3,110
6/8/2017
MS La Belle de Cadix
Seville/Seville
7
$2,680
$2,990
$3,110
8/31/2017
MS La Belle de Cadix
Seville/Seville
7
$2,680
$2,990
$3,110
9/14/2017
MS La Belle de Cadix
Seville/Seville
7
$2,680
$2,990
$3,110
9/21/2017
MS La Belle de Cadix
Seville/Seville
7
$2,680
$2,990
$3,110
9/28/2017
MS La Belle de Cadix
Seville/Seville
7
$2,680
$2,990
$3,110
Prices are per person based on double occupancy and include the classic excursion package.
RREU-12 Port Charge: N/A
RREU-12 Single Supplement:
Main Deck: $816
Mid Deck: $816
Upper Main Deck: $816
Inclusions
Includes all meals from Day 1 dinner to breakfast on Day 8
Drinks including water, wine, beer, fruit juices and coffee or tea served by CroisiEurope during meals on board; all drinks served at the bar (excluding champagne and wines on the wine list)
Double-occupancy cabin with shower in private bathroom
Assistance from our onboard multi-lingual host/hostess
Onboard entertainment
The Gala evening
Folklore evening
Excursion to Granada and visit of Isla Minima
Welcome cocktail
Travel assistance and repatriation insurance
All port fees
Ship Details
MS La Belle de Cadix
| | | | | | | |
| --- | --- | --- | --- | --- | --- | --- |
| Built | Length | Decks | Cabins | Passengers | Cabin Size | |
| 2005; Refurbished 2010 | 110m | 3 | 88 | 176 | 11m² | More Details |
Travel Tips
The Guadiana/The Guadalquivir
Travel Documents / Visas
1. Passport
Canadian citizens must have a passport that is valid for at least 6 months after the last date of travel to enter Spain or Portugal (EU).
Citizens of other countries should consult with their travel agent or our office.
2. Visa
No visa is required for citizens of Canada travelling to Spain or Portugal for leisure stays of up to 90 days.
Packing List
A handy checklist of what to bring on your trip can be downloaded here.
Insurance
We very strongly recommend the purchase of appropriate travel insurance for any trip outside of Canada. Information on travel insurance options can be found here.
Smoking
Not permitted anywhere indoors. There are designated areas on the outside decks.
Weather
April / May – warm days usually in the high 10's to low 20's. Occasional rain.
June to September – warm to hot days in the mid to high 20's. Evenings in the low 20's. Mostly dry.
October – cool days in the low to mid 20's. Minimal rain.
Arrival / Departure
Upon booking, we will provide detail instructions on how to meet your ship on embarkation day. If you have not made any pre or post tour arrangements with us, you will have to arrange your own transportation to and from the port of embarkation. We are happy to provide advice or to assist in arranging transfers.
The ship will not be ready for check-in before mid-afternoon. If you have luggage that you need to deposit so you can enjoy some free time in port, the purser may be able to accommodate you provided we know in advance.
The cruise will finish in the morning (usually around 9am) on the final day. It is necessary to have settled your onboard account and to have disembarked by this time as instructed by the cruise director on the day before.
Money
The currency is the EURO. It is uncommon for local shops and restaurants to accept any other currency.
Credit cards are acceptable for larger purchases in retail shops, but often not in restaurants or cafés.
ATM's accepting most international debit and credit cards can be found in abundance.
Gratuities (Tipping)
As always, gratuities are at your own discretion. If you feel the service has met or exceeded your expectations, the ship suggests an amount of EURO $ 5-10 per person per day.
Laundry
Unfortunately there are no laundry facilities on board so bring what you need for the cruise.
Excursions
Most of our programs include a full complement of excursions. Some additional excursions may be available on board at an extra cost. Please check with us or consult the purser onboard for additional information.
Excursions will usually involve a lot of walking, often on cobblestone streets. If you have difficulty walking any distance, please let us know in advance and we will advise how best we can accommodate you.
Regrettably, most of our excursions are not suitable to those confined to a wheelchair.
Activity Level / Strenuousness
Light – At most, participation in the shore excursions requires the ability to walk reasonable distances and some stairs.
Food
Breakfast, lunch and dinner are all included in your cruise fare so you shouldn't be too hungry. It is worthwhile to sample the local cuisine though.
Food in Andalusia is among the best in Spain. A few things that you must try include 'Secreto Ibérico' which is a superb local ham that melts in your mouth. Similar to this is the 'Serranito' which is a sandwich made with salty Serrano ham, green pepper and tomato.
On the sweet side, Torrijas are kind of like a tastier form of French toast. Bread dipped in eggs and deep fried served with honey or sweet condensed milk. Delicious!
The wines of Andalucia are also very well known for their quality. Both white wines like Crianza and red wine varieties like Temperanillo are prevalent in this area. Of course sherry also finds its home here, particularly in the "Sherry Triangle" in the area around Cadiz.
Language
Your shipboard staff all speak English of course, but when you are wandering through the shops in small villages, the local folk may have little English. If your Spanish is limited to "Buenos Dias" or "Una cerveza por favor", you might want to have a phrasebook or .
Medical Facilities
There are no medical personnel onboard the ship. However, the purser can contact onshore medical people for emergency and non-emergency situations and rapid evacuation can easily be facilitated in the most urgent cases.
Phone & Internet
There is a phone in each cabin. As is typical, the charges for overseas calls are relatively high.
Free Wi-Fi is available in the main public areas of the ship but not necessarily in all cabins. As internet is provided through a mobile network, bandwidth (speed) will vary depending on the number of concurrent users, the proximity to a cell tower and other factors.
If you would like to have regular data and phone connection, we suggest either arranging an overseas roaming plan with your mobile operator, or pick up a local SIM card if you have an unlocked phone.
Health / Vaccinations
There are no vaccinations required to travel to France. As always, we recommend being in good health prior to any long distance travel. Consult your physician with any specific concerns in regard to this program.
Safety & Security
Despite recent events, France is extremely safe. Particularly the small cities and towns on this voyage, you should have nothing to be concerned about. This being said, being constantly aware of your surroundings and not taking unnecessary valuables with you is always recommended. Leave your passport, extra money and any other belongings you do not need during the day in the safe in your cabin.
You can access current information about the security situation in France by referring to the Canadian government travel advisory site at https://travel.gc.ca/destinations/france 

Suggested Reading