Incredible Mekong & Hong Kong
From $4,580
|
16 Days / 15 Nights
From Siem Reap, explore the mystical ruins of Angkor, including Angkor Wat, the world's largest religious site. Next, sail the mighty Mekong, taking in the lush Cambodian countryside and stopping to explore temples and traditional villages. See Phnom Penh and Saigon before experiencing Hong Kong.
View Google Map of Region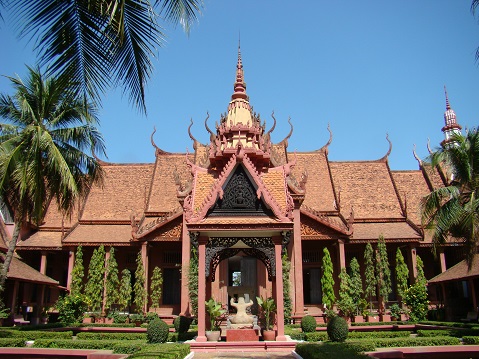 Daily Overview
Day
Destination
Activities
1
Siem Reap
Arrival and hotel check-in

Remainder of the day at your leisure

2
Angkor Thom

Angkor Wat

Explore Cambodia's last Khmer capital

Discover UNESCO-listed Angkor Wat

3
Angkor
Visit Banteay Srei, the women's citadel

Afternoon spent exploring Angkor ruins

4
Siem Reap

Kampong Cham

Hotel check-out and coach transfer

EMBARKATION

5
Kratie

Morning spent sailing en route to Kratie

Keep a lookout for Irrawaddy dolphins

6
Krek Kdam
Day spent sailing downriver

See Wat Hanchey and Angkor Ban

7
Phnom Penh
Private city tour in a cyclo

Optional excursion to Genocide Museum

8
Tonlé River
Visit Kampong Trolach and Chong Koh
9
Tan Chau
Cross the border into Vietnam
10
Chau Doc

Cai Be

Trip to a traditional Cham village

Sampan boat excursion to Sa Dec

11
My Tho

Saigon

DISEMBARKATION

Hotel check-in and free day in Saigon

12
Saigon
Full day city tour

and visit to the Cu Chi tunnels

13
Saigon

Hong Kong

Hotel check-out and airport transfer

Arrive in Hong Kong and hotel check-in

14
Hong Kong
Discover Victoria Peak, Aberdeen, and Repulse Bay

Experience Hong Kong from an open-top tramcar

15
Hong Kong
Experience Hong Kong's food scene

Afternoon spent at your leisure

16
Hong Kong
Breakfast

Hotel check-out
Detailed Itinerary
DAY 1 / ARRIVE SIEM REAP 
Arrive in Siem Reap –  introduce yourself to our Cambodian tour guide at the meeting point.
You are then guided to your hotel for check in. Spend the rest of the day at your leisure.
Accommodation: Victoria Angkor Hotel or similar (3 nights)
DAY 2 / SIEM REAP (B) 
Breakfast at hotel. Full day exploring the magnificent Khmer temples and jungle ruins of Angkor.
This morning, take a remok tour to visit the monumental magnificence of Angkor Thom – last capital of the Khmers; we begin our visit at the Terrace of the Leper King. This intricately carved platform was the royal crematorium and the statue that was originally thought to be the leper king is now believed to be Yama, the god of death. We continue along the Terrace of Elephants, originally used as a viewing gallery for the king to preside over parades, performances and traditional sports. Our climax is the enigmatic and enchanting temple of the Bayon.  This 12th century masterpiece lies at the very centre of Angkor Thom and is an archaeological wonder of symmetry and grandeur. The exterior gallery walls have extensive bas-reliefs but the highlight is the "faces", more than 200 of them, silent but with the famous half-smile playing on their lips. PJ de Beerski wrote of them; "godliness in the majesty and the size, mystery in the expression."  We finish our exploration of Angkor's impressive temple and city ruins, the temple of Ta Prohm; this is the only temple that was left to the jungle and largely in its natural state since its "re-discovery" of Angkor in the late 1800's by French explorers.  Surrounded by jungle, its labyrinth of stone hallways is overgrown with the roots and limbs of massive banyan trees, which envelop the stone like tentacles.   It is one of the largest temples at Angkor, dedicated in 1186. Historians have noted its mystical charm.
This afternoon, you will visit Angkor Wat, the largest temple in the world, with a volume of stone equaling that of the Cheops pyramid in Egypt. It is unlike all the other Khmer temples in that it faces west, and is inspired by 12th Century Hinduism.  Its symmetrical towers are stylized on the modern Cambodian flag.  Conceived by Suryavarman II, Angkor Wat took an estimated 30 years to build. It is generally believed to have been a funeral temple for the king.  It has been occupied continuously by Buddhist monks and is well preserved.  Intricate bas-reliefs surround Angkor Wat on four sides.  Each tells a story.  The most celebrated of these is the Churning of the Ocean of Milk, which is located on the east wing.  In it the Naga serpent, is twisted by demons and gods to spurt out the elixir of life. Enjoy sunset over this magnificent building, an unforgettable experience!
DAY 3 / SIEM REAP (B) 
Breakfast at hotel. Full day tour today.
This morning, you drive to Banteay Srei; the citadel of women – a tiny, enchanting temple, which is one of the jewels in this remarkable city. Built of red sandstone in the tenth century and dedicated to the Hindu god Shiva, the carved male and female figures in the niches are exquisitely executed in both style and proportion. This is the most Indian of all the temples in Angkor and in the words of H.W. Ponder, is a fairy palace in the heart of an immense and mysterious forest.  Continue to Banteay Samre, is a temple at Angkor, Cambodia located east of the East Baray. Built under Suryavarman II and Yasovarman II in the early 12th century, it is a Hindu temple in the Angkor Wat style. Named after the Samré, an ancient people of Indochina, the temple uses the same materials as the Banteay Srei.
This afternoon, explore the Grand Circuit are taking them to Preah Khan "The Sacred Sword" built in approximately the same period as Ta Prohm and with the same purpose: In memory of a person, the father of Jayavarman VII while Ta Prohm it is in memory of the mother of Jayavarman VII, an extensive monastic complex covering over 56 hectares built by the Khmer King Jayavarman VII as a monastery and teaching complex. It is one of a group of temple complexes situated on a small 'Baray' or water reservoir including the temples of Neak Pean and the monastic complex of Ta Som. Together these structures constitute one of Angkor's major axial arrangements and hydrological complexes. Preah Khan was the site of the World Monuments Fund 'prime' Asian project a painstaking renovation whilst maintaining its mysterious allure and superb original structure. Continue to Pre Rup temple is about 2 kilometers northeast of Srah Srang and about 500 meters south of the East Baray. The temple was built in 961 during the reign of King Rajendravarman, dedicating to Shiva Brahmanism. The boldness of the architectural design is superb and gives the temple fine balance, scale and proportion. The temple is close in style to the East Mabon, although it was built several years later.
DAY 4 / SIEM REAP / KAMPONG CHAM / EMBARKATION (B/L/D)
Breakfast at hotel.
This morning, you will check out from the hotel and check-in for registration with the cruise company at hotel lobby. Then transfer by coach by the cruise company from the Victoria Angkor Resort & Spa hotel to Kampong Cham. A packed lunch will be provided on the coach and we will stop at Kampong Thom along the way.
NOTE: Your guide will collect your passports at the meeting point so we can arrange the immigration formalities.
Accommodation: onboard RV Mekong Pandaw (7 nights)
DAY 5 / KRATIE AND THE DOLPHIN GROUNDS (B/L/D) 
Sail through the morning to reach Kratie, a charming French colonial river port, and after lunch visit the dolphin grounds travelling further upstream by local bus.
DAY 6 / KREK KDAM (B/L/D)
Sailing down river we stop at the very curious Monkey Temple, Wat Hanchey and Angkor Ban.
DAY 7 / PHNOM PENH (B/L/D) 
Whilst in Phnom Penh you will be provided with your own private cyclo. The Cyclo Centre Phnom Penh which provides the cyclos is a charity that provides basic welfare and medical services to cyclo drivers. You will visit the Royal Palace, Silver Pagoda and National Museum. In the afternoon, optional excursion (by coach) to the Killing Fields and the Khmer Rouge's grim Tuol Sleng or S21 detention centre.
DAY 8 / TONLE RIVER (B/L/D)
Explorations up Tonle River to a silver making village, Kampong Trolach, and Chong Koh either by ship or by coach depending on water levels. This river is very pretty and there is a vibrant local life to be viewed along the river banks and in lesser craft.
DAY 9 / VIETNAM BOARDER (B/L/D)
Sail for the border and formalities and then continue to Tan Chau for the evening.
DAY 10 / CHAU DOC (B/L/D) 
Morning either visit a Moslem Cham tribal village and a cat fish farm in Chau Doc with our guide or do your own thing and take off on one of our mountain bikes. The local market is great and the Catholic Church well worth a visit. Afternoon Sampan boat excursion to Sa Dec via Vinh Long, along canals and backwaters and see the local market and the ancient house of Mr, Huyn Thuy Le, the 'lover' of Marguerite Duras, a famous French novelist whose book was imortalised in the film L'Indochine. Moor overnight at Cai Bei.
DAY 11 / MY THO / DISEMBARKATION / SAIGON (B) 
Early morning sail from Cai Be for My Tho, where passengers disembark in the early morning for a coach transfer to the InterContinental Asiana Saigon Hotel, arriving around 10.30am. Remaining of the day is at your leisure.
Accommodation: InterContinental Asiana Hotel or similar (2 nights)
DAY 12 / SAIGON (B/L) 
Breakfast at your hotel. Full day Saigon city tour and Cu Chi tunnels with lunch included.
Beginning in the centre of the city, the first stop on today's itinerary is Reunification Palace. Formerly named the Presidential Palace, this important city landmark was assured its place in history on 30th April 1975, when the first North Vietnamese tanks rumbled past, signalling the Fall of Saigon and ultimately the end of the Vietnam War. Now a museum complete with period meeting areas, war rooms and a basement communication centre, after your visit, walk the short distance to Notre Dame Cathedral. At the centre of HCMC's government district, this romantic church dates back to the late 19th century and is a popular backdrop for wedding photographs. Across the street from the cathedral is the city's striking French colonial-era post office, whilst Hotel de Ville de Saigon, officially Ho Chi Minh City Hall, is another of the city's more prominent buildings. The Museum of Vietnamese History is housed in yet another fine example of Sino-French architecture. Dating back to the 1920s, it contains an excellent series of exhibits dating from the Bronze Age to the Nguyen dynasty, the last ruling family of Vietnam.
As an alternative to the Museum of Vietnamese History, visit the elegant Fine Arts Museum with its impressive collection of ancient and modern art and sculptures, or the War Remnants Museum, which is primarily dedicated to the Vietnam War but also includes exhibits dating back to the French colonialist period and the first Indochina War.
The final stop today is the unforgettable Jade Emperor Pagoda. With the pungent smell of incense hanging heavy in the air and an interior packed full of ornate carvings and fierce-looking statues, this Taoist temple is one of the most atmospheric places of worship in the city. Transfer back to your hotel after your visit or alternatively be dropped off at Ben Thanh market for personal exploration and a spot of souvenir hunting. Synonymous with the Vietnam War and a testament to the determined spirit of the Vietnamese, the underground network of passages at Cu Chi is a fascinating day trip out of the city.
Work on the tunnels began during the war against the French in the 1940s and over the next 25 years as the conflict with America escalated, they were improved and expanded to create an underground city of meeting areas, storerooms, living quarters and much more. The tunnels allowed the Viet Cong to control a vital area of South Vietnam and at their height, extended for more than 200KM in length and stretched from what was then Saigon to the Cambodian border.
Preserved as a memorial park, two sections of this remarkable network are open to the public. Visiting the area at Ben Dinh, there is the option to go below the surface and visit sections of the tunnels first hand. The more adventurous may go deeper and your guide will be on hand to give guidance on the degree of expected difficulty. There is plenty of interest above ground as well and it is recommended to bring good footwear, sunscreen and a hat. Please note you may get a little dusty if you decide to go underground.
DAY 13 / SAIGON / HONG KONG (B) 
Breakfast at hotel.
Spend the day at leisure until it's time to transfer to Saigon Airport for your departure flight.
Arrive in Hong Kong, join a Seat-In-Coach transfer to your hotel accommodation. Balance of day at leisure.
Accommodation: Harbour Grand Kowloon Hotel or similar (3 nights)
DAY 14 / HONG KONG (B) 
Breakfast at hotel.
Enjoy a half day Seat-In-Coach city tour this morning. The perfect way to discover Hong Kong's delights. Victoria Peak by Peak Tram, Aberdeen (with an optional sampan ride), enroute historic Repulse Bay, Stanley Market for bargains and a visit to a prestigious jewellery workshop. Return to hotel after tour.
In the afternoon, you will enjoy a 60-minute sightseeing tram tour. During the TramOramic tour, travel around Hong Kong aboard a 1920-style open-top tramcar to see historical and contemporary landmarks and hear commentary about life in the city. Then use the included 2-day ticket for the public tram system to see more at your leisure. It's a great way to get a little insider perspective with the ability to explore the city on your own, as well.
NOTE: you will need to make your own way to/from the tram tour meeting point. 
DAY 15 / HONG KONG (B/L or D) 
Breakfast at hotel.
Today we will enjoy a half day walking foodie tour. Hong Kong is a Foodie Paradise. It takes hungry souls from around the world on Hong Kong food tours to explore and taste different areas of this dynamic city.  Accompanied by one of our local Foodie Guides, you will learn about Hong Kong's culinary culture while savoring classic dishes and drinks at locals' favorite neighborhood eateries. During our Foodie Tours, you will also experience Hong Kong's local way of living, our history and culture.  You have the option to choose among one of the three famous areas of Hong Kong: Central & Sheung Wan; Sham Shui Po; or Tai Po. Option depending on tour schedule and your personal interest.
DAY 16 / DEPART HONG KONG (B) 
Breakfast at hotel and check-out.
Join Seat-In-Coach transfer to the airport for your onward flight.
Dates & Prices
| | | | | | |
| --- | --- | --- | --- | --- | --- |
| Land Start Date | Embarkation Date | Main Deck (twin occupancy) | Main Deck (single occupancy) | Upper Deck (twin occupancy) | Upper Deck (single occupancy) |
| 01-Mar-17 | 04-Mar-17 | 5,860 | 8,120 | 6,540 | 8,890 |
| 15-Mar-17 | 18-Mar-17 | 5,970 | 8,340 | 6,650 | 9,110 |
| 29-Mar-17 | 01-Apr-17 | 5,860 | 8,120 | 6,540 | 8,890 |
| 05-Jul-17 | 08-Jul-17 | 4,580 | 5,620 | 4,850 | 5,890 |
| 06-Jul-17 | 09-Jul-17 | 4,580 | 5,620 | 4,850 | 5,890 |
| 02-Aug-17 | 05-Aug-17 | 4,580 | 5,620 | 4,850 | 5,890 |
| 03-Aug-17 | 06-Aug-17 | 4,580 | 5,620 | 4,850 | 5,890 |
| 30-Aug-17 | 02-Sep-17 | 4,580 | 5,620 | 4,850 | 5,890 |
| 31-Aug-17 | 03-Sep-17 | 4,580 | 5,620 | 4,850 | 5,890 |
| 27-Sep-17 | 30-Sep-17 | 4,690 | 5,840 | 4,960 | 6,110 |
| 28-Sep-17 | 01-Oct-17 | 5,970 | 8,340 | 6,650 | 9,110 |
| 11-Oct-17 | 14-Oct-17 | 5,970 | 8,340 | 6,650 | 9,110 |
| 12-Oct-17 | 15-Oct-17 | 5,970 | 8,340 | 6,650 | 9,110 |
| 25-Oct-17 | 28-Oct-17 | 5,970 | 8,340 | 6,650 | 9,110 |
| 26-Oct-17 | 29-Oct-17 | 5,970 | 8,340 | 6,650 | 9,110 |
| 08-Nov-17 | 11-Nov-17 | 5,860 | 8,120 | 6,540 | 8,890 |
| 09-Nov-17 | 12-Nov-17 | 5,860 | 8,120 | 6,540 | 8,890 |
| 22-Nov-17 | 25-Nov-17 | 5,860 | 8,120 | 6,540 | 8,890 |
| 23-Nov-17 | 26-Nov-17 | 5,860 | 8,120 | 6,540 | 8,890 |
| 06-Dec-17 | 09-Dec-17 | 5,860 | 8,120 | 6,540 | 8,890 |
| 07-Dec-17 | 10-Dec-17 | 5,860 | 8,120 | 6,540 | 8,890 |
| 20-Dec-17 | 23-Dec-17 | 5,860 | 8,120 | 6,540 | 8,890 |
| 17-Jan-18 | 20-Jan-18 | 5,860 | 8,120 | 6,540 | 8,890 |
| 31-Jan-18 | 03-Feb-18 | 5,860 | 8,120 | 6,540 | 8,890 |
| 28-Feb-18 | 03-Mar-18 | 5,860 | 8,120 | 6,540 | 8,890 |
| 01-Mar-18 | 04-Mar-18 | 5,860 | 8,120 | 6,540 | 8,890 |
| 14-Mar-18 | 17-Mar-18 | 5,970 | 8,340 | 6,650 | 9,110 |
| 15-Mar-18 | 18-Mar-18 | 5,970 | 8,340 | 6,650 | 9,110 |
| 29-Mar-18 | 01-Apr-18 | 5,860 | 8,120 | 6,540 | 8,890 |
Cruise Port Charges: $90 per person
Inclusions
3 nights hotel accommodation in Siem Reap including daily breakfast
7 nights Mekong River cruise onboard Pandaw Cruise in the cabin of your choice
2 nights hotel accommodation in Saigon including daily breakfast
3 nights hotel accommodation in Hong Kong including daily breakfast
Meals included as mentioned in itinerary
Transfers and tours in either Seat-In-Coach basis or private, as per mentioned in itinerary
Notes:
Blackout dates for Hong Kong: Dec 30, 2017 – Jan 1, 2018
Blackout dates for Cambodia: Jan 01 – 04; Feb 15 – 24; Dec 23 – 31, 2017
Airport Seat-In-Coach transfer in Hong Kong only operates for flights arriving/departing between 11am – 5pm, surcharges for private transfer will apply for flight outside of time range
Hong Kong half day walking foodie tour does not operate on Sundays
Cambodia: visitors must wear discrete and respectful clothing, like blouses or shirts that cover the arms, shoulders; skirts must be long to cover the legs in the Angkor region (no skirts or shorts)
Travel Tips
Tip Test
Lower Mekong
The Yangtze
The Po
The Elbe
The Danube
The Dutch Canals
The Rhine
The Red River
Upper Mekong
The Guadiana/The Guadalquivir
The Rhone
The Seine
The Garonne/The Dordoge
The Loire
The Irrawaddy
The Douro
The Kapuas
The Brahmaputra
The Amazon
Antarctica
The Arctic
Iceland – Hurtigruten
Iceland – Variety
Spitsbergen
Norway Fjords
Galapagos
Pure Panama
Coming Soon!
Greece – Jewels of the Cyclades
Seychelles – Garden of Eden
Panama – Treasures of Panama & Costa Rica
From Africa to Brazil
Greece – Antiquity to Byzantium
Greece – Adriatic Odyssey
Cuba – Sights and Sounds of Cuba
Croatia – The Dalmatian Coast & Montenegro
Greece – Classical Greece
Glories of Spain & Portugal
From Cape Town to Mauritius