Magnificent Europe
From $8,420
|
15 Days / 14 Nights
Follow the
route
s
of emperors and kings on thi
s magnificent European journey along
three majestic rivers to five fascinati
ng countries. From Amsterdam, the Rhine
leads to
Cologne, with its imposing cathedral. Passing the breathtaking Rhine Gorge, discover the culture and traditions of
Europe's storied
capitals, including Vienna, Bratislava, and Budapest.  
View Google Map of Region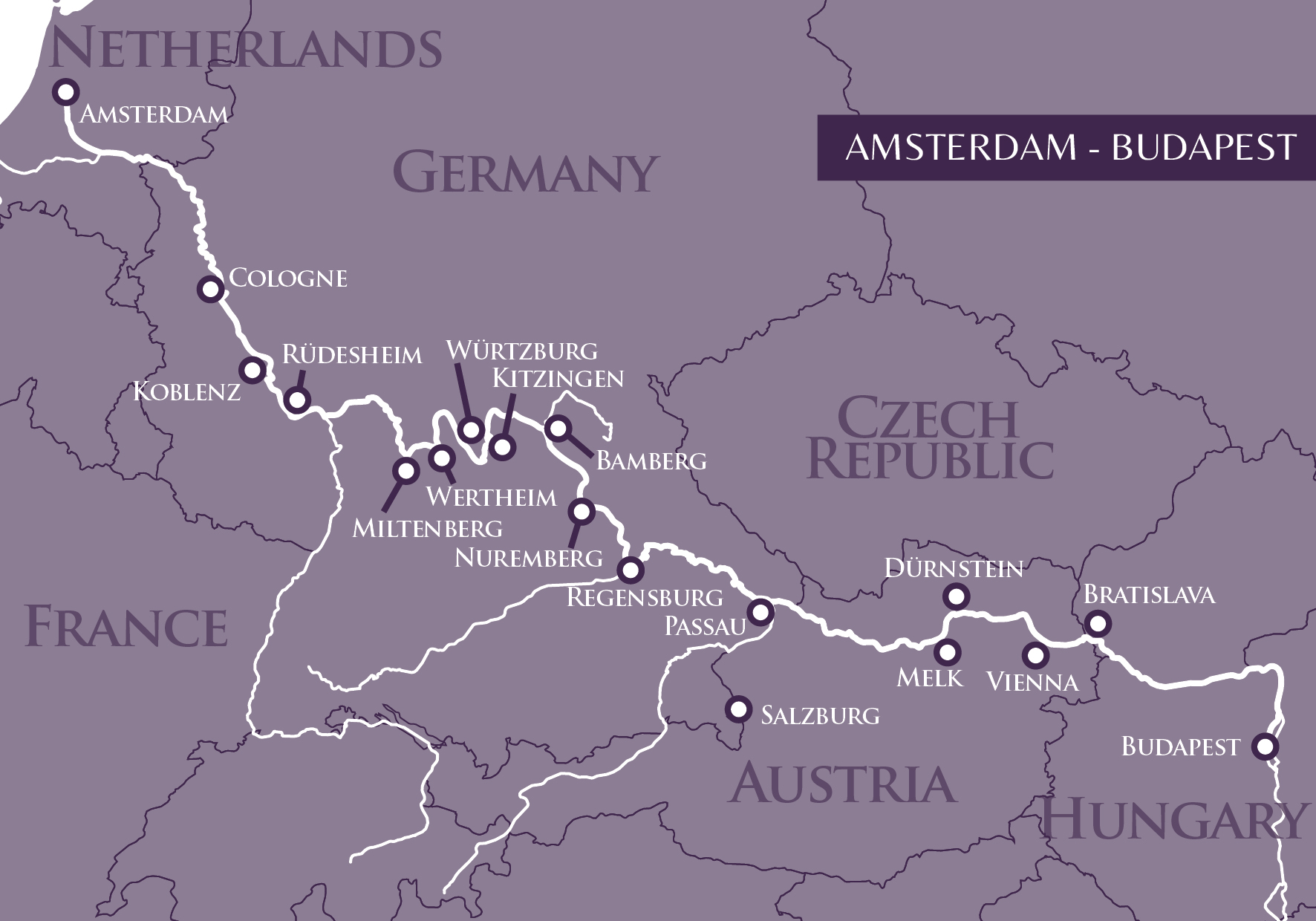 Daily Overview
Day
Destination
Activities
1
Amsterdam
EMBARKATION

Welcome dinner

2
Amsterdam
Tour the city's landmarks and cruise the canals
3
Cologne

Koblenz

Guided old city walking tour and cathedral visit

Evening walk in Koblenz

4
Rüdesheim
Scenic cruising in the Rhine Gorge

Visit Siegfried's Mechanical Music Museum

5
Miltenberg

Wertheim

Walking tour of delightful Miltenberg

Walking tour, bike ride, OR local bakery visit

6
Würzburg

Kitzingen

Walking tour OR Residenz Palace tour

Optional bicycle tour from Würzburg to Kitzingen

7
Bamberg
Walking tour and smoked beer tasting

OR bike tour OR Bamberg specialties tasting

8
Nuremberg
Optional tour of Nuremberg's medieval monuments

Optional WWII city tour OR Franconian tasting

9
Regensburg
Optional walking tour of Regensburg's landmarks

Optional Walhalla bike tour OR Bavarian tasting

10
Passau
Walking, biking, OR hiking excursion in Passau
11
Melk

Dürnstein

Optional excursion to Melk's Benedictine Abbey

Walking tour and wine tasting OR bike tour

12
Vienna
See Vienna's landmarks, including the Opera House

Enjoy free time or a bike trip to Klosterneuburg

13
Bratislava
Walking tour, hike, OR taste local specialties
14
Budapest
Guided city tour OR hike up Castle Hill

Illuminations Cruise

15
Budapest
DISEMBARKATION
Note: This program is also available in the opposite direction.
Detailed Itinerary
DAY 1 / AMSTERDAM / EMBARKATION* 
Welcome to Amsterdam, a modern city with a rich and fascinating history. Explore its unique architecture, vibrant cafés, and colourful markets. This evening, settle into your cabins and meet your fellow travellers at a welcome dinner on board.
DAY 2 / AMSTERDAM 
After breakfast, admire the city's picturesque, centuries-old homes and impressive churches on a guided boat tour on the canals. Later, enjoy a panoramic city tour of Amsterdam's most iconic sights and pose for a photo next to a typical Dutch windmill before returning to the ship, which departs early in the afternoon and cruises overnight to Germany.
DAY 3 / COLOGNE / KOBLENZ 
Arrive in Cologne in the morning and set off on a guided walking tour through the old part of the city, visiting its medieval Gothic cathedral and surrounding square. After lunch, the ship will depart for Koblenz, one of Germany's oldest towns. Upon arrival, enjoy the fresh air on an evening stroll. Mooring overnight in Koblenz.
DAY 4 / RHINE GORGE / RÜDESHEIM 
Cruise through the awe-inspiring Rhine Gorge this morning. Arguably the most beautiful stretch of the Rhine, vineyards, castles, fortresses, and picturesque hamlets line its banks. At the narrowest part of the river, look for the Lorelei Rock, a source of inspiration for many German legends. After lunch, arrive in the wine-making town of Rüdesheim and take a mini train to Siegfried's Mechanical Musical Instrument Museum to peruse its incredible collection. Explore the Drosselgasse, a narrow alley lined with shops and wine taverns, take a gondola ride to see the Niederwalddenkmal Statue, or enjoy some Rüdesheimer Coffee during your free time in the town. Late this afternoon, the ship departs for Miltenberg.
DAY 5 / MILTENBERG / WERTHEIM 
Arrive in Miltenberg in the late morning and head off on a walking tour of this delightful old town, with its narrow cobblestone streets and steeply gabled houses. During lunch, the ship will cruise to Freudenberg, where a coach awaits to whisk you to Wertheim for either a walking tour to see the historic city center or a local bakery for a pretzel-making demonstration and tasting. Those seeking adventure may choose to join a guided bike ride from Freudenberg to Wertheim. Afterwards, rejoin the ship and cruise overnight en route to Würzburg.
DAY 6 / WÜRZBURG / KITZINGEN 
This morning's guided tour of Würzburg features all of the city's major sights. Alternatively, you may prefer to visit the Residenz Palace and gardens, a designated UNESCO World Heritage Site. In the afternoon, cruise to Kitzingen or cycle there via a guided bike ride through the Franconian countryside. Upon arrival, the town's Historic Court Council and honorary Wine Queen will escort you to one of Germany's oldest wine cellars to sample regional wines. This evening, the ship sails towards Bamberg.
DAY 7 / BAMBERG 
This afternoon, arrive in enchanting Bamberg, a UNESCO World Heritage Site where you may choose one of three activities. The first is a guided walking tour of this medieval gem, featuring the cathedral, Old Town Hall, and numerous local mansions, as well as a tasting of some of Bamberg's famous smoked beer. The second is a guided bike tour along the Main River, and the third is a Bamberg Specialties tasting featuring smoked beer, licorice root, and Hörnla, a potato recipe which dates back to 1427. This evening, we continue cruising towards Nuremberg.
DAY 8 / NUREMBERG 
This morning, choose between three activities in Nuremberg. Take a tour of the city's medieval highlights, including Nuremberg Castle, the 900-year-old ramparts surrounding the city, Town Hall, Notre Dame, and the house of artist Albrecht Dürer. Or, join a WWII tour and see the Coliseum, Nazi Parade Grounds, and the Justice Palace courtroom where the War Crimes Tribunal sat in 1946. Alternatively, you might choose to savour traditional flavors on a tasting featuring Franconian Specialties such as the famous Nuremburger Bratwurst, Rotbier, and Lebkuchen. Continue cruising overnight.
DAY 9 / REGENSBURG 
In Regensburg, one of Germany's best-preserved medieval cities and a UNESCO World Heritage Site, choose between one of three tours. Your first option is a guided walking tour of the city's architectural highlights, including the Old Town Hall and the Porta Praetoria, gates to an ancient Roman fort built in 179 AD. Your second option is an opportunity to sample some of the city's most renowned specialties—sausage, beer, and pretzels. Finally, your third option is a guided bike tour from Regensburg to Walhalla, featuring breathtaking views of the Danube Valley. The ship departs this evening for Austria.
DAY 10 / PASSAU 
After breakfast, you have three choices for how to spend the day. The first is a walking tour of picturesque Passau. A fairy-tale city founded more than two millennia ago, Passau is known for its fortifications and town squares, including Rathaus, Domplatz and Residenzplatz, as well as St. Stephen's Cathedral, home to Europe's largest pipe organ. Guests seeking something more adventurous may instead join a guided bike tour from Passau to Erlau or a guided hike up to the Veste Oberhaus fortress overlooking the city.
DAY 11 / MELK / DÜRNSTEIN 
In the late afternoon your ship arrives in the Wachau Valley. Choose to set off on a guided tour of Melk's magnificent Benedictine Abbey, one of Europe's largest Baroque monasteries and a UNESCO World Heritage Site. Here, see the famous library that inspired novelist Umberto Eco to write The Name of the Rose. Afterwards, you'll have free time to explore Melk's streets at your leisure. Alternatively, enjoy a guided bike tour along the Danube from Melk to Dürnstein. In the afternoon, you will have the opportunity to wander Dürnstein's cobblestone streets and sample local wines during a tasting. The ship moors in Dürnstein until the early hours of the morning.
DAY 12 / VIENNA 
This morning, experience the Baroque elegance of Vienna. You may choose between three different excursions. The first option is a panoramic tour of Vienna, guiding you past the majestic Opera House, the former Imperial Palace of the Habsburg Emperors, Parliament, Town Hall, and Vienna University. Afterwards, you'll visit Vienna's historic city center, a UNESCO World Heritage Site, and see St. Stephen's Cathedral, Graben, and the world-famous Spanish Riding School. The second option is a walking tour of Vienna's hidden treasures, revealing little-known sights such as Ankeruhr, a whimsical Art Nouveau clock. Finally, you may choose to join a guided bike tour along the Danube and through the Donaupark. This afternoon, join a guided bike ride to Klosterneuburg Monastery, or explore Vienna your leisure. Be sure to sample some Viennese coffee and pastries.
DAY 13 / BRATISLAVA 
Enjoy a scenic morning cruise to Bratislava, where you will have three choices of excursions. The first is a walking tour that includes the Old Town Hall, Mirbach Palace and St. Martin's Cathedral. The second is a tasting of Slovakian specialties. Enjoy a welcome glass of sparkling wine, sample a creamy soup made from sheep's cheese, and learn how to prepare stuffed potato ravioli. Finally, you might choose to join a hike up to Bratislava Castle, which includes visits to the Castle Upper Terrace and Court of Honor. The remainder of the day is free to explore on your own.
DAY 14 / BUDAPEST 
Your morning excursion includes sightseeing in the cities of Buda, on the west bank of the river, and Pest, on the east bank. You will see the famed Heroes' Square and UNESCO-listed Castle Hill—which you may also choose to hike up. Home to Fisherman's Bastion and Matthias Church, Castle Hill also boasts spectacular views of the Danube. After dinner, you'll be treated to a special Illuminations Cruise past the city's glittering riverfront.
DAY 15 / BUDAPEST / DISEMBARKATION 
This unforgettable cruise comes to an end. Bid farewell to your fellow as you prepare for your journey onward.
*Note: This program is also available in the opposite direction.
Dates & Prices
Itinerary Code (Name of Itinerary)
 Itinerary Start Date
Embark Date
 Ship name
 Route (Start/Embark/End Locations)
# of Nights (Cruise, Cruise + Land)
S.P (Cruise Only)
S.P. (Cruise + Land)
Category – Cruise Only Pricing PP
E
D
C
BB
BA
AB
AA
AA+
Suite
RREU-20
(Magnificent Europe)
01/05/2017
01/05/2017
MS AmaCerto
Amsterdam/Amsterdam/Budapest
14, N/A
$7,999
N/A
$8,420
$9,170
$10,670
$11,920
$12,420
$12,920
$13,420
$14,920
$16,420
18/05/2017
18/05/2017
MS AmaPrima
Amsterdam/Amsterdam/Budapest
14, N/A
$8,249
N/A
$8,670
$9,420
$10,920
$12,170
$12,670
$13,170
$13,670
$15,170
$16,670
01/06/2017
01/06/2017
MS AmaPrima
Budapest/Budapest/Amsterdam
14, N/A
$8,249
N/A
$8,670
$9,420
$10,920
$12,170
$12,670
$13,170
$13,670
$15,170
$16,670
24/08/2017
24/08/2017
MS AmaPrima
Amsterdam/Amsterdam/Budapest
14, N/A
$8,249
N/A
$8,670
$9,420
$10,920
$12,170
$12,670
$13,170
$13,670
$15,170
$16,670
07/09/2017
07/09/2017
MS AmaPrima
Budapest/Budapest/Amsterdam
14, N/A
$8,499
N/A
$8,920
$9,670
$11,170
$12,420
$12,920
$13,420
$13,920
$15,420
$16,920
RREU-20 Single Supplement:
Cruise Portion: 50% of twin price; AA+ and Suites are 100% of twin price
Land Portion: N/A
*Note: This itinerary does not offer Cruise and Land packages.
Inclusions
14 nights deluxe cruise accommodation in an outside stateroom – most staterooms offer revolutionary twin balconies
Shore excursions in every port with personal headset included
Limited Edition Tours
Entertainment on demand in all staterooms featuring free high-speed internet access, hit Hollywood movies, extensive music library and English language TV stations
Complimentary Wi-Fi access on board
Terry bathrobes and white-on-white plush bedding
Fine dining with all meals included during your cruise
Multiple dining venues
Unlimited red and white wines from Europe's great wine regions, beer and soft drinks with every lunch and dinner on board
Bottled water in every stateroom replenished daily
Cocktail Reception, Welcome Dinner and Captain's Gala Dinner
Special highlights including lectures, cooking demonstration, onboard music performances and piano music
Bicycles to explore on your own and guided bicycle tours
Services of professional Cruise Manager
All English language on board in a non-smoking environment (smoking permitted only on the Sun Deck)
Airport transfers are included with the purchase of airfare from AmaWaterways
All local taxes
Ship Details
MS AmaPrima
| | | | | | | |
| --- | --- | --- | --- | --- | --- | --- |
| Built | Length | Decks | Cabins | Passengers | Cabin Size | |
| 2013 | 135m | 4 | 82 | 164 | 19.5 - 28m² | More Details |
MS AmaCerto
| | | | | | | |
| --- | --- | --- | --- | --- | --- | --- |
| Built | Length | Decks | Cabins | Passengers | Cabin Size | |
| 2012 | 135m | 4 | 82 | 164 | 19.5 - 28m² | More Details |
Travel Tips
The Danube
Travel Documents / Visas
1. Passport
Canadian citizens must have a passport that is valid for at least 3 months after the last date of travel to enter European Union (EU) countries which include all destinations on this itinerary.
Citizens of other countries should consult with their travel agent or our office.
2. Visa
No visa is required for citizens of Canada travelling to any country on the Danube itinerary.
Packing List
A handy checklist of what to bring on your trip can be downloaded here.
Insurance
We very strongly recommend the purchase of appropriate travel insurance for any trip outside of Canada. Information on travel insurance options can be found here.
Smoking
Not permitted anywhere indoors. There are designated areas on the outside decks.
Weather
The weather will vary somewhat depending what part of the Danube you are travelling on.
In the early spring (March-April), the weather will likely be in the 10s but some cooler evenings may be expected. Occasional rain is normal.
In May, June and September, temperatures will typically be in the low 20s during the day and in the high 10s during the night time.
In July and August, temperatures are usually in the mid 20s but could range up to the high 20s or low 30s. Evenings typically in the low 20s.
In November and December the temperatures will typically be in the low 10s during the day and in the 0s (but usually above freezing) during the night.
Arrival / Departure
Upon booking, we will provide detail instructions on how to meet your ship on embarkation day. If you have not made any pre or post tour arrangements with us, you will have to arrange your own transportation to and from the port of embarkation. We are happy to provide advice or to assist in arranging transfers.
The ship will not be ready for check-in before mid-afternoon. If you have luggage that you need to deposit so you can enjoy some free time in port, the purser may be able to accommodate you provided we know in advance.
The cruise will finish in the morning (usually around 9am) on the final day. It is necessary to have settled your onboard account and to have disembarked by this time as instructed by the cruise director on the day before.
Money
The currency in Germany, Slovakia and Austria is the EURO. In Czech Republic, the Czech Crown or Kronor is used (CZK), although many shops will accept Euros. In Hungary the local currency is the Hungarian Forint (HUF) and similarly, many shops will accept Euros.
Credit cards are acceptable for larger purchases in retail shops, but often not in restaurants or cafés.
ATM's accepting most international debit and credit cards can be found in abundance.
Gratuities (Tipping)
Gratuities suggested by the cruise line are:
EUR 3.00 per guest per day for the cruise director
EUR 12.00 per guest per day to be divided amongst the entire crew.
Laundry
Laundry service is available onboard at a nominal additional cost. Unfortunately dry cleaning services are not available.
Excursions
Most of our programs include a full complement of excursions. Some additional excursions may be available on board at an extra cost. Please check with us or consult the purser onboard for additional information.
Excursions will usually involve a lot of walking, often on cobblestone streets. If you have difficulty walking any distance, please let us know in advance and we will advise how best we can accommodate you.
Regrettably, most of our excursions are not suitable for those in a wheelchair.
Activity Level / Strenuousness
Light – At most, participation in the shore excursions requires the ability to walk reasonable distances and some stairs.
Food
Breakfast, lunch and dinner are all included in your cruise fare so you shouldn't be too hungry. It is worthwhile to sample the local cuisine, though.
In Prague, depending on the time of year, local kiosks on the main squares will offer delights such as 'Trdelnik', a tube-shaped sweet pastry with various fillings. You may also wish to give the Prague Ham a try, which is a very tasty variation of black forest ham. If you do get the chance for a full meal, roast duck, red cabbage and dumplings is probably one of the most typical Czech meals.
In Germany, particularly in Nuremberg, try the 'Lebkuchen' (gingerbread) which is absolutely delicious. A fast food favourite in the whole country is the famous 'Currywurst' which is a sausage served with a curry mustard sauce.
Austria is of course famous for its pastries, particularly in the coffee shops of Vienna. You can't not try a 'Sachertorte' (chocolate cake with apricot jam). The home of the 'Wiener Schnitzel' is also here with the original version being a breaded veal cutlet and the more common version being made with pork.
Hungary is known for its delectable 'Gulasch' soup, made usually with beef chunks. 'Letscho', a zesty red sauce with sweet peppers is another favourite, often served with shishkebabs and on a bed of rice.
Language
Your shipboard staff all speak English of course, but when you are wandering through the shops in small villages, the local folk may not speak so much English, particularly in the former eastern European states (i.e. Hungary, Czech Republic, Croatia, Serbia etc.) A phrasebook or translation app would come in very handy.
Medical Facilities
There are no medical personnel onboard the ship. However, the purser can contact onshore medical people for emergency and non-emergency situations and rapid evacuation can easily be facilitated in the most urgent cases.
Phone & Internet
There is a phone in each cabin. As is typical, the charges for overseas calls are relatively high.
Free Wi-Fi is available in the main public areas of the ship but not necessarily in all cabins. As internet is provided through a mobile network, bandwidth (speed) will vary depending on the number of concurrent users, the proximity to a cell tower and other factors.
If you would like to have regular data and phone connection, we suggest either arranging an overseas roaming plan with your mobile operator, or pick up a local SIM card if you have an unlocked phone.
Health / Vaccinations
There are no vaccinations required to travel to the EU. As always, we recommend being in good health prior to any long distance travel. Consult your physician with any specific concerns in regard to this program.
Safety & Security
Despite recent events in Europe, these countries are all extremely safe. Particularly the small cities and towns on this voyage, you should have nothing to be concerned about. This being said, being constantly aware of your surroundings and not taking unnecessary valuables with you is always recommended. Leave your passport, extra money and any other belongings you do not need during the day in the safe in your cabin.
You can access current information about the security situation in Europe by referring to the Canadian government travel advisory site at https://travel.gc.ca/destinations/
Suggested Reading