Both Sides of the Panama Canal
From $8,990
|
12 Days / 11 Nights
Learn the
secrets of long-lost cultures and
spot
exotic
plant and animal life
on an expedition between the Atlantic and Pacific. The contrasting worlds of Central and South America are connected by the technological miracle that is the famous Panama Canal. A journey of discovery through time awaits
you, bringing
unforgettable impressions.
View Google Map of Region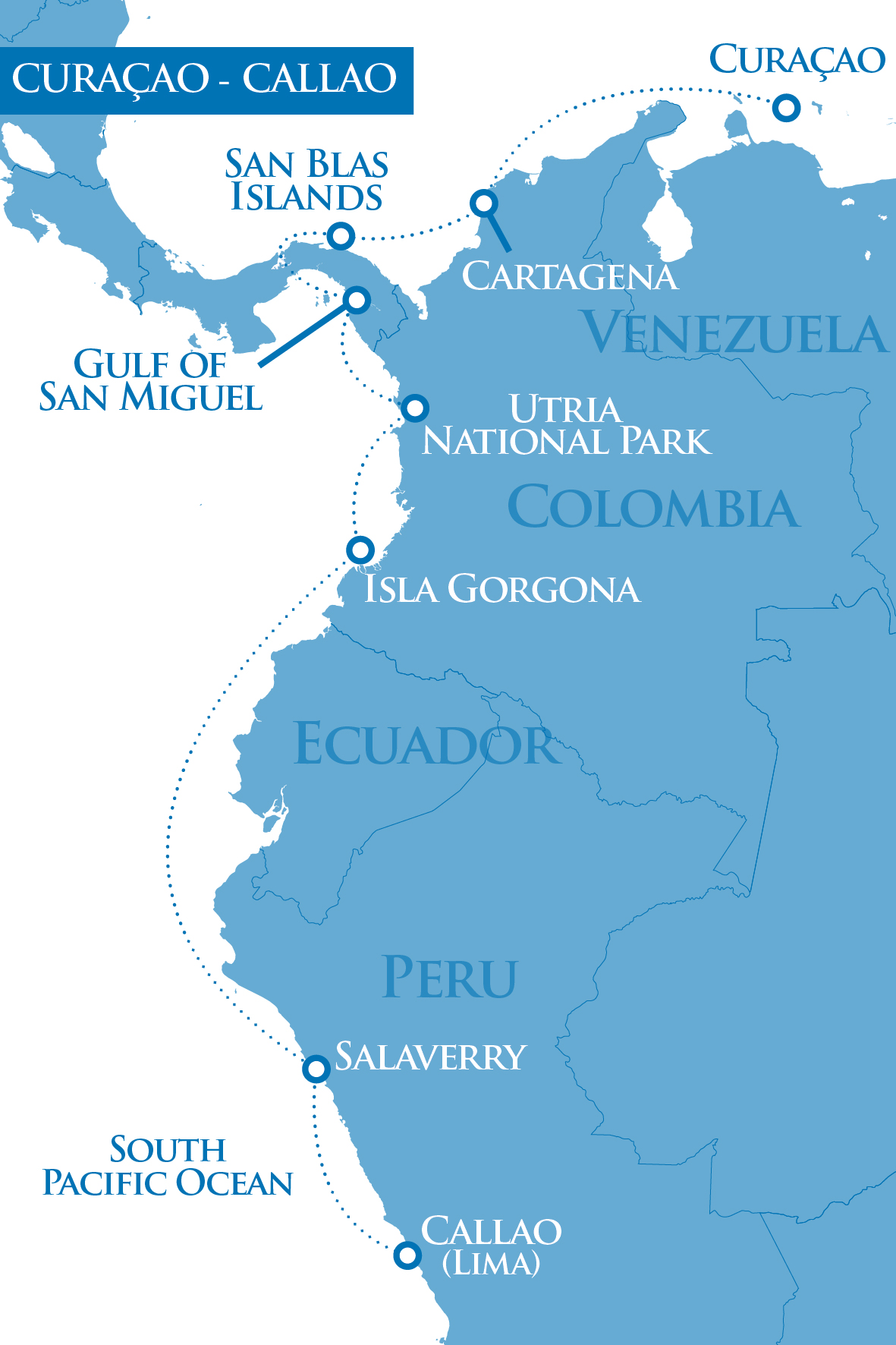 Daily Overview
Day
Destination
Activities
1
Frankfurt

Curaçao

Flight from Frankfurt to Curaçao

EMBARKATION

2
At Sea
Enjoy a relaxing day at sea
3
Cartagena
Experience UNESCO-listed Cartagena

Optional guided tour of the city's highlights

4
San Blas Islands
Swim, snorkel, and relax on sandy beaches

First glimpse of the Panama Canal

5
The Panama Canal
Pass through the magnificent Panama Canal

Learn about the canal's fascinating history

6
Gulf of San Miguel
Discover the lush Darien jungle

Encounter the Embera tribespeople

7
Utria National Park
Spot exotic flora and fauna in the park

See tropical birds, reptiles, and amphibians

8
Isla Gorgona
Explore the former "Alcatraz of Colombia"
9
At Sea
Enjoy a relaxing day at sea
10
Peru
Visit the Huaca el Dragon temple and Chan Chan

See Moche Valley and Sun and Moon Pyramids

11
Callao

Frankfurt

DISEMBARKATION

Flight to Frankfurt

12
Frankfurt
Arrival in Frankfurt
Detailed Itinerary
DAY 1 / FRANKFURT / CURAÇAO 
Fly from Frankfurt to the Dutch Caribbean island of Curaçao, where you'll embark the ship in the evening, setting sail along the northern coast of South America.
DAY 2 / AT SEA 
Spend a relaxing day at sea, taking in spectacular ocean views from the deck, participating in on-board activities, or enjoying luxury amenities.
DAY 3 / CARTAGENA 
In one of South America's most beautiful cities, find a treasure trove of architectural, historical, and cultural wonders. Cartagena, Colombia, was declared a UNESCO World Heritage Site in 1984 and immortalised one year later in a novel by Nobel laureate Gabriel Garcia Marquez. On an optional guided tour through historic Cartagena, discover the picturesque old town, magnificent colonial buildings, and the imposing San Felipe fortress.
DAY 4 / SAN BLAS ISLANDS
The Kuna indigenous people of the San Blas Islands, Panama, claim a past steeped in tradition. Their small autonomous island reserve is a postcard-perfect world of palm trees and white sandy beaches—an ideal place to relax, swim, snorkel, or simply let your mind wander.
Here, you'll get a first glimpse of the Panama Canal, a legendary structure that is over 80 kilometres long and undeniably one of the world's most important straits. Since it opened more than a century ago, the canal has undergone and continues to undergo significant expansion to accommodate ever growing container ships.
DAY 5 / THE PANAMA CANAL 
The daytime passage through the Panama Canal will be the highlight of your voyage. The team of experts on board will ensure your picturesque views are nuanced with fascinating facts about the canal's construction and significance. From the deck, enjoy views of grasslands, dense jungle, and wild mangrove forests. The Panama Canal will draws you, until the moment you reach an exotic new world on the Pacific side.
DAY 6 / GULF OF SAN MIGUEL 
In this El Dorado of lush, natural wonders, discover the green heart of Panama. Traditional boats will take you into the Darien jungle, Central America's largest continuous rainforest, offering a rare and up-close vantage point for observation. In this diverse habitat, encounter the Embera tribe, who live in widely strewn forest villages, and learn about their traditional way of life.
DAY 7 / UTRIA NATIONAL PARK 
Colombia's eco-tourism objectives are in line with our high standards on board, so you can follow a trail instead of leaving one behind. Look forward to the exotic flora and fauna in the almost untouched rainforests of Utria National Park, which offers extraordinary biodiversity, from tropical birds to reptiles and amphibians. Which species will you see? With a little luck, you may even spot humpback whales from the deck, which give birth in these warm waters.
DAY 8 / ISLA GORGONA 
A paradise for plant researchers, Isla Gorgona once served as a base for pirates and later, as the "Alcatraz of Colombia" before it was turned into a nature reserve. Coral reefs, secluded beaches and varied hiking routes—this is the perfect place to dream and discover!
DAY 9 / AT SEA 
Spend a relaxing day at sea, taking in spectacular ocean views from the deck, participating in on-board activities, or enjoying luxury amenities.
DAY 10 / PERU 
The propeller of the ship seems to turn back time, reviving ancient civilisations, including the impressive legacy of the Chimu near Salaverry. On an optional excursion here, explore the Huaca el Dragon temple and Chan Chan, the continent's most important archaeological site. This UNESCO World Heritage Site, which was constructed around 1300, is one of the largest adobe cities in the world. Marvel at the former centre of the Mochica culture, around 2,000 years old, and the ruins of important Chimu shrines in the Moche Valley and the Pyramids of the Sun and Moon, two imposing structures. One of the structures is made from millions of adobe bricks, while the other is decorated with colourful paintings and friezes. Imagine people praying here to gain the favour of the gods.
The Islas Guanape were created by the raw forces of nature, and appear on this route for the first time. Their rugged cliffs are populated by gannets, Inca terns, and pelicans. The islands are also home to sea lions and Humboldt penguins. Your thirst for discovery will be inspired both here and off the Islas Grupo de Huaura. Both archipelagos are remote conservation areas, which means your visits are subject to official approval. All visitors must respect the ecological sensitivity of the islands, in keeping with our environmental philosophy.
DAY 11 / CALLAO / DISEMBARKATION / FRANKFURT 
Enriched by unforgettable impressions and with your yearning for adventure fulfilled, you can look back on the many contrasts of your expedition from the coastal city of Callao. Disembark here in the morning, and board a flight from Lima to Frankfurt.
DAY 12 / FRANKFURT   
Your journey comes to an end in Frankfurt.
Dates & Prices
Itinerary Code (Name of Itinerary)
 Itinerary Start Date
 Ship Name
 Route
Duration (Nights)
Category – Cruise Only Pricing PP
1 (Guar. Outside Cabin)
2 (Outside Cabin)
3 (Outside Cabin)
4 (Outside Cabin)
5 (Outside Cabin)
6 (Outside Cabin)
7 (Suite)
ENLA-01
(Both Sides of the Panama Canal)
11/2/2017
MS Hanseatic
Curaçao/Callao
11
$8,990
$9,870
$11,130
$11,570
$11,990
$13,250
$18,510
Prices are per person based on double occupancy.
ENLA-01 Port Charges: N/A
ENLA-01 Single Supplement:
Category 2-4: ranging from 30-37%
Category 5: 45%
Category 6 and 7: 100%
*Note: Category 1 is not offered as a single option
Inclusions
Expedition in the booked category
Full board on the ship (early bird breakfast, breakfast, bouillon, lunch and dinner, afternoon coffee and tea with pastries, midnight snack).
All landings or rides in the ship's own Zodiacs or tenders (potential admission fees or guided tours by local tour guides not included)
Experienced experts who give lectures, provide in-depth answers to questions about the cruising area and accompany Zodiac landings.
Champagne awaits you in your cabin on your day of arrival.
Mini bar filled with soft drinks in the cabin (refilled daily)
Flat screen, DVD player and private email account as well as an integrated video-on-demand system in every cabin
Sending and receiving emails (up to 1MB) free of charge
German ship, cruise and expedition management as well as a German- and English-speaking service crew on board
Comprehensive information about the cruise, service handbooks about the flora and fauna of the Amazon, the Arctic and Antarctica as well as expedition maps
Information about the port or destination (when available) in the cabin in the form of pocket-size travel guides
Depending on the destination, warm parkas and rubber boots as well as snorkeling equipment and Nordic Walking Poles are provided on loan (subject to availability)
Free use of all on-board facilities (except the services of the phot shop, hairdresser, massage, boutique, internet)
Harbour and airport fees
Bankruptcy insurance
Ship Details
MS Hanseatic
| | | | | | | |
| --- | --- | --- | --- | --- | --- | --- |
| Built | Length | Decks | Cabins | Passengers | Cabin Size | |
| 1993 | 123m | 6 | 92 | 175 | 22 - 44m² | More Details |
Travel Tips
Coming Soon!
Please stay tuned for travel tips tailored for this itinerary!
For any immediate questions, please contact us as 905.258.7778.