Antiquity to Byzantium
From $1,950
|
8 Days / 7 Nights
After embarking in Athens, cross the Saronic Gulf to cruise the incredible coastline of 
the Peloponnese peninsula. Along the way, set off on excursions to some of Greece's 
most renowned archaeological and historic sites, including the ancient theatre of 
Epidaurus, the Lion's Gate and the Tomb of 
Agamemnon, Olympia, and Delphi, carved 
into the slope of Mount Parnassus.
---
25% reduction on official rates. Offer applies on October 27, and November 3, 2017 sailing dates. 
View Google Map of Region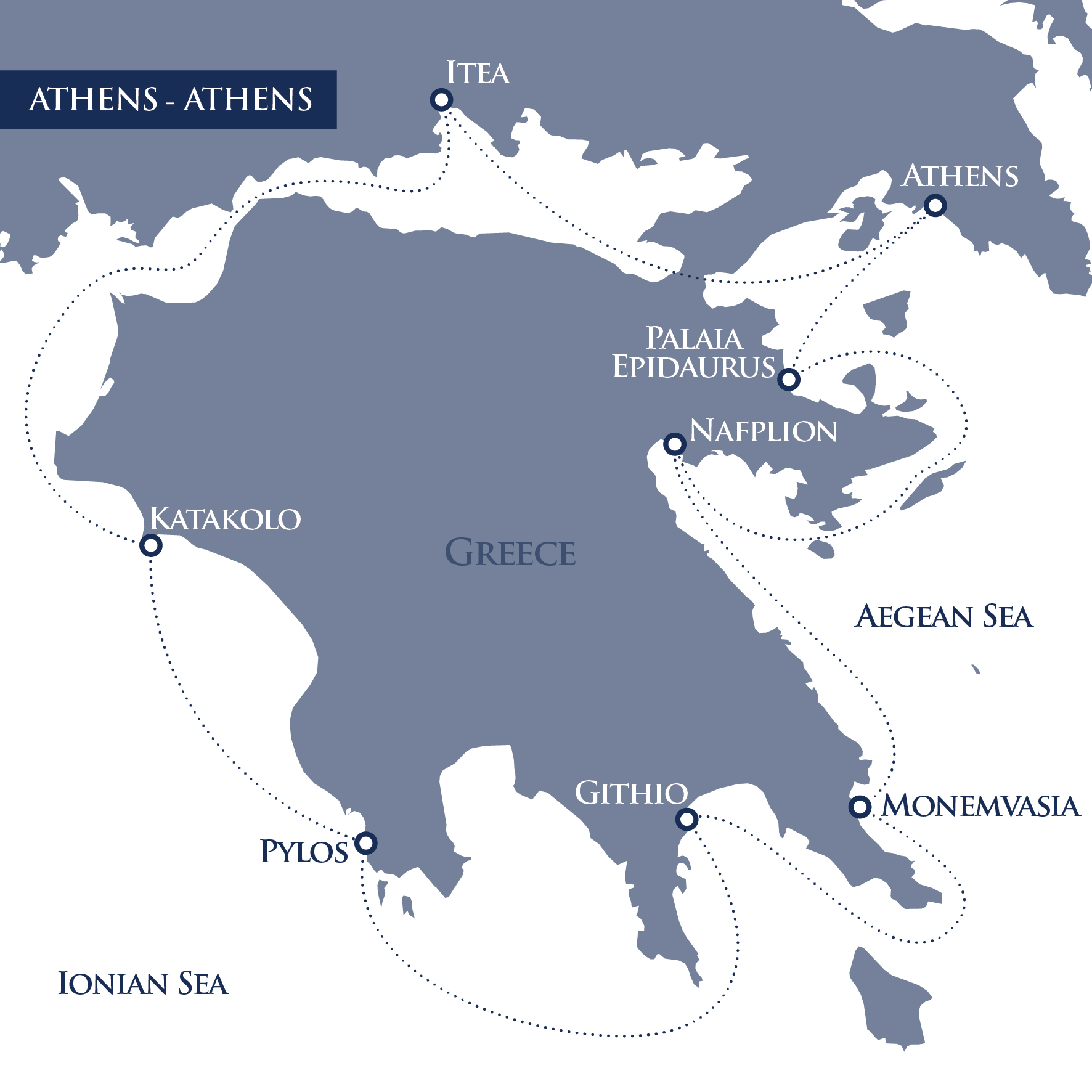 Daily Overview
Day
Destination
Activities
1
Athens

PalaiaEpidaurus

EMBARKATION

Early evening spent cruising toPalaiaEpidaurus

2
PalaiaEpidaurus

Nafplion

Optionaltour ofthe ancient city ofEpidaurus

Afternoon spent cruising

3
Nafplion

Mycenae

Optional excursion to Nafplion and Mycenae

Afternoon spent cruising

4
Gytheio
See the Spartans' former port

Discover the Mani, including theDirosCaves

5
Pylos
See Pylos, a picturesque seaside town

Visit the Palace of Nestor and a nearby museum

6
Katakolon
Explore Olympia, including the Temple of Zeus
7
Itea
See UNSECO-listed Delphi on Mount Parnassus
8
Athens
Breakfast

DISEMABRKATION
Detailed Itinerary
DAY 1 / ATHENS / EMBARKATION / PALAIA EPIDAURUS
In the mid-afternoon, join the ship at Marina Zea on the eastern coast of the Piraeus peninsula near Athens, Greece. The ship sets sail to Palaia Epidaurus, arriving in the evening. Tonight, enjoy dinner on board the ship.
DAY 2 / PALAIA EPIDAURUS
This morning, set off on an optional excursion to Ancient Epidaurus, which was known in antiquity as a centre for healing, with many people traveling there in the hopes of being cured of their ailments. In Greek mythology, it is the birthplace of Asclepius, Apollo's son, who brought prosperity to this region in the fourth and third centuries BCE, enabling the residents to construct civic monuments, including a massive theatre renowned for its symmetry. This famous theatre is once again in use today.
Lunch is served on board. In the afternoon, the ship sails for Nafplion, and spends the night moored there.
DAY 3 / NAFPLION / MYCENAE
On today's optional excursion, discover Nafplion by foot, then embark on a drive through the beautiful Argolis countryside en route to Mycenae, an important archaeological site. This fortified late Bronze Age city dates back to the 14th and 13th century, when it reached a peak of power, influence, and artistic expression. Here, explore Mycenaean ruins, including the Lion's Gate, the Tomb of Agamemnon, palaces, and a museum.
Lunch is served on board the ship. In the afternoon, set sail for Monemvassia and spend the night at sea en route to Gythion.
DAY 4 / GYTHEIO
The ship arrives in Gytheio in the early morning. Here, you have the option to set off on an optional excursion. This region was inhabited in the prehistoric era and later, Ancient Gytheion was used as a port by the Spartans, who enlarged the natural harbour and set up a naval base here. After touring the town, discover the scenic Mani peninsula and Cape Tenaro before reaching the Diros Caves, which feature impressive stalactites and stalagmites. Discovered in the 1960s, the caves are among the most significant natural sites in all of Greece.
Next, drive to the nearby town of Areopoli, the Mani region's capital, and take a stroll through the village. With its underground lakes and rivers, windswept landscapes, and deserted stone towers, this desolate and rugged region on the Peloponnese peninsula is unlike any other in Greece.
DAY 5 / PYLOS
Located on the southwest corner of the Peloponnese peninsula, Pylos is a postcard-perfect seaside town which has been inhabited on and off since the Neolithic period. In 1827, Pylos was the site of the Battle of Navarino, during which the defeat of the Turco-Egyptian fleet eventually led to Greek independence declared in 1829. Here, admire the scenery before continuing north to the Palace of Nestor, a late Helladic-era fortress atop a hilltop which is widely considered the best-preserved Mycenaean palace in Greece. Here, highlights include royal apartments, one of which boasts a bathtub that archaeologists believed may have belonged to the king of Mycenaean Pylos himself.
Today's excursion also features a short trip to the town of Hora, where an archaeological museum includes thousands of artifacts recovered from the Palace of Nestor. Tonight, the ship sails through the night to Katakolon.
DAY 6 / KATAKOLON / OLYMPIA
The ship arrives in Katakolon in the early morning hours. Here, disembark for an optional excursion into to nearby Olympia, one of the most significant archeological sites in the world, and the renowned birthplace of the Olympic Games, which took place every four years from the 8th century BCE to the 4th century AD.
Here, you will also explore the Temple of Hera and the magnificent Temple of Zeus, which served as the lodging place for athletes who participated in the games. Later, visit the Olympia Museum, enjoy lunch in the town of Olympia, and visit the Museum of the History of the Olympic Games in Antiquity, a collection which includes statuary and a wide variety of artifacts related to the ancient Olympics. Enjoy some time at your leisure to explore before traveling overland to Patras on the north coast of the peninsula, where you'll re-board the ship and depart for Itea, in the Gulf of Corinth. The ship spends the night moored here.
DAY 7 / ITEA / DELPHI
From the port of Itea, set off on an optional excursion to Delphi, a famous ancient sanctuary featuring distinctive ruins. Unlike other Greek archaeological sites, Delphi was constructed on the side of a mountain. Visitors are often left equally awestruck by the spectacular natural surroundings as they are by the ancient ruins themselves. At its peak, Delphi was the seat of the oracle that was consulted for significant decisions throughout the ancient classical world. Explore the ruins on foot and visit the adjoining museum before returning to the ship and sailing across the Corinth Canal. In the evening, the ship sets sail for its final destination.
DAY 8 / ATHENS / DISEMBARKATION
Savour a leisurely breakfast on board the ship before disembarking a short distance from Athens to prepare for your onward journey.
Dates & Prices
Itinerary Code (Name of Itinerary)
 Itinerary Start Date
 Ship Name
 Route
Duration (Nights)
Category Pricing PP
C
B
A
P
ONME-03 (Antiquity to Byzantium)
10/20/2017
MS Galileo
Athens/Athens
7
$2,430
$3,030
$3,630
N/A
10/27/2017
MS Galileo
Athens/Athens
7
$2,430
$3,030
$3,630
11/3/2017
MS Galileo
Athens/Athens
7
$1,940
$2,450
$3,050
11/10/2017
MS Galileo
Athens/Athens
7
$1,940
$2,450
$3,050
3/16/2018
MS Galileo
Athens/Athens
7
$1,940
$2,450
$3,050
3/23/2018
MS Galileo
Athens/Athens
7
$1,940
$2,450
$3,050
3/30/2018
MS Galileo
Athens/Athens
7
$1,940
$2,450
$3,050
6/4/2018
MS Galileo
Athens/Athens
7
$2,460
$3,060
$3,660
4/13/2018
MS Galileo
Athens/Athens
7
$2,460
$3,060
$3,660
10/26/2018
MS Galileo
Athens/Athens
7
$2,460
$3,060
$3,660
11/2/2018
MS Galileo
Athens/Athens
7
$1,940
$2,450
$3,050
11/9/2018
MS Galileo
Athens/Athens
7
$1,940
$2,450
$3,050
11/16/2018
MS Galileo
Athens/Athens
7
$1,940
$2,450
$3,050
Port Charges included for 2017 sailings: $330
Port charges included for 2018 sailings: $360
Inclusions
Accommodation in double or twin cabins with private SH/WC & air conditioning.
Full-board: Buffet breakfast and two meals daily, including a Welcome Cocktail, a Greek night Evening, and Captain's Dinner.
Regular (filter) coffee, tea and drinking water free all day.
Use of fishing and snorkelling equipment (subject to availability).
English-Speaking Cruise Escort
Ship Details
MS Galileo
| | | | | | | |
| --- | --- | --- | --- | --- | --- | --- |
| Built | Length | Decks | Cabins | Passengers | Cabin Size | |
| 1992; Rebuilt in 2007 and Refurbished in 2016 | 48m | 4 | 25 | 49 | 8.5 - 13m² | More Details |
Travel Tips
Greece – Antiquity to Byzantium
TRAVEL TIPS
OCEAN – Antiquity to Byzantium (Europe)
Travel Documents
Passport
Greece is a European Schengen area country. Canadian citizens should ensure that their passports are valid for 3 months after the last date of travel in the Schengen area.
Citizens of other countries should consult with their travel agent or our office.
Visa
Canadian citizens are allowed entry into Greece without tourist visas when visiting for less than 3 months (90 days).
Packing List
A handy checklist of what to bring on your trip can be downloaded here.
Insurance
We strongly recommend the purchase of appropriate travel insurance for any trip outside of Canada. Information on travel insurance options can be found here.
Smoking
Smoking is not permitted indoors on the ship but there are designated areas on the outside decks where one can smoke. It's also not permitted in Greece to smoke in hotel guestrooms.
Weather
In the Peloponnese Peninsula, the average temperatures in March/April and
October/November are high 10's to low 20's.
Arrival / Departure
The closest airport to Piraeus is the Athens International Airport, which is about a 55 minute drive away from the port of Marina Zea where you will embark the ship.
Once you have booked your trip, we will provide detailed instructions on where in Piraeus, Greece to check-in for your cruise.
There are a lot of interesting tourist attractions and activities in Athens, we highly recommend a stay here before or after your voyage. Have a look at some of our Pre and Post Tours.
The ship will not be ready for check-in before midday (unless otherwise stipulated in the itinerary). If you have any luggage that you need to have booked in so you can enjoy some free time in port, the purser may be able to accommodate you provided we know in advance.
The cruise will finish in the morning on the final day. It is necessary to have settled your onboard account and to have disembarked by this time as instructed by the cruise director on the day before.
Money
The official currency in Greece is the Euro.
All major credit cards and debit cards are accepted by larger shops and restaurants in Greece. However, when possible, carry enough Euros for the day and charge what you can to your credit cards.
ATM's accepting most international debit and credit cards can be found in towns/cities.  
Gratuities (Tipping)
The gratuity suggested by the cruise line is USD 13 – 16 per guest per day.
Of course, gratuities are always at your discretion and the above recommendations are assuming you are thoroughly pleased with services rendered. All gratuities will be equally divided amongst the entire crew.
Laundry
Laundry service is available for a small fee. Unfortunately, dry cleaning is not available.
Services & Activities On board
Aboard your yacht you will find an elegant dining room, spacious sun decks and comfortable lounges.  
You can also find a small borrowing library as well as board games and playing cards for your amusement. Movies are often shown in the vessels' Lounges, so please check in the Daily Program for show times.
Excursions
Shore excursions will be offered on board but are always subject to weather and docking conditions and a minimum number of participants. They can be purchased on board at an extra cost.
Excursions will usually involve a fair amount of walking. If you have difficulty walking any distances, please let us know in advance and we will advise you on the best way that we can accommodate you.
Please refer to our website or consult the purser on board for additional information.
Regrettably, most of our excursions are not suitable for guests in a wheelchair.
Activity Level / Strenuousness
Light to Moderate – At most, participation in the shore excursions requires the ability to walk reasonable distances.
Food and Beverages
Breakfast, lunch and dinner are included in your voyage. All drinks on board (alcoholic and non-alcoholic drinks) are subject to extra charges.
Peloponnese have an abundance of regional dishes that primarily focus on the freshness of ingredients and simple yet delicious food.
Olive oil, a key ingredient in all parts of Greece, it is especially important in the Peloponnese. In Nafplio, the southern tip of the peninsula, pork is the meat of choice it is also preserved in olive oil.
An interesting yet succulent dish is Lagotó. It is is made of pieces of pork which are cooked in a very garlicky sauce that is thickened with bread crumbs and spiked with vinegar.
In addition to the renowned olive oil and table olives, the southern Peloponnese have extended citrus groves that produce juicy and fragrant lemons and oranges. Lemon is ubiquitous in Greek cooking, as it beautifully complements the flavor of olive oil, but in the Peloponnese, oranges also find their way into the pork and vegetable stews. Oddly, there are very few typical Peloponnesian dishes, except for seasonal vegetables stews, made with vegetables, including zucchini, eggplant, green beans, leafy greens, and artichokes. The stews sometimes contain meat or poultry and are flavored with lemon in the winter and tomatoes in the summer.
The Greek Ouzo is considered the national drink of Greece. Ouzo is either produced by partial distillation or the admixture of plain alcohol with aromatic herbs. Traditional Raki and Tsipouro.
 Apart from ouzo, Greece is known for these considerably stronger distilled local drinks that are homemade with the harvest of grapes from autumn.
Language
The language spoken on board is primarily English. In general, there is a multilingual environment and you will have a chance to mix with a variety of nationalities. Excursions and public announcements are always in English.
English is spoken in most places along the Peloponnese peninsula, in the more touristy places you won't have problems with speaking German or Italian either. If you'd like to communicate in Greek then take a phrasebook along when sightseeing, however almost all speak from some words to quite fluent English.
Medical Facilities
There are no medical personnel on board the ship. However, crew members are trained in first aid and the purser can contact onshore medical people for emergency and nonemergency situations and evacuation can be facilitated in the most urgent cases.
Cabin Amenities
All cabins have private, nicely appointed bathrooms fitted with showers. All cabins are air-conditioned and connected to a central music system. There is a telephone for intra ship communication. Our ship contains in lounge TV's with satellite channels with at least a few English speaking programs. There are hairdryers in each cabin, flat-screen TV's, public address system, safe boxes, mini-fridges and DVD players in the cabins.
The ship's generator provides an electric voltage of 220V. Cabins are fitted with European type plugs so please remember to bring an adaptor if necessary.
For more details, please visit the Ships section on our website.
Phone & Internet
There is a phone in each cabin. Outgoing call rates are very high as a satellite connection is the only one possible.
WIFI is available in certain areas of the ship at a modest charge. As it is a satellite connection, internet speed will be very slow and we suggest it be used for urgent matters only.
If you would like to have regular data and phone connection, we suggest either arranging an overseas roaming plan with your mobile operator, or pick up a local SIM card if you have an unlocked phone.
Children
Aboard the M/S Galileo there are no recreational facilities for children and reservations for those under the age of eleven are not advised. However, should you choose to bring children along please take into consideration that children onboard are their parents'/guardians sole responsibility.
Health / Vaccinations
There are no vaccinations required to travel to Greece. However, we suggest you consult your physician with any specific personal requirements for this program.
As always, we recommend being in good health prior to any long distance travel.
Safety & Security
Greece is like any place in the world, it is generally but not completely safe. Greece has undergone significant governmental change in the last couple of years. Being tourists in a city, security measures should be taken. When going out it's recommended that you not take any valuables or travel documents along to reduce the chances of having an unfortunate incident.  Late night strolls alone are not advisable especially for women. Petty crime including pickpocketing and bag snatching may occur in Athens, Greece.  When in Athens, it's advised that you not walk in the Monastiraki and Omonia districts or after dark as well as around the Larissa and Peloponissos railway/bus stations.
Jewelry, money, documents, etc., should be placed in your individual safe deposit boxes or given to the captain who will deposit items in the ship's safe boxes free of charge.
To enhance public safety, police officers patrol subway stations, bus terminals and other public places. They are dedicated to improving the security of foreigners.
More information on this from the Canadian government can be obtained at:
www.travel.gc.ca/destinations/greece
Suggested Reading
Eyewitness Guide Greek Islands
Byzantium, From Antiquity to the Renaissance