Berlin to Prague
From $3,360
|
9 Days / 8 Nights
Cruise the
Elbe,
one of Western Europe's most important rivers as it weaves its way through
the former Kingdom of Bohemia
. Experience the many sides of Berlin before setting sail for the legendary German towns of
Magde
burg
, Dresden, and Wittenberg, Dr. Martin Luther's hometown. Colour, culture, and old-world sophistication await you in Prague, Czech Republic.  
Find our exclusive Canadian departure here!
View Google Map of Region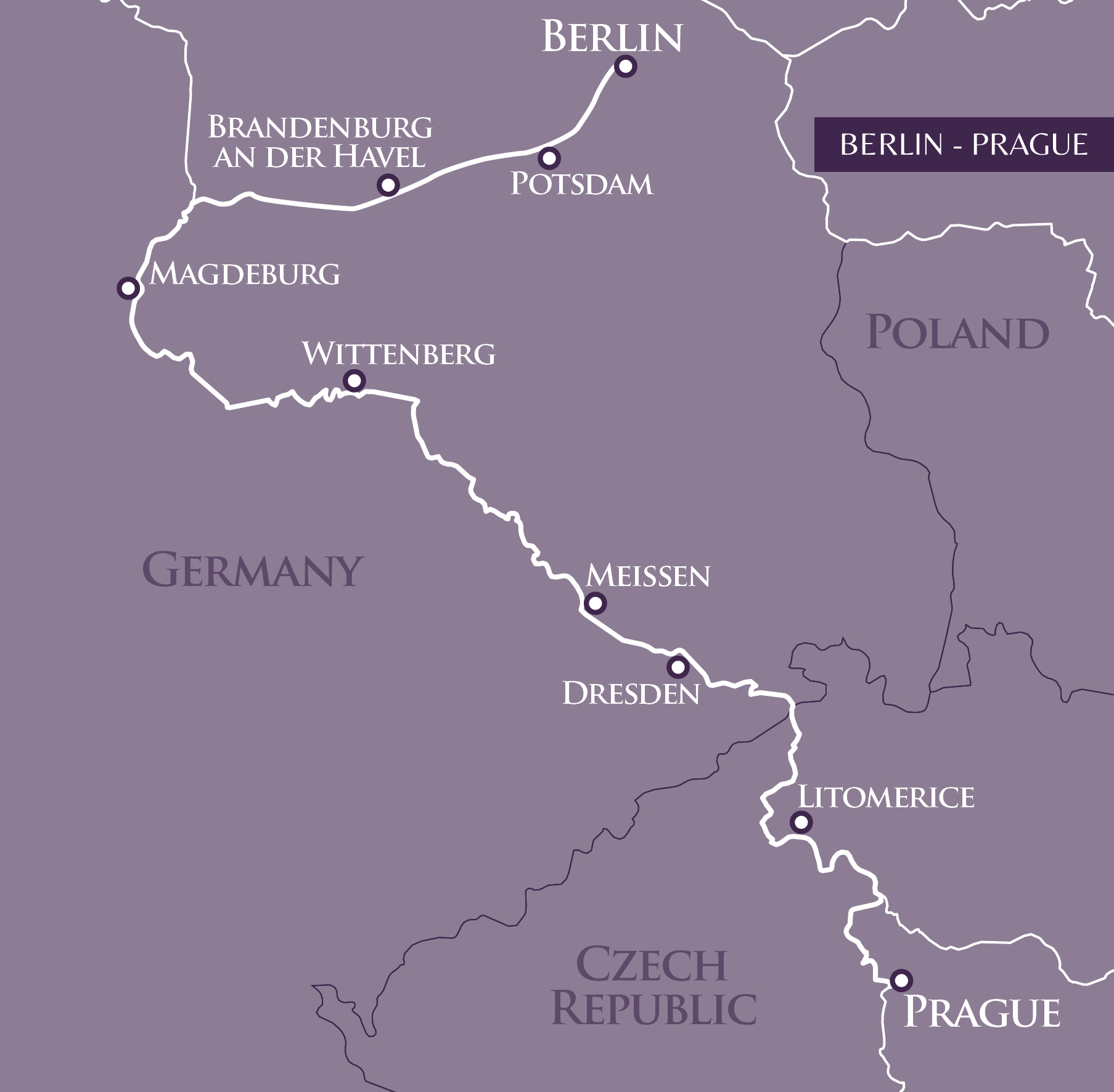 Daily Overview
Day
Destination
Activities
1
Berlin
EMBARKATION

Welcome cocktail, dinner, and entertainment

2
Berlin
Discover iconic Berlin and its landmarks

Tour Sanssouci Palace, the "German Versailles"

3
Magdeburg
Morning spent cruising

Excursion to Magdeburg and the tomb of Otto I

4
Lutherstadt Wittenberg
Guided tour of birthplace of Dr. Martin Luther

Afternoon spent cruising and quiz night on board

5
Dresden
See Meissen, world-renowned for its porcelain

Explore Dresden, "the Florence of the Elbe"

6
Dresden
Excursion to the Elbe Sandstone Mountains

Dinner and entertainment on board

7
Litomerice
Discover the colourful town of Litomerice

Afternoon spent cruising

8
Prague
Tour Prague, the former capital of Bohemia

Gala dinner

9
Prague
Breakfast

DISEMBARKATION
Note: This program is also available in the opposite direction.
Detailed Itinerary
DAY 1 / BERLIN / EMBARKATION 
Embark on an unforgettable journey in Berlin—embark in the evening and settle into your cabin. Enjoy a cocktail in the lounge as we present the crew. Dinner is served on board.
DAY 2 / BERLIN / BRANDENBURG 
This morning, board a coach to explore the fascinating German capital of Berlin, a city known for its museums, monuments, and chic bars and restaurants. Berlin has been a hub for artists, musicians, and philosophers for hundreds of years, and in the 20th century alone, it's seen a revolution, Nazi leadership, bombing, division, and at last, reunification when the Berlin was at last brought down. You'll see famous monuments, including the Victory Column, the Bismarck Memorial, Brandenburg Gate, and the Reichstag building, with its glass dome. Explore Museum Island, and see Checkpoint Charlie, the former crossing point between East and West Berlin.
In the afternoon, depart for Sanssouci Palace. As the former summer residence of Frederick the Great, Sanssouci has been described as rivalling the Palace of Versailles. After exploring the gardens, with their numerous temples and follies, return to the ship and set off for Brandenburg. On the way, let yourself by charmed by the lakes surrounding the Havel River, a tributary of the Elbe. We'll glide past Pfaueninsel, an island and nature reserve featuring UNESCO-listed historic buildings.
DAY 3 / BRANDENBURG / BURG / MAGDEBURG 
As you cruise towards Burg in the morning, take the opportunity to enjoy the gentle pace of the river and take in the pastoral landscapes. Upon arrival, you may choose to embark on an excursion to Magdeburg, a midway point on the Elbe River. Here, see the Cathedral of Saints Catherine and Maurice, which houses the tomb of Emperor Otto I the Great. The oldest Gothic cathedral in the country, it also features the tallest steeple in eastern Germany.
Return to the ship and continue cruising. Tonight, an evening of dancing will follow dinner. Cruising through the night.
DAY 4 / LUTHERSTADT WITTENBERG 
Today, you're invited to follow a guide in the hometown of Protestant Reformer Dr. Martin Luther. See the door of the church where Luther nailed his 95 Theses and sparked the Protestant Reformation and tour Luther's home, a former Augustinian monastery which has since been listed as a UNESCO World Heritage Site. The city centre features charming Renaissance-style houses.
You'll spend the remainder of the day cruising. Tonight, it's quiz night on board. Cruising through the night.
DAY 5 / MEISSEN / DRESDEN
Meissen is famous for manufacturing porcelain, a 300-year-old industry boosted by abundant local deposits of potter's clay and china clay. On an excursion to the city, tour the porcelain factory and see the magnificent pieces in the museum. Next, head to the historical district. Here, the striking Late Gothic-style Albrechtsburg castle sits adjacent to the Meissen Cathedral, overlooking the Elbe.
Return to the ship in Dresden, relax over lunch, and then disembark for an excursion to the "Florence of the Elbe." Dresden has Slavic origins, but in the 13th century it rose to prominence, becoming the capital of the Margravate of Meissen and two centuries later, the seat of the Dukes of Saxony. Dresden's promenades, monuments, museums, and architectural heritage make it a must-see destination in Germany.
Back on board the ship, enjoy dinner and dancing.
DAY 6 / DRESDEN / BAD SCHANDAU 
Spend the morning cruising to Bad Schandau. Upon arrival, embark on an adventure to the Elbe Sandstone Mountains, where the Königstein Fortress sits perched atop a hill overlooking the river. The fortress is believed to have been built in the 13th century, and for centuries, it was used as a state prison.
On the way back to the ship, stop at the breathtaking Bastei rock formation, which was formed over one million years ago by water erosion. This afternoon, glide along the Elbe as it reveals vineyards, prairies, woods, lakes, and châteaux in the Saxon Switzerland national park.
DAY 7 / LITOMERICE 
At the confluence of the Elbe and the Ohre rivers, Litomerice, Czech Republic is one of the oldest Bohemian cities, established on the site of a former Slavic fort. The city's vast historic centre boasts multi-coloured Gothic, Baroque, and Renaissance buildings which leave an impression on visitors.
The afternoon is spent cruising. Enjoy games and activities on board, followed by dinner and an evening of entertainment.
DAY 8 / PRAGUE 
Today, experience the rich culture and distinctive architecture of Prague, the current capital and largest city of the Czech Republic. Set off on foot in the Old City and let yourself fall in love with the regal Old Town Square and its Gothic- and Baroque-style architecture, including Kinsky, a Rococo palace-turned-art museum, and the Church of Our Lady before Tyn, a Gothic cathedral with dark spires that pierce the Prague skyline. As you continue on, see the elegant, Art Nouveau-style Municipal House and the Powder Tower, which dates back to the 11th century. Finally, explore the Jewish Quarter,  with a long history back to the 13th century which remains a testament to the Jews in Prague. Don't miss the memorial statue for author Franz Kafka.
After returning to the ship for lunch, embark on an excursion to see Prague's most famous castles, palaces, churches, gardens and monasteries—including St. Vitus Cathedral, the extravagant Prague Castle, and Golden Lane. Following your exciting day in Prague, you'll be treated to a gala dinner on board.
DAY 9 / PRAGUE / DISEMBARKATION 
Savour breakfast on board the ship before saying farewell and disembarking in the morning.
*Note: This program is also available in the opposite direction, downstream from Prague to Berlin.
Dates & Prices
Itinerary Code
(Name of Itinerary)
 Itinerary Start Date
 Ship name
 Route
Duration (Nights)
Main Deck Pricing PP
Upper Deck Pricing PP
Suite Main Deck Pricing PP
Suite Upper Deck Pricing PP
RREU-16
(Berlin to Prague)
4/10/2017
MS Elbe Princesse
Prague/Berlin
8
$3,360
$3,670
N/A
N/A
4/18/2017
MS Elbe Princesse
Berlin/Prague
8
$3,360
$3,670
4/26/2017
MS Elbe Princesse
Prague/Berlin
8
$3,360
$3,670
5/4/2017
MS Elbe Princesse
Berlin/Prague
8
$3,720
$4,020
5/12/2017
MS Elbe Princesse
Prague/Berlin
8
$3,720
$4,020
5/20/2017
MS Elbe Princesse
Berlin/Prague
8
$3,720
$4,020
5/28/2017
MS Elbe Princesse
Prague/Berlin
8
$3,720
$4,020
6/5/2017
MS Elbe Princesse
Berlin/Prague
8
$3,720
$4,020
6/13/2017
MS Elbe Princesse
Prague/Berlin
8
$3,720
$4,020
6/21/2017
MS Elbe Princesse
Berlin/Prague
8
$3,720
$4,020
6/29/2017
MS Elbe Princesse
Prague/Berlin
8
$3,720
$4,020
7/7/2017
MS Elbe Princesse
Berlin/Prague
8
$3,540
$3,850
7/15/2017
MS Elbe Princesse
Prague/Berlin
8
$3,540
$3,850
7/23/2017
MS Elbe Princesse
Berlin/Prague
8
$3,540
$3,850
7/31/2017
MS Elbe Princesse
Prague/Berlin
8
$3,540
$3,850
8/8/2017
MS Elbe Princesse
Berlin/Prague
8
$3,540
$3,850
8/16/2017
MS Elbe Princesse
Prague/Berlin
8
$3,540
$3,850
8/24/2017
MS Elbe Princesse
Berlin/Prague
8
$3,540
$3,850
9/1/2017
MS Elbe Princesse
Prague/Berlin
8
$3,720
$4,020
9/9/2017
MS Elbe Princesse
Berlin/Prague
8
$3,720
$4,020
9/17/2017
MS Elbe Princesse
Prague/Berlin
8
$3,720
$4,020
9/25/2017
MS Elbe Princesse
Berlin/Prague
8
$3,720
$4,020
10/3/2017
MS Elbe Princesse
Prague/Berlin
8
$3,360
$3,670
10/11/2017
MS Elbe Princesse
Berlin/Prague
8
$3,360
$3,670
10/19/2017
MS Elbe Princesse
Prague/Berlin
8
$3,360
$3,670
10/27/2017
MS Elbe Princesse
Berlin/Prague
8
$3,360
$3,670
11/4/2017
MS Elbe Princesse
Prague/Berlin
8
$3,360
$3,670
Prices are per person based on double occupancy and include the classic excursion package.
RREU-16 Port Charge: N/A
RREU-16 Single Supplement:
Main Deck: $930
Upper Deck: $930
Inclusions
All meals included from the first evening's dinner to breakfast on the final day
Drinks include water, wine, beer, and fruit juices during the meal; coffee offered after both lunch and dinner for meals eaten on the boat – drinks from the bar, except for champagne or wines from our special list
Double-occupancy cabin with shower in bathroom
All entertainment
Assistance from our onboard multi-lingual host/hostess
Welcome cocktail
Gala dinner
Travel assistance and repatriation insurance
All port fees
Ship Details
MS Elbe Princesse
| | | | | | | |
| --- | --- | --- | --- | --- | --- | --- |
| Built | Length | Decks | Cabins | Passengers | Cabin Size | |
| 2016 | 95m | 2 | 40 | 80 | 14m² | More Details |
Travel Tips
The Elbe
Travel Documents / Visas
1. Passport
Canadian citizens must have a passport that is valid for at least 3 months after the last date of travel in the Czech Republic or Germany (EU).
Citizens of other countries should consult with their travel agent or our office.
2. Visa
No visa is required for citizens of Canada travelling to the Czech Republic or Germany for leisure stays of up to 90 days.
Packing List
A handy checklist of what to bring on your trip can be downloaded here.
Insurance
We very strongly recommend the purchase of appropriate travel insurance for any trip outside of Canada. Information on travel insurance options can be found here.
Smoking
Not permitted anywhere indoors. There are designated areas on the outside decks.
Weather
April / May & October: Day time temperatures typically from the mid to high 10s. At night it can dip into the single digits. Occasional spring rains.
June and September: During the day the temperature is typically in the low 20s and in the evening it often dips into the high 10s. Usually fairly dry.
July/August: Very warm during the day in the mid to high 20s and the low 20s at night.
Arrival / Departure
Upon booking, we will provide detail instructions on how to meet your ship on embarkation day. If you have not made any pre or post tour arrangements with us, you will have to arrange your own transportation to and from the port of embarkation. We are happy to provide advice or to assist in arranging transfers.
The ship will not be ready for check-in before mid-afternoon. If you have luggage that you need to deposit so you can enjoy some free time in port, the purser may be able to accommodate you provided we know in advance.
The cruise will finish in the morning (usually around 9am) on the final day. It is necessary to have settled your onboard account and to have disembarked by this time as instructed by the cruise director on the day before.
Money
The currency is the EURO. It is uncommon for local shops and restaurants to accept any other currency.
Credit cards are acceptable for larger purchases in retail shops, but often not in restaurants or cafés.
ATM's accepting most international debit and credit cards can be found in abundance.
Gratuities (Tipping)
As always, gratuities are at your own discretion. If you feel the service has met or exceeded your expectations, the ship suggests an amount of EURO $ 5-10 per person per day.
Laundry
Unfortunately there are no laundry facilities on board so bring what you need for the cruise.
Excursions
Most of our programs include a full complement of excursions. Some additional excursions may be available on board at an extra cost. Please check with us or consult the purser onboard for additional information.
Excursions will usually involve a lot of walking, often on cobblestone streets. If you have difficulty walking any distance, please let us know in advance and we will advise how best we can accommodate you.
Regrettably, most of our excursions are not suitable to those confined to a wheelchair.
Activity Level / Strenuousness
Light – At most, participation in the shore excursions requires the ability to walk reasonable distances and some stairs.
Food
Breakfast, lunch and dinner are all included in your cruise fare so you shouldn't be too hungry. It is worthwhile to sample the local cuisine though.
Czech cuisine is quite heavy with meat/poultry and potatoes or dumplings being standard fare. Classic dishes include "Sviĉkova" which is a braised beef in sauce usually served with bread dumplings. Our personal favourite is the roast duck with red cabbage and dumplings. You will find this on menus everywhere. Of course the drink of choice in the Czech Republic is beer with the most well-known brand being Pilsener Urquell.
In Germany, pork dishes are very popular and if you're looking for a quick snack, try one of the many sausages that you can find at street vendors all over. One of the most hearty dishes to try in Berlin is the "Eisbein" or pork knuckle. It tastes much better than it sounds.
Germany is also well known for its beer, but you might try some German white wine from the Rhine or Mosel regions. Generally known to be sweeter, if you opt for a dry variety, you will be pleasantly surprised.
Language
Your shipboard staff all speak English of course, but when you are wandering through the shops in small villages, the local folk may have little English, particularly in the Czech Republic. A phrasebook or translation app is highly recommended.
Medical Facilities
There are no medical personnel onboard the ship. However, the purser can contact onshore medical people for emergency and non-emergency situations and rapid evacuation can easily be facilitated in the most urgent cases.
Phone & Internet
There is a phone in each cabin. As is typical, the charges for overseas calls are relatively high.
Free Wi-Fi is available in the main public areas of the ship but not necessarily in all cabins. As internet is provided through a mobile network, bandwidth (speed) will vary depending on the number of concurrent users, the proximity to a cell tower and other factors.
If you would like to have regular data and phone connection, we suggest either arranging an overseas roaming plan with your mobile operator, or pick up a local SIM card if you have an unlocked phone.
Health / Vaccinations
There are no vaccinations required to travel in Germany or the Czech Republic. As always, we recommend being in good health prior to any long distance travel. Consult your physician with any specific concerns in regard to this program.
Safety & Security
Despite recent events in Europe, both the Czech Republic and Germany are extremely safe. Particularly the small cities and towns on this voyage, you should have nothing to be concerned about. This being said, being constantly aware of your surroundings and not taking unnecessary valuables with you is always recommended. Leave your passport, extra money and any other belongings you do not need during the day in the safe in your cabin.
Suggested Reading
Riverboat Trip up the Elbe River and on to Prague, Brno, and Karlovy Vary
Here I Stand, The Life of Martin Luther