Canary Islands Discovery (South Tenerife/South Tenerife)
From $3,020
|
8 Days / 7 Nights
Travel beyond the Canary Island's resorts. On this Canary Island cruise, you'll experience the wildly rugged landscapes
—
along with forests,
dunes,
lava fields, flatlands, lagoons, and tranquil tropical waters
—that make the islands a natural playground
.
Taste local wine and cheese, visit
long-lost seaside villages, and experience all the islands have to offer.
View Google Map of Region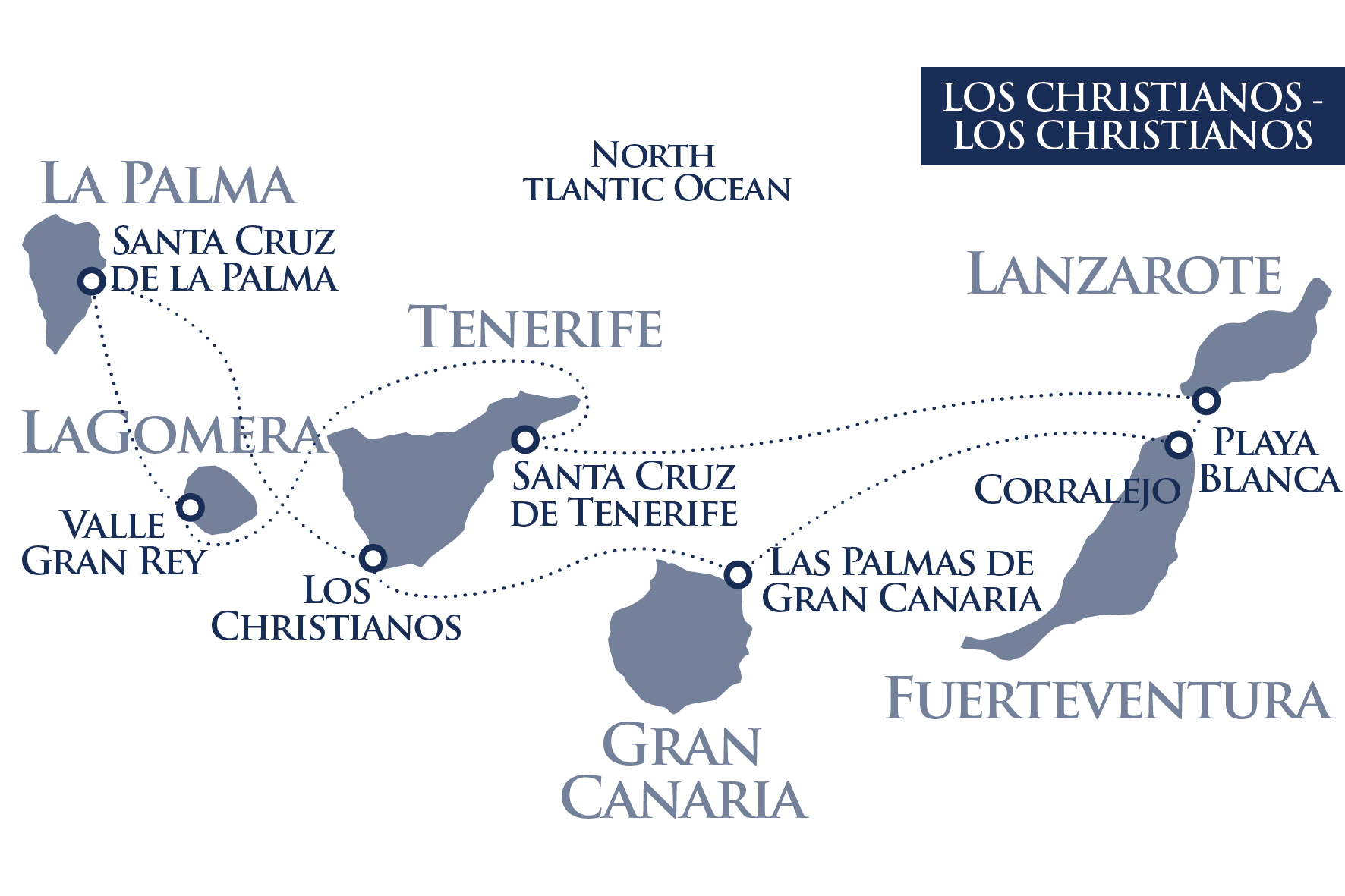 Daily Overview
Day
Destination
Activities
1
Los Christianos (Tenerife)
EMBARKATION

Welcome drink and dinner

2
Santa Cruz de la Palma

(La Palma)

Explore Santa Cruz's historic city centre

See La Palma's crater and volcano

3
Valle Gran Rey

(La Gomera)

Hear the curious La Gomera whistling language

Visit UNESCO-listed Garajonay National Park

4
Santa Cruz de Tenerife (Tenerife)
See La Laguna, the island's former capital

Explore Tenerife's contemporary landmarks

5
Lanzarote
Explore this UNESCO Biosphere Reserve

La Geria wine tour and tasting

6
Corralejo (Fuerteventura)
Discover Betancuria's storied history

Learn about traditional ways of life on the island

7
Las Palmas de Gran Canaria (Gran Canaria)
See Villa de Teror and the basilica

Explore the Canary Islands Botanical Gardens

8
Los Christianos

(Tenerife)

Breakfast

DISEMBARKATION
Detailed Itinerary
DAY 1 / LOS CHRISTIANOS (TENERIFE) 
After embarking in the bustling cosmopolitan port of Los Christianos, settle into your cabin and relax with a welcome drink, followed by dinner. The ship moors overnight in Los Christianos on the island of Tenerife.
DAY 2 / SANTA CRUZ DE LA PALMA (LA PALMA) 
In the early hours of the morning, arrive in Santa Cruz de la Palma on the island of La Palma. Here, you may choose to embark on an optional full-day excursion to the historic old town. You'll also see La Caldera de Taburiente National Park, including the museum. At 10 kilometres across, the Caldera de Taburiente is an immense crater surrounded by rugged peaks. Weather permitting, you'll get to explore it.
Next, visit El Paso, a traditional Canary Island village, before stopping at a local restaurant for a lunch of local fare. The day continues with a visit to the Plaza la Glorieta, with its colourful mosaics of local flora and fauna, near Las Manchas. After, arrive at the Volcán San Antonio, where the adventurous may choose to venture to the volcano's rim. The ship moors in port tonight.
DAY 3 / VALLE GRAN REY (LA GOMERA) 
The early hours of the morning are spent sailing to La Gomera. Upon arrival in Valle Gran Rey de la Gomera, you may choose to leave the ship for a half-day excursion through the villages of Arure and Valle Hermoso en route to Rosas, a small town where you'll enjoy a demonstration of the curious Gomera whistling language.
After, continue to Garajonay National Park, which was declared a World Heritage Site by UNESCO in 1986. This vast reserve occupies 40 square kilometres of the island, and features a rocky landscape covered in a humid subtropical forest rife with Canary laurels. In the evening, the ship leaves La Gomera for the island of Tenerife.
DAY 4 / SANTA CRUZ DE TENERIFE (TENERIFE) 
Arrive in Santa Cruz de Tenerife in the morning. Here, you have the choice to spend part of the day discovering Santa Cruz and La Laguna, the former capital of Tenerife and a UNESCO World Heritage Site. Embarking from the central Plaza del Adelantado, surrounded by historic façades, you'll explore the Town Hall, which dates back to 1546, the Casa de Anchieta, and the Palacio de Nava, with its striking original stone.
Next, visit the Monastery of Santa Catalina de Siena, which dates back to the 16th century, before continuing on to the island's current capital of Santa Cruz de Tenerife. Here, you'll find a modern auditorium, the tallest skyscrapers in the Canary Islands, and the Plaza de España, the largest square in the city and across the islands. After you re-board the ship, the evening is spent cruising.
DAY 5 / LANZAROTE 
Upon arrival at Lanzarote in the morning, you may choose to leave the ship for a full-day excursion to the island, which was designated a UNESCO Biosphere Reserve in 1993. Visit the southern part of the island, where you'll take in panoramic views of the Laguna de Janubia, a striking, emerald-green saltwater lagoon. Nearby, Los Hervideros is a stretch of dramatic cliffs shaped over time by wind and water.
Next is El Golfo, the point of entry for the Montañas de Fuego (Fire Mountains). In Timanfaya National Park, you'll be surrounded by striking volcanoes. After lunch, pay a visit to the César Manrique Foundation before continuing towards La Geria—a wine route including a tasting. The night is spent in port.
DAY 6 / CORRALEJO (FUERTEVENTURA) 
Arrive in the port town of Corralejo on the island of Fuerteventura in the morning. Today, you have the option to leave the ship to discover Betancuria, a small municipality in the western part of the island with a long and rich history. The capital of the Canary Islands' first kingdom, it was also the capital of the island of Fuerteventura until 1834. Officially founded in 1405, its location was chosen to minimize the threat of pirate attacks.
In Betancuria, you'll see La Casa Santa María, where you'll be introduced to some of the island's traditions. After, tour a goat farm to find out how Majorero cheese are prepared, and sample some of the cheeses. On the way back to Corralejo, stop in an Aloe Vera factory to learn about this plant's impressive health benefits.
The afternoon is spent at your leisure, with the possibility of a swim at the nearby beach. In the late evening, the ship sets sail for Las Palmas de Gran Canaria on the island of Gran Canaria.
DAY 7 / LAS PALMAS DE GRAN CANARIA (GRAN CANARIA) 
After arriving in Las Palmas in the morning, set off on an optional half-day excursion along the Tamaraceite road, which leads to Villa de Teror, a significant religious centre on the island. The villa is almost completely overshadowed by the 18th century Basilica de Nuestra Señora del Pino. Past Valleseco, the road leads to Cruz de Tejeda in the centre of the island, set above sea level. Check out the island's famous rock monuments: Roque Nublo, Roque Bentayga, and Roque El Fraile. Pass through Tafira, stopping at the Canary Island Botanical Gardens to enjoy its impressive collection of plants and trees from the Macaronesia Region. Tonight the ship sets sail to return to the port of Los Cristianos, on Tenerife.
DAY 8 / LOS CHRISTIANOS (TENERIFE) 
Arriving at Los Christianos in the morning, enjoy breakfast on board before disembarking and preparing for your onward journey.
Dates & Prices
Itinerary Code (Name of Itinerary)
 Itinerary Start Date
 Ship Name
 Route
Duration (Nights)
Category Pricing PP
C
B
A
P
ONAT-06a (Canary Islands Discovery)
12/3/2017
M/Y Harmony V
South Tenerife/South Tenerife
7
$2,710
$3,310
$3,760
$4,810
12/10/2017
M/Y Harmony V
South Tenerife/South Tenerife
7
$2,710
$4,730
$3,760
$4,810
ONAT-06 Port Charge: $380
ONAT-06 Single Supplement: 30%
Inclusions
Accommodation in double or twin cabins with private SH/WC & air conditioning
Full-board: American buffet breakfast and two meals daily, including a Welcome Cocktail, and Captain's Dinner
Regular (filter) coffee, tea and still mineral water free all day
Use of fishing and snorkelling equipment (subject to availability)
Multilingual Cruise Escort
Ship Details
M/Y Harmony V
| | | | | | | |
| --- | --- | --- | --- | --- | --- | --- |
| Built | Length | Decks | Cabins | Passengers | Cabin Size | |
| 2009 | 55m | 3 | 25 | 49 | 12.5m² | More Details |
Travel Tips
Coming Soon!
Please stay tuned for travel tips tailored for this itinerary!
For any immediate questions, please contact us as 905.258.7778.