From Cape Town to Mauritius
From $11,820
|
15 Days / 14 Nights
Unforgettable wildlife encounters await you o
n this
cruise along Africa'
s southern coast and Ma
dagascar. F
rom hippos to giraffes, zebras, antelopes, and the elusive "
big five,
"
this is truly a once-in-a-lifetime experience
.
Explore
Cape Town, Port Elizabeth, and Durban before arriving in
Madagascar, a fascinating island world in stark contrast
to the steppe and savannah.
View Google Map of Region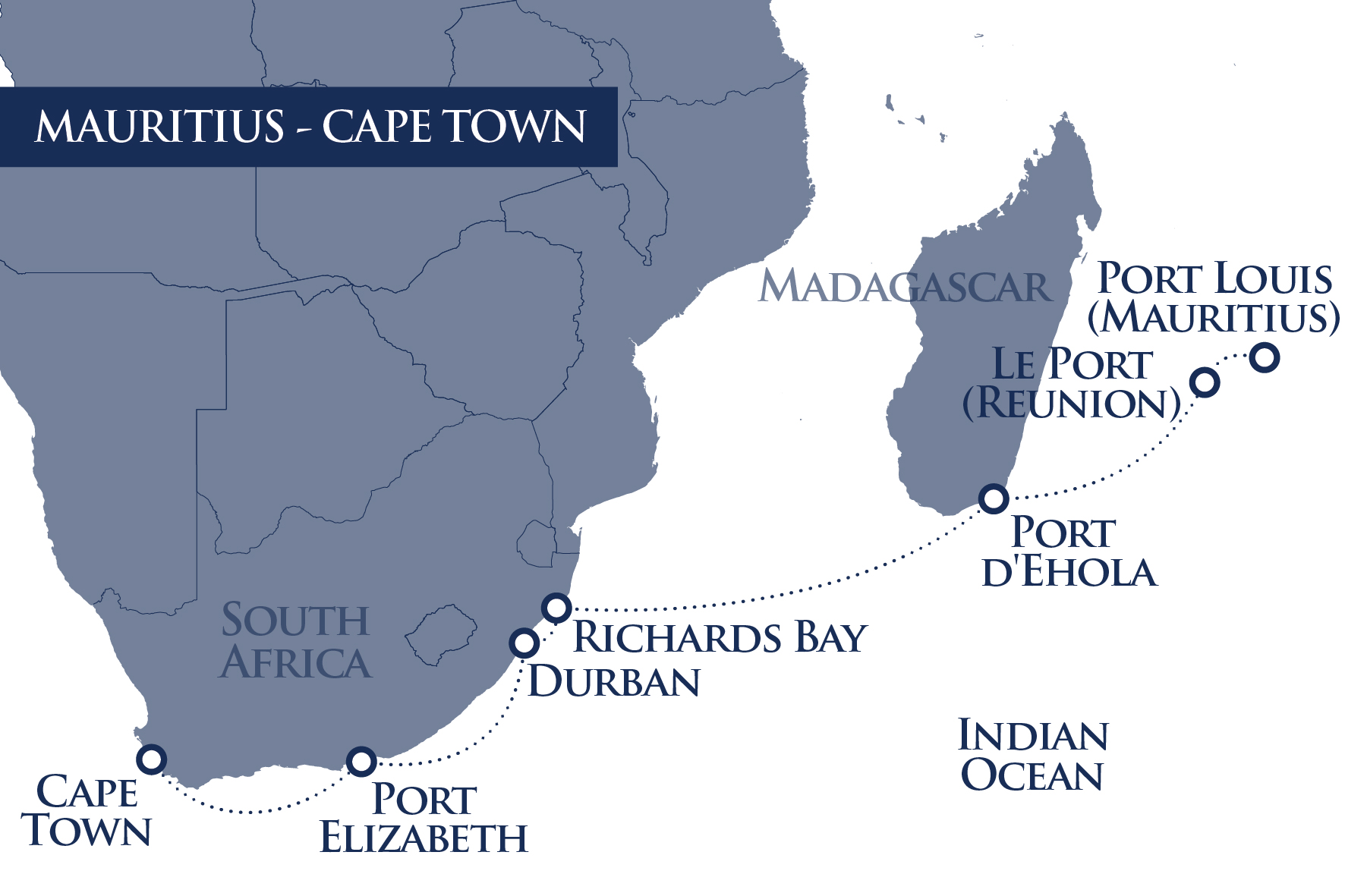 Daily Overview
Day
Destination
Activities
1
Cape Town
EMBARKATION
2
Cape Town
Visit the legendary Cape of Good Hope

Join a riding excursion on Noordhoek beach

3
At Sea
Enjoy on-board amenities or relax on deck
4
Port Elizabeth
Explore this sprawling city's beaches

Join anexciting African wildlife excursion

5
Port Elizabeth
Spend asecond day exploring Port Elizabeth
6
Durban
Experience the cultural mélange that is Durban

Join a canopy adventure or visit a game reserve

7
Durban
Explore Durban at your own pace

Join one of our exciting excursions

8
Richard's Bay
Embark on a Zulu Kingdom discovery tour

Visit a wetland park to see crocs and hippos

9
Richard's Bay
Join one of our exciting excursions
10-11
At Sea
Enjoy on-board amenities or relax on deck
12
Fort Dauphin,

Madagascar

Take in the amazing view of St. Louis Mountain

See floraand fauna at Nahampoana Reserve

13
At Sea
Enjoy on-board amenities or relax on deck
14
La Port, Reunion
Visit the Piton de la Fournaise volcano

Take a scenic helicopter flight

15
Port Louis, Mauritius
DISEMBARKATION
Detailed Itinerary
DAY 1 / CAPE TOWN (SOUTH AFRICA) / EMBARKATION 
Arrive early in Cape Town to enjoy Table Mountain's vibrant metropolis on a pre-cruise programme, perhaps in combination with a wildlife safari. Board the ship, settle into your cabin, and enjoy a night in port.
DAY 2 / CAPE TOWN (SOUTH AFRICA) 
Spend a second day exploring this booming town. Visit the legendary Cape of Good Hope, with its rugged appeal. As an alternative, go horseback riding on Noordhoek beach, or set off on an excursion to the wine-growing region of Stellenbosch.
DAY 3 / DAY SPENT AT SEA
Take in the views from the deck or relax and enjoy on-board amenities as the ship cruises around the southern coast of Africa en route to Port Elizabeth.
DAY 4 / PORT ELIZABETH (SOUTH AFRICA) 
Explore this sprawling, coastal city, with its fine sandy beaches and friendly people. Take a township tour to witness a different side of South Africa, or join an excursion outside the city, where some of Africa's most fascinating wildlife awaits you. See elephants in Addo Elephant National Park, and giraffes, zebras and antelopes in Kariega Game Reserve. Or, leave the ship for a two-day overland excursion to the Pumba Private Game Reserve, where you'll be on the trail of the "big five," rejoining the ship in Durban, South Africa.
DAY 5 / PORT ELIZABETH 
Enjoy another day to take in some of Port Elizabeth's many attractions—such as the Red Location Museum, the Donkin Heritage Trail, or the Nelson Mandela Metropolitan Art Museum—or head out of town for a true wildlife experience.
DAY 6 / DURBAN, SOUTH AFRICA 
European, African, and Indian cultures collide in Durban, forming an irresistible and distinctive city. Set off on a guided tour to discover the city. Active travellers and nature lovers may choose to embark on a canopy adventure in the jungle or a drive through Tala Game Reserve.
Art lover? Sue Greenberg scours South Africa for talented young people and exhibits their work in Durban's Artisan Contemporary Gallery. It's a must-see!
DAY 7 / DURBAN 
Enjoy a second day to explore Durban, with its distinctive history, colonial architecture, and cultural mélange.
DAY 8 / RICHARD'S BAY 
South Africa's largest port is an ideal starting point for a Zulu Kingdom discovery tour. A visit to a Zulu village provides in-depth insights into this tribe's traditions and lifestyle, while a boat trip through iSimangaliso Wetland Park will—with a little luck—bring you up close and personal with crocodiles and hippos. Sunrise at Hluhluwe-Umfolozi Nature Reserve is as spectacular as it is magical.
DAY 9 / RICHARD'S BAY 
Take a second day to enjoy the activities and sights in Richard's Bay before two relaxing days at sea.
DAY 10-11 / DAYS SPENT AT SEA 
Take in the views from the deck or relax and enjoy on-board amenities as the ship leaves mainland Africa en route to Madagascar.
DAY 12 / FORT DAUPHIN (TAOLAGNARO, MADAGASCAR) 
Fort Dauphin, or Taolagnaro, is a little slice of paradise on the southern tip of Madagascar. With the stunning view of Saint Louis Mountain, it lives up to its name, which means "Place of Dreams." Today, on a walk through Nahampoana Reserve you will see ravenala palms, baobabs and, if you're lucky, lemurs.
DAY 13 / DAY SPENT AT SEA 
Spend a final day on board the ship. Relax, enjoy on-board amenities, and take in the calming vastness of the ocean on the way to French island of Réunion.
DAY 14 / LA PORT, RÉUNION (FRANCE) 
The overseas department of Réunion is France's private paradise. Here, explore the Piton de la Fournaise volcano or take a helicopter flight over the impressive volcanic landscape.
DAY 15 / PORT LOUIS, MAURITIUS / DISEMBARKATION 
Disembark in Mauritius' Port Louis, where you have the option to stick around for one of our post-cruise programmes.
Dates & Prices
ONIN-04 ( From Cape Town to Mauritius)  29.01.2018 – 14.02.2018
Category Pricing PP
Category
Suite Type
Price
0
Guaranteed Veranda / Ocean Suite
 $                 11,820
1
Veranda/Ocean Suite
 $                 12,530
2
Veranda/Ocean Suite
 $                 13,700
3
Veranda/Ocean Suite
 $                 15,140
4
Veranda/Ocean Suite
 $                 15,780
5
Veranda Suite
 $                 17,090
6
Grand Ocean Suite
 $                 22,310
7
Grand Ocean Suite
 $                 23,750
8
Penthouse Suite
 $                 26,610
9
Penthouse Suite
 $                 29,490
10
Grand Penthouse Suite
 $                 42,530
11
Owner Suite
 $                 53,100
13
Penthouse Suite, Equip. for Disabled Guests
 $                 22,310
Inclusions
IN YOUR SUITE
■    Champagne and fruit as a welcome gift.
■    Mini bar refilled with soft drinks, water and beer every day.
■    Nespresso machine.
■    24-hour suite service.
■    24-hour butler service in the Penthouse, Grand Penthouse and Owner Suites.
■    Modern technology with flat-screen TVs and tablet computers.
■    Media4Cruises with a selection of around 150 of the latest film releases, classic films, TV series and documenta- ries as well as all kinds of music.
■    Personal EUROPA 2 e-mail account
SEE MORE, EXPERIENCE MORE
■    Zodiac cruising to hidden beaches and bays (subject to routes and weather conditions).
■    Background knowledge from well-known lecturers.
■    Maps provided for every port.
■    Available for free hire: bicycles and snor- kelling equipment.
ENTERTAINMENT
■    Different entertainment programme every day.
■    Exclusive shows and concerts –
from classical music to pop.
■    Readings and comedy shows featuring renowned artists, actors, authors and entertainers.
■    3D cinema, DJ and party on the Pool Deck.
RESTAURANTS
■    Seven gourmet restaurants at no extra cost and with flexible mealtimes and no fixed seat allocation.
■    Breakfast, lunch, dinner.
■    Tea and coffee specialities.
■    Pastries and hot waffles at the Pool Bar.
Ship Details
MS Europa 2
| | | | | | | |
| --- | --- | --- | --- | --- | --- | --- |
| Built | Length | Decks | Cabins | Passengers | Cabin Size | |
| 2013 | 225 m | 7 | 251 | 500 | 35 m² | More Details |
Travel Tips
From Cape Town to Mauritius
Travel Documents
Passport
South Africa: Canadian citizens should ensure that their passports are valid for 1 month after the last date of travel in the country.
Canadian citizens should ensure that their passports are valid for 6 months after the last date of travel in Madagascar and Mauritius.
Reunion (France): Reunion is a French 'department' and as such part of France as a European Schengen area country. The other countries' passport validity are stricter than that of the EU.
Citizens of other countries should consult with their travel agent or our office.
Visa
Canadian citizens are allowed entry into South Africa, Mauritius and France without tourist visas when visiting for less than 3 months (90 days).
Tourist visa's are required for Canadians to enter Madagascar please inquire us about the need to pre-arrange a visa.
Other entry requirements
While uncommon for most of our guests, when entering South Africa and Mauritius you may need to provide evidence of a return or onward ticket as well as 'sufficient funds' for your stay. Some cash and credit cards are normally sufficient.
Packing List
A handy checklist of what to bring on your trip can be downloaded here.
Insurance
We strongly recommend the purchase of appropriate travel insurance for any trip outside of Canada. Information on travel insurance options can be found here.
Smoking
Smoking is not permitted indoors on the ship but there are designated areas on the outside decks where one can smoke. It's also not permitted in South Africa, Madagascar, Reunion and Mauritius to smoke in all enclosed public places and workplaces, with the one limited exception of hotel guestrooms. In Reunion you are also not permitted to smoke in restaurants and bars. There are designated areas in indoor places in all the locations to smoke.  
Weather
Africa's Southern Coasts climate temperatures are mid 10's to high 20's.
January- Warm climate with temperatures of low to high 20's.
February- Hottest month of the year with temperatures of mid to high 20's and low 30's, so make sure you protect yourself from the sun.
In Madagascar the average temperatures in January to February is mid 20's to low 30's. Rainy Season. However despite being the rainy season during this period, the central parts will be a lot drier and cooler.
In Reunion the average temperatures in January to February is mid 20's to low 30's.
January- Wettest month of the year with temperatures of mid 20's.
February- Hottest month of the year with temperatures of high 20's and mid 30's, so make sure you protect yourself from the sun.
In Mauritius the average temperature in January to March is low to high 20's.
January- Hottest month of the year with temperatures of high 20's to low 30's, so make sure you protect yourself from the sun.
February-Warmer climate with temperatures in high 20's and average sea temperature of high 20's.
Arrival / Departure
In Cape Town, you will fly into Cape Town International Airport, which is a 50 minute drive from the port area.
In Mauritius, you will fly out of the Sir Seewoosagur Ramgoolam International Airport, which is about a 1 hour drive from the port area.
Once you have booked your trip, we will provide detailed instructions on where in Cape Town, South Africa to check-in for your cruise.
There are lot of exciting of tourist attractions and activities, we highly recommend a stay here before or after your voyage. Have a look at some of our Pre and Post Tours for Cape Town and Mauritius.
The ship will not be ready for check-in before midday (unless otherwise stipulated in the itinerary). If you have any luggage that you need to have booked in so you can enjoy some free time in port, the purser may be able to accommodate you provided we know in advance.
The cruise will finish in the morning on the final day. It is necessary to have settled your onboard account and to have disembarked by this time as instructed by the cruise director on the day before.
Money
The official currency in South Africa is the South African Rand.
In Madagascar, the official currency is the Malagasy Ariary. However Euro's and US Dollars are also accepted.
In Reunion, France the official currency is the Euro.
In Mauritius, the official currency is the Mauritian Rupee.
All major credit cards and debit cards are accepted by larger shops and restaurants in South Africa, Mauritius and Reunion. In Madagascar there a very few places that credit cards can be used. When possible, carry enough of the local currencies for the day and charge what you can to your credit cards.
ATM's accepting most international debit and credit cards can be found in both South Africa and Mauritius in abundance. In Reunion ATM's can be found in major cities. In Madagascar there are ATM machines available in the major towns and the most widely accepted card is Visa. All ATMs will only disburse Ariary.
Gratuities (Tipping)
Gratuities are not mandatory on board as they are included in your voyage. If you feel that a member of the crew provided exceptional service, you are welcome to discreetly show your appreciation by personally giving them a tip in an envelope.
Laundry
Laundry service is available for a small fee. Unfortunately, dry cleaning is not available.
Services & Activities On board
Aboard your ship you will receive a glass of champagne and fruit as a welcome gift. You will also find elegant dining rooms, restaurants, bars and spacious sun decks and comfortable lounges to relax in. Not to mention you will also receive your own Personal Europa 2 e-mail account.
You will find an auditorium with film screenings and geography lectures, library, board games, golf simulator for your amusement. Movies are often shown in the vessels' Lounges, so please check in the Daily Program for show times. The MS Europa 2 has a pool, gym, sauna and an authentic wellness centre with massages and other beauty treatments.
Excursions
Shore excursions will be offered on board but are always subject to weather and docking conditions and a minimum number of participants. They can be purchased on board at an extra cost.
Excursions will usually involve a small amount of walking over dirt paths. If you have difficulty walking any distance, please let us know in advance and we will advise how best we can accommodate you.
Please refer to our website or consult the purser on board for additional information.
Regrettably, most of our excursions are not suitable for guests in a wheelchair.
Activity Level / Strenuousness
Light to Moderate – At most, participation in the shore excursions requires the ability to walk reasonable distances.
Food and Beverages
Breakfast, late morning bouillon, lunch, dinner, afternoon coffee and tea with pastries, hot waffles and midnight snack are all included in your voyage. Individual meal selections are  also possible. All drinks on board (alcoholic and non-alcoholic drinks) are subject to extra charges.
The coastline of South Africa guarantees fresh seafood and it's numerous vineyards produce excellent wines. The country's cosmopolitan heritage means all types of cuisine are available, from fruity and sweet Cape Malay cuisine a speciality of Cape Town, to a strong Indian influence making Durban's curries absolutely divine.
Braais (barbecues) are hugely popular and most campsites, self-catering resorts and picnic spots have braai facilities. Local dishes that you should try:
Boerewors (a fairly spicy high-quality sausage).

Bobotie (a curried mince stew).

Potjiekos (a spicy casserole cooked in an iron pot).

Bredie (meat, tomato and vegetable casserole).

Bunny Chow (Hollowed loaf of bread filled with curried meat or beans)

Biltong (dried meat, typically beef or venison). – Snack
There's also a variety of local drinks such as Amarula, this sweet and creamy liqueur can be added to anything from Irish coffee to ice cream – or simply enjoyed on the rocks. Witblits is a grape-fermented amateur brandy or Umqombothi beer which is made from corn, it is high in vitamin-B and has a lower alcohol content than most commercial beers.
Romazava is considered the national dish of Madagascar, and each family makes their own version. It is a one-pot dish, usually eaten with rice for lunch or dinner. The basic ingredients are beef, pork and chicken cut into equal-size cubes, chopped onions, tomatoes, spinach and crushed garlic.
Reunion's unique flavours come from many centuries of mixed French, Malagasy, Chinese and Indian influences, almost every meal contains chillies and spices such as ginger, dishes are not overly spicy. They typically consist of rice and pulses served together with vegetables and fish or meat curry or stew.
Local Mauritian cuisine is an inspiring combination of Indian, Creole, French and Chinese influences that are adapted to the local produce. Nearly every restaurant will list Indian, Creole, Chinese and European dishes.
As you would expect from a tropical island, the seafood is excellent and is prepared in a number of ways; in soups and curries as well as grilled or baked. Meats, such as beef, chicken and pork are prepared in traditional curries and Chinese stir fries. Venison and Wild Boar are often served at special occasions but are found on many restaurant menus too.
Local drinks that you should try is Phoenix, which is a local lager. Rum such as Green Island and Pink Pigeon. Alouda which is an Almond-flavoured milk drink.
Language
The language spoken on board is both English and German. In general, there is a multilingual environment and you will have a chance to mix with a variety of nationalities. Excursions and public announcements are also in English.
South Africa has 11 official languages, however, the most commonly used languages are English, Afrikaans and Xhosa. English is primarily spoken in Cape Town and Kwa-Zulu Natal, so you should not have a problem communicating with the locals when in port.
The official language in Reunion is French. Time to brush up on that high school French or bring along a phrasebook or translation app.
The official languages of Madagascar are Malagasy and French. Be sure to have a Malagasy or French phrasebook when communicating with the locals.
The Mauritian Constitution makes no mention of an official language and its one million citizens speak mostly Mauritian Creole (a French-based creole), English and French. In Mauritius, people switch languages according to the situation. French and English, which have long enjoyed greater social status, are favored in educational and professional settings. Also, most newspapers and media communications are in French.
Medical Facilities
There is an English-speaking physician and nurse on board MS Europa 2 at all times. The ships have a small medical facility with the necessary equipment and medication to handle small emergencies. In the event of a serious emergency, the nearest hospital will be contacted.
Medical consultations as well as medication will be charged to the passenger affected. It is compulsory to carry sufficient travel/health insurance.
Cabin Amenities
All cabins have private, nicely appointed bathrooms fitted with baths and showers. All cabins are air-conditioned and connected to a central music system. There is a telephone for intra ship communication. Your ship has modern technology with flat-screen TVs and tablet computers, DVD players, Media4Cruises with a selection of around 150 of the latest film releases, classic films, TV series and documentaries as well as all kinds of music.
There are hairdryers, safe boxes, Nespresso machine, mini-fridges, mini-bars filled with soft drinks, water and beer every day in the cabins. 24-hour suite service, 24-hour butler service in the Penthouse, Grand Penthouse and Owner Suites.
The ship's generator provides an electric voltage of 220V. Cabins are fitted with European type plugs so please remember to bring an adaptor if necessary.
For more details, please visit the Ships section on our website.
Phone & Internet
There is a phone in each cabin. You can purchase a phone card in the reception to call from the ship.
Wi-Fi is available in most areas at additional cost. Both Wi-Fi and telephone lines will from time to time be out of range due to the vessel's location.
If you would like to have regular data and phone connection while on land, we suggest either arranging an overseas roaming plan with your mobile operator, or pick up a local SIM card if you have an unlocked phone.
Children
Guaranteed on-board child care for children aged four up to and including 15 years, even as of two years on all cruises aboard the Europa 2. Should you choose to bring children along please take into consideration that children onboard are their parents'/guardians sole responsibility.
Health / Vaccinations
There are no vaccinations required to travel to South Africa, Reunion and Mauritius.
However, for most short-term travellers  recommended vaccinations may include cover against the childhood diseases (Tetanus, Diphtheria, Pertussis and Poliomyelitis, Varicella, Measles, Mumps and Rubella) as well as cover against the food and water borne diseases of Typhoid and Hepatitis A. It is best to consult with your physician or a travel vaccination clinic for specific advice.
There is no vaccine or medication that protects against chikungunya virus.  The Public Health Agency of Canada recommends that travellers protect themselves from mosquito bites when travelling to areas where chikungunya may occur.
When Travelling to Madagascar it is advisable to be up-to-date with your Tetanus, Diphtheria and Poliomyelitis, Measles, Mumps and Rubella vaccinations.
As always, we recommend being in good health prior to any long distance travel. We strongly recommend consulting your physician about your intention to travel on this program to receive specific advice for your situation.
Safety & Security
The stunning country of South Africa and islands of Madagascar, Reunion and Mauritius are mostly but not completely safe. Being tourists in the city, security measures should be taken. Late night strolls alone are not advisable. (Be vigilant when walking on the beachfront and Victoria wharf in Durban. In Cape Town, avoid walking from downtown hotels to the waterfront) Try and avoid entering the African "townships" (large neighbourhoods of very poor people) – they are not completely safe areas to visit unless you are on an organised tour.
When going out in South Africa and Mauritius it's recommended not to take any valuables along at all, in some cases even cameras and/or smartphones out of one's hotel to reduce the chances of being robbed or attacked. Petty crime including pickpocketing, bag snatching and theft may occur in Port Louis and in crowded markets, in Grand Baie and in Flic en Flac, Mauritius. In Madagascar it is advised to try and avoid going to Batterie Beach, north of Toliara.
Jewelry, money, documents, etc., should be placed in your individual safe deposit boxes or given to the captain who will deposit items in the ship's safe boxes free of charge.
More information on this from the Canadian government can be obtained at:
www.travel.gc.ca/destinations/south-africa
www.travel.gc.ca/destinations/mauritius
www.travel.gc.ca/destinations/france
www.travel.gc.ca/destinations/madagascar
Suggested Reading