Classic Mekong
From $2,625
|
8 Days / 7 Nights
Your adventure begins in vibrant Siem Reap where you can find Angkor Wat, the world's largest religious monument.
 Next, follow the river to Vietnam, with its 
welcoming people and lush, tranquil countryside. Take a peak into the lives of the locals as your continue your cruise down the lifeline of this region, and finally conclude your journey in Saigon. 
View Google Map of Region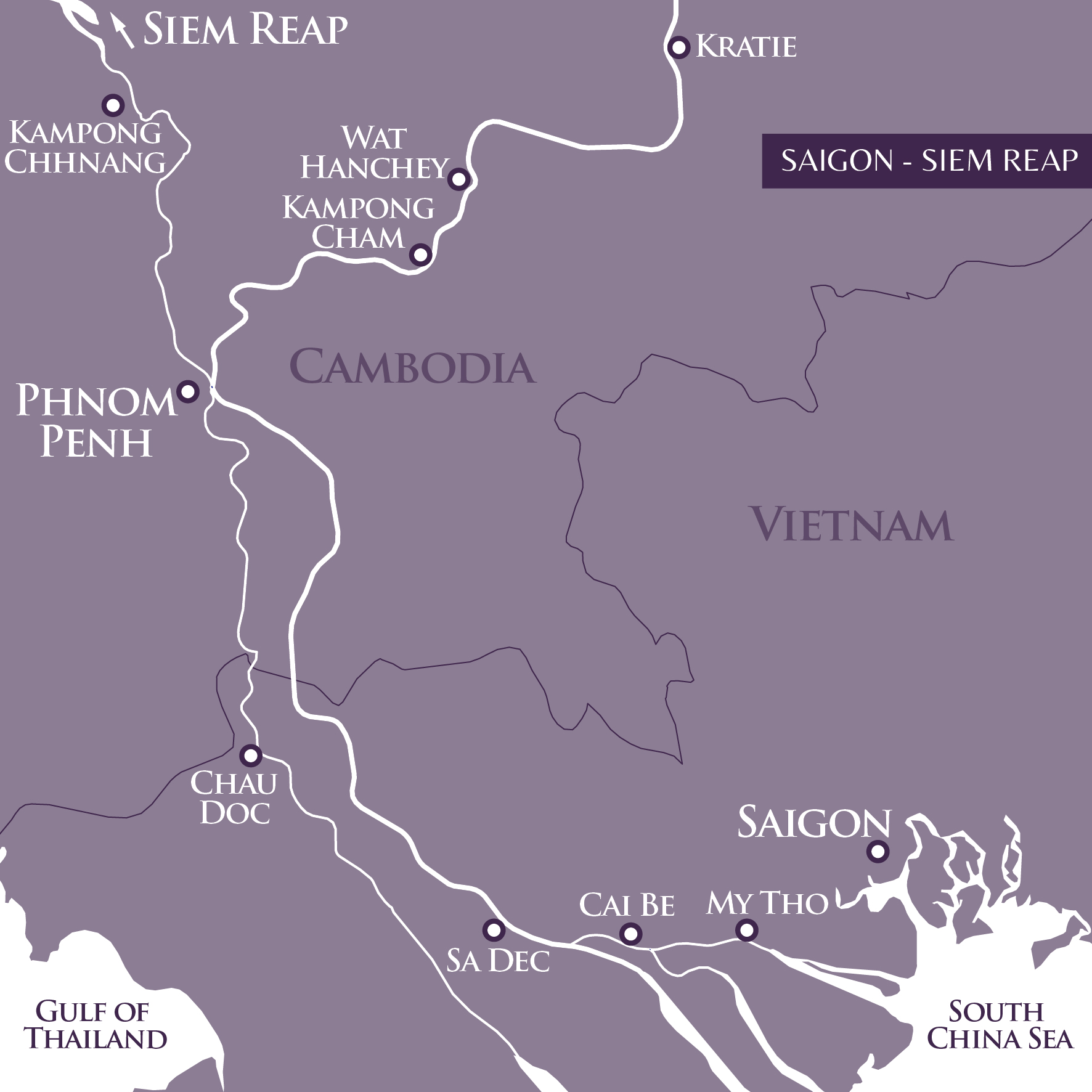 Daily Overview
Day
Destination
Activities
1
Siem Reap

Kampong Cham

EMBARKATION
2
Kratie
Morning spent sailing en route to Kratie

Keep a lookout for dolphins

3
Krek Kdam
Day spent sailing downriver

See Wat Hanchey and Angkor Ban

4
Phnom Penh
Private city tour in a cyclo

Optional excursion to Genocide Museum

5
Tonlé River
Visit Kampong Trolach and Chong Koh
6
Tan Chau
Cross the border into Vietnam
7
Chau Doc

Cai Be

Trip to a traditional Cham village

Sampan boat excursion to Sa Dec

8
My Tho

Saigon

DISEMBARKATION

Transfer to Saigon
Note: This program is also available in the opposite direction
Detailed Itinerary
DAY 1 / SIEM REAP / KAMPONG CHAM / EMBARKATION (L/D)
Transfer by coach to Kampong Cham. A packed lunch will be provided on the coach and we will stop at Kampong Thom along the way.
DAY 2 / KRATIE AND THE DOLPHIN GROUNDS (B/L/D) 
Sail through the morning to reach Kratie, a charming French colonial river port, and after lunch visit the dolphin grounds travelling further upstream by local bus.
DAY 3 / KREK KDAM (B/L/D)
Sailing down river we stop at the very curious Monkey Temple, Wat Hanchey and Angkor Ban.
DAY 4 / PHNOM PENH (B/L/D)
Whilst in Phnom Penh you will be provided with their own private cyclo. The Cyclo Centre Phnom Penh which provides the cyclos is a charity that provides basic welfare and medical services to cyclo drivers. You will visit the Royal Palace, Silver Pagoda and National Museum. In the afternoon, optional excursion (by coach) to the Killing Fields and the Khmer Rouge's grim Tuol Sleng or S21 detention centre.
DAY 5 / TONLE RIVER (B/L/D) 
Explorations up Tonle River to a silver making village, Kampong Trolach, and Chong Koh either by ship or by coach depending on water levels. This river is very pretty and there is a vibrant local life to be viewed along the river banks and in lesser craft.
DAY 6 / VIETNAM BOARDER (B/L/D) 
Sail for the border and formalities and then continue to Tan Chau for the evening.
DAY 7 / CHAU DOC (B/L/D) 
Morning either visit a Moslem Cham tribal village and a cat fish farm in Chau Doc with our guide or do your own thing and take off on one of our mountain bikes. The local market is great and the Catholic Church well worth a visit. Afternoon Sampan boat excursion to Sa Dec via Vinh Long, along canals and backwaters and see the local market and the ancient house of Mr, Huyn Thuy Le, the 'lover' of Marguerite Duras, a famous French novelist whose book was imortalised in the film L'Indochine. Moor overnight at Cai Bei.
DAY 8 / MY THO / DISEMBARKATION / SAIGON (B) 
Early morning sail from Cai Be for My Tho, where passengers disembark in the early morning for a coach transfer to Saigon.
Inclusions
Transfers between the meeting point and the ship at the start and end of a voyage
Entrance fees
Guide services (English speaking)
Gratuities to crew
Main meals
Drinks include locally made soft drinks, local beer and local spirits, jugged coffee, mineral water and selection of teas and tisanes
Ship Details
RV Mekong Pandaw
| | | | | | | |
| --- | --- | --- | --- | --- | --- | --- |
| Built | Length | Decks | Cabins | Passengers | Cabin Size | |
| 2003; Refit in 2013 | 60m | 3 | 24 | 48 | 16m² | More Details |
Travel Tips
Lower Mekong
Travel Documents / Visas
1. Passport
Canadian citizens must have a passport that is valid for at least 6 months after the last date of travel to Cambodia and Vietnam. While uncommon for most of our guests, technically you may need to provide evidence of 'sufficient funds' for your stay. Some cash and credit cards normally suffice.
Citizens of other countries should consult with their travel agent or our office.
2. Visas
Vietnam: A valid tourist visa is required for Canadians. It must be obtained in advance and details for this can be found here.
Cambodia: A valid tourist visa is required for Canadians. It can be obtained at either Phnom Penh or Siem Reap airports upon arrival or onboard the ship if you are travelling upstream from Ho Chi Minh (in which case it is necessary to take passport photos with you). It is probably more convenient to get it online in advance. Please visit the Kingdom of Cambodia website where you can find the E-Visa application form.
Packing List
A handy checklist of what to bring on your trip can be downloaded here.
Insurance
We very strongly recommend the purchase of appropriate travel insurance for any trip outside of Canada. Information on travel insurance options can be found here.
Smoking
Not permitted anywhere indoors. There are designated areas on the outside decks.
Weather
The temperature is fairly consistent in the high 20s for most of the year. April and may are the hottest months where daytime highs usually go into the mid to high 30s.
The rainy season extends from May to October where intermittent rain can be expected 2 out of 3 days. It typically does not rain all day long however.
Arrival / Departure
Upon booking, we will provide detail instructions on where your pickup point is on embarkation day. If you have not made any pre or post tour arrangements with us, you will have to arrange your own transportation to and from this pickup point (typically a hotel in the centre of Ho Chi Minh / Siem Reap). We are happy to provide advice or to assist in arranging transfers.
The cruise will finish in the morning (usually around 8-9am) on the final day. It is necessary to have settled your onboard account well before this time as instructed by the cruise director on the day before. You will then be transferred by coach to the designated point for your onward journey.
Please note that the travel time between Siem Reap and Kampong Cham (embarkation / disembarkation point) is approximately 5 hours.
Money
The currency of Vietnam is the Dong (VND).
The currency of Cambodia is the Riel. (KHR)
Credit cards may be accepted for larger purchases in retail shops, but usually not in restaurants, cafés and certainly not in street markets or small shops along the way. It is recommended to carry some local currency with you for shopping or for a drink along the way.
ATM's accepting most international debit and credit cards can be found in the major cities but during the cruise, they will be difficult to find in the smaller towns. It is best to stock up on local currency before you embark.
Gratuities (Tipping)
Gratuities for the ship's crew are included in your cruise fare. If you feel the desire to reward specific members of staff for extraordinary service, you are at liberty to do so. In this case, please put the funds in a small envelope and hand it to the person discreetly.
Tips for services provided onshore are at your discretion. Typically USD$1 or 2 per service rendered (i.e. Taxis, pedicabs, porters, etc.) would be considered very fair.
Laundry
A laundry bag is provided in each stateroom for your laundry needs. Laundry is collected each morning when your room is made up and will be returned to you by the following day. We regret that dry cleaning services are not available.
Excursions
Most of our programs include a full complement of excursions. Some additional excursions may be available on board at an extra cost. Please check with us or consult the purser onboard for additional information.
Excursions will usually involve a lot of walking, often on dirt roads and through stone temples. If you have difficulty walking any distance or up and down a lot of stairs, please let us know in advance and we will advise how best we can accommodate you.
Etiquette
South-East Asians are generally tolerant and easy going. Please try to avoid political discussion and remember that the Vietnamese national hero "Uncle" Ho Chi Minh enjoys near divine stature and any disrespect shown to his name or memory can cause extreme offence. Despite opening the door to capitalism, Vietnam remains a fervently Communist society with a dominant Communist Party.
In Cambodia, any form of disrespect for the national religion, Theravada Buddhism, is inappropriate. Unlike many faiths, Buddhists make their temples open to foreigners, permitting the taking of pictures (not always!) and general invasion of their sacred space. They ask only one thing: that we take our shoes and socks off.  In addition please pay particular attention to the following:
Do not point with your feet.
In the company of monks or elders never cross your legs.
Do not touch people on the head or upper body.
When beckoning someone to come over do not flap your hand in the standard Western 'come over here' motion; instead turn your hand around so that your palm points down towards yourself.
Do not attempt to shake hands with monks or nuns. Note that people in general rarely shake hands here but rather smile and nod.
Women should never sit down next to a monk.
Shorts and skirts must cover the knees for both men and women. Arms can be exposed by shoulders should be covered. (i.e. No tank tops or sleeveless blouses)
Activity Level / Strenuousness
Light to Moderate – The ship will often dock on a riverbank with a gangplank. It is necessary to be reasonably sure-footed as walking will be on dirt roads and paths. Temples often have many stairs which are mostly not obligatory to climb, but for the full benefit you will need to. Note that the high temperatures and humidity may also make participation on this trip more strenuous than you may be accustomed to compared to the climate at home.
We regret that we cannot accommodate those in a wheelchair on this program.
Food
Breakfast, lunch and dinner are all included in your cruise fare so you shouldn't be too hungry. It is worthwhile to sample the local cuisine though.
Plenty of complimentary bottled water is provided on board and for your shore excursions. It is not safe to drink water directly from the taps.
If you get the chance, a Vietnamese favourite (available in more and more restaurants here at home) is "Phở" or, basically noodles. "Phở Ga" is essentially the local version of chicken noodle soup but once you've tried it, you may never go back.
"Gỏi cuốn" are scrumptious Vietnamese spring rolls with pork, shrimp and vegetables in a rice paper wrap. If you don't get them aboard the ship, order some along the way.
In Cambodia, a couple of things worth trying are Khmer Red Curry (less spicy than the Thai version) and Lap Khmer which is a beef salad marinated in lime juice and served with lemongrass, garlic, mint, green beans and other veg. If you're not included for hot spice, ask them to go easy on the chili.
Language
Your shipboard staff all speak English of course, but when you are wandering through the shops in small villages, the local folk will likely speak little English in Vietnam. In Cambodia, English skills are amazingly good amongst locals, particularly the younger ones.
Medical Facilities
There are no medical personnel onboard the ship. However, the purser can contact onshore medical people for emergency and non-emergency situations and rapid evacuation can easily be facilitated in the most urgent cases.
Phone & Internet
There is a phone in each cabin. As is typical, the charges for overseas calls are relatively high.
Free Wi-Fi is available in the main public areas of the ship but not necessarily in all cabins. As internet is provided through a mobile network, bandwidth (speed) will vary depending on the number of concurrent users, the proximity to a cell tower and other factors.
If you would like to have regular data and phone connection, we suggest either arranging an overseas roaming plan with your mobile operator, or pick up a local SIM card if you have an unlocked phone.
Health / Vaccinations
We recommend being in good health prior to any long distance travel.
Although, there are no vaccinations required to travel to Vietnam and Cambodia, we recommend that you consult your physician or a travel medical clinic with any specific concerns in regard to the itinerary in this program. Malaria is prevalent in some areas at some times of the year and you may wish to consider a prophylaxis.
Safety & Security
The general situation for tourists visiting these countries is good.
Crime is generally limited due to harsh penalties, particularly when tourists are affected. However, petty theft and pickpocketing is definitely something to be aware of, particularly in the larger cities and around large groups of people.
It is always prudent to be constantly aware of your surroundings and to not take unnecessary valuables with you. Leave your passport, extra money and any other belongings you do not need during the day in the safe in your cabin.
Please refer to the following information for specifics:
https://travel.gc.ca/destinations/vietnam
https://travel.gc.ca/destinations/cambodia
Suggested Reading
The Mekong: Turbulent Past, Uncertain Future
Ho Chi Minh City & Mekong Delta
Phnom Penh: A Cultural and Literary History