Dramatic Iceland
From $3,500
|
8 Days / 7 Nights
Sail Iceland's north and southwest coasts. On the way, take in rugged natural landscapes, including Iceland's famous fjords, geothermal springs, islands, and waterfalls. Immerse yourself in the cultural legacy of the Vikings, spot birds, wildlife and maybe even whales, orcas, and dolphins from the deck, and explore Iceland's colourful port towns.
View Google Map of Region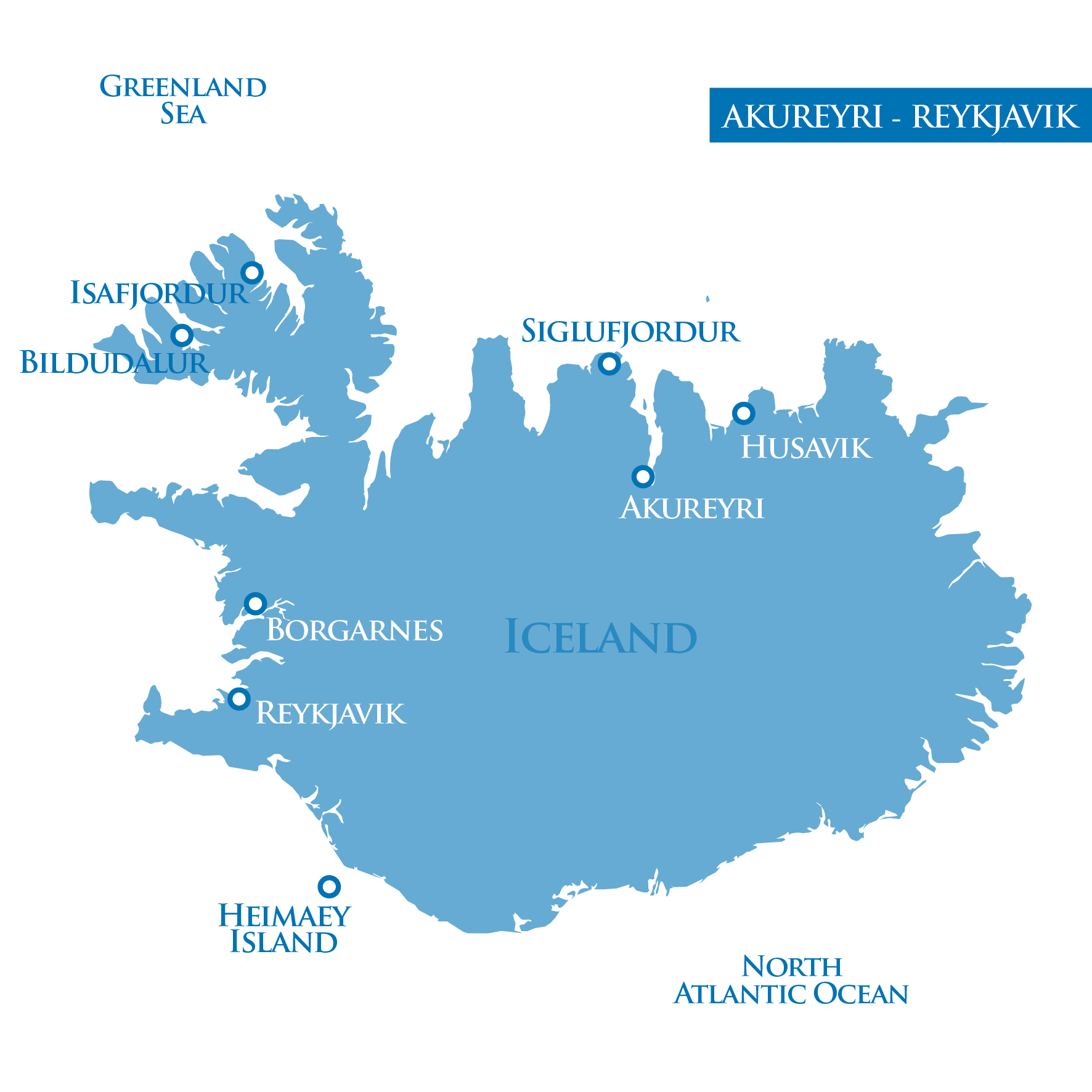 Daily Overview
Day
Destination
Activities
1
Akureyri
EMBARKATION

Afternoon walking excursion in Akureyri

2
Akureyri

Húsavík

Optional full-day excursion to Goðafoss falls

Explore the colourful port of Húsavík

3
Siglufjöður
Morning spent cruising through Skjálfandi Bay

Visit Siglufjöður, Iceland's northernmost town

4
Ísafjörður
Optional excursion to Bolungarvik and Ósvör

Discover the trade centre of Ísafjörður

5
Ísafjörður

Bildudalur

Optional excursion to Bildudalur, including falls

Scenic sailing past Látrabjarg cliffs

6
Arkanes
Discover local waterfalls and hot springs

Tour Reykholt, home to poet Snorri Sturluson

7
Reykjavik
All day optional excursion in Reykjavik city before leaving to enjoy
a panoramic tour to the volcanic Reykjanes Peninsula.
8
Reykjavik
DISEMBARKATION
Detailed Itinerary
DAY 1 / AKUREYRI / EMBARKATION 
Embark the ship in the mid-afternoon and settle into your cabin. Today, you'll have time for an optional late afternoon walking excursion in Akureyri.
DAY 2 / AKUREYRI 
This morning, a full-day optional excursion will take you from Akureyri to Húsavík, where you will re-board the ship in the evening. Set off on Iceland's Ring Road to reach Goðafoss waterfall, often called the "falls of the gods," where you will hear about the Kristni Saga, which recounts the arrival of Christianity and the end of Paganism in Iceland. After lunch, visit Lake Myvatn, Námaskarð, and Dimmuborgir, where you'll find evidence of volcanic activity in the lava fields, mud pools, steam vents, and craters.
Rejoin the ship in Húsavík, where you will spend some time walking around this colourful port. Mooring overnight.
DAY 3 / SIGLUFJÖRDUR 
In the morning, sail through the Skjálfandi Bay. As always, our captain will inform you of any whale sightings en route. In the middle of the day, arrive in the picturesque port of Siglufjöður, which was once known as the capital of Herring fishing. Not far from the Arctic Circle, this is Iceland's northernmost town. Here, set off on an optional walking tour through the city, visiting the port, the Herring Museum, and the Folk Music Centre, which is housed in Madame House, the oldest house in the town. In the afternoon, set sail for Ísafjörður and spend the night at sea.
DAY 4 / ÍSAFJÖRDUR 
Arrive in Ísafjörður, a large fishing port in Westfjords. Your optional morning excursion will take you to the villages of Bolungarvik and Ósvör, where you'll visit a restored fisherman's hut. Back in town, see the Maritime Museum and walk around the town, which is known for its rich cultural heritage and merchants' homes dating from the 18th century. Mooring overnight in Ísafjörður.
DAY 5 / ÍSAFJÖRDUR / BILDUDALUR 
This morning, you may choose to embark on an optional excursion from Ísafjörður to Bildudalur, including a stop at the Dynjandi falls before en route. In Bildudalur, discover the town and visit the Sea Monsters Museum. After rejoining the ship in the port, sail south after lunch, cruising the Westfjords coastline past the Látrabjarg cliffs, which rise nearly half a kilometre over the water. The night is spent cruising.
DAY 6 / AKRANES 
Arrive in Akranes in the morning and disembark our full-day optional excursion to Deildartunguhver, Europe's most powerful thermal spring, and the Hraunfossar and Barnafossar waterfalls. You'll stop in Reykholt, which, for many years, was one of the most important intellectual centers of the island and the site of a prestigious school. During the Middle Ages, Reykholt was home to Snorri Sturluson, a poet and politician who is arguably one of the most significant figures in Icelandic history. Today, his work is invaluable to modern scholars interested in the Old Norse language and the mythology of medieval Iceland. Here, see remains of his farm, including a bathroom connected to the house via a tunnel.
In the afternoon, rejoin the ship and sail to the Westfjords. The night is spent cruising to Heimaey Island.
DAY 7 / REYKJAVIK
Morning sailing and arrival in Reykjavik. All day optional excursion in Reykjavik city before leaving to enjoy
a panoramic tour to the volcanic Reykjanes Peninsula. Vikingaheimar, and the geothermal fields of
Krysuvik. Overnight in port.
DAY 8 / REYKJAVIK / DISEMBARKATION 
Disembark in the morning in Reykjavík, where this exciting expedition cruise comes to an end.
Dates & Prices
Itinerary Code (Name of Itinerary)
 Itinerary Start Date
 Ship Name
 Route
Duration (Nights)
Category Pricing PP
C
B
A
P
ENAR-01
(Dramatic Iceland)
6/9/2018
M/S Panorama
Reykjavik/Akureyri
7
$4,060
$4,550
$5,360
N/A
6/16/2018
M/S Panorama
Akureyri/Reykjavik
7
$4,060
$4,550
$5,360
6/23/2018
M/S Panorama
Reykjavik/Akureyri
7
$4,060
$4,550
$5,360
6/30/2018
M/S Panorama
Akureyri/Reykjavik
7
$4,060
$4,550
$5,360
7/14/2018
M/S Panorama
Akureyri/Reykjavik
7
$4,060
$4,550
$5,360
7/28/2018
M/S Panorama
Akureyri/Reykjavik
7
$4,060
$4,550
$5,360
8/4/2018
M/S Panorama
Reykjavik/Akureyri
7
$4,060
$4,550
$5,360
8/11/2018
M/S Panorama
Akureyri/Reykjavik
7
$4,060
$4,550
$5,360
8/18/2018
M/S Panorama
Reykjavik/Akureyri
7
$4,060
$4,550
$5,360
8/25/2018
M/S Panorama
Akureyri/Reykjavik
7
$4,060
$4,550
$5,360
9/1/2018
M/S Panorama
Reykjavik/Akureyri
7
$4,060
$4,550
$5,360
9/8/2018
M/S Panorama
Akureyri/Reykjavik
7
$4,060
$4,550
$5,360
Port Charges included for 2017 sailings: $390
Port charges included for 2018 sailings: $430
Inclusions
Accommodation in double or twin cabins with private SH/WC & air conditioning.
Full-board: Buffet breakfast and two meals daily, including a Welcome Cocktail, a local Theme Evening , fun BBQ (weather permitting) and Captain's Dinner.
Regular (filter) coffee, tea and drinking water free all day.
Use of fishing and snorkeling equipment (subject to availability).
English-Speaking Cruise Escort.
Ship Details
MS Panorama
| | | | | | | |
| --- | --- | --- | --- | --- | --- | --- |
| Built | Length | Decks | Cabins | Passengers | Cabin Size | |
| 1993; Refurbished in 2001 and 2008 | 54m | 3 | 24 | 49 | 10.7 - 12.5m² | More Details |
Travel Tips
Iceland – Variety
Travel Documents / Visas
1. Passport
Canadian citizens must have a valid passport which is valid for 3 months after the last date of your trip in Iceland.
Citizens of other countries should consult with their travel agent or our office.
2. Visa
No visa is required for citizens of Canada to enter Iceland.
Packing List
A handy checklist of what to bring on your trip can be downloaded here.
Insurance
We highly recommend the purchase of appropriate travel insurance for any trip outside Canada. Details about the policy available through GLP Worldwide can be found here.
Smoking
Not permitted anywhere indoors. There are designated areas on the outside decks.
Weather
The weather will differ from the south side of the island to the north so expect that temperatures at Akureyri may be 3-5C cooler than these which are based on Reykjavik:
May:Usually very dry with temperatures in the high 0s during the day, approaching the freezing point at night.
June-August:Temperatures during the day in the low to mid 10s. At night the temperature could easily drop to the high 0s.
September:Weather starts to get a bit wetter. Average daytime temperatures around the high 0s. Winds get strong and nighttime temperatures are typically in the low 0s.
Arrival / Departure
Upon booking, we will provide detailed instructions on where to check-in for your Iceland expedition depending if you are commencing in Reykjavik for Akureyri.
Money
The currency of Iceland is the Icelandic Krona (ISK).
Onboard, you can charge all of your additional expenses to your shipboard account provided you give an imprint of your credit card upon embarkation. The currency onboard the ship is the Euro although most major currencies and travellers cheques are accepted.
ATM's accepting most international debit and credit cards can be found in abundance in Reykjavik and the other larger towns. However, given your itinerary, it may not be convenient to find one. We regret, there is no facility to exchange for Icelandic currency onboard the ship.
For small purchases in Iceland, you should have some of the local currency as EUR or USD may not be accepted.
Gratuities (Tipping)
The gratuity suggested by the cruise line is USD 13-16 per guest per day.
Of course, gratuities are always at your discretion and the above recommendations are assuming you are completely satisfied. All gratuities will be divided amongst the entire crew.
Laundry
Laundry service is available for a small fee. Regrettably, dry cleaning is not available.
Excursions
A complete list of the available shore excursions which may be purchased on board is available from our office upon request.
Some shore excursions will be conducted via tender. There is generally no great challenge to get on or off the ship.
Activity Level / Strenuousness
Light – There are generally no long distances to walk on our Icelandic programs.
Food
Breakfast, lunch and dinner are all included in your cruise fare.
When in Iceland, you'll find that the food is somewhat more "Europeanized". However, local dishes such as "Hangikjöt" (smoked lamb) or "Skyr" (kind of like yoghurt but not), are well worth trying. If you are really brave, look for "Svið" which is boiled sheep's head. They say it's delicious.
You may also wish to take a sip of the schnapps called "Brennivín" which is sometimes referred to by the Icelanders as "Black Death"…. We will let you be the judge.
Language
In all the stops along the way, you will find that the local people speak at least some, if not fluent, English.
Medical Facilities
While the ship does not have a doctor onboard, some crew members are trained in first aid. Ports of call are seldom very far away and in the event of an emergency, arrangements for evacuation of a patient can be made.
Phone & Internet
There is a phone in each cabin for intra-ship communication. Outgoing calls may be possible from the ship's phone depending on proximity to cellular service.
Wi-Fi is available in certain areas of the ship. As it is either a satellite connection or through a local mobile network (which will be sporadic), internet speed will be very slow.
If you would like to have regular data and phone connection (where available in the various ports of call), we suggest either arranging an overseas roaming plan with your mobile operator, or pick up a local SIM card if you have an unlocked phone.
Health / Vaccinations
There are no vaccinations required to travel to Iceland. However, we suggest you consult your physician with any specific personal requirements for this program.
Safety & Security
Our ships are equipped with the latest in emergency communication, life boats and other equipment to deal with any kind of problematic event. If you have any questions or concerns, please contact our office for more details.
Iceland does not currently have any security threats.
More details about travelling to Iceland can be found here:
https://travel.gc.ca/destinations/iceland
Suggested Reading
Ring of Seasons: Iceland–Its Culture and History
Iceland Imagined: Nature, Culture, and Storytelling in the North Atlantic
Last Places, A Journey in the North
Island on Fire: The Extraordinary Story of a Forgotten Volcano That Covered a Continent in Darkness