Eastern Coastal Journey – Maine and Acadia
From $2,930
|
8 Days / 7 Nights
Starting in the world's most exciting city, New York, we discover Maine's peaceful and magnificent coast and hike in the wilderness, enjoying stops in charming small towns, cosmopolitan Boston, and experiencing an Exploration day adventure along the way. The cruise concludes in vibrant Halifax, with a chance to explore this historic and lively city of arts, culture, and outdoor activities.
View Google Map of Region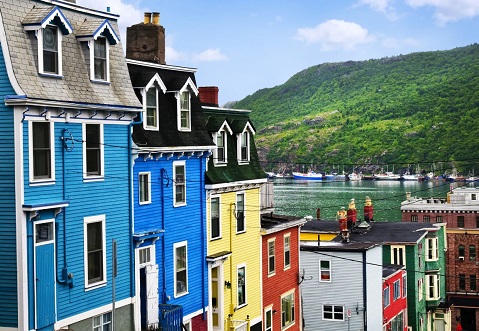 Daily Overview
Day
Destination
Activities
1
New York
Enjoy the sights and sounds of New York City
Embark on the MS Fram
2
Newport
Tour the spectacular scenery and inspiring architecture
Experience the world-renowned Cliff Walk
3
Boston
Explore America's seafood capital
See the Freedom Trail and Harvard Square
4-5
Rockland
Stop by the coastal towns Rockland and Bucksport
Bucksport
6
Bar Harbor
Visit Acadia National Park where you can bike, hike, and sightsee
7
At Sea
Witness the dramatic coastal landscape and wildlife from the ship
8
Halifax
Experience life in the second largest natural harbour in the world
Detailed Itinerary
DAY 1 / NEW YORK
Our expedition starts in New York City, the city that never sleeps. Spend some time enjoying all that New York City has to offer before embarking on MS Fram. Make sure to be out on deck as we sail past the Statue of Liberty on our way out to sea.
DAY 2 / NEWPORT
Founded in 1639, Newport, Rhode Island, is considered to be a shining gem in the coastal crown of New England. It is home to spectacular coastal scenery, awe-inspiring architecture, a thriving waterfront downtown, and welcoming hospitality. Tour the famed Gilded Age mansions that were once the summer playground for socialite families with names such as Astor and Vanderbilt, or enjoy wine-tasting at Newport's three scenic vineyards. Hop on a ride through Newport's downtown and along the iconic Ocean Drive, discover Colonial architecture, or explore the tunnels at Fort Adams – America's largest coastal fortification. Experience the world-renowned Cliff Walk, a path tracing the edge of the Atlantic Ocean that offers views of opulent Newport mansions, or stroll the city's historic Old Quarter. Join fascinating walking tours or experience natural wonders such as Hanging Rock, where American author, poet, philosopher, and naturalist Henry David Thoreau found inspiration. The Norman Bird Sanctuary boasts 325 acres and seven miles of trails that wind through diverse habitats. Newport has earned an enviable reputation as a culinary hot spot as well. Newport chefs create local delicacies by working with area farmers, foragers, and fishermen, making amazing dishes that highlight seasonal ingredients, so enjoy eating well while you're here!
DAY 3 / BOSTON
Boston can be described as one large outdoor museum. As we arrive, Boston Harbor provides a spectacular scenic backdrop to the city, and its 34 islands provide an exciting urban-adventure destination. Walk the Freedom Trail and you'll quickly get a sense of the city's revolutionary spirit and history. As you follow the redbrick road, from the Boston Common to the Bunker Hill Monument, you pass 16 sites where dramatic history played out. Be sure to explore some of Boston's fine museums and old neighbourhoods. The city's most magnificent architecture is clustered around Back Bay plaza, symbolic of the culture of learning that gave Boston its nickname: the Athens of America. Harvard Square is also a rich source of colonial and revolutionary history. Lined with mansions that were once home to royal sympathisers, it earned the nickname Tory Row. This is where you find Harvard, founded in 1636, the oldest university in the US. Throughout Harvard Square, street musicians perform on the sidewalks and in the parks, and there are live performances in many of the clubs. Follow the brick sidewalks to an eclectic mix of bookstores and music stores, performing arts theatres, and museums. And don't forget: Boston is America's seafood capital, famed for clam chowder and lobster, and foods prepared with a rich mix of ethnic flavors from all corners of the world.
DAY 4-5 / ROCKLAND / BUCKSPORT
As we continue sailing north, we reach Rockland, a beautiful coastal town in Maine situated alongside Penobscot Bay. Rockland is known for its lobster-fishing industry and deep harbor that's dotted with hundreds of inlets and coves. Downtown Rockland has great architecture among its historic homes and shops. There are plenty of tasty cafés and restaurants here that serve local seafood, of course. Rockland is also home to the Farnsworth Art Museum and Wyeth Center, which celebrates Maine's role in American art. With beautiful mountains, scenic waterways, charming wineries, and pristine Atlantic beaches, Rockland offers many options for outdoor activities. Sailing further up the coast, we come to Bucksport, located on the Penobscot River, and home to approximately 5,000 people. Across the bay is Fort Knox, one of the largest fortifications on the New England coast. Major attractions of Bucksport include the Downtown Waterfront Walkway and an old railroad station that now houses the local historical society. Here you can learn about the town's eventful past through photos, exhibits, and lore, including the legend of a witch's curse placed upon the town's founder, Jonathan Buck. To this very day, evidence of the curse can be seen on the Buck Monument located on Route 1. Stroll in this typical American small town and enjoy its charming atmosphere.
DAY 6 / BAR HARBOR
Adventure, romance, rocky coast, and soaring granite cliffs – there is a special mystique to Bar Harbor, Maine. Surrounded by Acadia National Park and perched on the edge of the sea, this little community offers tons of charm. Bar Harbor is the artistic, culinary, and social centere of Mount Desert Island. Around the turn of the last century, the island was known as a summer haven for the very rich because of its cool breezes. Bar Harbor's shops are clustered along Main Street, Mount Desert Street, and Cottage Street. Or take a stroll down West Street, a National Historic District, where you can see some fine old houses. One of Bar Harbor's many attractions is its close proximity to Acadia National Park, which has over 50 square miles of mountains, lakes, hiking and biking trails, amazing views, and dramatic coastline. We aim to catch the sunrise from the top of Cadillac Mountain, the highest point on the east coast of the US, which offers magnificent views of the glaciated coastal and island landscape.
DAY 7 / AT SEA
Because of the on-site coordination and guidance of our experienced captain, expedition leader, and local experts, guests will enjoy unique stops in destinations that other cruise ships are not able to deliver. This might mean a special landing site to go for walks and launch our kayaks, a community visit, or a stop to watch wildlife. This area we are in, often called 'Down East Maine', is an amazing coastal landscape carved by glaciers. Wildlife is abundant, so keep your eyes open for a variety of marine and avian life we may encounter.
DAY 8 / HALIFAX
While the area around Halifax has been inhabited by native Mi'kmaq peoples for millennia, modern Halifax was founded in 1749 as a British military outpost. Today it is Atlantic Canada's entertainment and cultural capital, melding the old and new worlds. Modern office towers of glass and steel stand beside historic buildings that once stored the booty of privateers. Located on the second largest natural harbour in the world, life here revolves around the sea and the surrounding areas offer plenty of fun activities on land, in and on the water, and in the air. Spend some time to explore this vibrant urban centre resting on the edge of nature or join one of the optional excursions.
Dates & Prices
Itinerary Code (Name of Itinerary)
Itinerary Start Date
 Route
Duration (Nights)
Ship Name
Fare Range
Category Price PP
Polar Inside
Polar Outside
Arctic Superior
Expedition Suite
I
FJ
N
U
F
M
MG
ENNA-06 (Eastern Coastal Journey – Maine and Acadia)
15/04/2018
New York / Halifax
7
MS Fram
Min
$2,930
$3,370
$3,540
$3,900
$4,570
$4,900
$7,860
Max
$3,910
$4,500
$4,720
$5,200
$6,090
$6,530
$10,470
Inclusions
Hurtigruten expedition in the cabin grade of your choice on a full board basis
Wind- and water-resistant jacket
Landings with small boats and activities on board and ashore
Professional English-speaking expedition team that gives lectures and accompanies landings and activities
Complimentary tea and coffee
Not included:
International flights
Travel insurance
Luggage handling
Optional excursions and gratuities
Ship Details
MS Fram
| | | | | | | |
| --- | --- | --- | --- | --- | --- | --- |
| Built | Length | Decks | Cabins | Passengers | Cabin Size | |
| 2007 | 114m | 7 | 127 | 318 | 10.5 - 39m² | More Details |
Travel Tips
Coming Soon!
Please stay tuned for travel tips tailored for this itinerary!
For any immediate questions, please contact us as 905.258.7778.