The Elves, Sagas, and Volcanoes of Iceland
From $7,430
|
12 Days / 11 Nights
On this expedition cruise to mythical Iceland, discover an abundance of natural wonders—from
glaciers,
waterfalls, geysers, and hot springs to
volcanoes
and lava fields.
Known as the land of fire and ice,
this island nation's fishing villages and historic settlements offer insights into the country's epic past. Circumnavigate Iceland to experience it all.  
View Google Map of Region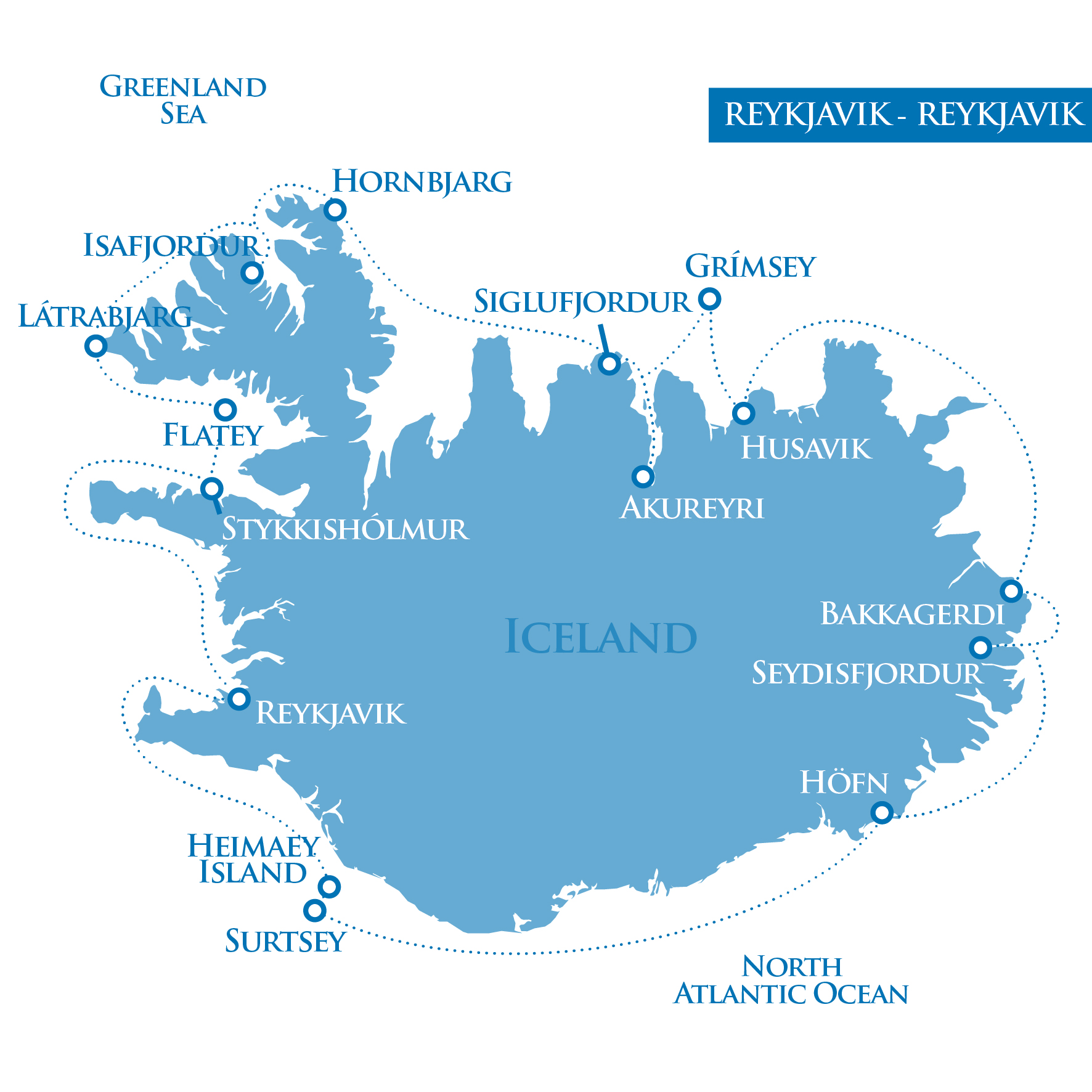 Daily Overview
Day
Destination
Activities
1
Reykjavik
EMBARKATION
2
Stykkishólmur
Discover volcanoes and glaciers in the Sagaland

Choose from several exciting activities

3
Flatey & Bjargtangar

Látrabjarg Promontory

Take a stroll in historic Flatey

See the puffins and birds of Látrabjarg

4
Ísafjörður
Explore the trade town of Ísafjörður

Choose from a variety of optional excursions

5
Hornbjarg Cliff

Reykjafjörður

Take a Polarcirkel boat to Hornbjarg

Visit the scenic natural area of Reykjafjörður

6
Siglufjörður

Grimsey

Take in the view in rugged Siglufjörður

Take a Polarcirkel boat to the Arctic Circle

7
Akureyri
Discover Iceland's northern cultural hub

See the Goðafoss waterfall or enjoy a hike

8
Húsavík
Visit Húsavík, including its famous church

Scenic cruising past the Langanes peninsula

9
Bakkagerði Seyðisfjörður
Discover Bakkagerði's natural beauty and birds

Optional excursion to Hallormsstaður forest

10
Höfn
See Vatnajökull, the largest glacier in Europe

Take in Höfn's many natural wonders

11
Surtsey & Heimaey (Westman Islands)
Explore the magnificent Westman Islands

Spot seabirds and maybe even whales

12
Reykjavik
DISEMBARKATION
Detailed Itinerary
DAY 1 / REYKJAVIK / EMBARKATION 
Forty-five minutes after touching down at Keflavík International Airport, surrounded by lava rocks, moss, and mountains, find yourself in Reykjavik, a charming and vibrant town with plenty of restaurants, museums, and shops along narrow streets.
DAY 2 / STYKKISHÓLMUR 
West Iceland is often referred to as "The Sagaland." Experience Stykkishólmur's natural diversity, including lava and rock formations, glaciers, volcanoes, and hot and cold springs. Participate in an exciting excursion, such as kayaking, hiking and horseback riding.
DAY 3 / FLATEY & BJARGTANGER / LÁTRABJARG PROMONTORY 
On the charming island of Flatey, time appears to stand still. Take a stroll around the village and get lost among the 19th-century buildings. Látrabjarg is a promontory and the westernmost point in Iceland, also happens to be home to millions of birds, including puffins, northern gannets, guillemots and razorbills.
DAY 4 / ÍSAFJÖRDUR 
Ísafjörður is the largest town in the Westfjords and has a long history as a major centre of commerce and trade, which was built around a thriving fishing industry. Experience the town's architecture or join our wide range of optional excursions.
DAY 5 / HORNBJARG CLIFF & REYKJAFJÖRDUR 
The Hornbjarg cliff is one of the greatest seabird habitats in Iceland. Here, we will try to land in Polarcirkel boats. You'll explore Reykjafjörður, a stunning natural area which can only be reached on foot or by boat.
DAY 6 / SIGLUFJÖRDUR & GRIMSEY 
Siglufjörður opportunities for both recreation and sightseeing. Savour a sensation of peace and tranquility after spending a few hours amidst this rugged landscape. The Arctic Circle meets Iceland at Grímsey, an island which you'll visit by Polarcirkel boat.
DAY 7 / AKUREYRI 
Akureyri is a lively and energetic town, which happens to be the most populated community outside the Reykjavík area and the centre of trade and culture for northern Iceland. It's close to many of Iceland's most renowned natural wonders, and the town itself is a popular destination. Enjoy an optional hike or join an excursion to the impressive Goðafoss waterfall.
DAY 8 / HÚSAVÍK 
Húsavík is the oldest settlement in all of Iceland. The town's most famous landmark is Húsavíkurkirkja, a wooden church built in 1907. Over the years, Húsavík has become increasingly popular as a whale watching centre and is home to the Húsavík Whale Museum. After leaving the town, sail past the Langanes peninsula in the evening.
DAY 9 / BAKKAGERDI & SEYDISFJÖRDUR 
Bakkagerði is the main settlement in Borgarfjörður. This area is known for its natural beauty and has been called the "land of the elves." There are many puffin colonies in the fjord, and as a result, it's a popular place for bird watching. Bakkagerði is off the typical tourist track, and offers peace, quiet, and impressive views. If you prefer something more active, join us for an optional tour to the natural forest of Hallormsstaður.
Seyðisfjörður is distinguished by its Norwegian heritage. The colourful Norwegian-style wooden houses, which are unique in Iceland, date from the early 20th century. Explore the town, join a hike, or set off on an optional excursion out to Skálanes.
DAY 10 / HÖFN 
Large mountains, wide rivers, and the ever-present Vatnajökull glacier dominate the area around the charming fishing village of Höfn. From the harbour, take in views of the famous glacier, the largest in Europe and a truly spectacular sight. On the east coast you will find pine forests, lush farmlands, and a variety of colourful fishing villages and vibrant seaside communities.
DAY 11 / SURTSEY & HEIMAEY (WESTMAN ISLANDS) 
Surtsey is a volcanic island formed by an eruption that started 130 metres below sea level and reached the surface in 1963. Heimaey is the largest of the Westman Islands, which are located off Iceland's south coast, and is dominated by magnificent cliffs. These form natural habitats for many different seabirds, including puffins and kittiwakes. The islands are also a great place for spotting whales.
DAY 12 / REYKJAVIK / DISEMBARKATION 
Our voyage of discovery and adventure ends in Reykjavik. If you have the time, join an exciting post-programme Golden Circle and Blue Lagoon excursions.
Dates & Prices
Sailing Dates:
May 23, 2018
June 3, 2018
Hurtigruten uses variable pricing, whereby the price fluctuates depending on how early you book, cabin availability etc. Please call us at +1.866.760.1987 to receive a quote.
Starting from price reflects the price per person for the cruise only, based on double occupancy for the June sailing in a category I cabin. Price is inclusive of taxes and port charges.
Inclusions
Hurtigruten Expedition Voyage in cabin grade of your choice on a full board basis (daily buffet breakfast, buffet lunch, and set or buffet dinner)
Wind- and water-resistant jacket
Landings and activities on board and ashore
Professional English-speaking Expedition Team that gives lectures as well as accompany landings and activities
Complimentary use of Muck Boot rubber boots
Complimentary tea and coffee
Ship Details
MS Fram
| | | | | | | |
| --- | --- | --- | --- | --- | --- | --- |
| Built | Length | Decks | Cabins | Passengers | Cabin Size | |
| 2007 | 114m | 7 | 127 | 318 | 10.5 - 39m² | More Details |
Travel Tips
Iceland – Hurtigruten
Travel Documents / Visas
1. Passport
Canadian citizens must have a valid passport which is valid for 3 months after the last date of your trip in Iceland.
Citizens of other countries should consult with their travel agent or our office.
2. Visa
No visa is required for citizens of Canada to enter Iceland.
Packing List
A handy checklist of what to bring on your trip can be downloaded here.
Insurance
We highly recommend the purchase of appropriate travel insurance for any trip outside Canada. Details about the policy available through GLP Worldwide can be found here.
Smoking
Not permitted anywhere indoors. There are designated areas on the outside decks.
Weather
The weather will differ from the south side of the island to the north so expect that temperatures at Akureyri may be 3-5C cooler than these which are based on Reykjavik:
May:Usually very dry with temperatures in the high 0s during the day, approaching the freezing point at night.
June-August:Temperatures during the day in the low to mid 10s. At night the temperature could easily drop to the high 0s.
September:Weather starts to get a bit wetter. Average daytime temperatures around the high 0s. Winds get strong and nighttime temperatures are typically in the low 0s.
Arrival / Departure
Upon booking, we will provide detail instructions on where in Reykjavik to check-in for your Iceland expedition.
Although it's a small city, it offers a lot to see and do and we highly recommend a stay here before or after your voyage.
Money
The currency of Iceland is the Icelandic Krona (ISK).
Onboard, you will be issued a cruise card which you can use to charge all purchases during your voyage. You must provide a Visa, American Express, Diners or MasterCard that is valid for at least 3 months after your trip date.
The final bill will be charged to your credit card account in Norwegian Kronor (NOK).
ATM's accepting most international debit and credit cards can be found in abundance in Reykjavik and the other larger towns. However, given your itinerary, it may not be convenient to find one. We regret, there is no currency exchange facility onboard the ship.
For small purchases in Iceland, you should have some of the local currency as USD may not be accepted.
Gratuities (Tipping)
The gratuity suggested by the cruise line is USD 12 per guest per day
Of course, gratuities are always at your discretion and the above recommendations are assuming you are completely satisfied. All gratuities will be divided amongst the entire crew.
Laundry
Laundry service is available for a small fee. Regrettably, dry cleaning is not available.
Excursions
All regular shore landings as noted in the itinerary are included in your voyage. Some additional excursions may be available on board at an extra cost. Please check with us or consult the purser onboard for additional information.
Many shore landings will start a zodiac boat ride to shore where you will land and be assisted onto shore via some portable steps. The ground is sometimes covered with small rocks / gravel.
Activity Level / Strenuousness
Light to Moderate – Participation in the shore landings requires the ability to board (with assistance) a zodiac boat from the main ship and on to shore. There are generally no long distances to walk on our Icelandic programs.
Food
Breakfast, lunch and dinner are all included in your cruise fare.
When in Iceland, you'll find that the food is somewhat more "Europeanized". However, local dishes such as "Hangikjöt" (smoked lamb) or "Skyr" (kind of like yoghurt but not), are well worth trying. If you are really brave, look for "Svið" which is boiled sheep's head. They say it's delicious.
You may also wish to take a sip of the schnapps called "Brennivín" which is sometimes referred to by the Icelanders as "Black Death"…. We will let you be the judge.
Language
In all the stops along the way, you will find that the local people speak at least some, if not fluent, English.
Medical Facilities
There is an English-speaking physician and nurse on board at all times. The ship has a small medical facility with the necessary equipment and drugs to handle small emergencies. In the event of a serious emergency, the nearest hospital will be contacted. Medical consultations as well as medicines will be charged to the passenger affected. If you depend on medication, remember to bring sufficient supplies to last through any unforeseen delays. We also recommend that you keep your medication in your hand luggage properly labelled and with clear instructions for its use. If you depend on vital drugs, please inform the ship's doctor upon arrival.  Illness on board can lead to quarantine and orders from the ship's physician and captain, must be followed.
Phone & Internet
There is a phone in each cabin. Outgoing call rates are very high as a satellite connection is the only one possible.
Wi-Fi is available in certain areas of the ship at a modest charge. As it is a satellite connection, internet speed will be very slow and we suggest it be used for urgent matters only.
Health / Vaccinations
There are no vaccinations required to travel to Iceland. However, we suggest you consult your physician with any specific personal requirements for this program.
Safety & Security
Our ships are equipped with the latest in emergency communication, life boats and other equipment to deal with any kind of problematic event. If you have any questions or concerns, please contact our office for more details.
Iceland does not currently have any security threats.
More details about travelling to Iceland can be found here:
https://travel.gc.ca/destinations/iceland
Suggested Reading
Ring of Seasons: Iceland–Its Culture and History
Iceland Imagined: Nature, Culture, and Storytelling in the North Atlantic
Last Places, A Journey in the North
Island on Fire: The Extraordinary Story of a Forgotten Volcano That Covered a Continent in Darkness