From Africa to Brazil
From $4,420
|
17 Days / 16 Nights
Embarking in one of Morocco's most storied cities, you'll sail to Agadir and Lanzarote before spending a few days at sea on the way to captivating Cape Verde, a collection of islands off the coast of Senegal.
Next, enjoy the peace, tranquility, and endless horizons of the open sea as you traverse the Atlantic Ocean on the way to Brazil. 
View Google Map of Region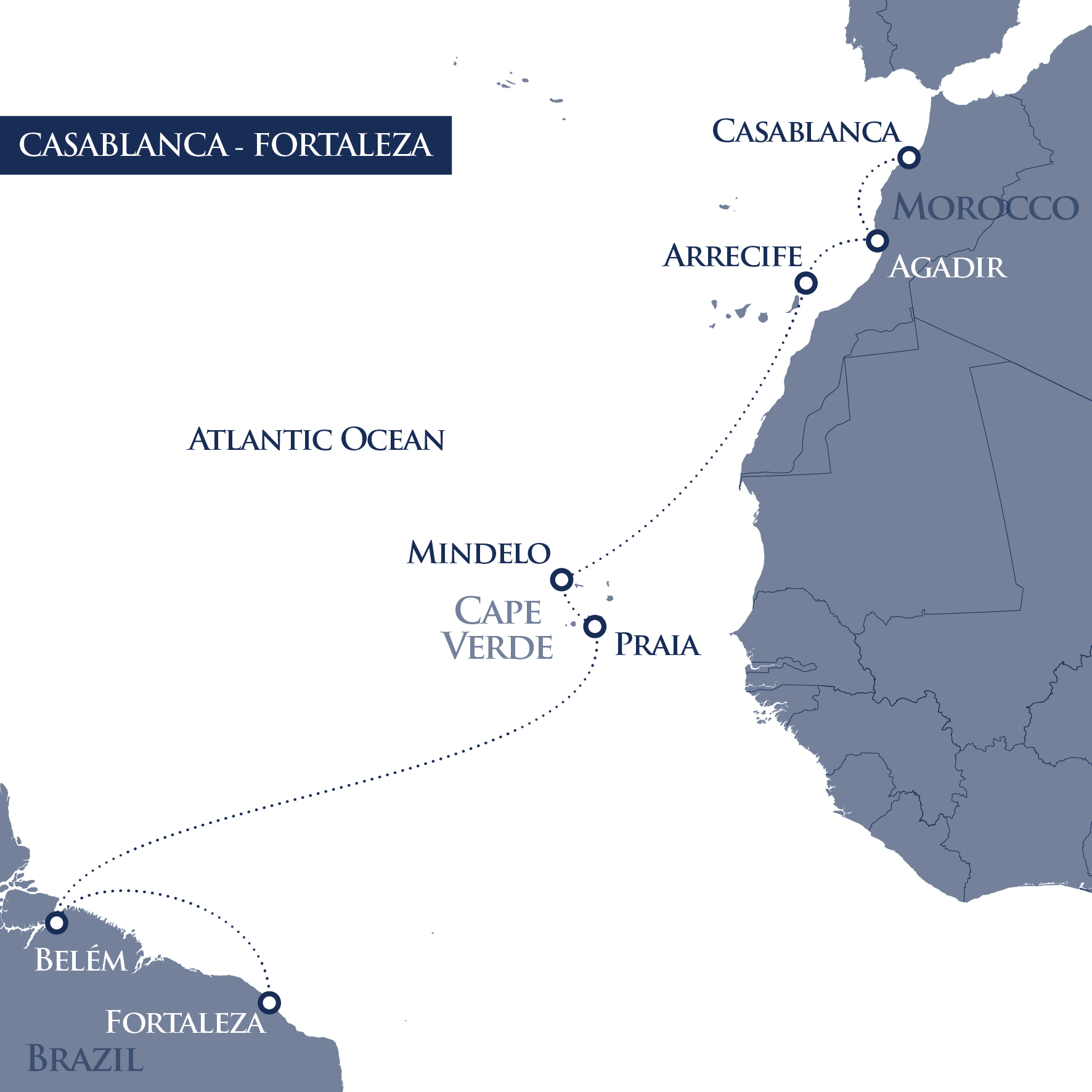 Daily Overview
Day
Destination
Activities
1
Casablanca, Morocco
Explore Casablanca, a former pirates' hideaway

EMBARKATION

2
Agadir, Morocco
Immerse yourself in Moroccan life

See the old Kasbah and the new Medina

3
Lanzarote&

Arrecife, Spain

See the beach or explore the city

Visit the International Museum of Modern Art

4-5
At Sea
Enjoy on-board lectures or relax on the deck
6
Mindelo,

Cape Verde

Discover the bustling port of Mindelo

Tour the city's marketplace on foot

7
Praia,

Cape Verde

See the UNESCO-listed former capital of Santiago

Snorkel, walk along the beach, or explore the town

8-12
Atlantic Ocean Crossing
Enjoy on-board lectures or relax on the deck

Keep a lookout for marine life

13
Belém,

Brazil

Cruisethrough the Baia de Maraio

Discover Brazil's "city of mango trees"

14
Belém,

Brazil

Explore Belém's cafés and art scene

Join a wilderness excursion

15-16
The Brazilian Coast
Enjoy on-board lectures or relax on the deck

Spot a variety of bird life from the deck

17
Fortaleza, Brazil
DISEMBARKATION

See Fortaleza's sights, including the cathedral
Detailed Itinerary
DAY 1 / CASABLANCA (MOROCCO) / EMBARKATION*
A few centuries ago, Casablanca was an old pirate lair. Today, the "White City" is an exotic mix of old and new. If you can, take some time to explore this distinctive North African metropolis before embarkation.
After the ship sets sail, stay on deck to enjoy an incredible view of the harbour with its colourful wooden boats docked next to fishing vessels and huge ocean liners. Take in the incredible Hassan II Mosque illuminated by the setting sun, before enjoying your first dinner on board MS Midnatsol.
DAY 2 / AGADIR (MOROCCO)
After arriving in Agadir, spend a few hours on the beach or walk a mere two hundred meters to find yourself suddenly immersed in the middle of Moroccan street life. Following a devastating earthquake in 1960, the old Kasbah, or citadel, no longer bore its crenellated ramparts. Nevertheless, this elevated site has a complete view of the bay, the port, and the new town and is a truly enchanting sight at sundown. To the south of the city center, the new Medina is a wonderful place to discover. Reconstructed in the 1990s by Italian architect Coco Polizzi, it's an original and bold success that has a truly Moroccan feel. Here, a jewellery souk and Moorish café are more than worth the detour.
DAY 3 / LANZAROTE & ARRECIFE (SPAIN)
A UNESCO Biosphere Reserve, Lanzarote is an intriguing island that boasts three hundred volcanic cones. Rest under palm trees on the beach, explore the city, or visit the lagoon in the centre of Arrecife. With its small white houses and the little colourful fishing boats, this town has been called the "Venice of the Atlantic". If you are interested in modern art, the International Museum of Modern Art in Castillo de San José, an old military fortress, is a must-see.
DAY 4 / DAY SPENT AT SEA
The next two days are spent following the Canary Current—part of the North Atlantic Gyre—en route to Cape Verde. Here, deep, cold, and nutrient-rich waters meet shallower and warmer streams. These waters are teeming with fish and marine mammals, and overhead, you're sure to spot a variety of seabirds.
DAY 5 / DAY SPENT AT SEA
Enjoy some rest and relaxation on deck or join the expedition team for fascinating lectures on the Cape Verde Islands, your next destination.
DAY 6 / MINDELO (CAPE VERDE)
Mindelo is a busy port town on the northern part of São Vincente Island. It's bustling with life—Cape Verde's inhabitants have their own Creole culture and language, with European, African, and South American influences. Don't miss the famous marketplace in Mindelo—here, you'll get a glimpse into the day-to-day lives of the local people. The old town provides some interesting sights and windsurfers will love the beaches here.
DAY 7 / PRAIA (CAPE VERDE)
Praia is the capital of Cape Verde. Not far from Praia you find the tiny Cidade da Ribeira Grande de Santiago—the former capital of Santiago. Founded by the Portuguese in 1461, today it is a UNESCO World Heritage Site. See the old fortress, Fortaleza Real de Sao Felipe, the restored Rua Banana, and the oldest colonial church in the region. Enjoy a day of snorkeling or take a walk along the beach to experience the pace of life here.
DAY 8 / ATLANTIC OCEAN CROSSING
A century ago, crossing the Atlantic Ocean by boat was far from unusual—there was simply no other accessible mode of transportation. But today, it's much rarer to cross an ocean on a ship as opposed to simply hopping on a flight.
DAY 9 / ATLANTIC OCEAN CROSSING
As the ship makes its way across the Atlantic, your days will be filled with fascinating lectures, great edutainment, and other on-board activities. Enjoy the feeling of being alone out on the open sea, and marvel at the vastness of this ocean. Crossing the Atlantic is something few people will do in their lifetime—savour it.
DAY 10 / ATLANTIC OCEAN CROSSING
You will see that the ocean is not only blue—the colour changes according to the influence of the sunlight and the microorganisms in the water. Flying fish will join us on our way to Brazil and seabirds, including the curious-looking masked booby, are a special attraction.
DAY 11 / ATLANTIC OCEAN CROSSING
Take in the endless horizons, read, lounge out on the deck, and enjoy on-board amenities.
DAY 12 / ATLANTIC OCEAN CROSSING
On your final day at sea, take part in the on board activities, lectures, and edutainment or relax on the deck.
DAY 13 / BELÉM (BRAZIL)
Belém lies on the banks of the river Para, which belongs to the incredible Amazon basin river system. The ship cruises through the Baia de Maraio to reach the harbour of Belem, situated at 1° 27'S—nearly on the equator line. Amazonia is affected by the tropical climate of this South American equatorial region, and is home to an impressive species-rich evergreen tropic rainforest.
After a handful of days at sea, your arrival in the town of Belém may feel like an abrupt transition. Not to worry—you'll have plenty of time to roam the streets, uncovering parks shaded by mango trees along with historic landmarks and monuments.
DAY 14 / BELÉM (BRAZIL)
Take a second day to explore the megacity of Belem, which is also known as the cidade das mangueiras—the city of mango trees. The nightlife here tends to be of intellectual sort: art-house theatres, small music venues, and heady café-bars. Join one of our outings to nearby areas for wilderness adventures, where you also will learn more about the tropical nature of Amazonia.
DAY 15 / THE BRAZILIAN COAST
As the ship cruises southeast along the coast of Brazil, join the expedition team for more fascinating lectures or spend the day on deck relaxing.
DAY 16 / THE BRAZILIAN COAST
As the ship cruises, take in a variety of birds—from seabirds such as boobies and frigates to tropical land birds, who may even try to hitch a ride on the ship.
DAY 17 / FORTALEZA (BRAZIL) / DISEMBARKATION
In Fortaleza, Brazil, you'll want to visit Centro, the oldest part of town. Sample traditional Brazilian food in a barraca next to the beach, or visit the old fortress built by the Dutch captain Matias Beck in 1649, as well as Fortaleza's famous cathedral, the third-largest church in Brazil. Your adventure ends here.
*Note: This program is also available in the opposite direction
Dates & Prices
ONAT-04 (Casablanca to Fortaleza)  23.09.2017
Category Pricing PP
Suite Type
Category
Price
Double
Single
Polar Inside
I
Minimum
$4,420
$5,520
Maximum
$5,890
$7,370
Polar Outside
L/J
Minimum
$4,620
$6,930
Maximum
$6,160
$9,230
N
Minimum
$4,880
$7,320
Maximum
$6,500
$9,750
O
Minimum
$5,030
$7,550
Maximum
$6,710
$10,060
Artic Superior
P
Minimum
$5,300
$9,270
Maximum
$7,060
$12,350
U
Minimum
$5,620
$9,830
Maximum
$7,490
$13,110
QJ
Minimum
$5,940
$10,400
Maximum
$7,920
$13,870
Expedition Suite
Q
Minimum
$6,500
$12,990
Maximum
$8,670
$17,320
M
Minimum
$7,340
$14,680
Maximum
$9,790
$19,580
MG
Minimum
$8,360
$16,720
Maximum
$11,150
$22,290
MX
Minimum
$10,510
$21,020
Maximum
$14,020
$28,030
Inclusions
Hurtigruten  Expedition Voyage in cabin category of your choice on a full board basis (daily buffet breakfast, buffet lunch, and set or buffet dinner)
Wind and water – resistant jacket
Landings and activities on board and ashore
Professional English-speaking Expedition Team that gives lectures and accompanies landings and activities
Complimentary tea and coffee
Ship Details
MS Midnatsol
| | | | | | | |
| --- | --- | --- | --- | --- | --- | --- |
| Built | Length | Decks | Cabins | Passengers | Cabin Size | |
| 2003 | 136m | 7 | 301 | 500 | 8 - 45m² | More Details |
Travel Tips
From Africa to Brazil
Travel Documents
Passport
Canadian citizens should ensure that their passports are valid for 6 months after the last date of travel within Morocco and Brazil.
Spain: Spain is a European Schengen area country. Canadian citizens should ensure that their passports are valid for 3 months after the last date of travel in the Schengen area.
Cape Verde: Canadian citizens should ensure that their passports are valid up for the duration of their stay in Cape Verde.
Citizens of other countries should consult with their travel agent or our office.
Visa
Canadian citizens are allowed entry into Morocco without tourist visas when visiting for less than 3 months (90 days).
Canadian citizens are issued tourist visas when entering Brazil that are valid for multiple entries and usually for five years from the date of issue.
Packing List
        A handy checklist of what to bring on your trip can be downloaded here.
Insurance
We strongly recommend the purchase of appropriate travel insurance for any trip outside of Canada. Information on travel insurance options can be found here.
Smoking
Smoking is not permitted indoors on the ship but there are designated areas on the outside decks where one can smoke. In both Morocco and Brazil it's not permitted to smoke in most public buildings/spaces except for specifically designated smoking areas. In Spain it's not permitted to smoke in bars and restaurants.
Weather
In Morocco the average temperature in September is  high 10's to mid 20's.
September- Warm climate with temperatures in the low 20's.
In both Spain and Cape Verde the average temperature in September is high 20's.
In Fortaleza, Brazil the average temperatures in August to December is high 20's to low 30's.
September- Cooler months with temperatures in the mid 20's.
Arrival / Departure
In Morocco, the most logical place to fly into will be the Mohammed V International Airport, located in Nouaceur, 55 minutes away from the port of Casablanca.
In Brazil, you will fly out of the Fortaleza International Airport, which is about a 40 minute drive from the port area.
Once you have booked your trip, we will provide detailed instructions on where in Casablanca, Morocco to check-in for your cruise.
There a lot of tourist attractions and activities, we highly recommend a stay here before or after your voyage. Have a look at some of our Pre and Post Tours.
The ship will not be ready for check-in before midday (unless otherwise stipulated in the itinerary). If you have any luggage that you need to have booked in so you can enjoy some free time in port, the purser may be able to accommodate you provided we know in advance.
The cruise will finish in the morning on the final day. It is necessary to have settled your onboard account and to have disembarked by this time as instructed by the cruise director on the day before.
Money
The official currency in Morocco is the Moroccan Dirham.
The official currency in Spain is the Euro.
The official currency of Cape Verde is the Cape Verdean Escudo, (CVE). Euros are commonly accepted, although you might receive change in escudos.
In Brazil, the official currency is the Brazilian Real, however, the Euro and US Dollar may also be accepted by larger merchants in the country as well.
All major credit cards and debit cards are accepted by larger shops and restaurants in Morocco, Spain, Cape Verde and Brazil. However, when possible, carry enough of the local currencies for the day and charge what you can to your credit cards.
ATM's accepting most international debit and credit cards can be found in abundance in Morocco, Spain and Cape Verde. However, in Brazil not all ATM machines accept international credit cards. When travelling outside the city or to remote areas, it will be a bit more difficult to find an ATM machine so carry enough of the local currency for the day.
Gratuities (Tipping)
The gratuity suggested by the cruise line is USD 12 per guest per day.
Of course, gratuities are always at your discretion and the above recommendations are assuming you are thoroughly pleased with services rendered. All gratuities will be equally divided amongst the entire crew.
Laundry
Laundry service is available for a small fee. Self-laundry service is available. Unfortunately, dry cleaning is not available.
Services & Activities On board
Aboard your ship you will receive a glass of champagne and fruit as a welcome gift. You will also find elegant dining rooms, restaurants, bars, a shop, spacious sun decks and comfortable lounges to relax in.
There are fins, masks and snorkels available on board for use during the swim stops which are subject to availability. You will find a borrowing library as well as board games and playing cards for your amusement. There's an observation lounge that has panoramic windows. Movies are often shown in the vessels' Lounges, so please check in the Daily Program for show times. The MS Midnatsol offers a fitness room, sauna, pool and Jacuzzi. On board there is a resident photographer who invite you out on deck and enable you to take the best possible pictures from your voyage.
Sports activities: Snorkeling.  In Cape Verde it may be possible to organize a diving excursion.
Excursions
Shore excursions will be offered on board but are always subject to weather and docking conditions and a minimum number of participants. They can be purchased on board at an extra cost.
Excursions will usually involve a fair amount of walking. If you have difficulty walking any distance, please let us know in advance and we will advise how best we can accommodate you.
Please refer to our website or consult the purser on board for additional information.
Regrettably, most of our excursions are not suitable for guests in a wheelchair.
Etiquette
Moroccans are extremely hospitable and very tolerant. Though most people are religious, they are generally easy-going, and most young Moroccan women don't wear a veil, though they may well wear a headscarf. Nonetheless, you should try not to affront people's religious beliefs, especially those of older, more conservative people, by, for example, kissing and cuddling in public, or eating or smoking in the street.
In addition please pay particular attention to the following:
Drinking public is not permitted.

Hotels will refuse to allow couples who are unable to provide proof that they are married to stay in the same room, although foreigners are almost always exempt from having to provide proof.

Public displays of affection are frowned upon.

In mosques, shorts and skirts must cover the knees for both men and women. Arms can be exposed but shoulders should be covered. (ie. No tank tops or sleeveless blouses)
Cape Verde
Cape Verdeans stand close together when talking and are physically demonstrative, often touching and holding hands (men as well as women).
Greetings are somewhat lengthy, and include shaking hands (or kissing for women), and inquiring about each other's health and family. This is usually done each time two people meet, even if it is more than once in the same day.
Activity Level / Strenuousness
Light to Moderate – At most, participation in the shore excursions requires the ability to walk reasonable distances. It is necessary to be reasonably sure-footed as walking will be on dirt roads and paths.
Food and Beverages
Breakfast, lunch and dinner  are included in your voyage. All drinks on board (alcoholic and non-alcoholic drinks) are subject to extra charges.
Couscous is a typical Moroccan dish that is made from semolina (coarsely ground hard wheat with the bran removed) and is served with meat, vegetables, and possibly nuts and fruit. Another famous local cuisine is Tajines. It is slowly cooked in a shallow earthenware pot of the same name having a conical lid, often made with lamb or chicken plus vegetables. Tajines are mildly spiced with saffron, cumin and coriander giving a distinctive flavour. An important part of any Moroccan meal is Bread. The bread will be and usually broken and used as a tool to help eat and soak up gravy.
In Morocco Tea is the national drink. They usually drink it at various times of the day and after meals. It's always flavoured with mint, and usually sweetened with plenty of sugar. The tea is traditionally made in ornate metal tea pots and served in a glasses, poured from a height to make it frothy.
The cuisine on Cape Verde can be called as relatively hearty. The Cachupa is the National dish of the Cape Verde islands. This is a type of stew, consisting of mashed maize, onions, green bananas, manioc, sweet potatoes, squash, yams, tomatoes, cabbage and possibly bacon.
Tortilla Española is a traditional dish in Spain which is made up of eggs, potatoes, onions… The Spanish omelette is so much more than the sum of its parts. The potatoes and onions are slow fried in olive oil then mixed with the beaten eggs for the flavours to mix before cooking.  You can add chorizo, ham, spinach and/or courgettes.
A special Brazilian dish that you have to try, is the Moqueca. It's more than a mere fish stew, the fish and/or seafood are stewed in diced tomatoes, onions and coriander. Sometimes either a natural red food colouring urucum (annatto seeds) is added or a heavier version, with dendê (palm oil), peppers and coconut milk is served. It's teamed with rice, farofa (fried manioc flour – ideal for mopping up juices) and pirão (a spicy, manioc flour fish porridge, that's far tastier than it sounds). Another traditional yet absolutely divine dish you should try is the Feijoada. The feijoada is a hearty stew of black beans, sausages and cuts of pork of varying quality – traditionally veering towards the lower end, with trotters, and ears all going into the mix. Rice, kale, orange slices, farofa (toasted manioc flour) and pork scratchings are served on the side, with a tipple of cachaça to ease digestion.
If you feel like indulging yourself then go ahead and try Quindim. It is a glossy yellow sweet made with nothing more than eggs, sugar and coconut (with butter a common addition). Baked in cupcake-sized moulds, the bottom is toasted and golden, dense with grated coconut, while the top is a smooth, firm custard that sticks pleasingly to the roof of the mouth.
Cachaça is made from fermented sugarcane juice, and is best known as the fiery kick in caipirinhas – Brazil's national cocktail. While caipirinhas are often made with uncoloured, unaged cachaças, there are thousands of better-quality golden varieties, aged in wood barrels, and sipped straight up by aficionados. For the morning after, clear your head with a Guaraná (a sweet, fizzy energy drink), an água de coco (coconut water, best sipped straight from the coconut) or caldo de cana (freshly pressed sugarcane juice).
Açai is made from fruits from the Amazon. It's traditionally eaten by indigenous tribes for energy, the hard purple berry is also used in Amazonian cooking, as a sauce with fish. Served as a sweet, gloopy, frozen sorbet, sometimes topped with granola and slices of banana, or whizzed up in juices, it can found in every café, bakery, juice bar and supermarket across the country. You can even buy açaí  vodka, and açaí  beer.
Language
The language spoken on board is primarily English. In general, there is a multilingual environment and you will have a chance to mix with a variety of nationalities. Excursions and public announcements are always in English.
The official language of Morocco is Arabic. However, most government and official business is carried out in French. In their own homes they may speak Moroccan Arabic, a Berber dialect, or perhaps Spanish. A traveler's phrasebook would undoubtedly be helpful.
The official language spoken in Cape Verde and Brazil is Portuguese. However, you will find that the local people speak at least some, if not fluent, English in Cape Verde.  Be sure to have a Portuguese phrasebook when going sightseeing in Cape Verde and Brazil if your knowledge of the Portuguese language is limited.
The official language in Spain is Spanish. A traveler's phrasebook would be helpful when communicating with the locals.
Medical Facilities
There is an English-speaking physician and nurse on board MS Midnatsol at all times. The ships have a small medical facility with the necessary equipment and medication to handle small emergencies. In the event of a serious emergency, the nearest hospital will be contacted. Medical consultations as well as medication will be charged to the passenger affected. It is compulsory to carry sufficient travel/health insurance.
Cabin Amenities
All cabins have private, nicely appointed bathrooms fitted with WC/showers. All cabins are air-conditioned and connected to a central music system. There is a telephone for intra ship communication. Your ship has modern technology with flat-screen TVs and tablet computers, DVD players, Media4Cruises with a selection of around 150 of the latest film releases, classic films, TV series and documentaries as well as all kinds of music.
There are hairdryers and heated floors in each, safe boxes, Nespresso machine, mini-fridges, mini-bars filled with soft drinks, water and beer every day in the cabins. 24-hour suite service, 24-hour butler service in the Penthouse, Grand Penthouse and Owner Suites. Cabins are cleaned daily on board MS Midnatsol. Fresh towels are available at all times.
Our ship generators provide an electric voltage of 220V. Cabins are fitted with European type plugs so please remember to bring an adaptor if necessary.
For more details, please visit the Ships section on our website.
Phone & Internet
There is a phone in each cabin. Buy a phone card in the reception to call from the ship.
Wi-Fi is available in most areas at additional cost. Both Wi-Fi and telephone lines will from time to time be out of range due to the vessel's location.
If you would like to have regular data and phone connection while on land, we suggest either arranging an overseas roaming plan with your mobile operator, or pick up a local SIM card if you have an unlocked phone.
Children
Aboard MS Midnatsol ships there are no age restrictions. For safety reasons, reservations for those under the age of 12 are not advised. However, should you choose to bring children along please take into consideration that children onboard are their parents'/guardians sole responsibility.
Health / Vaccinations
There are no vaccinations required to travel to Morocco and Spain.
Health measures should be taken before going on any trip. It is advisable to be up-to-date on your vaccinations.
In Cape Verde there is a low risk of Malaria between August and November in the Islands of Santiago, and a Low to No risk in the other islands. You should consult a physician to determine whether a prophylaxis is recommended.
As has widely been reported in the media, the Zika Virus may also be present in Cape Verde and Brazil and appropriate precautions should be taken.
As always, we recommend being in good health prior to any long distance travel. We strongly recommend consulting your physician about your intention to travel on this program to receive specific advice for your situation.
Safety & Security
The beautiful and historic countries of Morocco and Brazil are like any country in the world, it is generally but not totally safe. Being tourists in the city, security measures should be taken. When going out it's recommended not to take any valuables along at all, in some cases even cameras and/or smartphones out of one's hotel to reduce the chances  of an unfortunate incident occurring. Late night strolls alone are especially not advisable for women. Petty crime including pickpocketing, bag snatching and theft may occur in larger cities Brazil and in the medina, market areas, in parks and on beaches in Morocco as well in the city of Mindelo, on the island of São Vicente, and in Praia, on the island of Santiago, Cape Verde.
Jewelry, money, documents, etc., should be placed in your individual safe deposit boxes or given to the captain who will deposit items in the ship's safe boxes free of charge.
More information on this from the Canadian government can be obtained at:
www.travel.gc.ca/destinations/morocco
www.travel.gc.ca/destinations/spain
www.travel.gc.ca/destinations/cabo-verde
www.travel.gc.ca/destinations/brazil
Suggested Reading
The Caliph's House, A Year in Casablanca
We Share Walls, Language, Land, and Gender in Berber Morocco
Cape Verde Art and Culture: Custom, Tradition and Environment
A Short History of Brazil, From Pre-colonial Peoples to Modern Economic Miracle