Through the North Atlantic to Africa
From $4,200
|
11 Day / 10 Nights
Experience
some of Europe's
most varied
coastal gems as you sail from Bergen, Norway to Casablanca, Morocco.
Experience the charm and old-world feel of Amsterdam, then cross the English Channel to visit Guernsey, a distinctive island off the coast of Normandy. From there, you'll cross the Bay of Biscay en route south to historic ports in Spain and Portugal before mooring in storied Casablanca.   
View Google Map of Region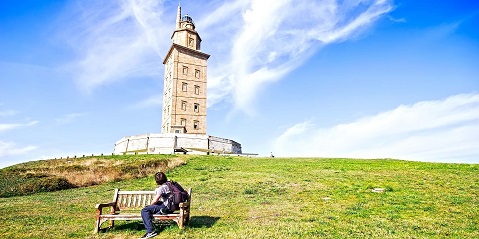 Daily Overview
Day
Destination
Activities
1
Bergen, Norway
EMBARKATION

Discover Norway's second-largest city

2
The North Sea
Day spent at sea

Take in fascinating lectures or relax on deck

3
Amsterdam, Netherlands
Explore Amsterdam by foot, bike, or canal boat

Experience Amsterdam's famous nightlife

4
English Channel
Sail the world's busiest seaway
5
Guernsey
See one of the world's prettiest harbours

Explore the town's landmarks, museums, and pubs

6
The Bay of Biscay
Day spent at sea

Take in fascinating lectures or relax on deck

7
La Coruña, Spain
See Hercules Tower, a working Roman lighthouse

Explore the city's historic centre

8
Leixões,Portugal

Porto, Portugal

Experience the delights of Porto

See the city's UNESCO-listed centre

9
Lisbon, Portugal
Visit Europe's second-oldest capital

Join excursions or explore the city on your own

10
Cádiz, Spain
Savourmouth-wateringseafood

See Cádiz's museums, landmarks, and port

11
Casablanca, Morocco
Take in the view as the ship enters the harbour

DISEMBARKATION
Detailed Itinerary
DAY 1 / BERGEN (NORWAY) / EMBARKATION
Located on the west coast of Norway, Bergen is the gateway to the fjords and an international city packed with history and tradition. Founded in 1070, it's also Norway's second-largest city. Bergen became well known in the 14th century, when a group of German merchants formed the Hanseatic League here. Many houses from this period can still be seen on Bryggen, a UNESCO World Heritage Site. In Bergen, pay a visit to the famous fish market and stroll through the city center to get a glimpse of modern Norwegian life.
DAY 2 / THE NORTH SEA
This expedition begins with a day spent sailing the North Sea. Take in one of the fascinating lectures prepared by our knowledgeable staff, enjoy a coffee or cocktail in the observation lounge, or simply relax and take in the view from the deck as the ship makes its way south.
DAY 3 / AMSTERDAM (THE NETHERLANDS)
Amsterdam grew from a small fishing village formed in the 13th century to one of the most significant—and charming—cultural hubs in the world. Few cities mix history with  contemporary urban flair like the capital of the Netherlands does. Explore this historic city by foot, bike, or canal boat, and take an opportunity to visit one or more of the many incredible museums found here. The ship moors here overnight, giving you ample time to join excursions and get to know the city and its legendary nightlife.
DAY 4 / THE ENGLISH CHANNEL
The ship sets sail from Amsterdam in the early hours of the morning. The rest of the day is spent sailing across the English Channel, which connects the North Sea with the Atlantic Ocean. This is the world's busiest seaway, with more than five hundred ships passing each and every day. The observation lounge is a good place to watch ocean liners from all over the world on their way through the Channel.
DAY 5 / GUERNSEY
Located off the coast of Normandy in France, Guernsey is the second-largest of the Channel Islands, a group of land formations which bear a complicated political status. Though they are British-crown dependencies, they do not belong to the United Kingdom. St. Peter Port in Guernsey is considered to be one of Europe's prettiest harbours, and it has been busy since Roman times. Here, the influence of the Gulf Stream creates a mild, almost Mediterranean climate. During the day, take the time to enjoy a stroll through the town, where you'll find excellent shopping, museums, and lively pubs. For those who wish to explore, join a hike or bicycle trip to witness the island's steep cliffs and remarkable vegetation.
DAY 6 / BAY OF BISCAY
Spend this day at sea keeping a lookout for marine life such as dolphins, whales, and seabirds from the deck. Enjoy the lectures offered by the expedition staff about history and biology both in the lecture hall and on deck.
DAY 7 / LA CORUÑA (SPAIN)
La Coruña is sure to be a draw for history and culture buffs. Celtic and Roman heritage gives this city an almost mystical allure. La Coruña had its boom in the 14th and 15th centuries, when it functioned as the port for English pilgrims on their way to Santiago de Compostela. On your way into the harbour, you'll pass the Hercules Tower, the oldest Roman lighthouse still in use today. Take a walk through the historic city centre, noting relics left from the cultures and peoples who once called this storied port home.
DAY 8 / LEIXÕES (PORTUGAL) / PORTO
From Leixões, it's a short trip to Porto, a city which is yours to explore for the day. See monuments by some of the world's most famous architects of the past and present, take in stunning baroque carvings, try the internationally renowned sweet wine this city gets its name from, or let yourself be surprised by Porto's British flavour. This is Portugal's second-largest metropolis, and one of Europe's most charismatic cities. Ribeira, its historic center at the northern bank of the Douro River, is a UNESCO World Heritage Site. After a day packed with the sights and sounds of Porto, return to the ship.
DAY 9 / LISBON (PORTUGAL)
Lisbon is Europe's second-oldest capital after Athens. It's home to Bélem Tower and the Jéronimos Monastery, both of which are UNESCO World Heritage Sites. Within walking distance from the harbour, you'll find the old city, which features numerous famous monuments—including the 45-metre neo-gothic Santa Justa Lift—just waiting to be explored. Join one of our excursions, or stop at one of Lisbon's many restaurants, cafés, or bars to get a taste of modern life in this Portuguese city.
DAY 10 / CÁDIZ (SPAIN)
After a relaxing morning, the ship reaches the Cádiz harbour around lunchtime. Cádiz is almost totally surrounded by the Atlantic Ocean, and only connected with the mainland by a very small isthmus. The Phoenicians founded Cádiz around 1100 BC, and it's generally considered the oldest continuously inhabited city in Western Europe—in later years, it was inhabited by Carthaginians, Romans, Visigoths, and Moors. Take some time to enjoy the seafood, churches, and museums, or explore narrow streets where the waves of the Atlantic crash against the seawalls.
DAY 11 / CASABLANCA (MOROCCO) / DISEMBARKATION
This multi-country expedition ends in Casablanca, Morocco. Experience the view from the deck as the ship sails into the harbour—you'll notice the majestic Hassan II Mosque coming into view. The mosque is the seventh largest mosque in the world, and 105,000 faithful can pray here at the same time. In the city, try walking through the narrow streets and a visit the souks, or African marketplace, to get a feel for this storied North African city.
Dates & Prices
ONAT-03 (Bergen to Casablanca)  13.09.2017
Category Pricing PP
Suite Type
Category
Price
Double
Single
Polar Inside
I
Minimum
4200
5250
Maximum
5600
7000
Polar Outside
L/J
Minimum
4390
6590
Maximum
5850
8780
N
Minimum
4640
6950
Maximum
6180
9270
O
Minimum
4790
7180
Maximum
6380
9570
Artic Superior
P
Minimum
5040
8810
Maximum
6710
11750
U
Minimum
5350
9350
Maximum
7120
12460
QJ
Minimum
5650
9890
Maximum
7530
13180
Expedition Suite
Q
Minimum
6180
12350
Maximum
8230
16460
M
Minimum
6890
13780
Maximum
9200
18390
MG
Minimum
7950
15890
Maximum
10590
21190
MX
Minimum
10000
19990
Maximum
13330
26650
Inclusions
Hurtigruten  Expedition Voyage in cabin category of your choice on a full board basis (daily buffet breakfast, buffet lunch, and set or buffet dinner)
Wind and water – resistant jacket
Landings and activities on board and ashore
Professional English-speaking Expedition Team that gives lectures and accompanies landings and activities
Complimentary tea and coffee
Ship Details
MS Midnatsol
| | | | | | | |
| --- | --- | --- | --- | --- | --- | --- |
| Built | Length | Decks | Cabins | Passengers | Cabin Size | |
| 2003 | 136m | 7 | 301 | 500 | 8 - 45m² | More Details |
Travel Tips
Coming Soon!
Please stay tuned for travel tips tailored for this itinerary!
For any immediate questions, please contact us as 905.258.7778.