The Complete Spitsbergen Expedition
From $9,090
|
10 Days / 9 Nights
This Arctic expedition is one of a kind! We will sail above 80º N, to take you to the ice edge of the Arctic Ocean while circumnavigating Svalbard. Enjoy excursions including hiking, kayaking and traversing a glacier. In the largest Arctic wilderness in Europe, there's a good chance to see polar bears.
View Google Map of Region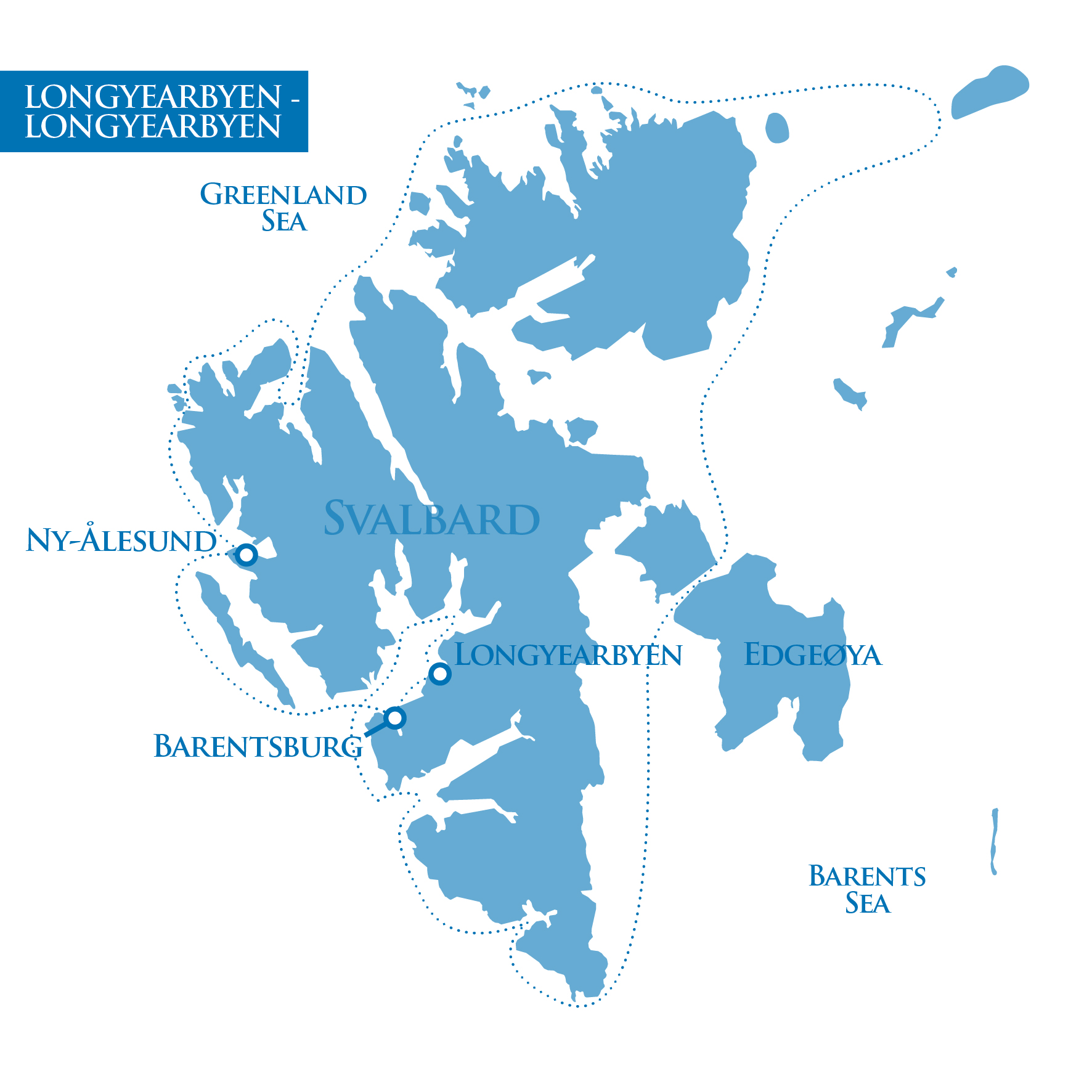 Daily Overview
Day
Destination
Activities
1
Oslo
Explore Oslo's streets, cafés, and shops
Longyearbyen
Evening flight to Longyearbyen
2
Longyearbyen
EMBARKATION
3-5
Northwest Spitsbergen National Park
See remnants from Svalbard's early inhabitants
Visit Kongsfjorden, one of the most beautiful fjords in Spitsbergen
6-8
Eastern Svalbard
Chance to spot Eastern Svalbard's polar bears
Explore Sorgfjorden, site of a famous battle between whalers
9
The Isfjord
Explore Svalbard's most extensive fjord system
Experience an Arctic barbeque
10
Longyearbyen
DISEMBARKATION
Oslo
Morning flight to Oslo
Detailed Itinerary
DAY 1 / OSLO / LONGYEARBYEN  
Your Grand Arctic adventure begins with an evening flight from Norway's capital. Before departure, spend some time exploring this fjord-side city, which is surrounded by forests, lakes and hills. Oslo offers varied architecture, a strong café and bar culture, top-notch restaurants and endless shopping possibilities. The contrast will be significant when you arrive in Longyearbyen a couple of hours later. Still, this very small settlement offers all the amenities of a modern town, in addition to its stunning location in a wild Arctic locale.
DAY 2 / LONGYEARBYEN / EMBARKATION 
After an overnight stay in one of our hotels, you can join an exciting excursion in the unique little town of Longyearbyen and the surrounding area, before boarding MS Spitsbergen. This Norwegian settlement lies in the shadow of the great arctic wilderness. Here, the arctic environment dominates, but the town maintains a surprisingly cosmopolitan character. Longyearbyen is often called an antidote to modern-day life and today serves as a prime destination for adventure travellers.
DAY 3-5 / NORTHWEST SPITSBERGEN NATIONAL PARK 
The North West Corner is scattered with islands, fjords and beaches. The ocean here is full of drifting ice and the frozen landscape changes constantly. Due to strong winds and currents, the Captain monitors conditions closely before deciding where we can land or sail. This is why all our itineraries are flexible; we work with the elements, not against them, and safety is our first priority. If we are able to land, this area is excellent for exploring Svalbard's history. You will have the chance to see the remnants of ancient blubber ovens used to render whale oil. We might visit Kongsfjorden, considered one of the most beautiful fjord areas in Spitsbergen, with mighty glaciers calving icebergs into the sea, framed by stunning mountain formations. On the shore of Kongfjorden is the former mining settlement of Ny-Ålesund, now an international centre for research, with a picturesque mix of old and new buildings. We might also visit Krossfjorden and Mitrahalvøya, where you can see ruins from the whaling period, beautiful alpine flora, bird cliffs and, quite often, Svalbard reindeer. If conditions allow, try crossing a glacier with the Expedition team. Raudfjorden offers plenty of opportunities for great hikes. Hamiltonbukta is too shallow for our ship to navigate, but it's perfect to explore by kayak. We might also get to see the enormous Monaco Glacier in Liefdefjord.
DAY 6-8 / EASTERN SVALBARD NATURE RESERVES / SOUTH SPITSBERGEN NATIONAL PARK 
Eastern Svalbard boasts the highest population of polar bears on the archipelago – we really hope that we'll be able to see one on this journey! Today, we aim to cruise in Sorgfjorden, which borders the North East Spitsbergen Nature Reserve, and was the location of a famous 17th-century battle between whalers. Enjoy the view on deck as we pass the spectacular bird cliff of Alkefjellet, one of the largest of its kind. Edgeøya is the third-largest island in the Svalbard archipelago. On its western shores, the landscape is largely un-glaciated, unlike most other places on the east side of Spitsbergen. Kapp Lee is a wonderful site where you will find cultural heritage from all eras of human exploration of Svalbard. We continue to the southern cape and the southernmost tip of Spitsbergen, where Hornsund has large variations in its landscape and geology within short distances. Ice being pushed into the fjord early in the season attracts polar bears that hunt on the ice, so if we are fortunate, we will spot some of these predators.
DAY 9 / THE ISFJORD 
We will spend the day exploring the Isfjord, the most prominent fjord system on Svalbard. In the inner parts of Isfjorden, the landscape changes constantly. The immense U-shaped valleys, carved out of the mountains by the giant glaciers that covered the area some ten thousand years ago, are home to large populations of the Svalbard Reindeer. Later on, we'll might a scenic fjord arm and arrange a farewell barbeque in spectacular Arctic surroundings.
DAY 10 / LONGYEARBYEN  / OSLO
Every good explorer's voyage comes to an end. You will probably sense that time has passed faster than expected. Many report a subtle exhilaration due to having taken a journey to the very top of the globe, just a few hundred miles from the Geographical North Pole. The transfer vehicle takes you early in the morning to the airport for your flight back to Oslo.
Dates & Prices
Tour Start Dates: 
June 14, 2018
June 22, 2018
June 30, 2018
Hurtigruten uses variable pricing, whereby the price fluctuates depending on how early you book, cabin availability etc. Please call us at +1.866.760.1987 to receive a quote.
Starting from price reflects the price per person for the cruise only, based on double occupancy for the June 14, 2018 sailing in a category I cabin. Price is inclusive of taxes and port charges.
Inclusions
Hurtigruten Expedition Voyage in cabin category of your choice on
a full board basis (daily buffet breakfast, buffet lunch, and set or
buffet dinner)
Economy flights between Longyearbyen and Oslo
One hotel night in Longyearbyen before the voyage, including
breakfast
All transfers in Longyearbyen, incl. lunch and excursion before the
voyage
Wind- and water-resistant jacket
Landings and activities on board and ashore
Professional English-speaking Expedition Team that gives lectures
and accompanies landings and activities
Complimentary use of Muck Boot rubber boots
Complimentary tea and coffee
Ship Details
MS Spitsbergen
| | | | | | | |
| --- | --- | --- | --- | --- | --- | --- |
| Built | Length | Decks | Cabins | Passengers | Cabin Size | |
| 2009; Refurbished in 2015/16 | 97.8m | 6 | 100 | 335 | 9 - 33m² | More Details |
Travel Tips
Spitsbergen
Travel Documents / Visas
1. Passport
Canadian citizens must have a valid passport for entry to Norway.
Our cruise partners require that your passport be valid for 6 months after the end date of your trip.
Citizens of other countries should consult with their travel agent or our office.
2. Visa
No visa is required for citizens of Canada to enter Norway.
Packing List
A handy checklist of what to bring on your trip can be downloaded here.
Insurance
Travel medical insurance is mandatory for programs to Spitsbergen. Details on coverage available through our website can be found here.
Smoking
Not permitted anywhere indoors. There are designated areas on the outside decks.
Weather
June/September:Daytime highs in the low 0s. At night the temperature will likely dip below freezing. May is the driest month of the year whereas in September, some precipitation could be expected.
July/August:Daytime highs typically in the high 0s, sometimes into the 10s. At night the temperature usually remains above 0C.
Although July and August have the highest levels of precipitation, total amounts are usually quite small.
Arrival / Departure
Upon booking, we will provide detail instructions on where to check-in for your Spitsbergen voyage depending on where your trip begins. If you are sailing with MS Nordstjernen, you will have to make your way to Longyearbyen, the principal town of Spitsbergen, on your own. We strongly suggest arriving at least one day prior to avoid any chance of missing the sailing since there is no easy way to join the ship after it has departed.
On your return, if you are flying back home the same day as the ship arrives (assuming you are not on a program where the flight is included), we strongly recommend that you stay over at least one night were possible. Although very rare, weather conditions could delay the exact return time and we cannot assume any responsibility for missed flights due to any delays.
Money
The currency of Norway is the Norwegian Kronor (NOK).
Onboard, you will be issued a cruise card which you can use to charge all purchases during your voyage. You must provide a Visa, American Express, Diners or MasterCard that is valid for at least 3 months after your trip date.
The final bill will be charged to your account in Norwegian Kronor (NOK).
ATM's accepting most international debit and credit cards can be found in Oslo and Longyearbyen. However, after you leave these cities for the trip, it is extremely unlikely you will see another ATM until your voyage ends. This being said, you will probably not find anything to buy as there are almost no shops in Spitsbergen outside Longyearbyen.
Gratuities (Tipping)
Gratuities suggested by the cruise line are:
USD 8.00 per guest per day to be divided amongst the entire crew.
Laundry
Onboard the MS Nordstjernen, we regret that laundry service is not available.
Onboard the MS Fram, laundry service is available for a fee.
Excursions
All regular shore landings as noted in the itinerary are included in your voyage. Some additional excursions may be available on board at an extra cost. Please check with us or consult the purser onboard for additional information.
Many shore landings will start with a zodiac boat ride to shore where you will land and be assisted onto shore via some portable steps. The ground is sometimes covered with small rocks / gravel.
Activity Level / Strenuousness
Light to Moderate – Participation in the shore landings requires the ability to board (with assistance) a zodiac boat from the main ship and on to shore. There are generally no long distances to walk in Spitsbergen.
Food
Breakfast, lunch and dinner are all included in your cruise fare. Beverages are available for purchase onboard but coffee and tea is complimentary.
The food in Spitsbergen is not that different that the rest of Norway. That being said, one particular restaurant in Longyearbyen called Huset, features various kinds of Arctic specialties such as seal, reindeer, ptarmigan and polar fish. Of course more conventional fare is also on the menu and the place is well worth a try !
Language
Norway educates their people in English from a very young age. You will not likely run into any language difficulties.
Medical Facilities
MS Fram: There is an English-speaking physician and nurse on board at all times. The ship has a small medical facility with the necessary equipment and drugs to handle small emergencies. In the event of a serious emergency, the nearest hospital will be contacted. Medical consultations as well as medicines will be charged to the passenger affected. If you depend on medication, remember to bring sufficient supplies to last through any unforeseen delays. We also recommend that you keep your medication in your hand luggage properly labelled and with clear instructions for its use. If you depend on vital drugs, please inform the ship's doctor upon arrival.  Illness on board can lead to quarantine and orders from the ship's physician and captain, must be followed.
MS Nordstjernen: While there is no doctor onboard, some of the ship's personnel are trained in dealing with first aid and medical emergencies. In the most urgent cases, medivac evacuation is possible.
All guests on these programs must have travel medical insurance.
Phone & Internet
On the MS Fram, there is a telephone in each cabin. Call rates are very high as a satellite connection is the only one possible. On the MS Nordstjernen, we regret that there are no telephones in the cabins.
On the MS Fram, while Wi-Fi is available in certain areas of the ship, due to the relative geographic location, there will be limited or no connectivity during the voyage.
Health / Vaccinations
There are no vaccinations required to travel to Norway including Spitsbergen. However, we suggest you consult your physician with any specific personal requirements for this program.
You must have travel insurance to participate on this voyage.
Safety & Security
Our ships are equipped with the latest in emergency communication, life boats and other equipment to deal with any kind of problematic event. If you have any questions or concerns, please contact our office for more details.
Spitsbergen does not currently have any security threats unless you wander around aimlessly in which case a polar bear might get you.
Details can be found at: https://travel.gc.ca/destinations/norway
Suggested Reading
Polar Bears: The Natural History of a Threatened Species
Svalbard: Spitzbergen, Jan Mayen, Frank Josef Land