Irrawaddy Complete
From $7,440
|
15 Days / 14 Nights
On this sweeping Myanmar cruise, sail
from Rangoon to the archaeological site of
Prome
, then
visit
Pagan and Mandalay,
Burma
's former kingdoms. On the way, discover
centuries-old
Buddhist monument
s and
opulent
royal palaces,
encountering the
landscapes, history, and people of a country
that was for decades closed off to the outside world. 
View Google Map of Region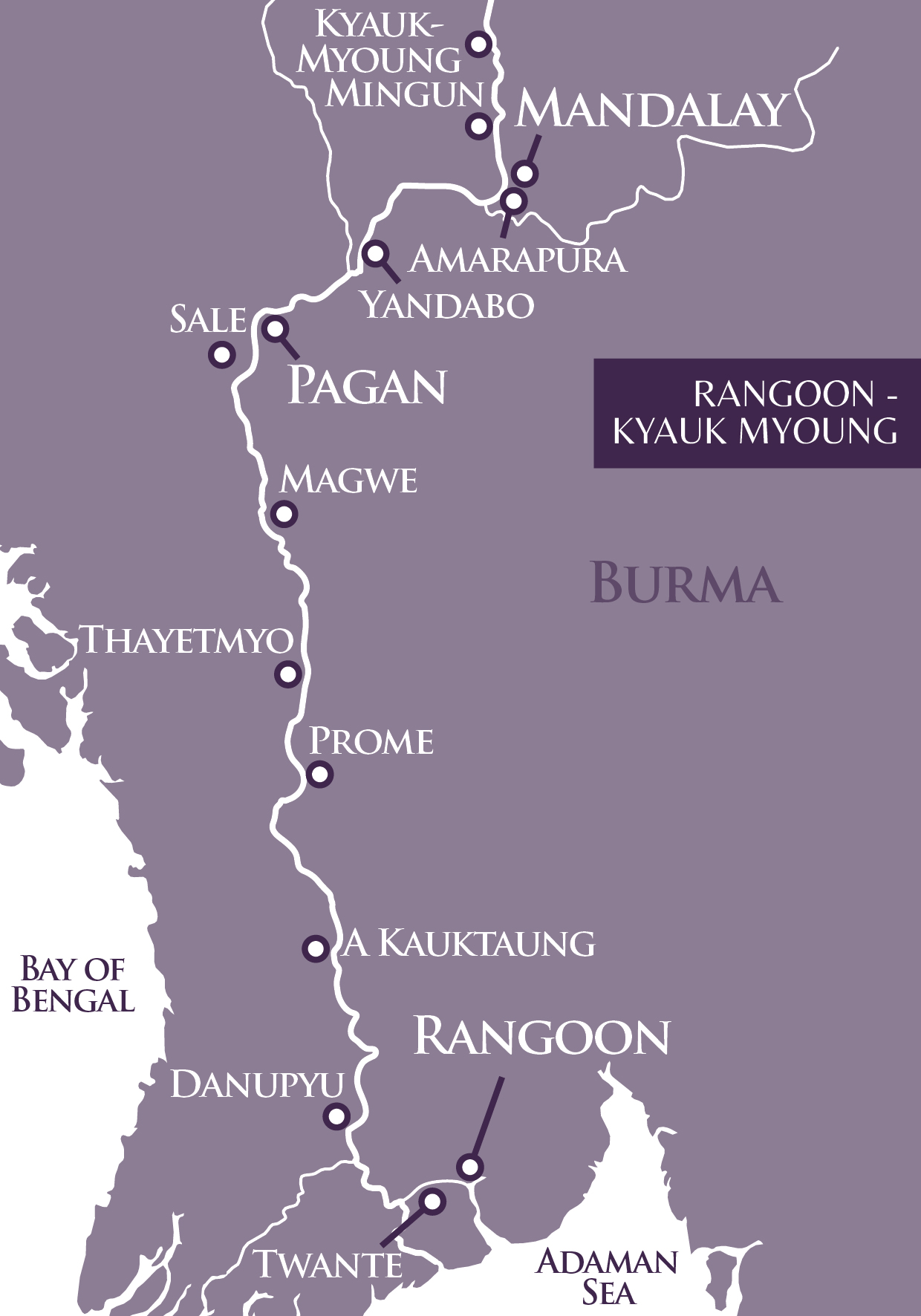 Daily Overview
Day
Destination
Activities
1
Yangon
EMBARKATION

Follow the Twante Canal and stop in township

2
Maubin

Nyaungdon

See Maubin, including the city centre and market

Explore Nyaungdonon the Irrawaddy delta

3
Donabyu

Zalon

Visit Donabyu, a historically important site

Enjoy a walk in Zalon and see the Golden Buddha

4
Myanaung

Full day spent sailing

Stop in Myanaung to explore market and town centre

5
Prome (Pyay)
Early morning spent cruising

See Thiri-Ya-Kittiya, an archaeological site

6
Thayetmyo
See this colonial town, including the golf course
7
Minhla

Magwe

Visit Anglo-Burmese War fortifications

Take a trishaw to the Myat Thalon Pagoda

8
Salé
Visit the Yout-Saun-Kyaung monastery and museum
9
Tantkyitaung

Pagan

Travel by WWII jeep to see the pagoda

Tour of Pagan's temples, pagodas, and stupas

10
Pagan
Attend a lacquerware workshop

Evening walk in Oh Ne Kyaung Village

11
Yandabo
Explore pottery-making town of Yandabo on foot
12
Mandalay
Sightseeing in central Mandalay

See Sagaing, Amarapura, and U Bein Bridge

13
Mingun
Explore Mingun, including its 90-tonne bell
14
Kyaukmyuang
Discover Kyaukmyuang, known for its pottery
15
Mandalay
DISEMBARKATION
Detailed Itinerary
DAY 1 / YANGON / EMBARKATION* 
After embarking in Yangon (formerly known as Rangoon), sail up the Rangoon River to the Twante Canal, which connects the Rangoon River to the Irrawaddy delta. Stop en route in the township of Twante, where you'll explore the town centre.
DAY 2 / MAUBIN / NYAUNGDON 
Walk to Maubin's bustling market in the morning, then explore the surrounding city. In the afternoon, you'll explore the town of Nyaungdon on the Irrawaddy delta, which is home to several prominent Burmese poets, writers, and artists. Mooring overnight in Zakagyi.
DAY 3 / DONABYU / ZALON 
Continue exploring the delta's creeks and waterways, stopping at Donabyu, another little-known town with a busy port and vibrant markets. In the First Anglo-Burmese War, the Burmese General Maha-Bandoola was defeated here, following a long and disastrous campaign by the British. Enjoy an afternoon walk in Zalon, where you'll also visit the beautiful Golden Buddha before returning to the ship. Mooring overnight at Hinthada.
DAY 4 / MYANAUNG 
Spend a full day sailing, with a stop to visit the markets and old colonial constructions in the sleepy delta town of Myanaung.
DAY 5 / PROME (PYAY) 
Set sail in the early morning towards the Akauk Taung region, where you'll see ancient Buddhist carvings on the mountainside from the ship's upper deck or sundeck. Arrive in Prome in the afternoon, and travel by coach to the ancient archaeological site of Thiri-Ya-Kittiya. Constructed between the fifth and eighth centuries, this site was once the centre of the Pyu civilization and contains a fascinating museum featuring early Buddhist artifacts, figurines, and sculptures.
DAY 6 / THAYETMYO 
Following the Second Anglo-Burmese War, Thayetmyo marked the border between British Myanmar and Royal Myanmar. Much of the town's charming colonial architecture, including the covered market, dates from this period. The town also boasts the oldest golf course in Myanmar (allegedly associated with Royal St. Andrews) and on its outskirts, an extensive cemetery where Turkish prisoners of war were laid to rest. Here, visit the market, admire the lovely houses, and take a ride in a horse-cart to the golf course, passing through the former British botanical gardens.
DAY 7 / MINHLA / MAGWE 
In Minhla, see two Italian-built forts, which were designed to keep the British out of Royal Myanmar. The ensuing battle to capture Minhla resulted in the only serious action of the Third Anglo-Burmese War, and the death of a young British officer was said to have inspired a poem by Kipling. From here, take a trishaw to reach the imposing Myat Thalon Pagoda in Magwe, which was built on a steep embankment overlooking the Irrawaddy. Constructed with solid gold bricks, this temple is one of the most famous in the country. Stroll the grounds to see the many hermitages and shrines.
DAY 8 / SALÉ  
Today, visit the Yout-Saun-Kyaung monastery, a Myanmar Cultural Heritage Site. Built in 1882 and restored in 2003, the monastery is of interest for its intricate, teakwood carvings, which depict stories from the Buddha's past lives. This is also the site of the Salé museum, which is home to significant scriptures, carved furniture, and other artifacts. After, explore the splendid colonial-style houses in the town before rejoining the ship to sail upstream.
DAY 9 / TANTKYITAUNG / PAGAN 
This morning the ship moors at Tantkyitaung, a hill which you'll ascend in a WWII jeep. See the magnificent Burmese Buddhist pagoda at the hill's peak, which is believed to enshrine some ancient relics of the Buddha himself.
In the afternoon, arrive in Pagan and set off on a guided exploration of the city, one of the richest archaeological sites in the world and a contender for UNESCO World Heritage designation. Visit a selection of the city's most spectacular pagodas, temples, and stupas, many of which date back to the 11th century, when the kings of the Pagan dynasty ordered the construction of thousands of religious monuments.
DAY 10 / PAGAN 
Spend another day exploring the rich history and archaeological treasures of the city of Pagan, a former Burmese capital. You will also attend a lacquerware workshop to witness craftspeople at work on the many stages of production of beautiful pieces.  Pay a visit to a local market before sailing upstream in the afternoon. Enjoy an evening walk in Oh Ne Kyaung village, a characteristic riverside community where you'll get a taste of the Burmese way of life.
DAY 11 / YANDABO 
Go ashore to  explore this small, rural village, which is famous for its production of terracotta pottery sourced from riverbank clay deposits. Visit a local school, which was built with the help of donations from past passengers. In the afternoon, cruise towards Mandalay.
DAY 12 / MANDALAY / SAGAING / AMAPURA 
Enjoy a tour of central Mandalay, the Burmese economic and cultural hub. You'll see the Mahamuni Pagoda and the ornately carved Shwenandaw Monastery, near Mandalay Hill. In the afternoon, travel to Sagaing, a region whose loveliness lies in its thousand or so monasteries and pagodas, all of which boast religious art and carvings. Next, explore the ancient capital city of Amarapura by coach, relaxing during a boat ride on Taungthaman Lake, where you'll see the famous U Bein Bridge as you marvel at the tranquility and serenity of the lake at sunset.
DAY 13 / MINGUN 
Stop at Mingun, which is home to 19th-century, 90-tonne bronze bell that was, until recently, the world's largest ringable bell. You'll also see an astounding unfinished pagoda and a local retirement home established with the help of the Irrawaddy Flotilla Company in the 1930's.
DAY 14 / KYAUKMYAUNG 
The village of Kyaukmyaung is renowned for its 190-litre handmade clay water pots. This morning, witness every stage of the pottery process, from the throwing of the pots to the week-long firing, which takes place in huge kilns. In the afternoon, sail towards Mandalay.
DAY 15 / MANDALAY / DISEMBARKATION 
Savour a leisurely breakfast on board, then disembark in Mandalay to prepare for your onward journey.
Dates & Prices
Itinerary Code
(Name of Itinerary)
 Itinerary Start Date
 Ship Name
 Route
Duration (Nights)
Main Deck Pricing PP
Upper Deck Pricing PP
RRAS-07
(Irrawaddy Complete)
7/8/2017
RV Kindat Pandaw
Yangon/Mandalay
14
$7,440
$8,710
10/1/2017
RV Kindat Pandaw
Yangon/Mandalay
14
$7,440
$8,710
10/27/2017
RV Kindat Pandaw
Yangon/Mandalay
14
$7,440
$8,710
11/22/2017
RV Kindat Pandaw
Yangon/Mandalay
14
$7,440
$8,710
12/18/2017
RV Kindat Pandaw
Yangon/Mandalay
14
$7,440
$8,710
1/17/2018
RV Kindat Pandaw
Yangon/Mandalay
14
$7,440
$8,710
2/12/2018
RV Kindat Pandaw
Yangon/Mandalay
14
$7,440
$8,710
3/10/2018
RV Kindat Pandaw
Yangon/Mandalay
14
$7,440
$8,710
9/27/2018
Pandaw II
Yangon/Mandalay
14
$8,090
$9,440
10/23/2018
Pandaw II
Yangon/Mandalay
14
$8,090
$9,440
11/27/2018
Pandaw II
Yangon/Mandalay
14
$8,090
$9,440
12/23/2018
Pandaw II
Yangon/Mandalay
14
$8,090
$9,440
1/18/2019
Pandaw II
Yangon/Mandalay
14
$8,090
$9,440
2/13/2019
Pandaw II
Yangon/Mandalay
14
$8,090
$9,440
3/11/2019
Pandaw II
Yangon/Mandalay
14
$8,090
$9,440
Prices are per person based on double occupancy.
RRAS-07 Port Charge: N/A
RRAS-07 Single Supplement:
Main Deck: 25%
Upper Deck: 25%
*Note: No single supplement applicable for start date of 8-Jul-17
Inclusions
Entrance fees
Guide services (English speaking)
Gratuities to crew
Main meals
Drinks include locally made soft drinks, local beer and local spirits, jugged coffee, mineral water and selection of teas and tisanes
Ship Details
RV Kindat Pandaw
| | | | | | | |
| --- | --- | --- | --- | --- | --- | --- |
| Built | Length | Decks | Cabins | Passengers | Cabin Size | |
| 2014 | 57m | 2 | 18 | 36 | 16m² | More Details |
Travel Tips
The Irrawaddy
Travel Documents / Visas
1. Passport
Canadian citizens must have a passport that is valid for at least 6 months after the last date of travel in Myanmar.
Citizens of other countries should consult with their travel agent or our office.
2. Visa
Canadians require a tourist visa to enter Myanmar. Visas can be obtained online in advance by visiting the Myanmar Department of Immigration website here.
Packing List
A handy checklist of what to bring on your trip can be downloaded here.
Insurance
We very strongly recommend the purchase of appropriate travel insurance for any trip outside of Canada. Information on travel insurance options can be found here.
Smoking
Not permitted anywhere indoors. There are designated areas on the outside decks.
Weather
January – February:  Warm days in the  mid to high 20's. Very dry. Seldom rains.
March – May: Hot days in the mid to high 20's and cool evenings. Mostly dry.
October – cool days in the mid to high 10's. Occasional frost but mostly dry.
Arrival / Departure
Upon booking, we will provide detail instructions on how to meet your ship on embarkation day. In some cases, the transfer from a pre-designated pickup point will be included in your cruise fare. If you have not made any pre or post tour arrangements with us, you will have to arrange your own transportation to and from the port of embarkation or the pickup point. We are happy to provide advice or to assist in arranging transfers.
The ship will not be ready for check-in before midday (unless otherwise stipulated in the itinerary). If you have luggage that you need to deposit so you can enjoy some free time in port, the purser may be able to accommodate you provided we know in advance.
The cruise will finish in the morning (usually around 7-8am) on the final day. It is necessary to have settled your onboard account and to have disembarked by this time as instructed by the cruise director on the day before.
Money
The currency is the Burmese Kyat. It is approximately 1,000 Kyat for 1 $CAD.
Relatively few places accept credit cards. There are ATMs available in the major cities and airports, but in the country they are difficult to find.
Gratuities (Tipping)
Gratuities are included in the price of your Myanmar cruise. If you feel that a member of the crew provided exceptional service, you are welcome to discreetly show your appreciation by personally giving them a tip in an envelope.
Onshore, local drivers and guides can be tipped at your discretion. Typically USD$1 or 2 is very well received.
Laundry
A laundry bag is provided in each stateroom for your laundry needs. Laundry is collected each morning when your room is made up and will be returned to you by the following day. We regret that dry cleaning services are not available.
Excursions
Most of our programs include a full complement of excursions. Some additional excursions may be available on board at an extra cost. Please check with us or consult the purser on board for additional information.
Excursions will usually involve a lot of walking, often on dirt roads and on stone steps. If you have difficulty walking any distance, please let us know in advance and we will advise how best we can accommodate you.
Etiquette
South-East Asians are generally tolerant and easy going, however discussions about politics and religion are probably best avoided. In Myanmar, any form of disrespect for the national religion, Theravada Buddhism, is inappropriate. Unlike many faiths, Buddhists make their temples open to foreigners, permitting the taking of pictures (not always!) and general invasion of their sacred space. They ask only one thing: that we take our shoes and socks off.  In addition please pay particular attention to the following:
Do not point with your feet.
In the company of monks or elders never cross your legs.
Do not touch people on the head or upper body.
When beckoning someone to come over do not flap your hand in the standard
Western 'come over here' motion; instead turn your hand around so that your palm points down towards yourself.
Do not attempt to shake hands with monks or nuns. Note that people in general
rarely shake hands here but rather smile and nod.
Women should never sit down next to a monk.
In all temples and pagodas, shorts and skirts must cover the knees for both men and women. Arms can be exposed by shoulders should be covered. (ie. No tank tops or sleeveless blouses)
Activity Level / Strenuousness
Light to Moderate – The ship will often dock on a riverbank with a gangplank. It is necessary to be reasonably sure-footed as walking will be on dirt roads and paths. Temples often have many stairs which are mostly not obligatory to climb, but for the full benefit you will need to. Note that the high temperatures and humidity in summer may also make participation on this trip more strenuous than you may be accustomed to compared to the climate at home.
Regrettably, we cannot accommodate guests in a wheelchair on this program.
Food
Breakfast, lunch and dinner are all included in your cruise fare so you shouldn't be too hungry.
Among the more interesting dishes in Myanmar is "Mohinga", which is a bowl of rice noodles in a fish soup. You'll often find it on the breakfast menu which takes some getting used to, but is well worth the try. Burmese curry, particularly the fish curry has a flavour which is quite different from those of its neighbours, but also to be recommended.
Language
Your shipboard staff almost all speak English of course, but onshore, few of the locals will be able to. For this reason it is wise to have a guidebook with a few of the most common and polite phrases. The crew will also be more than happy to teach you a few words of Burmese.
Medical Facilities
There are no medical personnel onboard the ship. However, the purser can contact onshore medical people for emergency and non-emergency situations and rapid evacuation can easily be facilitated in the most urgent cases.
Phone & Internet
Free Wi-Fi is available in the main public areas of the ship but not necessarily in all cabins. As internet is provided through a mobile network, bandwidth (speed) will vary depending on the number of concurrent users, the proximity to a cell tower and other factors. It will almost certainly be much slower than you are accustomed to at home.
If you would like to have regular data and phone connection, we suggest either arranging an overseas roaming plan with your mobile operator, or pick up a local SIM card if you have an unlocked phone.
Health / Vaccinations
There is a risk of malaria in certain areas and/or during a certain time of year in Myanmar. It would be wise to consult your physician or a travel medical clinic for advice on any precautions that should be taken.
As always, we recommend being in good health prior to any long distance travel.
Consult your physician with any specific concerns in regard to this program.
Safety & Security
Myanmar has undergone significant political change in the last few years. Regardless of this, most places you will visit are very safe and even petty crime against tourists happens seldom.
In larger cities it is always wise to be aware of your surroundings and to avoid large gatherings of people.
You can access current information about the security situation in Myanmar by referring to the Canadian government travel advisory site at:
https://travel.gc.ca/destinations/myanmar
Suggested Reading
The Pandaw Story: On the Rivers of Burma and Beyond