Islands of Cape Verde
From $2,660
|
8 Days / 7 Nights
This former colonial outpost
offer
s
a spellbinding blend of African and Portuguese influences
in its architecture, food, and traditions. T
he
Cape Verde
archipelago
is home to a range of landscapes—
from mountain
s
, lush hills
,
and jungles to
lava fields,
volcan
oes, and
deserted beaches.
On this Cape Verde cruise, discover a colourful world in the middle of the Atlantic. 
View Google Map of Region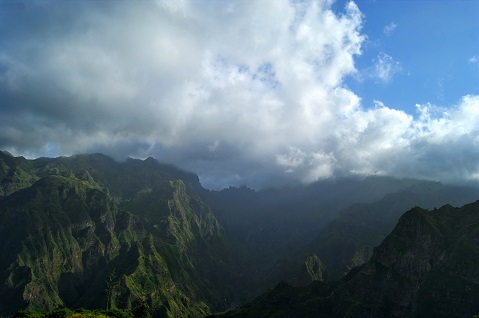 Daily Overview
Day
Destination
Activities
1
Praia,Santiago
EMBARKATION
2
Santiago
Morning at your leisure to relax on board

Join an excursion to historic Cidade Velha

3
Fogo
See the 3000-metre Fogo Volcano

Stop in the charming town of São Filipe

4
São Nicolau
Tour the island, including Monte Gordo volcano

Discover Ribeira Brava's historic quarter

5
Santo Antão Mindelo,

São Vicente

Experience the natural wonders of Santo Antão

Enjoy a night out in Cape Verde's cultural hub

6
Mindelo,

São Vicente

Visit some of Mindelo's cultural attractions

Take in the view of Mindelo's harbour

7
Maio
Explore Vila do Maio, Maio's main settlement
8
Maio

Praia, Santiago

Morning sailing from Maio to Santiago

DISEMBARKATION
Detailed Itinerary
DAY 1 / PRAIA (SANTIAGO) / EMBARKATION
Located on the southern coast of Santiago island, Praia is the capital and largest city of Cape Verde. Your journey begins here, with embarkation taking place in the late afternoon. Overnight in port.
DAY 2 / SANTIAGO
Santiago is the largest island of Cape Verde and home to half the nation's population, with approximately 24,000 residents. An important agricultural centre, this island boasts a strong African influence. It is believed to have been discovered in the 15th century by Genoese navigator António da Noli.
Today, the morning is spent at your leisure and lunch is served on board the ship. In the afternoon, you may choose to leave the ship for an excursion to Cidade Velha, a former Portuguese capital featuring ample evidence of Santiago's storied history. The fort, along with several nearby settlements, were once a thriving centre for the slave trade. The Museum of Maritime History displays riches seized from shipwrecks. Late in the evening, the ship sails north to Ilha do Fogo. The night is spent at sea.
DAY 3 / FOGO
In the early morning hours, arrive at Ilha do Fogo, aptly named "Fire Island" for its dominating volcano, which rises some 3000 metres above sea level. Here, an optional full-day excursion will bring you to the top of the volcano—right to the edge of the crater. Walk through a landscape of hardened lava, and stop for lunch at the "village" in the crater. En route back to the ship, see São Filipe, a city with warmth and colonial charm.
In the late evening, the ship sets sail for Ilha de São Nicolau, and the night is spent at sea.
DAY 4 / SÃO NICOLAU
In the morning, arrive at São Nicolau, a peaceful island with friendly residents and dozens of coffee plantations. Set off on an optional full-day tour of the island, including a walk near the Monte Gordo volcano and in its neighbouring forest, as well as a glimpse of the Faja Valley.
Fresh seafood is served for lunch, after which you'll have a chance to explore the town of Ribeira Brava, including its historic quarter, church, and seminary. Late in the evening, the ship sets sail for Santo Antão. Night spent at sea.
DAY 5 / SANTO ANTÃO
Santo Antão is the greenest island in Cape Verde—and a popular destination for hikers, nature lovers, and rock climbers. Here, witness verdant sugarcane plantations juxtaposed with dizzyingly steep cliffs, canyons, gorges, and craters. On an optional full-day excursion, see the lush Vale do Paul (Paul Valley), where sugarcane is still being harvested. Here, taste grogue, Cape Verde's national drink. Next, visit Ribeira das Patas, with its distinctive lava and rock formations.
In the evening, the ship sets sail for the nearby city of Mindelo on the island of São Vicente. Upon arrival, take this once-in-a-lifetime opportunity to experience some of Mindelo's famous nightlife, and possibly a musical event. The ship moors in port.
DAY 6 / MINDELO (SÃO VICENTE)
Once a vibrant commercial island, São Vicente has evolved into a cultural centre, with its capital Mindelo, as an important hub. With its cobblestone streets, brightly coloured colonial houses, and picturesque harbour, Mindelo is among Cape Verde's most attractive cities.
Today, an optional walking excursion takes you to the galleries, busy restaurants, and musical performances that have earned Mindelo its reputation as a cultural centre. After a day exploring this Cape Verde gem, set sail for Maio. Overnight at sea.
DAY 7 / MAIO
Arrive at Maio, the easternmost of the Sotavento islands of Cape Verde. Here, you'll find a calm and relaxed community, along with relatively flat landscapes—at least compared to other archipelago islands—that may have resulted from erosion over the past centuries. Today, discover the island's main settlement, Vila do Maio, on foot. See the striking, white-and-yellow Baroque church erected by the Portuguese. The ship spends the night in port.
DAY 8 / MAIO / PRAIA (SANTIAGO) / DISEMBARKATION
In the morning, sail to Praia on the island of Santiago. After breakfast, disembark and prepare for your onward journey.
Dates & Prices
Itinerary Code (Name of Itinerary)
 Itinerary Start Date
 Ship Name
 Route
Duration (Nights)
Category Pricing PP
C
B
A
P
ONAT-07
(Islands of Cape Verde)
11/20/2017
MS Panorama
Praia / Praia
7
$2,660
$3,030
$3,630
N/A
11/27/2017
MS Panorama
Praia / Praia
7
$2,660
$3,030
$3,630
ONME-01 Port Charge: $330
ONME-01 Single Supplement:
a) Category C, B, A: 30%
Inclusions
Accommodation in double or twin cabins with private SH/WC & air conditioning.
Full-board: Buffet breakfast and two meals daily, including a Welcome Cocktail, Local Theme Evening and Captain's Dinner.
Regular (filter) coffee, tea and drinking water free all day.
Use of fishing and snorkelling equipment (subject to availability).
Multilingual Cruise Escort.
Ship Details
MS Panorama
| | | | | | | |
| --- | --- | --- | --- | --- | --- | --- |
| Built | Length | Decks | Cabins | Passengers | Cabin Size | |
| 1993; Refurbished in 2001 and 2008 | 54m | 3 | 24 | 49 | 10.7 - 12.5m² | More Details |
Travel Tips
Coming Soon!
Please stay tuned for travel tips tailored for this itinerary!
For any immediate questions, please contact us as 905.258.7778.