Loire River Cruise Biking
From $3,660
|
8 Days / 7 Nights
Follow the winding river for an unforgettable adventure—a bike cruise in the
Loire Valley.
Starting in Nantes, see Saint-Nazaire and its famous shipyards, discover the château that inspired Walt Disney, and sample delightful local wines at rustic vineyards. Best of all, after each ride, return to the unparalleled comfort of the ship.
View Google Map of Region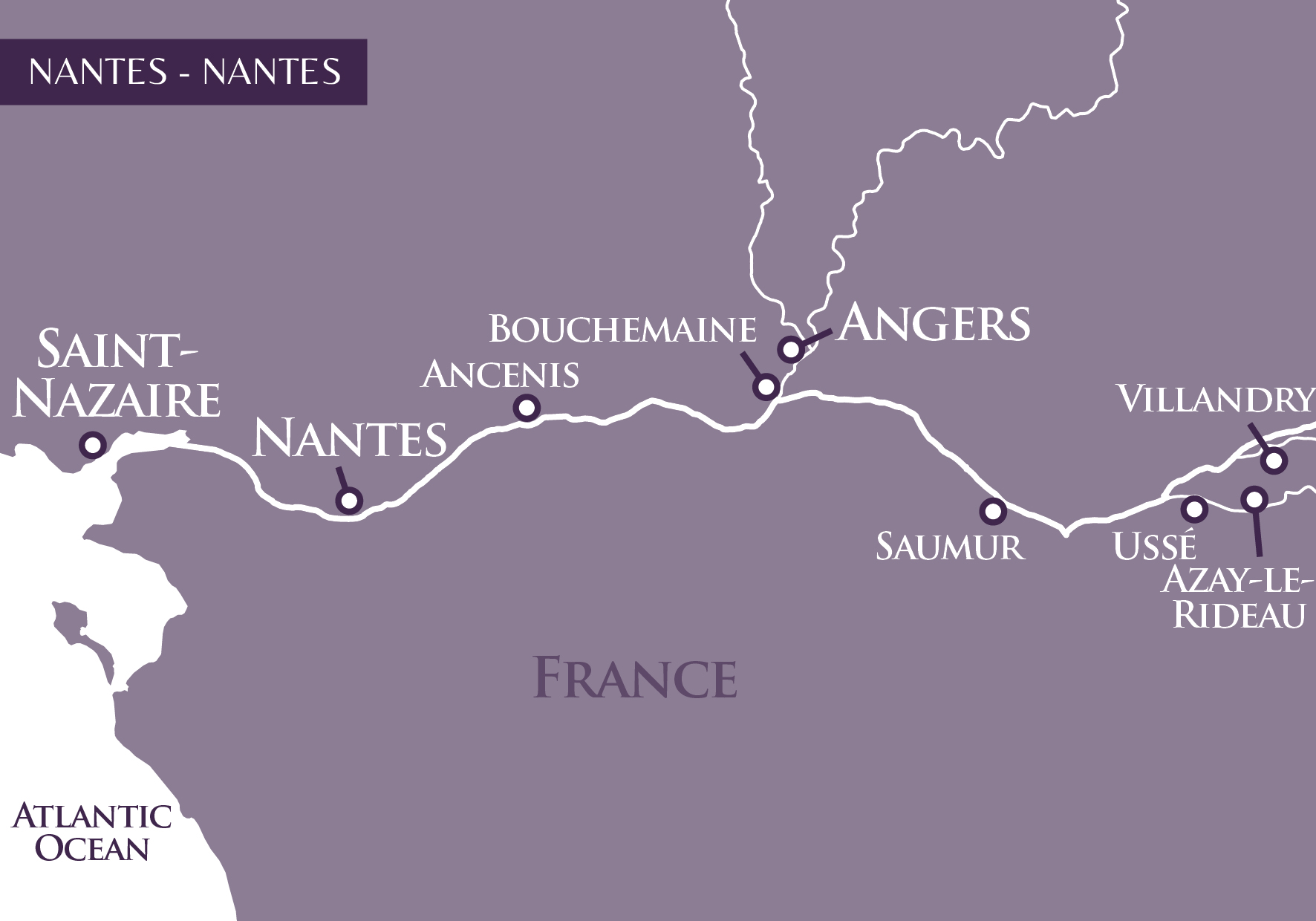 Daily Overview
Day
Destination
Activities
1
Nantes
EMBARKATION

Ride through the Route du Muscadet

Dinner and entertainment on board

2
Saint-Nazaire
Explore the famous Saint-Nazaire shipyards

Optional evening cruise on the Erdre River

3
Ancenis
Discover the seaside resort town of La Baule

See Guérande, a fortified medieval village

4
Bouchemaine
Ride past quaint French villages

Afternoon spent cruising

5
The Loire Châteaux
Tour the Loire Valley's most impressive castles

Dinner and entertainment on board

6
The Loire Châteaux
Morning ride along the Loire's south bank

Wine tasting at Château de la Mulonnière

7
Ancenis
Morning ride from Chalonnes-sur-Loire

Gala dinner

8
Nantes
Breakfast

DISEMBARKATION
Detailed Itinerary
DAY 1 / NANTES / EMBARKATION 
The Muscadet Route: 39 km (Elev. 244 m)
On your first day in this charming region of Western France, you'll meet your trip leaders at the local train station, the Gare de Nantes. Together, you'll shuttle to the 15th-century village of Clisson. With its Tuscan flavour, you may wonder if you've left France for Italy.
After a satisfying lunch at la Bonne Auberge, you'll meet your bicycle. Our leaders will work with you to make adjustments, after which we'll briefly go over some safety precautions before setting off on our very first ride.
Along the Route du Muscadet, you will pass quaint farms and vineyards. As the largest wine producer in the Loire Valley, this region sells somewhere in the neighbourhood of 90 million bottles of wine per year. It's known for its dry, light, and floral white wines, made from crushed Melon de Bourgogne grapes.
No trip through the region is complete without a stop to sample the products. As we pass the village of Château Thebaud on our way to Poiron Dabin, we'll enjoy a rest along with a sip of wine before we set off again towards Nantes.
In the late afternoon, you are invited to step aboard our luxurious vessel and settle into your cabin. On board, we'll be celebrating our first day with a welcome reception and introduction to the crew, followed by a gourmet dinner.
DAY 2 / NANTES / SAINT-NAZAIRE 
Lavau-sur-Loire Route: 27 km (Elev. 122 m)
Saint-Nazaire Route: 56 km (Elev. 183 m)
Nantes to Saint-Nazaire Route: 71 km (Elev. 305 m)
Cruise Nantes to Saint-Nazaire: 2:00 pm to 6:30 pm
Enjoy a leisurely breakfast after you wake up aboard the ship. In the morning, your route follows the curves of the Loire River, where you'll ride under the canopy of magical forests while taking in views of the river. On our way through the idyllic French countryside, we'll pass through the village of Saint-Étienne-de-Montluc and reach the outskirts of Lavau-sur-Loire before we break for a lunch of local fare.
Next, we'll be back on our bikes to follow the Loire as it unveils mile after mile of enchanting scenery. Take it all in as you cycle towards the most southwestern part of the region.
In the late afternoon, we'll arrive in the seaside town of Saint-Nazaire on the Atlantic Ocean. This ancient port is sure to fascinate history and naval buffs—everywhere you look, you'll see relics, many of which date back as far as the Middle Ages.
As the setting of the famous German book Das Boot (The Boat), Saint-Nazaire has a storied past as a shipbuilding hub. Before returning to our own ship, we'll learn more about the time-honed art of vessel building during our tour of the Saint-Nazaire shipyards.
Back on board the ship, regroup in your cabin before we gather in the dining room for our evening meal.
DAY 3 / SAINT-NAZAIRE / ANCENIS 
La Baule Route: 13 km (Elev. 61 m)
Marais Salants Route: 34 km (Elev. 183 m)
Guérande Route: 55 km (Elev. 305 m)
Cruise Saint-Nazaire to Ancenis: 1:00 pm to 12:00 am
This morning, our ride takes us through the Marais salants de Guérande. If you would like to add extra kilometres to your trip, you have the option to cycle from the ship. Otherwise, take the shortcut in our minivan and set off from the city of La Baule.
This picturesque resort town is home to some of France's wealthiest seaside estates. After you've had the chance to survey the town's luxurious villas, we'll cycle along a low-traffic route which passes through the salt marshes of Guérande, a dedicated Nature Reserve. 
In the mid-morning, we'll arrive in the medieval village of Guérande, which you are invited to explore at your own pace. Full of historic and cultural significance, this town is surrounded by a fortified wall which is among the best preserved in all of Europe.
After touring the village, we'll coast through the Brière Regional Natural Park to join the ship in time for lunch. On board, enjoy a relaxing afternoon on the terrace as we cruise through the French waters en route to our next destination.
DAY 4 / ANCENIS / BOUCHEMAINE 
Oudon Route: 31 km (Elev. 213 m)
Ancenis Route: 40 km (Elev. 244 m)
Cruise Ancenis to Bouchemaine: 1:00 pm to 8:00 pm
Today you'll wake up in Ancenis, home to the Renaissance-era Château d'Ancenis. You will once more have the option to start your ride from the ship or take a short transfer to the town of Oudon. In Oudon, gaze up at the medieval tower perched atop a rocky outcrop, which was once used to observe traffic on the river.
On today's ride, we'll encounter storied French villages such as Le Cellier, which is widely known for its château, the former residence of the late actor Louis de Funes.
By midday, board the ship as we sail towards the next destination on our itinerary. Enjoy the calming effect of the water and the riverside scenery and enjoy a gourmet dinner in the evening. As we arrive in Bouchemaine, settle in for a full night of rest in preparation for tomorrow's adventure.
DAY 5 / THE LOIRE CHÂTEAUX  
Villandry Route: 26 km (Elev. 183 m)
Rigny Ussé Route: 63 km (Elev. 427 m)
Saumur Route: 69 km (Elev. 457 m)
In the morning, we embark on a one-hour drive to the Château de Villandry to begin our day at one of France's most well-maintained gardens, including an ornamental flower garden, a vegetable garden, and a floating water garden. This 16th-century treasure was purchased in the early 1900s by Joachim de Carvallo, who restored it to its original Renaissance grandeur. Today, de Carvallo's grandson manages the grounds.
After, get on your bike and take a scenic ride to the Château d'Azay-le-Rideau, one of the earliest Renaissance-era castles in all of France. Following our visit, we'll cycle to Rigny Ussé to have lunch before we tour the Château d'Ussé, which is said to have served as inspiration for several of Walt Disney's castles.
On our way home, we'll pass vineyards and primitive houses until we reach Saumur, our final destination for the day. Here, a transfer is waiting to take you back to the ship, where you'll enjoy dinner and an evening of music and dancing.
DAY 6 / THE LOIRE CHÂTEAUX  
Thouarce Route: 34 km (Elev. 213 m)
Bouchemaine Route: 67 km (Elev. 396 m)
Rochefort-sur-Loire Route: 72 km (Elev. 457 m)
Start your day with a buffet breakfast on board before we take a loop ride around the south bank of the Loire. Cycle by the Ponts-de-Cé, known for its brief rebellion—now referred to as drôlerie, the local "joke." After, make your way to the Brissac Quincé, which is home to the Château de Brissac.
This afternoon, we'll enjoy lunch at a local restaurant in the village of Thouarce. After you eat, find your bicycle and make your way back to the ship—but don't forget to stop at the Château de la Mulonnière en route. Here, you can sample the local flavours at a wine tasting.
On board the ship, enjoy dinner and a night of rest before our final day of adventure in the region.
DAY 7 / BOUCHEMAINE / ANCENIS / NANTES 
Cruise Bouchemaine to Ancenis: 8:30 am to 12:30 pm
Chalonnes-sur-Loire Route: 39 km (Elev. 122 m)
Bouchemaine to Ancenis Route: 56 km (Elev. 183 m)
Cruise Ancenis to Nantes: 1:30 pm to 7:30 pm
On our last day, we leave the world of castles behind as we make our way to the town of Nantes. Today, you have the option to set out from the boat our take our transfer from the town of Chalonnes-sur-Loire.
While our ship sets sail for Ancenis, spend your final morning exploring Western France on your bicycle. Upon arrival, you're invited to eat a relaxed lunch aboard the ship.
Tonight, we'll conclude our trip with a farewell dinner on board.
DAY 8 / NANTES / DISEMBARKATION 
This morning, enjoy a leisurely breakfast in the dining room before thanking your crew and joining your trip leaders to disembark. We'll take a short shuttle to the Gare de Nantes before we say goodbye, marking the end of an unforgettable adventure.
Dates & Prices
Itinerary Code
(Name of Itinerary)
 Itinerary Start Date
 Ship name
 Route
Duration (Nights)
Main Deck Pricing PP
Upper Deck Pricing PP
Suite Main Deck Pricing PP
Suite Upper Deck Pricing PP
RREU-08
(Loire River Cruise Biking)
4/16/2017
MS Loire Princesse
Nantes/Nantes
7
$3,660
$4,210
N/A
N/A
7/24/2017
MS Loire Princesse
Nantes/Nantes
7
$3,840
$4,400
10/7/2017
MS Loire Princesse
Nantes/Nantes
7
$3,660
$4,210
Prices are per person based on double occupancy and include the classic excursion package.
RREU-08 Port Charge: N/A
RREU-08 Single Supplement:
Main Deck: $689
Upper Deck: $689
Inclusions
Meals included commencing with dinner on Day One and ending with breakfast on the final morning
Drinks including water, wine, beer, fruit juices and coffee served by CroisiEurope during meals on board; all drinks from the bar (except champagne and drinks on the wine list)
Double-occupancy cabin with shower in private bathroom
Access to premium quality bikes, dedicated minivan support, Garmin Edge Touring GPS, and assistant from a professional leader during biking tours
Onboard entertainment
Assistance from our onboard multi-lingual host/hostess
Welcome cocktail
The gala dinner and evening
Travel assistance and repatriation insurance
All port fees
Ship Details
MS Loire Princesse
| | | | | | | |
| --- | --- | --- | --- | --- | --- | --- |
| Built | Length | Decks | Cabins | Passengers | Cabin Size | |
| 2014 | 90m | 2 | 48 | 96 | 14m² | More Details |
Travel Tips
The Loire
Travel Documents / Visas
1. Passport
Canadian citizens must have a passport that is valid for at least 6 months after the last date of travel to enter France (EU).
Citizens of other countries should consult with their travel agent or our office.
2. Visa
No visa is required for France for leisure stays of up to 90 days.
Packing List
A handy checklist of what to bring on your trip can be downloaded here.
Insurance
We very strongly recommend the purchase of appropriate travel insurance for any trip outside of Canada. Information on travel insurance options can be found here.
Smoking
Not permitted anywhere indoors. There are designated areas on the outside decks.
Weather
April / May – cool days in the 10's and low 20's. Occasional rain but seldom steady.
June to September – warm days in the mid 20's and cool evenings. Mostly dry.
October – cool days in the mid to high 10's. Occasional frost but mostly dry.
Arrival / Departure
Upon booking, we will provide detail instructions on how to meet your ship on embarkation day. If you have not made any pre or post tour arrangements with us, you will have to arrange your own transportation to and from the port of embarkation. We are happy to provide advice or to assist in arranging transfers.
The ship will not be ready for check-in before mid-afternoon. If you have luggage that you need to deposit so you can enjoy some free time in port, the purser may be able to accommodate you provided we know in advance.
The cruise will finish in the morning (usually around 9am) on the final day. It is necessary to have settled your onboard account and to have disembarked by this time as instructed by the cruise director on the day before.
Money
The currency is the EURO. It is uncommon for local shops and restaurants to accept any other currency.
Credit cards are acceptable for larger purchases in retail shops, but often not in restaurants or cafés.
ATM's accepting most international debit and credit cards can be found in abundance.
Gratuities (Tipping)
As always, gratuities are at your own discretion. If you feel the service has met or exceeded your expectations, the ship suggests an amount of EURO $ 5-10 per person per day.
Laundry
Unfortunately there are no laundry facilities on board so bring what you need for the cruise.
Excursions
Most of our programs include a full complement of excursions. Some additional excursions may be available on board at an extra cost. Please check with us or consult the purser onboard for additional information.
Excursions will usually involve a lot of walking, often on cobblestone streets. If you have difficulty walking any distance, please let us know in advance and we will advise how best we can accommodate you.
Regrettably, most of our excursions are not suitable to those confined to a wheelchair.
Activity Level / Strenuousness
Light – At most, participation in the shore excursions requires the ability to walk reasonable distances and some stairs.
Food
Breakfast, lunch and dinner are all included in your cruise fare so you shouldn't be too hungry. It is worthwhile to sample the local cuisine though. Goat cheese is a local favourite as is "rillettes" (pâté), and sablé – a tasty local biscuit.
If you are a wine lover, the Loire Valley is of course famous for its Sauvignon Blanc, Sancerre and Chenin Blanc grapes.
Your shipboard staff all speak English of course, but when you are wandering through the shops in small villages, the local folk may have little English. Time to brush up on that high school French or bring along a phrasebook or translation app.
Medical Facilities
There are no medical personnel onboard the ship. However, the purser can contact onshore medical people for emergency and non-emergency situations and rapid evacuation can easily be facilitated in the most urgent cases.
Phone & Internet
There is a phone in each cabin. As is typical, the charges for overseas calls are relatively high.
Free Wi-Fi is available in the main public areas of the ship but not necessarily in all cabins. As internet is provided through a mobile network, bandwidth (speed) will vary depending on the number of concurrent users, the proximity to a cell tower and other factors.
If you would like to have regular data and phone connection, we suggest either arranging an overseas roaming plan with your mobile operator, or pick up a local SIM card if you have an unlocked phone.
Health / Vaccinations
There are no vaccinations required to travel to France. As always, we recommend being in good health prior to any long distance travel. Consult your physician with any specific concerns in regard to this program.
Safety & Security
Despite recent events, France is extremely safe. Particularly the small cities and towns on this voyage, you should have nothing to be concerned about. This being said, being constantly aware of your surroundings and not taking unnecessary valuables with you is always recommended. Leave your passport, extra money and any other belongings you do not need during the day in the safe in your cabin.
You can access current information about the security situation in France by referring to the Canadian government travel advisory site at https://travel.gc.ca/destinations/france 

Suggested Reading
The Cathedral Builders of the Middle Ages