Mighty Brahmaputra
From $3,160
|
8 Days / 7 Nights
At the foot of the Himalayas, the Brahmaputra River flows through the remote state of Assam in northeastern India, revealing lush landscapes, rare wildlife, and remote tribal villages. Visit an Assam tea estate,
set off on a
safari in UNESCO-listed
Kaziranga
National Park, explore ancient Hindu temples, and revel in this region's unparalleled natural beauty.
View Google Map of Region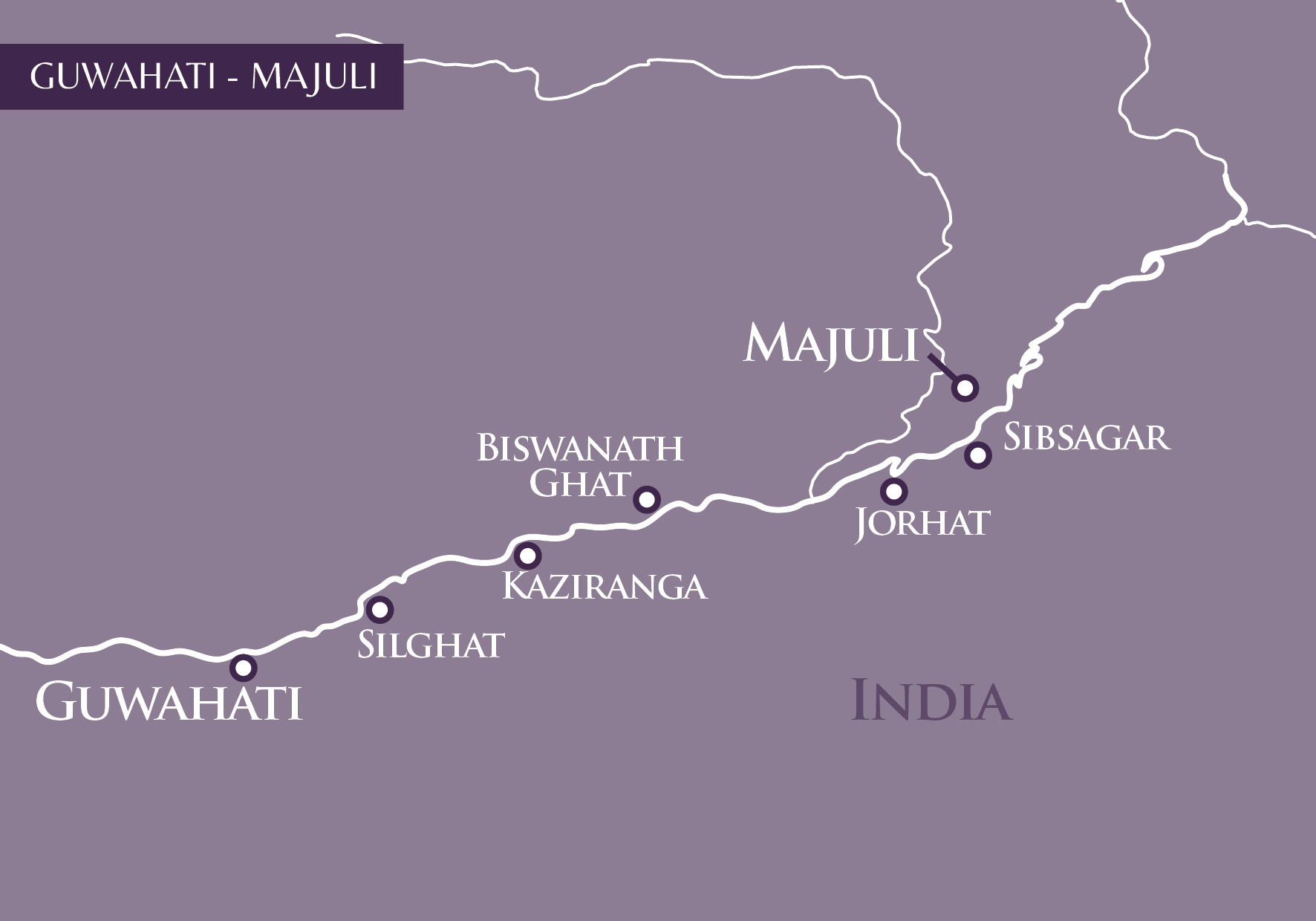 Daily Overview
Day
Destination
Activities
1
Guwahati
Explore ancient Kamakhya Temple

EMBARKATION

2
Silghat
Scenic cruising and wildlife viewing

Lecture on the tribes of the Brahmaputra

3
Silghat
See the bridge in Tezpur

Excursion to an Assam tea plantation

4
Kaziranga National Park
Wildlife safari in Kaziranga National Park

Explore Biswanath Ghat, a traditional village

5
River Safari
Boat safari in Kaziranga's eastern range

Dinner served al fresco on a deserted island

6
Majuli
Visit to local village, home to Mishing tribe

Traditional dress demonstration

7
Majuli

Sivasagar

Explore the town's 15th-century Satras

Visit Shivadol, India's highest Shiva temple

8
Johrat
DISEMBARKATION
Detailed Itinerary
DAY 1 / GUWAHATI / EMBARKATION  
Arrive in Guwahati, the largest city in Assam and one of India's fastest-growing metropolises. Situated on the south bank of the Brahmaputra, it's also an ancient city, which is home to numerous temples. Before embarking, visit the Kamakhya Temple in western Guwahati. The original temple construction dates back as far as 8th century, and is dedicated to the Hindu goddess of desire.
Set sail in the evening, passing Peacock Island, a notable home of the endangered golden langur. On board, enjoy a welcome dinner.
DAY 2 / SILGHAT  
Set sail for Silghat, and spend the day on deck, taking in the river's unparalleled natural scenery and observing exotic wildlife, including river dolphins and birds of prey. Pass fragile riverside communities interspersed with stretches of uninhabited land and islands. After tea, attend a lecture on the tribes still sustained by the Brahmaputra.
DAY 3 / SILGHAT  
Pass Tezpur, noting the massive arched bridge that connects the north and south banks of the Brahmaputra. The bridge, Kolia Bhomora Setu, is three kilometres in length. Upon arrival in Silghat, enjoy views of verdant, rolling hills as you travel to an Assam tea plantation and factory, where you'll see how this famous blend of tea is cultivated and produced.
DAY 4 / KAZIRANGA NATIONAL PARK 
Your adventure continues in Kaziranga National Park, a UNESCO World Heritage Site which is home to two-thirds of the world's great one-horned rhinoceros population. On your safari through the park, try to spot this elusive species, along with India's renowned Bengal tiger. After the safari, travel by jeep to see more of the park's wildlife and later, set off by boat to see Biswanath Ghat, a small village on the Brahmaputra's northern bank. See the local women weaving colourful traditional handicrafts.
DAY 5 / RIVER SAFARI  
After taking in the Brahmaputra's dramatic natural wonders during a scenic cruise, set off on a boat excursion to the eastern range of Kaziranga National Park, at the confluence of the Dhansiri and Brahmaputra rivers. Here, observe the varied wildlife that call this region home, including pied kingfishers, eagles, vultures, water buffalos, otters, and monitor lizards. In the evening, you'll be treated to an al fresco dinner on a deserted island.
DAY 6 / MAJULI  
Home to the Mishing tribe, Majuli is the world's largest river island. Stop to explore a local village, where you'll see women weaving on handlooms to create distinctive costumes. Enjoy a demonstration featuring a dhoti, the traditional dress for men, and chador, women's' traditional dress.
DAY 7 / MAJULI / NEAMATI GHAT / SIVASAGAR 
This morning, discover the town of Majuli and explore its impressive Satras, neo-Vaishnavite monasteries constructed by revered Assamese saint Srimanta Sankardeva, which date back to the 15th century. Continue to Sivasagar, the capital of the Ahoms, descendants of the ethnic Tai people who came from Yunan and China in the 13th century. Explore Shivadol, a collection of structures including the tallest Shiva temple in India. Your day ends with insights into the production of Assam tea from a local tea estate family.
DAY 8 / JORHAT / DISEMBARKATION  
After savouring breakfast on the ship, disembark and prepare for your onward journey.
Dates & Prices
Itinerary Code
(Name of Itinerary)
 Itinerary Start Date
 Ship Name
 Route
Duration (Nights)
Main Deck Pricing PP
Upper Deck Pricing PP
RRAS-10
(Mighty Brahmaputra)
10/30/2016
MV Mahabaahu
Guwahati/Jorhat
7
$3,160
$3,160
11/13/2016
MV Mahabaahu
Guwahati/Jorhat
7
$3,160
$3,160
11/27/2016
MV Mahabaahu
Guwahati/Jorhat
7
$3,340
$3,340
1/8/2017
MV Mahabaahu
Guwahati/Jorhat
7
$3,870
$3,870
2/5/2017
MV Mahabaahu
Guwahati/Jorhat
7
$3,510
$3,510
3/19/2017
MV Mahabaahu
Guwahati/Jorhat
7
$3,510
$3,510
4/2/2017
MV Mahabaahu
Guwahati/Jorhat
7
$3,510
$3,510
Prices are per person based on double occupancy.
RRAS-10 Port Charge: N/A
RRAS-10 Single Supplement:
Main Deck: 89%
Upper Deck: 89%
*Note: No Single Supplement applicable between 30-Oct-16 and 27-Nov-16 start dates
Inclusions
Entrance fees
Porterage services
Guide services (English speaking)
Main meals
Drinks include jugged coffee, mineral water and selection of teas and tisanes
Transfers between ports of embarkation and Jorhat and Guwahati Airports at the start and end of the voyage
Services of a Pandaw Expedition cruise director on the cruise
Port dues
government taxes
Ship Details
MV Mahabaahu
| | | | | | | |
| --- | --- | --- | --- | --- | --- | --- |
| Built | Length | Decks | Cabins | Passengers | Cabin Size | |
| 2012 | 55m | 4 | 24 | 46 | - | More Details |
Travel Tips
The Brahmaputra
Travel Documents / Visas
1. Passport
Canadian citizens must have a passport that is valid for at least 6 months after the last date of travel to India and has at least one full blank page for the visa.
Citizens of other countries should consult with their travel agent or our office.
2. Visa
You will require a tourist visa that must be obtained in advance. Assuming you are arriving through one of the designated international airports, you can apply for an e-visa by visiting the E-Tourist Visa page.
Packing List
A handy checklist of what to bring on your trip can be downloaded here.
Insurance
We very strongly recommend the purchase of appropriate travel insurance for any trip outside of Canada. Information on travel insurance options can be found here.
Smoking
Not permitted anywhere indoors. There are designated areas on the outside decks.
Weather
October / November and March: Daytime temperatures from the mid 20s to low 30s. Evenings as much as 10 degrees cooler.
December to February: Daytime temperatures in the 20s with evenings as cool as the low 10s.
It is generally fairly dry between October and March with 5 days of rain or less.
Arrival / Departure
Upon booking, we will provide detail instructions on how to meet your ship on embarkation day. If you are not on a full land and cruise program or have not made any pre or post tour arrangements with us, you will have to arrange your own transportation to and from the port of embarkation. We are happy to provide advice or to assist in arranging transfers.
The ship will not be ready for check-in before mid-afternoon. If you have luggage that you need to deposit so you can enjoy some free time in port, the purser may be able to accommodate you provided we know in advance.
The cruise will finish in the morning (usually around 9am) on the final day. It is necessary to have settled your onboard account and to have disembarked by this time as instructed by the cruise director on the day before.
Money
The currency is the Rupee (INR). Sometimes local merchants will accept US currency in small denominations but this is not always a certainty.
Credit cards are acceptable for larger purchases in retail shops in the cities, but in the remote areas of Assam, they will be of little use.
ATM's accepting most international debit and credit cards can be found at the airports and larger cities but you should have an adequate supply of rupees for the cruise portion.
Gratuities (Tipping)
As always, gratuities are at your own discretion.  If you feel the service has met or exceeded your expectations, the ship suggests an amount of USD$10 per person per day to be divided amongst the crew.
Laundry
Basic laundry services are available onboard M.V. Mahabaahu for a nominal charge. Dry cleaning is not available.
Excursions
Most of our programs include a full complement of excursions. Some additional excursions may be available on board at an extra cost. Please check with us or consult the purser onboard for additional information.
Excursions will usually involve a lot of walking, often on dirt roads and up and down stairs. If you have difficulty walking any distance, please let us know in advance and we will advise how best we can accommodate you.
Regrettably, most of our excursions are not suitable for those in a wheelchair.
Activity Level / Strenuousness
Moderate to Challenging – The ship will often dock on a riverbank with a gangplank. It is necessary to be reasonably sure-footed as walking will be on dirt roads and paths. Temples often have many stairs which are mostly not obligatory to climb, but for the full benefit you will need to.
Food
Breakfast, lunch and dinner are all included in your cruise fare so you shouldn't be too hungry. It is worthwhile to sample the local cuisine though.
The cuisine of Assam is obviously similar to other parts of India but nevertheless unique in many ways. A few things you might want to try include 'Masor tenga', a delicious fish curry, or 'Sungat diya maas' which is basically fish in bamboo.
If fish isn't your fancy, 'Kolposola aru murgi mangxor aanja' (don't try to pronounce it) is a chicken curry made with the trunk of a banana tree (which is actually very tender).
While we encourage trying as many local specialties as possible, we do caution guests to avoid drinking water from any source other than a sealed bottle. Similarly, exercise caution when eating vegetables or anything that is uncooked and may have been washed in water.
Language
Your shipboard staff all speak English of course. Off the ship will be more interesting and it would be useful to have a phrasebook to at least be able to communicate the usual pleasantries.
Medical Facilities
There are no medical personnel onboard the ship. However, the purser can contact onshore medical people for emergency and non-emergency situations and evacuation can be facilitated in the most urgent cases.
Phone & Internet
There is a phone in each cabin. As is typical, the charges for overseas calls are relatively high.
Wi-Fi is available but not necessarily in all cabins. As internet is provided through a mobile network, bandwidth (speed) will vary depending on the number of concurrent users, the proximity to a cell tower and other factors. As the ship moves away from larger urban centres, it will undoubtedly be very slow.
If you would like to have regular data and phone connection, we suggest either arranging an overseas roaming plan with your mobile operator, or pick up a local SIM card if you have an unlocked phone.
Health / Vaccinations
There are no vaccinations required to travel to India, however we do suggest ensuring that your regular shots are up-to-date. Furthermore, malaria does occur in the Assam region of India and your physician may recommend a prophylaxis.
As always, we recommend being in good health prior to any long distance travel. Consult your physician with any specific concerns in regard to this program.
Safety & Security
The security situation along the Brahmaputra river itself is stable and there are no known issues. Regions adjacent to Assam such as Arunachal Pradesh, Nagaland and Manipur (border areas) have elevated advisories due to local insurgencies. Please consult the website below for the most up-to-date information.
While participating on this and any program in a foreign country, being constantly aware of your surroundings and not taking unnecessary valuables with you is always recommended. Leave your passport, extra money and any other belongings you do not need during the day in the safe in your cabin.
https://travel.gc.ca/destinations/india
Suggested Reading
Tales from the River: Brahmaputra