Northwest Passage
From $19,490
|
19 Days / 18 Nights
Departing from Greenland, the ship forges a route through the ice to the
Northwest Passage, where
y
ou'll have the opportunity to explore this remote region in a
Zodiac
.
Keep a lookout for whales and polar bears
, taking in awe-inspiring land formations, and
chart the same course as some of the world's boldest Arctic explorers. 
View Google Map of Region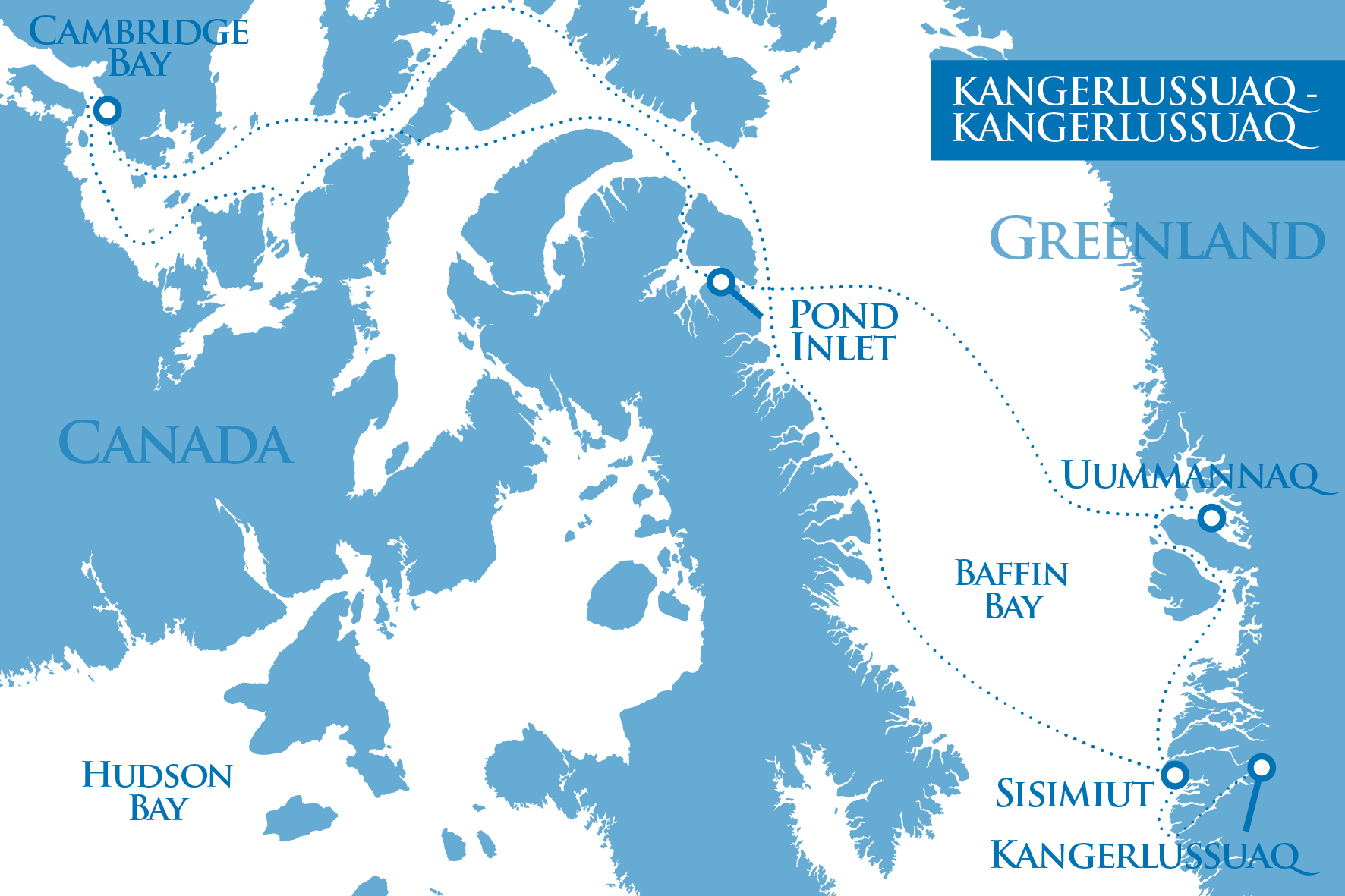 Daily Overview
Day
Destination
Activities
1
Kangerlussuaq
EMBARKATION
2-3
Disko Bay

Storoen

Take a Zodiac to explore Disko Bay

See the desert isle of Storoen

4
At Sea
Day spent relaxing on board the ship
5
Baffin Island
Learn about William Baffin and see Pond Inlet

Sail to Lancaster Sound

6-14
The Northwest Passage
Discover the islands of the Northwest Passage

See wildlife and remnants of Arctic expeditions

15-16
Baffin Island
Cruise the fjords and glaciers of Baffin Island
17
At Sea
Day spent relaxing on board the ship
18
Sisimiut
Explore Inuit culture in Sisimiut
19
Kangerlussuaq
DISEMBARKATION
Detailed Itinerary
DAY 1 / KANGERLUSSUAQ 
Take a charter flight from Düsseldorf to Kangerlussuaq, where you'll embark the ship in the early afternoon, setting sail along the coast of Greenland.
DAYS 2-3 / DISKO BAY / STOROEN / UUMMANNAQ 
Bizarre ice, wild animals, and nautical challenges—one of the world's most notorious sea routes combines fascinating history and thrilling natural experiences. In tracing your finger along the map, you're tracing the lifelines of numerous pioneering explorers who have lent their names to the islands, straights, and geographical features of the region. Their bravery comes to life when the ship sets a similar course for this remote area of the Canadian Arctic—a challenge to which the ship rises thanks to its highest ice class and experienced crew. Again and again, the captain and officers decide which route to take, turning each of your expedition days into an incomparable adventure.
There could hardly be a more spectacular start to your cruise than the famous Disko Bay—navigate a Zodiac between drifting icebergs and watch the enormous ice formations that are released into the bay from the ice fjord.
When the ship sets sail for Storoen, the sudden appearance of humpback and fin whales always produces a wave of excitement. In landing on the "desert isle," you  may feel like you've landed on the moon, while the experts explain the geological composition of the coastal landscape.
Uummannaq, one of the most beautiful settlements in Greenland, provides insights into Arctic culture, with its typically colourful wooden houses and "Santa's summer house." A museum recalls the expeditions of Alfred Wegener, a German who conducted research in Greenland.
DAY 4 / AT SEA 
Spend a day at sea, taking in views of the Arctic landscape from the deck, partaking in on-board activities, or enjoying luxury amenities.
DAY 5 / POND INLET / BAFFIN ISLAND  
The history of exploration in the Northwest Passage comes to life in Baffin Bay, named for the English seafarer William Baffin, who came here in the 16th century searching for a possible passage. Once you have visited Pond Inlet on Baffin Island and gotten to know a small, hidden Inuit village, the ship will travel to Lancaster Sound. Excitement abounds as your begin to write your own chapter in the history of Northwest Passage exploration.
DAYS 6-14 / THE HEART OF THE NORTHWEST PASSAGE 
In the wake of pioneering Arctic explorers, find yourself in the heart of the legendary passage—nautical territory well-suited to the ship and its Zodiacs. Explorations and trips ashore in this region—for example, on Devon Island—are only possible with robust motorised rubber boats.
Spectacular glaciers line the coast, where you will see musk oxen, Arctic hares, and possibly even polar bears. The further the ship goes into the labyrinth of islands and ice, the closer you will feel to the first explorers all those years ago. Follow in their footsteps on Somerset Island, for example. In 1848, James Clark Ross landed here on the search for the missing Franklin ships, which are said to be frozen in ice at the entrance to the Victoria Strait.
The fascination on the water continues on land, where you'll keep an eye out for polar bears, owls and reindeer. Both Jenny Lind Island and Victoria Island are ideal for wildlife sightings.
In Cambridge Bay, the wreck of the Maud, one of Roald Amundsen's ships, bears silent witness to the bravery of seafarers in times gone by. Depending on the ice, set out on a Zodiac ride on Peel Sound and into the habitat of orcas, seals, and walruses en route to Prince of Wales Island, which is known for its natural treasures: spherical geodes. The island was discovered in 1851 during the search for John Franklin's expedition. Aside from three sailors, whose graves were found on Beechey Island, the team remained missing. Your paths may perhaps cross with those of the polar bears roaming the archipelago in search of food.
DAY 15-16 / BAFFIN ISLAND 
Finally, the ship will take some time to explore the magnificent fjords of Baffin Island. Mountains and ice shape this expansive landscape, with one particularly impressive example being the majestic Kisimngiuqtuq glacier.
DAY 17 / AT SEA 
Spend a day at sea, taking in views of the Arctic landscape from the deck, partaking in on-board activities, or enjoying luxury amenities.
DAY 18 / SISIMIUT  
Back in Greenland, Sisimiut, with its open-air museum and Inuit culture, provides an atmospheric conclusion to your personal expedition to the heart of the Northwest Passage.
DAY 19 / KANGERLUSSUAQ / DISEMBARKATION  
This unparalleled voyage comes to an end in Kangerlussuaq, where you'll disembark and board a charter flight.
Dates & Prices
Itinerary Code (Name of Itinerary)
 Itinerary Start Date
 Ship Name
 Route
Duration (Nights)
Category – Cruise Only Pricing PP
1 (Guar. Outside Cabin)
2 (Outside Cabin)
3 (Outside Cabin)
4 (Outside Cabin)
5 (Outside Cabin)
6 (Outside Cabin)
7 (Suite)
ENAR-11
(The Heart of the North West Passage)
8/21/2017
MS Hanseatic
Duesseldorf/Duesseldorf
18
$19,490
$21,740
$25,140
$26,220
$27,300
$30,560
$43,830
Prices are per person based on double occupancy.
ENAR-11 Port Charges: N/A
ENAR-11 Single Supplement:
Category 2-4: ranging from 35-41%
Category 5: 49%
Category 6 and 7: 100%
*Note: Category 1 is not offered as a single option
Inclusions
Expedition in the booked category
Full board on the ship (early bird breakfast, breakfast, bouillon, lunch and dinner, afternoon coffee and tea with pastries, midnight snack).
All landings or rides in the ship's own Zodiacs or tenders (potential admission fees or guided tours by local tour guides not included)
Experienced experts who give lectures, provide in-depth answers to questions about the cruising area and accompany Zodiac landings.
Champagne awaits you in your cabin on your day of arrival.
Mini bar filled with soft drinks in the cabin (refilled daily)
Flat screen, DVD player and private email account as well as an integrated video-on-demand system in every cabin
Sending and receiving emails (up to 1MB) free of charge
German ship, cruise and expedition management as well as a German- and English-speaking service crew on board
Comprehensive information about the cruise, service handbooks about the flora and fauna of the Amazon, the Arctic and Antarctica as well as expedition maps
Information about the port or destination (when available) in the cabin in the form of pocket-size travel guides
Depending on the destination, warm parkas and rubber boots as well as snorkeling equipment and Nordic Walking Poles are provided on loan (subject to availability)
Free use of all on-board facilities (except the services of the photo shop, hairdresser, massage, boutique, internet)
Harbour and airport fees
Bankruptcy insurance
Ship Details
MS Hanseatic
| | | | | | | |
| --- | --- | --- | --- | --- | --- | --- |
| Built | Length | Decks | Cabins | Passengers | Cabin Size | |
| 1993 | 123m | 6 | 92 | 175 | 22 - 44m² | More Details |
Travel Tips
The Arctic
Travel Documents / Visas
1. Passport
Canadian citizens must have a valid passport for entry to any of our Arctic destinations.
Our cruise partners require that your passport be valid for 6 months after the end date of your trip.
Citizens of other countries should consult with their travel agent or our office.
2. Visa
No visa is required for citizens of Canada to enter any of our Arctic destinations.
Packing List
A handy checklist of what to bring on your trip can be downloaded here.
Insurance
You MUST have travel insurance to participate in any Arctic program. Options on coverage are available from your travel agent or here.
Smoking
Not permitted anywhere indoors. There are designated areas on the outside decks.
Weather
The weather in the Arctic regions of the North Atlantic can vary greatly depending on fronts that can move fairly rapidly in conjunction with ocean currents. We advise to be on the safe and bring adequate warm cloting.
Summer days often do not exceed 10C, although it is possible for temperatures to reach into the high teens under the strong sun in protected areas like Greenlandic fjords.
It is typically quite dry in the summer months but can be very windy, particularly when crossing open stretches of sea. The wind combined with the cool temperatures could make it feel colder than it actually is. As is so often suggested, dressing in layers is the best way to stay warm and yet account for the changing temperatures.
Arrival / Departure
Upon booking, we will provide detail instructions on where to check-in for your Arctic expedition depending upon your embarkation point.  We strongly suggest arriving at least one day prior to avoid any chance of missing the sailing since there is no easy way to join the ship after it has departed.
On your return, if you are flying back home the same day as the ship arrives (assuming you are not on a program where the charter flight is part of the program), we strongly recommend that you stay over at least one night were possible. Although very rare, weather conditions could delay the exact return time and we cannot assume any responsibility for missed flights due to any delays.
Money
The currency of Norway is the Norwegian Kronor (NOK).
The currency of Greenland is the Danish Krone (DKK).
The currency of Iceland is the Icelandic Krona (ISK).
Onboard, you will be issued a cruise card which you can use to charge all purchases during your voyage. You must provide a Visa, American Express, Diners or MasterCard that is valid for at least 3 months after your trip date.
The final bill will be charged to your account in Norwegian Kronor (NOK).
ATM's accepting most international debit and credit cards can be found in abundance in Norway and Iceland. However, after you leave these cities for the trip, it is extremely unlikely you will see another ATM until your voyage ends. We regret, there is no currency exchange facility onboard the ship.
For small purchases in Iceland and Greenland, you should have some of the local currency as USD may not be accepted.
Gratuities (Tipping)
Gratuities suggested by the cruise line are:
USD 12.00 per guest per day to be divided amongst the entire crew.
Laundry
Laundry service is available for a small fee. Regrettably, dry cleaning is not available.
Excursions
All regular shore landings as noted in the itinerary are included in your voyage. Some additional excursions may be available on board at an extra cost. Please check with us or consult the purser onboard for additional information.
Many shore landings will start a zodiac boat ride to shore where you will land and be assisted onto shore via some portable steps. The ground is sometimes covered with small rocks / gravel.
Activity Level / Strenuousness
Light to Moderate – Participation in the shore landings requires the ability to board (with assistance) a zodiac boat from the main ship and on to shore. There are generally no long distances to walk on the Arctic programs.
Food
Breakfast, lunch and dinner are all included in your cruise fare.
Should you have the opportunity to sample Greenlandic fare, you should jump at the chance. Much of the food here comes either from the sea like the infamous Greenlandic halibut, but also truly 'free range' meat from animals like the reindeer, muskox, and local lamb.
When in Iceland, you'll find that the food is somewhat more "Europeanized". However, local dishes such as "Hangikjöt" (smoked lamb) or "Skyr" (kind of like yoghurt but not), are well worth trying. If you are really brave, look for "Svið" which is boiled sheep's head. They say it's delicious.
Language
In all the stops along the way, you will find that the local people speak at least some, if not fluent, English. You may find run into a real native Greenlander who doesn't understand you, but then you'd be lucky.
Medical Facilities
There is an English-speaking physician and nurse on board at all times. The ship has a small medical facility with the necessary equipment and drugs to handle small emergencies. In the event of a serious emergency, the nearest hospital will be contacted. Medical consultations as well as medicines will be charged to the passenger affected. If you depend on medication, remember to bring sufficient supplies to last through any unforeseen delays. We also recommend that you keep your medication in your hand luggage properly labelled and with clear instructions for its use. If you depend on vital drugs, please inform the ship's doctor upon arrival.  Illness on board can lead to quarantine and orders from the ship's physician and captain, must be followed.
Phone & Internet
There is a phone in each cabin. Call rates are very high as a satellite connection is the only one possible.
Wi-Fi is available in certain areas of the ship at a modest charge. As it is a satellite connection, internet speed will be very slow and we suggest it be used for urgent matters only.
Health / Vaccinations
There are no vaccinations required to travel to Arctic destinations. However, we suggest you consult your physician with any specific personal requirements for this program.
You must also have travel insurance to participate on this voyage.
Safety & Security
Our ships are equipped with the latest in emergency communication, life boats and other equipment to deal with any kind of problematic event. If you have any questions or concerns, please contact our office for more details.
The destinations involved do not currently have any security threats.
Suggested Reading
This Cold Heaven: Seven Seasons in Greenland
Arctic: A Guide to Coastal Wildlife
Vikings: The North Atlantic Saga
Baffin Island: Field Research and High Arctic