Po Delta
From $1,550
|
6 Days / 5 Nights
Embarking in Venice, cruise the idyllic waters of the Venetian Lagoon
and the Po River, stopping to
see the
holy pilgrimage site of Padua, the fortified town of Ferrara, and Verona, the city of
Romeo and Juliet
,
before returning to Venice. Here, explore the
outlying
islands of Burano and Murano or let a gondolier serenade you as you drift on the city's canals. 
View Google Map of Region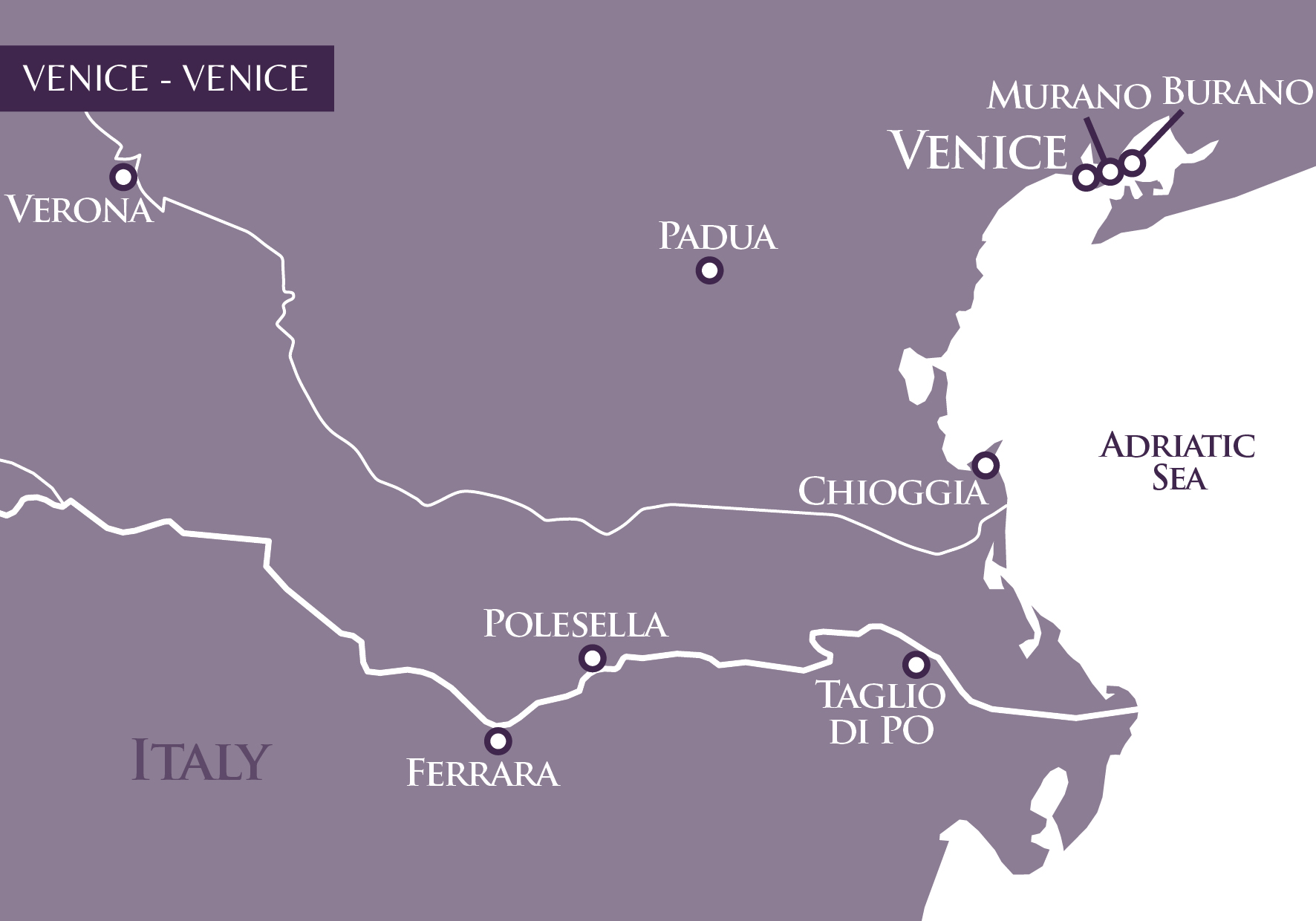 Daily Overview
Day
Destination
Activities
1
Venice
EMBARKATION

Welcome drink, dinner, and free night in Venice

2
Padua
Morning spent cruising

Visit the holy city of Padua and the Santo Basilica

3
Ferrara & Verona
Guided visit of Ferrara

Travel to Verona, the setting of Romeo and Juliet

4
Chioggia
Tour and free time in the port city of Chioggia

Guided exploration of Venetian landmarks

5
Burano & Murano
Explore Venice or take a gondola ride

See the lagoon islands of Burano and Murano

6
Venice
Breakfast

DISEMBARKATION
Detailed Itinerary
DAY 1 / VENICE / EMBARKATION 
Boarding takes place in the evening in one of the world's most romantic cities. Settle into your cabin, enjoy a welcome cocktail in the lounge bar, and meet the crew before dinner is served. The rest of the evening is yours to venture out into the city or relax on board. Mooring overnight in Venice.
DAY 2 / VENICE / CHIOGGIA / PADUA / TAGLIO DI PO  
Spend the early hours of the morning cruising from Venice to Chioggia, arriving before lunch. In the afternoon, leave the ship behind for a guided tour of nearby Padua, the city where Shakespeare set The Taming of the Shrew. Home to one of the oldest universities in the country, this medieval city-state was once an influential political centre. See the Basilica di Sant'Antonio, a pilgrimage site which houses the tomb of St. Anthony of Padua. After, you'll enjoy free time in the city's historic centre, where you'll want to visit the Café Pedrocchi, a local espresso spot and one of the largest cafés in the world.
Rejoin the ship for dinner in Taglio di Po, where you'll be treated to an evening of entertainment following dinner. Mooring overnight in Taglio di Po.
DAY 3 / POLESELLA / FERRARA / VERONA / CHIOGGIA 
This morning, discover a UNESCO World Heritage Site in Ferrara, a Renaissance town surrounded by an impressive, nine-kilometre fortified wall. This defense system, which was constructed in the Middle Ages through the Renaissance, is just one of this often-overlooked town's distinctive attractions.
Following lunch, travel by coach to Verona, the notorious setting of Shakespeare's Romeo and Juliet. Thanks to its location, Verona has long been an important site for trade, and its role as a meeting place made this city a melting pot of a variety of ethnic groups. Founded in 49 BC, Roman relics and ruins can still be found throughout the city.
DAY 4 / TAGLIO DI PO / CHIOGGIA / VENICE 
This morning, board a coach to travel to Chioggia. On the way, stop in Adria. The Adriatic Sea takes its name from this enchanting town. As you arrive in Chioggia, learn about this coastal fishing port's Roman origins then set off by foot to tour the local fish market, sample fresh-caught seafood, or see the town's historic centre and charming churches. Wandering the streets, you'll notice that Chioggia is blissfully devoid of the hustle and bustle of Northern Italy's larger cities.
Return to Venice in the afternoon, taking in this legendary city's landmarks—from the Byzantine Basilica de San Marco and the surrounding piazza to the Gothic-style Palazzo Ducale (Doge's Palace), which housed the Dukes of Venice until the fall of the Republic in 1797. Walk over the Bridge of Sighs before returning to the ship for dinner. The rest of the evening is free. Mooring in Venice.
DAY 5 / VENICE / BURANO & MURANO 
Following a morning spent at your leisure in Venice—relax during a gondola ride (not included), visit a local market, or sip espresso from one of the city's many streetside cafés—return to the ship for lunch.
In the afternoon, travel by boat to see the islands of the Venetian Lagoon. Murano, a series of islands linked by bridges, has been home to Venice's glass-making industry since the late 13th century. Here, tour a glassworks factory and witness a glass-making demonstration. The neighbouring island of Burano, with its brightly coloured houses, is known for lacework, an industry that developed during the early years of the Renaissance.
Tonight, you'll be treated to a gala dinner and an evening of dancing and celebration on board the ship.
DAY 6 / VENICE / DISEMBARKATION 
Savour a leisurely breakfast on board the ship before saying farewell to the crew and disembarking in the morning.
Dates & Prices
Itinerary Code
(Name of Itinerary)
 Itinerary Start Date
 Ship name
 Route
Duration (Nights)
Main Deck Pricing PP
Upper Deck Pricing PP
Suite Main Deck Pricing PP
Suite Upper Deck Pricing PP
RREU-15
(Po Delta)
5/14/2017
MS Michelangelo
Venice/Venice
5
$1,550
$1,740
$1,740
N/A
7/1/2017
MS Michelangelo
Venice/Venice
5
$1,550
$1,740
$1,750
7/6/2017
MS Michelangelo
Venice/Venice
5
$1,550
$1,740
$1,750
7/25/2017
MS Michelangelo
Venice/Venice
5
$1,550
$1,740
$1,750
7/30/2017
MS Michelangelo
Venice/Venice
5
$1,550
$1,740
$1,750
8/8/2017
MS Michelangelo
Venice/Venice
5
$1,550
$1,740
$1,750
8/13/2017
MS Michelangelo
Venice/Venice
5
$1,550
$1,740
$1,750
8/22/2017
MS Michelangelo
Venice/Venice
5
$1,550
$1,740
$1,750
8/27/2017
MS Michelangelo
Venice/Venice
5
$1,550
$1,740
$1,750
Prices are per person based on double occupancy and include the classic excursion package.
RREU-15 Port Charge: N/A
RREU-15 Single Supplement:
Main Deck: $369
Upper Deck: $369
Suite Main Deck: $369
Inclusions
All meals included from the first evening's dinner to breakfast on the final day
Drinks including water, wine, beer, fruit juices and coffee served by CroisiEurope during meals on board; drinks served at the bar (excluding champagne and wines on the wine list)
Double-occupancy cabin with shower in private bathroom
Onboard entertainment
Assistance from our onboard multi-lingual host/hostess
Welcome cocktail
The gala dinner and evening
Travel assistance and repatriation insurance
All port fees
Ship Details
MS Michelangelo
| | | | | | | |
| --- | --- | --- | --- | --- | --- | --- |
| Built | Length | Decks | Cabins | Passengers | Cabin Size | |
| 2000; Refurbished 2011 | 110m | 3 | 78 | 158 | 11m² | More Details |
Travel Tips
The Po
Travel Documents / Visas
1. Passport
Canadian citizens must have a passport that is valid for at least 3 months after the last date of travel in Italy (EU).
Citizens of other countries should consult with their travel agent or our office.
2. Visa
No visa is required for citizens of Canada travelling to Italy for leisure stays of up to 90 days.
Packing List
A handy checklist of what to bring on your trip can be downloaded here.
Insurance
We very strongly recommend the purchase of appropriate travel insurance for any trip outside of Canada. Information on travel insurance options can be found here.
Smoking
Not permitted anywhere indoors. There are designated areas on the outside decks.
Weather
March to May, temperatures in the 10s/20s can be expected,
From June to September, the Po valley is hot and humid with daily averages around the mid 20s with highs often reaching the mid 30's. Between May and August early evening thunderstorms are common.
In October, temperatures in the high 10s are normal.
Arrival / Departure
Upon booking, we will provide detail instructions on how to meet your ship on embarkation day. If you have not made any pre or post tour arrangements with us, you will have to arrange your own transportation to and from the port of embarkation. We are happy to provide advice or to assist in arranging transfers.
The ship will not be ready for check-in before mid-afternoon. If you have luggage that you need to deposit so you can enjoy some free time in port, the purser may be able to accommodate you provided we know in advance.
The cruise will finish in the morning (usually around 9am) on the final day. It is necessary to have settled your onboard account and to have disembarked by this time as instructed by the cruise director on the day before.
Money
The currency is the EURO. It is uncommon for local shops and restaurants to accept any other currency.
Credit cards are acceptable for larger purchases in retail shops, but often not in restaurants or cafés.
ATM's accepting most international debit and credit cards can be found in abundance.
Gratuities (Tipping)
As always, gratuities are at your own discretion. If you feel the service has met or exceeded your expectations, the ship suggests an amount of EURO $ 5-10 per person per day.
Laundry
Unfortunately there are no laundry facilities on board so bring what you need for the cruise.
Excursions
Most of our programs include a full complement of excursions. Some additional excursions may be available on board at an extra cost. Please check with us or consult the purser onboard for additional information.
Excursions will usually involve a lot of walking, often on cobblestone streets and in Venice, over lots of bridges with steps. If you have difficulty walking any distance, please let us know in advance and we will advise how best we can accommodate you.
Regrettably, most of our excursions are not suitable for those in a wheelchair.
Activity Level / Strenuousness
Light – At most, participation in the shore excursions requires the ability to walk reasonable distances and some stairs.
Food
Breakfast, lunch and dinner are all included in your cruise fare so you shouldn't be too hungry. It is worthwhile to sample the local cuisine though.
Something worth trying is "Sarde in Saor" which his essentially marinated sardines with onions, raisins and nuts usually served as antipasto. On the sweeter side of things, Fritole are a kind of ball shaped fritters with nuts and raisins inside and coated with icing sugar. Simply delicious !
Italian wine needs to introduction and both reds and whites from the local region of Veneto are our recommendation.
Language
Your shipboard staff all speak English of course, but when you are wandering through the shops in small villages, the local folk may have little English. Most places in Venice will have English-speaking staff. Nevertheless, bringing your Italian phrase book or an app would not be a bad idea.
Medical Facilities
There are no medical personnel onboard the ship. However, the purser can contact onshore medical people for emergency and non-emergency situations and rapid evacuation can easily be facilitated in the most urgent cases.
Phone & Internet
There is a phone in each cabin. As is typical, the charges for overseas calls are relatively high.
Free Wi-Fi is available in the main public areas of the ship but not necessarily in all cabins. As internet is provided through a mobile network, bandwidth (speed) will vary depending on the number of concurrent users, the proximity to a cell tower and other factors.
If you would like to have regular data and phone connection, we suggest either arranging an overseas roaming plan with your mobile operator, or pick up a local SIM card if you have an unlocked phone.
Health / Vaccinations
There are no vaccinations required to travel to Italy. As always, we recommend being in good health prior to any long distance travel. Consult your physician with any specific concerns in regard to this program.
Safety & Security
Despite recent events in Europe, Italy is extremely safe. Particularly the small cities and towns on this voyage, you should have nothing to be concerned about. This being said, being constantly aware of your surroundings and not taking unnecessary valuables with you is always recommended. Leave your passport, extra money and any other belongings you do not need during the day in the safe in your cabin.
You can access current information about the security situation in Italy by referring to the Canadian government travel advisory site at https://travel.gc.ca/destinations/italy
Suggested Reading
19 Days from the Apennines to the Alps