Sights & Sounds of Cuba
From $3,805
|
8 Days / 7 Nights
On this cruise to Cuba, a destination which has fascinated explorers for centuries, you'll see some of the country's most
iconic
colonial cities. Visit Cienfuegos
,
Trinidad,
and the
island where Castro founded
a
communist university. Spend three nights in Havana, where you'll discover
decades of history
,
along with colourful local landmarks, entertainment, and cuisine. 
---
Enjoy a 25% reduction on cruise fare on February 25, 2017 and March 11, 2017 sailings. 
View Google Map of Region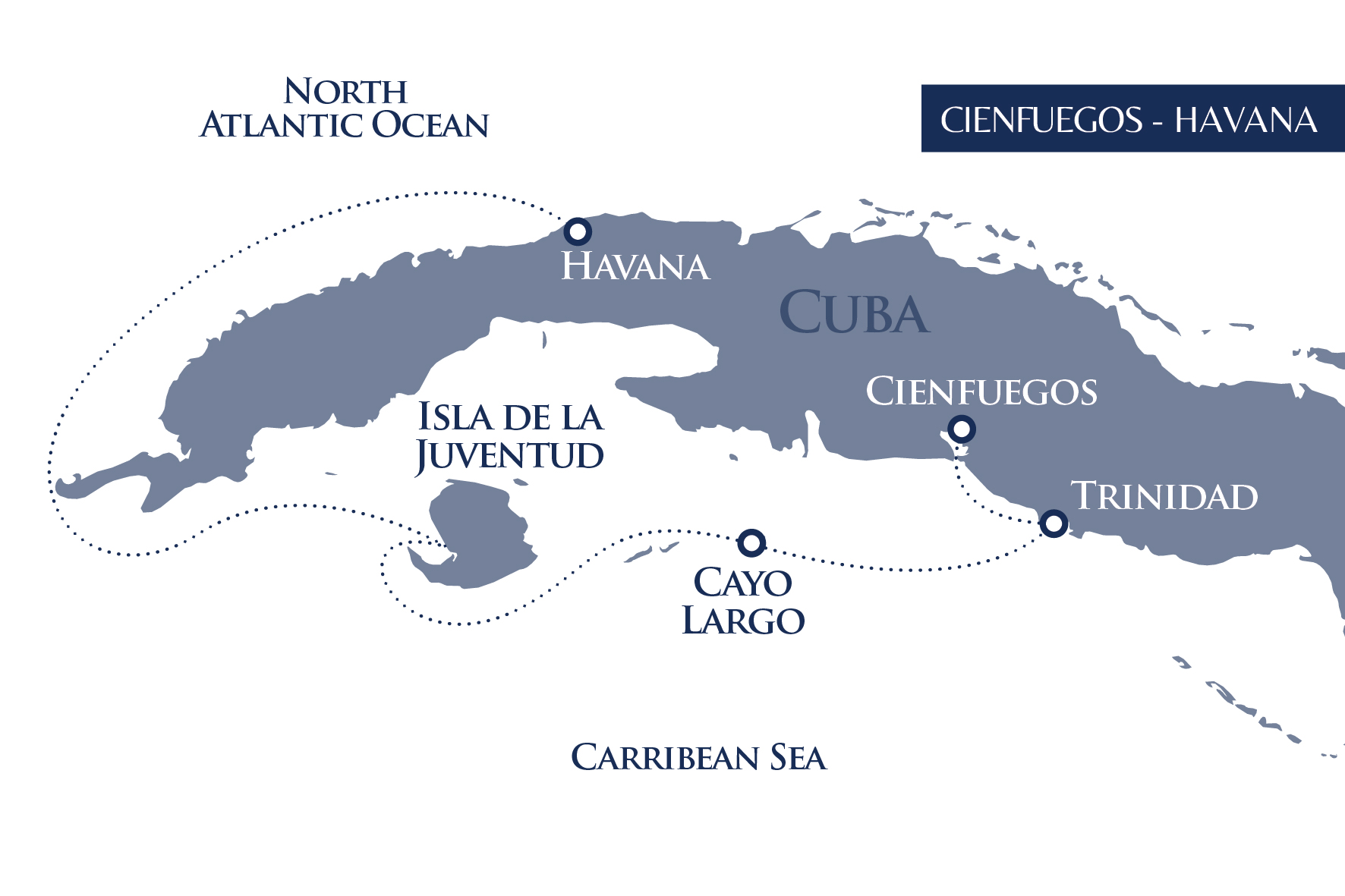 Daily Overview
Day
Destination
Activities
1
Cienfuegos
Optional excursion in the colonial city of Cienfuegos

EMBARKATION

2
Trinidad
Guided tour of UNESCO-listed Trinidad

Afternoon spent exploring at your leisure

3
Cayo Largo
Visit the Sea Turtle Breeding Center

Snorkel in open waters near the ship

4
Isla de la Juventud
Optional panoramic sightseeing tour

Relax during an afternoon at the beach

5
At Sea
Learn about Havana's history, culture, and people

Enjoy on-board amenities

6
Havana
Walking excursion through Old Havana

Take in a Tropicana nightclub show

7
Havana
Visit Finca Vigia, Hemingway's former house

Farewell dinner served on board

8
Havana
DISEMBARKATION
Detailed Itinerary
DAY 1 / HAVANA / CIENFUEGOS / EMBARKATION 
On your first day of this exciting voyage, travel by road from Havana to Cienfuegos. On the southern coast of Cuba, Cienfuegos lies approximately 250 kilometres from Havana. Known as the Pearl of the South, it was settled by the French, and was declared a UNESCO World Heritage Site in 2005. In the city, enjoy lunch at a local restaurant before taking lessons in a Cuban tradition—salsa dancing. You'll also take in a performance by the Chorus of Cienfuegos or a string quartet.
In the afternoon, visit the Graphic Arts Workshop, set off on foot to explore the city centre and see some of the city's finest architecture. Stop at a local produce market before boarding the ship, where you'll be treated to a warm welcome from our crew. Tonight, the ship sails for Trinidad.
DAY 2 / TRINIDAD 
After arriving in Trinidad, you may choose to set off on an excursion to this well-preserved Spanish colonial city. With its rich architecture, cobblestone streets, palaces, and numerous plazas, it's no wonder Trinidad is sometimes referred to as Cuba's "Museum City." On a walk through the town, immerse yourself in local history. You'll get to meet local residents and a municipal historian, and even see a scale model of Trinidad. Discover Plaza Mayor, the town's historic centre, which was named a UNESCO World Heritage Site in 1998. Here, you'll see the Palacio Brunet and the Romance Museum it houses, as well as the Palacio Cantero, which houses the Municipal History Museum. Finally, visit the studio of Lazaro, a unique and storied woodcarver, before savouring lunch at a typical Cuban restaurant. You'll have time to explore Trinidad at your leisure in the afternoon and return to the ship for dinner before it sets sail for Cayo Largo.
DAY 3 / CAYO LARGO 
In Cayo Largo, you have the option to disembark in the morning, paying a visit to a local clinic, where you'll learn about Cuba's healthcare system and engage with doctors and nurses.
Next, visit the Sea Turtle Breeding Center and learn about the Endangered Species Protection program. In the late morning you'll have a chance to snorkel in the open waters, taking in the magnificent coral reef, before lunch is served on the shore or on board. The remainder of the day will be spent cruising to Isla de la Juventud.
DAY 4 / ISLA DE LA JUVENTUD 
Isla de la Juventud, the second-largest Cuban island, was known as the Isla de Pinos (the Isle of Pines) until 1978, when Fidel Castro transformed it into an expansive communist university for students from around the world. Hence, its new name, "The Isle of Youth." The ship moors in front of the Colony Hotel. After breakfast, you may choose to disembark and take a bus to on a panoramic sightseeing tour of Nueva Gerona, the island's capital city, along with the famed university. You'll tour the Presidio Modelo, an abandoned prison where both Fidel and Raul Castro were incarcerated from 1953 to 1955.
Stop for lunch in Nueva Gerona before returning to the beach near the Colony Hotel, where you'll enjoy the rest of the afternoon near the water. Tonight, the ship sets sail for Havana.
DAY 5 / DAY SPENT AT SEA 
Experience the on-board amenities today as the ship makes its way to Havana, Cuba's compelling capital. The largest city in the Caribbean, Havana is home to colonial architecture and history, and as the epicentre of vibrant Cuban culture, it boasts streets brimming with life. Ernest Hemingway fell in love with this city, and countless visitors do, too.
Through films and lectures, learn about the Cuba's most storied city during a day spent at sea. Arriving in the evening, the ship moors overnight in Sierra Maestra Port in Old Havana.
DAY 6 / HAVANA 
After breakfast on board, disembark for an optional excursion in Havana, setting off on foot in the oldest part of the city. Founded in 1519 by the Spanish, Havana was formerly one of the most important ship building centres in the Caribbean. Its population has grown steadily, reaching 2.1 million in 2012. The city's streets feature an eclectic mixture of baroque and neo-classical monuments, arcades, and balconies. Old Havana was listed as a UNESCO World Heritage in 1982, and remains one of the most impressive historic city centres across the Americas.
Here, stop at Fusterlandia, the studio of artist José Rodriguez Fuster. His brightly coloured mermaids, roofs, walls, benches, doorways, and roosters stretch across houses, adorning the entire area. Fuster is thought to have been greatly inspired by Gaudi in Barcelona and Brancusi in Rome, but most of all by Picasso and Dubuffet.
After, relax during lunch at a paladar, a small, privately owned restaurant serving traditional Cuban fare, followed by a stop at the Merger Art Studio to view some magnificent sculptures and paintings before we continue to the San Jose Arts and Crafts Market. Here, near the pier, in a warehouse that dates back to 1885, you'll find carvings, shirts, art, music, and more—all of which make wonderful gifts. After dinner ashore, celebrate at the world-renowned Tropicana nightclub show. Mooring overnight.
DAY 7 / HAVANA 
This morning, you may choose to set off on an excursion to some of Havana's landmarks, including the University of Havana and Finca Vigia, the once-beloved former home of Ernest Hemingway—he wrote both For Whom the Bell Tolls and The Old Man and the Sea here.
Today, lunch is served at another paladar before you make your way to a one-of-a-kind  garage, where you'll see how the Cubans use creativity to keep their old cars in working condition. From there, it's a short drive back to Havana for an evening performance from the Havana Compass dance group. These gifted percussionists use drums, chairs, and whatever else they can find to produce magnificent dance rhythms, the soundtrack to a colourful dance performance that you are sure to remember for a long time to come.
Back on board the ship, you'll be treated to a farewell dinner to celebrate all you've seen and experienced in the past week.
DAY 8 / HAVANA / DISEMBARKATION 
Savour a relaxed breakfast on board the ship before disembarking in the morning.
Dates & Prices
Itinerary Code (Name of Itinerary)
 Itinerary Start Date
 Ship Name
 Route
Duration (Nights)
Category Pricing PP
C
B
A
P
ONAT-02
(Sights & Sounds of Cuba)
12/1/2017
M/Y Variety Voyager
Cienfuegos/Havana
7
$5,070
$5,820
$6,340
$7,690
12/8/2017
M/Y Variety Voyager
Havana/Cienfuegos
7
$5,070
$5,820
$6,340
$7,690
12/15/2017
M/Y Variety Voyager
Cienfuegos/Havana
7
$5,070
$5,820
$6,340
$7,690
12/22/2017
M/Y Variety Voyager
Havana/Cienfuegos
7
$5,070
$5,820
$6,340
$7,690
12/29/2017
M/Y Variety Voyager
Cienfuegos/Havana
7
$5,070
$5,820
$6,340
$7,690
1/5/2018
M/Y Variety Voyager
Havana/Cienfuegos
7
$5,070
$5,820
$6,340
$7,690
1/12/2018
M/Y Variety Voyager
Cienfuegos/Havana
7
$5,070
$5,820
$6,340
$7,690
1/19/2018
M/Y Variety Voyager
Havana/Cienfuegos
7
$5,070
$5,820
$6,340
$7,690
1/26/2018
M/Y Variety Voyager
Cienfuegos/Havana
7
$5,070
$5,820
$6,340
$7,690
2/2/2018
M/Y Variety Voyager
Havana/Cienfuegos
7
$5,070
$5,820
$6,340
$7,690
2/9/2018
M/Y Variety Voyager
Cienfuegos/Havana
7
$5,070
$5,820
$6,340
$7,690
2/16/2018
M/Y Variety Voyager
Havana/Cienfuegos
7
$5,070
$5,820
$6,340
$7,690
2/23/2018
M/Y Variety Voyager
Cienfuegos/Havana
7
$5,070
$5,820
$6,340
$7,690
3/2/2018
M/Y Variety Voyager
Havana/Cienfuegos
7
$5,070
$5,820
$6,340
$7,690
3/9/2018
M/Y Variety Voyager
Cienfuegos/Havana
7
$5,070
$5,820
$6,340
$7,690
3/16/2018
M/Y Variety Voyager
Havana/Cienfuegos
7
$5,070
$5,820
$6,340
$7,690
Port Charges included for 2017 sailings: $495
Port charges included for 2018 sailings: $640
Inclusions
Accommodation in double or twin cabins with private SH/WC & air conditioning
Full-board: American buffet breakfast and two meals daily, including a Welcome Cocktail, and Captain's Dinner
Regular (filter) coffee, tea and still mineral water free all day
Use of fishing and snorkelling equipment (subject to availability)
English Speaking Cruise Escort
Ship Details
MS Panorama
| | | | | | | |
| --- | --- | --- | --- | --- | --- | --- |
| Built | Length | Decks | Cabins | Passengers | Cabin Size | |
| 1993; Refurbished in 2001 and 2008 | 54m | 3 | 24 | 49 | 10.7 - 12.5m² | More Details |
Travel Tips
Cuba – Sights and Sounds of Cuba
Travel Documents
Passport
Canadian citizens should ensure that their passports are valid up until 1 month after their date of departure from Cuba.
Citizens of other countries should consult with their travel agent or our office.
Due to restrictions of U.S. law, this program is not available to U.S. citizens or permanent residents.
Visa
Canadian citizens are required to have a tourist visa (tourist card) prior to entry in Cuba which is valid for up to 3 months (90 days). Tourist cards will be handed out by the airline on all flights departing Canada.
Other entry requirements
While uncommon for most of our guests, when entering Cuba you may need to provide evidence of a return or onward ticket as well as 'sufficient funds' for your stay. Some cash and credit cards are normally sufficient.
Canadian citizens must also present proof of health insurance that is valid for the period of your stay in Cuba; such proof includes an insurance policy, insurance certificate or medical assistance card (photocopies are accepted). More information on this from the Canadian government can be obtained at:
www.travel.gc.ca/destinations/cuba
Packing List
A handy checklist of what to bring on your trip can be downloaded here.
Insurance
We strongly recommend the purchase of appropriate travel insurance for any trip outside of Canada. Information on travel insurance options can be found here.
Smoking
Smoking is not permitted indoors on the ship but there are designated areas on the outside decks where one can smoke.
Weather
February to March- Cooler temperatures in the high 10's to mid 20's.
April- Warmer climate with temperatures in the mid 20's to low 30's. Slightly humid.
Arrival / Departure
The closest airport to Havana, is the José Martí International Airport, which is about a 45 minute drive from the port area.
The closest airport to Cienfuegos, is the Jaime González Airport, which is about a 15 minute drive from the port area.
Once you have made your booking, we will provide detailed instructions on where your pickup point is on embarkation day in Havana/Cienfuegos, Cuba. If you have not made any pre or post tour arrangements with us, you will have to arrange your own transportation to and from the Port of Havana and Cienfuegos. We are happy to provide advice or to assist in arranging transfers.
The cruise will finish in the morning on the final day (Usually around 9:00AM). It is necessary to have settled your onboard account well before this time as instructed by the cruise director on the day before. You will then be transferred by coach to the Melia Cohiba Hotel for your onward journey.  When embarking in Cienfuegos, an overland transfer from Havana is included.
Please note that the travel time between Havana and Cienfuegos (embarkation/ disembarkation point) is approximately 3 hours.
There are a lot of historic and fascinating tourist attractions and activities in Cuba, we highly recommend a stay here before or after your voyage. Have a look at some of our Pre and Post Tours.
Money
In Cuba, the official currency is the Cuban Convertible Pesos, CUC. However, the Canadian Dollar is also accepted in small denominations.
All major credit cards and debit cards are widely accepted by larger shops and restaurants  in Cuba. When possible, only carry enough Cuban Convertible Pesos for the day and charge what you can to your credit cards.
There are ATM machines located in Matanzas, Cienfuegos, Santiago de Cuba and Varadero.
Gratuities (Tipping)
The gratuity suggested by the cruise line is USD 13 – 16 per guest per day.
Of course, gratuities are always at your discretion and the above recommendations are assuming you are thoroughly satisfied with services rendered. All gratuities will be equally divided amongst the entire crew.
Laundry
Laundry service is available for a small fee. Unfortunately, dry cleaning is not available.
Services & Activities On board
Aboard your yacht you will receive a Welcome Cocktail as a welcome gift. You'll find an elegant dining room, restaurant, spacious sun decks and comfortable lounges. No pools are on board as it is common for our guests to swim off our ships or for passengers to reach beaches by tender.  
You can also find a small borrowing library as well as board games and playing cards for your amusement. Movies are often shown in the vessels' Lounges, so please check in the Daily Program for show times.
Excursions
All CUBAN excursions must be Pre-Booked and Pre-Paid 20-days prior to embarkation, with no possibility for last-minute notice/participation.
Excursions will usually involve a fair amount of walking. If you have difficulty walking any distance, please let us know in advance and we will advise you on the best way that we can accommodate you.
Please refer to our website or consult the purser on board for additional information.
Regrettably, most of our excursions are not suitable for guests in a wheelchair.
Activity Level / Strenuousness
Light to Moderate – At most, participation in the shore excursions requires the ability to walk reasonable distances.
Food and Beverages
Breakfast, lunch and dinner are are included in your voyage. All drinks on board (alcoholic and non-alcoholic drinks are subject to extra charges).
Most meals in Cuba consists of meat, fruit and chillies.  
National dishes you should definitely try are the "Ropa Vieja". It's shredded beef (or sometimes lamb) served as a kind of stew, prepared over a slow heat with green peppers, tomatoes, onions and garlic; ajiaco is another rich stew whose ingredients vary from region to region, but always includes at least one kind of meat, corn and usually some green vegetables; and tasajo, a form of fried dried beef. One particularly divine delicacy is lechón, or suckling pig, commonly marinated in garlic, onions and herbs before being spit- or oven-roasted. Meat and seafood is often cooked enchilado, meaning in a tomato and garlic sauce with mild chilli.
Fruit is generally eaten at breakfast and rarely appears on a lunch or dinner menu.
Cuba's most beloved drink is its cocktails, including the ubiquitous Cuba Libre.
Language
The language spoken on board is primarily English. In general, there is a multilingual environment and you will have a chance to mix with a variety of nationalities. Excursions and public announcements are always in English.
Be sure to have a Spanish phrasebook when going sightseeing in Cuban towns and cities if your Spanish skills are limited.
Medical Facilities
There are no medical personnel on board the ship. However, crew members are trained in first aid and the purser can contact onshore medical people for emergency and nonemergency situations and evacuation can be facilitated in the most urgent cases.
Cabin Amenities
All cabins have private, nicely appointed bathrooms fitted with showers. All cabins are air-conditioned and connected to a central music system. There is a telephone for intra ship communication. Our ship contains in lounge TV's with satellite channels with at least a few English speaking programs. There are hairdryers in each cabin, flat-screen TV's, public address system, safe boxes, mini-fridges and DVD players in the cabins.
The ship's generator provides an electric voltage of 220V. Cabins are fitted with European type plugs so please remember to bring an adaptor if necessary.
For more details, please visit the Ships section on our website.
Phone & Internet
There is a phone in each cabin. Outgoing call rates are very high as a satellite connection is the only one possible.
WIFI is available in all cabin areas of the ship at a modest charge. As it is a satellite connection, internet speed will be very slow and we suggest it be used for urgent matters only.
If you would like to have regular data and phone connection while on land, we suggest either arranging an overseas roaming plan with your mobile operator, or pick up a local SIM card if you have an unlocked phone.
Children
Aboard the M/S Panorama there are no recreational facilities for children and reservations for those under the age of eleven are not advised. However, should you choose to bring children along please take into consideration that children onboard are their parents'/guardians sole responsibility.
Health / Vaccinations
Health measures should be taken before going on any trip. It is advisable to be up-to-date on your vaccinations.
For most short-term travellers the usual recommended vaccinations include cover against the childhood diseases (Tetanus, Diphtheria, Pertussis and Poliomyelitis, Varicella, Measles, Mumps and Rubella) as well as cover against the food and water borne diseases of Typhoid and Hepatitis A.
There is no vaccine or medication that protects against chikungunya virus.  The Public Health Agency of Canada recommends that travellers protect themselves from mosquito bites when travelling to areas where chikungunya may occur.
As has widely been reported in the media, the Zika Virus may also be present in Cuba and appropriate precautions should be taken.
As always, we recommend being in good health prior to any long distance travel. We strongly recommend consulting your physician about your intention to travel on this program to receive specific advice for your situation.
Safety & Security
The beautiful island of Cuba is like any other country, it is usually but not completely safe.  Being tourists in the city, security measures should be taken. Late night strolls alone are especially not advisable for women. When going out it's recommended not to take any valuables all, in some cases even cameras and/or smartphones out of one's hotel to reduce the chances of having an unfortunate incident occurring. Petty crime including pickpocketing, bag snatching and assault may occur in Havana, Cuba.
Jewelry, money, documents, etc., should be placed in your individual safe deposit boxes or given to the captain who will deposit items in the ship's safe boxes free of charge.
More information on this from the Canadian government can be obtained at:
www.travel.gc.ca/destinations/cuba
Suggested Reading