The Brazilian Coast
From $4,470
|
15 Days / 14 Nights
With over
11,000 kilometres
of coastline, Brazil boasts some of the world's most
interesting cities—not to mention
stunning tropical beaches.
This cruise along the Brazilian coastline exposes this country's fascinating history, jaw-dropping natural scenery, and vibrant culture. Excursions to landmarks—including the Amazon rainforest—are
a
bonus.
View Google Map of Region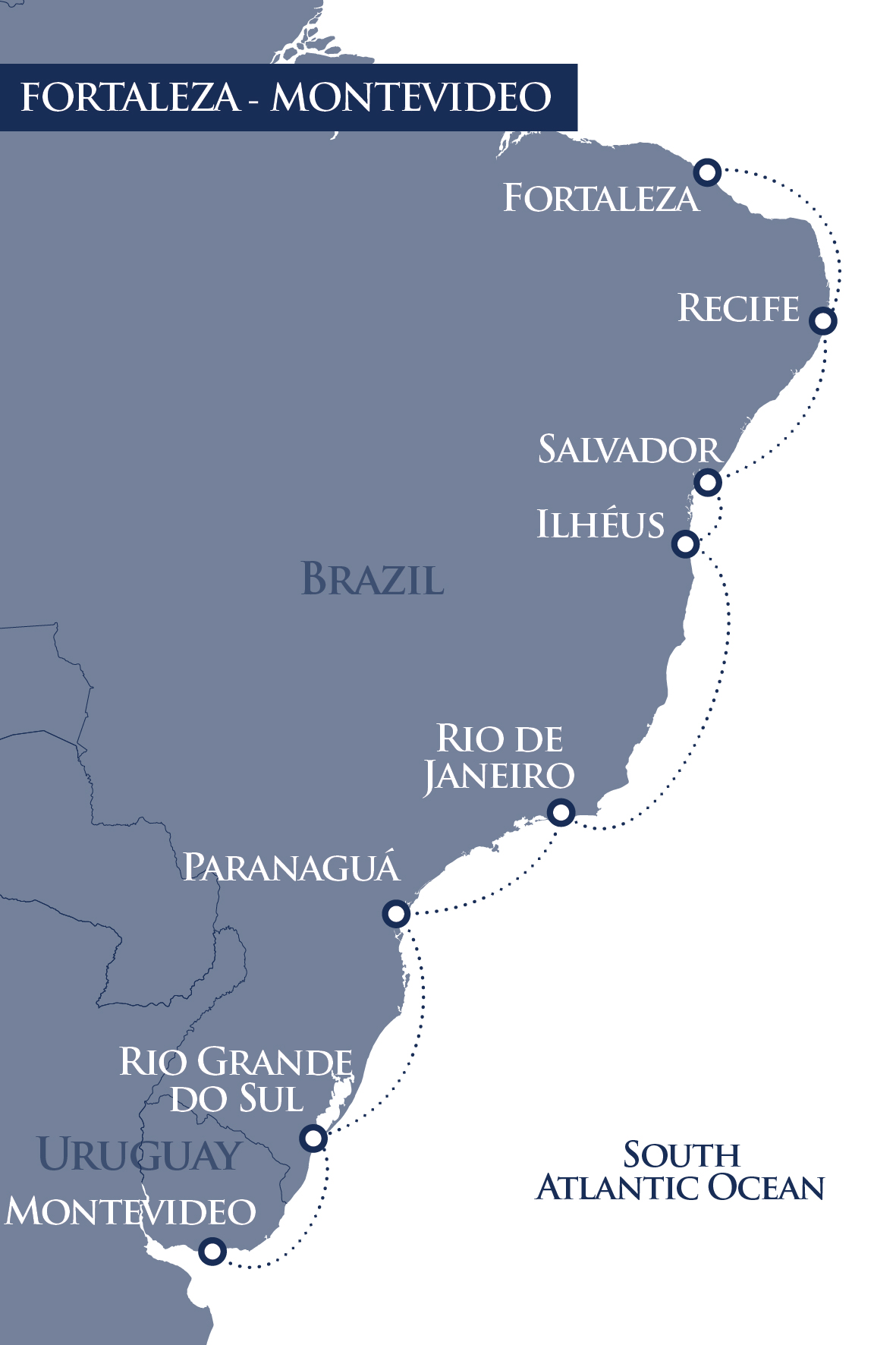 Daily Overview
Day
Destination
Activities
1
Fortaleza
EMBARKATION
2
At Sea
Enjoy on-board lectures or relax on the deck
3
Recife
Explore Recife, the "Brazilian Venice"

Join an excursion to UNESCO-listed Olinda

4
At Sea
Enjoy on-board lectures or relax on the deck
5
Salvador
Discover the sights and sounds of Salvador

Take in UNESCO-listed Pelourinho

6
Ilhéus
Choose from one of several exciting excursions

Or, spend the day lounging on the beach

7-8
At Sea
Enjoy on-board lectures or relax on the deck
9
Rio de Janeiro
Watch the sun rise over Rio de Janeiro

Choose from one of several city excursions

10
At Sea
Enjoy on-board lectures or relax on the deck
11
Paranaguá
Board the Serra Verde Express to Morretes

Visitthe rainforest in Salto Morato

12
At Sea
Enjoy on-board lectures or relax on the deck
13
Rio Grande do Sul
Explore this nature lover's paradise
14
Montevideo,Uruguay
Farewell dinner on board

Discover Uruguay's fascinating capital city

15
Montevideo,Uruguay
DISEMBARKATION
Detailed Itinerary
DAY 1 / FORTALEZA / EMBARKATION 
This expedition starts in Fortaleza. Before embarking the ship, experience Centro, the oldest part of town. This is a lively area to explore by day, with busy streets full of small stores and shops. Try some typical Brazilian food at one of the beachside barracas, a type of "rustic" restaurant. If you are interested in history and art, visit the fortress erected by Dutch captain Matias Beck in 1649, as well as Fortaleza's cathedral, the third-largest church in all of Brazil.
DAY 2 / DAY SPENT AT SEA  
Enjoy the tropical temperatures on deck, or take in one of the informative onboard lectures from our expedition team.
DAY 3 / RECIFE 
If you like your cities gutsy, gritty, and proud, Recife is the place for you. Several rivers divide this town into a collection of islands which are connected by more than 50 bridges. Hence, Recife's moniker as the "Brazilian Venice." In the old center, you will find numerous historical buildings, churches, cathedrals, and busy marketplaces waiting to be explored.
You may also choose to join an excursion to the UNESCO World Heritage Site of Olinda. The Portuguese founded this city in the 16th century, but after a looting by the Dutch in the 18th century, it had to be rebuilt. The houses, baroque churches, convents, and smaller chapels form a remarkable architectural.
DAY 4 / DAY SPENT AT SEA 
Today, birdwatch from the deck, attend a lecture or two, or simply relax with a good book.
DAY 5 / SALVADOR 
Salvador awakens all the senses. Here, you're invited to take in the sight of gold-encrusted panels on churches, the scents and exotic tastes of African-influenced food, along with the calls of street vendors, the roar of traffic, and the distinctive rhythm of Bahian music.
The city is divided into an upper and lower town connected by the Elevador Lacerda. On the ground floor of this elevator, you'll discover a well-known marketplace that sells local art. Pelourinho, the historic centre of Salvador, was declared a UNESCO World Heritage Site in 1985, and is an impressive example of Portuguese colonial architecture. Salvador also boasts an astounding number of churches. The city was a significant center for the Atlantic slave trade between the 16th and 18th centuries and today, four out of five of its inhabitants have African roots. African culture pervades Salvador's music and cuisine.
DAY 6 / ILHÉUS 
Today, arrive in Ilhéus, a relaxed town which offers botanical gardens, museums, churches, a sloth rehabilitation center, old sugar mills, cocoa plantations, and truly superb beaches. Join a birdwatching excursion, pay a visit to one of Ilhéus' many cocoa plantations, set off on a guided tour of the town, go snorkeling, or simply spend the day lounging on a sandy beach.
DAY 7 / DAY SPENT AT SEA 
Join the expedition team for more fascinating lectures on board, or enjoy some rest and relaxation, taking in the sunshine and the view from the deck.
DAY 8 / DAY SPENT AT SEA 
Take in fascinating lectures or relax on deck as the ship makes its way south along Brazil's fabulous coastline.
DAY 9 / RIO DE JANEIRO 
Rio de Janeiro is home to Carnival, samba, and Copacabana Beach. Spend the morning out on the on deck to get a first glimpse—and perhaps even see the sunrise over this vast city—as we sail into Guanabara Bay. You won't soon forget the sight of the 40-metre statue of Christ the Redeemer atop Corcovado Mountain.
Today, explore the city on your own, or join an excursion to one of this city's many well-known landmarks. Have a refreshing swim at the world-famous Copacabana beach, sip a cocktail in a bar while listening to some traditional samba music, and maybe even enjoy a typical Brazilian dinner of beef or fresh seafood in one of Rio's world-class restaurants.
DAY 10 / DAY SPENT AT SEA 
Take in fascinating lectures or relax on deck as the ship makes its way south along Brazil's fabulous coastline.
DAY 11 / PARANAGUÁ 
Wilderness adventures await in Paranaguá! Today, you may choose to board the Serra Verde Express to Morretes, enjoying spectacular views of the Atlantic forest and mountainous terrain. You may also choose to visit the rainforest in Salto Morato, where you'll be able to birdwatch, soak in crystal-clear streams, and discover impressive waterfalls.
DAY 12 / DAY SPENT AT SEA 
Today, join the expedition team for an onboard lecture or spend the day lounging on deck.
DAY 13 / RIO GRANDE DO SUL 
With its jaw-dropping, forest-covered canyons and cascading river valleys, Rio Grande do Sul is a paradise for nature enthusiasts and bird lovers in particular. This southernmost state is also among Brazil's most culturally distinct, with gaúchos, or cattle herders, and their cowboy culture.
DAY 14 / MONTEVIDEO (URUGUAY) 
Uruguay's capital city, Montevideo, is situated at the mouth of the Rio de la Plata. The harbour is very close to the city center. After the farewell dinner on board, you're invited to explore this town—and enjoy its vibrant nightlife—on your own.
DAY 15 / MONTEVIDEO (URUGUAY) / DISEMBARKATION 
Today, this truly special expedition comes to an end. If you've had too much sun and warmth, we recommend staying on the ship for its next expedition—as we sail even further south—to Antarctica!
Dates & Prices
ONAT-05 (Fortalezza to Montevideo)  09.10.2017
Category Pricing PP
Suite Type
Category
Price
Double
Single
Polar Inside
I
Minimum
$4,470
$5,580
Maximum
$5,960
$7,440
Polar Outside
L/J
Minimum
$4,670
$7,000
Maximum
$6,220
$9,330
N
Minimum
$4,870
$7,300
Maximum
$6,490
$9,740
O
Minimum
$5,030
$7,540
Maximum
$6,700
$10,050
Artic Superior
P
Minimum
$5,290
$9,260
Maximum
$7,050
$12,340
U
Minimum
$5,680
$9,940
Maximum
$7,570
$13,250
QJ
Minimum
$5,940
$10,390
Maximum
$7,910
$13,850
Expedition Suite
Q
Minimum
$6,560
$13,130
Maximum
$8,750
$17,500
M
Minimum
$7,330
$14,660
Maximum
$9,770
$19,540
MG
Minimum
$8,440
$16,880
Maximum
$11,260
$22,510
MX
Minimum
$10,500
$20,990
Maximum
$13,990
$27,980
Inclusions
Hurtigruten  Expedition Voyage in cabin category of your choice on a full board basis (daily buffet breakfast, buffet lunch, and set or buffet dinner)
Wind and water – resistant jacket
Landings and activities on board and ashore
Professional English-speaking Expedition Team that gives lectures and accompanies landings and activities
Complimentary tea and coffee
Ship Details
MS Midnatsol
| | | | | | | |
| --- | --- | --- | --- | --- | --- | --- |
| Built | Length | Decks | Cabins | Passengers | Cabin Size | |
| 2003 | 136m | 7 | 301 | 500 | 8 - 45m² | More Details |
Travel Tips
Coming Soon!
Please stay tuned for travel tips tailored for this itinerary!
For any immediate questions, please contact us as 905.258.7778.