The Gironde Estuary
From $2,650
|
8 Days / 7 Nights
Thousands of
vineyards
and world-famous
wineries
make Bordeaux
a must-see
destination for
wine lovers. But as you'll experience on this river cruise, the cities and towns on the banks of the Gironde estuary also boast
historic monuments—f
rom
castles and
medieval fortifications to Bordeaux's
numerous
UNESCO-listed sites.
View Google Map of Region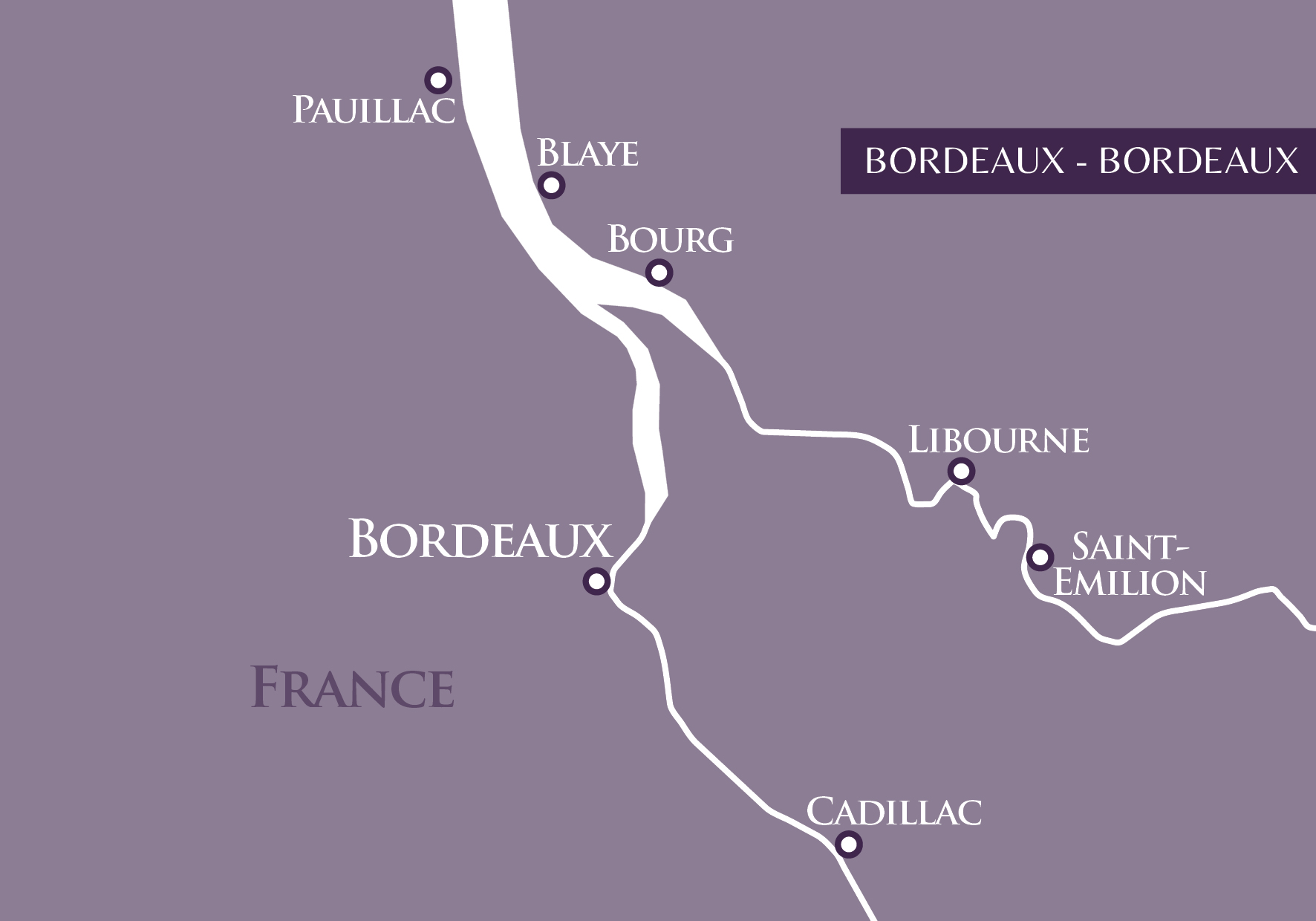 Daily Overview
Day
Destination
Activities
1
Bordeaux
EMBARKATION

Welcome cocktail, dinner, and entertainment.

2
The Médoc
Morning spent cruising

Explore the world-renowned Médoc wine region

3
Blaye
Discover the Corniche and the Blaye Citadel

Dinner and live entertainment

4
Saint-Émilion
Morning spent cruising

Tour and wine tasting in Saint-Émilion

5
Cadillac
See Cadillac and the Château de Roquetaillade

Dinner and live entertainment

6
Bordeaux
Coach and walking tour of  historical Bordeaux

Gala dinner

7
Bordeaux
Excursion to stunning Arcachon Bay

Day trip to Cognac, including tasting

8
Bordeaux
Breakfast

DISEMBARKATION
Detailed Itinerary
DAY 1 / BORDEAUX / EMBARKATION 
After boarding in the evening, settle into your cabin and enjoy a welcome cocktail as we present the crew. Tonight, relax and enjoy dinner and an evening of entertainment on board.
DAY 2 / BORDEAUX / PAUILLAC / THE MÉDOC 
This morning, take in the fresh air as you float down the Garonne, passing Île Cazeau before the river meets the Dordogne and forms the Gironde estuary. Lunch will be served on board. Upon arrival in Pauillac, you'll embark on a guided exploration of one of the world's most prestigious red wine-producing regions: the Médoc. Nestled between the Gironde and the Bay of Biscay, this region is home to some 1,500 vineyards, including numerous appellations (Saint-Julien, Margaux, Haut-Médoc, etc.). Stop along the mythic Route des Châteaux to see the Lafite-Rothschild, Latour, and Mouton-Rothschild castles and taste one of the area's famously full-bodied, high tannin red wines. Mooring overnight in Pauillac.
DAY 3 / PAUILLAC / GIRONDE ESTUARY / BLAYE  
Spend the morning admiring the scenery en route to Blaye. Located on the right bank of the Gironde estuary, this site has served as an important military stronghold throughout history due to its ideal lookout conditions. In the 17th century, Vauban, a celebrated French military engineer, constructed a citadel which offers panoramic views of the river. Listed as a UNESCO World Heritage Site in 2008, the Citadelle de Blaye sits atop a rocky outcrop and is surrounded by medieval ramparts.
In the afternoon, embark on an excursion to the Route de la Corniche, a narrow road which runs alongside the Dordogne, eventually opening onto the Gironde estuary. Here, see centuries-old fortifications amidst vineyards and gardens, houses nestled into cliffs, and carrelets—fishermen's cabins perched atop the water. Back on board, moor overnight in Blaye.
DAY 4 / BLAYE / BOURG or LIBOURNE / SAINT-ÉMILION 
This morning, set sail towards Bourg or Libourne, depending on the tides. Upon arrival, visit Saint-Émilion, a village whose history dates back to the prehistoric era. The town takes its name from an eighth-century Benedictine monk and miracle-worker who settled in a local cave from 750-767 AD. Saint-Émilion's handful of attractions include the statuesque Monolithic Church, the largest limestone cathedral in all of Europe. After, depart for a tour of a family-owned wine estate, where the owner will explain the time-honoured local tradition of wine-making and host a private tasting. After a full day of exploration, relax and enjoy dinner and entertainment on board before mooring for the night.
DAY 5 / BOURG or LIBOURNE / CADILLAC 
Float past charming villages and take in the vastness of the sky on the way to Cadillac. After enjoying lunch on board the ship, arrive in the early afternoon and set off by coach to the Château de Roquetaillade, an imposing medieval castle which has been inhabited by members of the same family for the last seven centuries. Arguably the most spectacular castle in the Bordeaux region, it features distinctive 19th-century interiors restored by French architect Viollet-le-Duc, who is widely renowned for his Gothic Revival architecture.
Next, visit a local Sauternes vineyard and enjoy a tasting of this characteristically sweet white wine made from Sémillion, Sauvignon Blanc, and Muscadelle grapes. You'll spend the remainder of the afternoon exploring the town of Cadillac. Situated on the right bank of the Garonne, this bastide, or fortified town, was founded by the Grailly family. Boasting the Château de Cadillac, the Château des Ducs d'Epernon, and the 15th-century Saint-Martin's Church, this small but historically rich town has much to offer visitors. Return to the ship by coach, where you'll enjoy a free evening. Mooring in Cadillac for the night.
DAY 6 / CADILLAC / BORDEAUX 
After cruising to Bordeaux from Cadillac, leave the ship for a guided tour of a city that boasts numerous cultural and historical wonders—after Paris, Bordeaux is home to the largest number of UNESCO World Heritage Sites in all of France. Travelling by coach, see the city's many landmarks before you set off on foot for a guided walking tour of Vieux Bordeaux, including the neo-classical Places des Quinconces, the Grand Théâtre, the Quartier Saint-Pierre, and the Opéra National, among others. Back on board the ship, you'll be treated to a gala dinner.
DAY 7 / BORDEAUX / ARCHACHON BAY or COGNAC 
Today's excursion will take you to see Arcachon Bay, a tour which begins with a stop at Port Larros, where the Oyster Museum features interactive exhibits that trace the fascinating history of the oyster and its cultivation in the region. After, sample some local oysters in a nearby restaurant before heading to Arcachon, where you'll travel by boat to explore Bird Island, passing charming cabanes tchanquées—houses that are built right on top of the water—on the way. Finally, see the oyster beds. Your last stop is the Great Dune of Pilat, which at 107 metres is the highest sand dune in all of Europe. From the top, the view of the surrounding bay is unparalleled.
Enjoy a farewell dinner in the evening aboard your ship.
DAY 8 / BORDEAUX / DISEMBARKATION 
Enjoy breakfast on board and say farewell to the crew and fellow travellers before disembarking in the morning.
Dates & Prices
Itinerary Code (Name of Itinerary)
 Itinerary Start Date
 Ship name
 Route
Duration (Nights)
Main Deck Pricing PP
Mid Deck Pricing PP
Upper Main Deck Pricing PP
Suite Deck Pricing PP
RREU-10
(The Gironde Estuary)
4/6/2017
MS Cyrano de Bergerac
Bordeaux/Bordeaux
7
$2,650
$2,850
$2,880
$2,920
4/18/2017
MS Cyrano de Bergerac
Bordeaux/Bordeaux
7
$2,650
$2,850
$2,880
$2,920
4/30/2017
MS Cyrano de Bergerac
Bordeaux/Bordeaux
7
$2,650
$2,850
$2,880
$2,920
5/12/2017
MS Cyrano de Bergerac
Bordeaux/Bordeaux
7
$2,840
$3,030
$3,070
$3,110
5/24/2017
MS Cyrano de Bergerac
Bordeaux/Bordeaux
7
$2,840
$3,030
$3,070
$3,110
6/5/2017
MS Cyrano de Bergerac
Bordeaux/Bordeaux
7
$2,840
$3,030
$3,070
$3,110
6/17/2017
MS Cyrano de Bergerac
Bordeaux/Bordeaux
7
$2,840
$3,030
$3,070
$3,110
6/29/2017
MS Cyrano de Bergerac
Bordeaux/Bordeaux
7
$2,840
$3,030
$3,070
$3,110
7/11/2017
MS Cyrano de Bergerac
Bordeaux/Bordeaux
7
$2,650
$2,850
$2,880
$2,920
7/23/2017
MS Cyrano de Bergerac
Bordeaux/Bordeaux
7
$2,650
$2,850
$2,880
$2,920
8/4/2017
MS Cyrano de Bergerac
Bordeaux/Bordeaux
7
$2,650
$2,850
$2,880
$2,920
8/16/2017
MS Cyrano de Bergerac
Bordeaux/Bordeaux
7
$2,650
$2,850
$2,880
$2,920
8/28/2017
MS Cyrano de Bergerac
Bordeaux/Bordeaux
7
$2,650
$2,850
$2,880
$2,920
9/9/2017
MS Cyrano de Bergerac
Bordeaux/Bordeaux
7
$2,840
$3,030
$3,070
$3,110
9/21/2017
MS Cyrano de Bergerac
Bordeaux/Bordeaux
7
$2,840
$3,030
$3,070
$3,110
10/3/2017
MS Cyrano de Bergerac
Bordeaux/Bordeaux
7
$2,650
$2,850
$2,880
$2,920
10/15/2017
MS Cyrano de Bergerac
Bordeaux/Bordeaux
7
$2,650
$2,850
$2,880
$2,920
Prices are per person based on double occupancy and include the classic excursion package.
RREU-10 Port Charge: N/A
RREU-10 Single Supplement:
Main Deck: $492
Mid Deck: $492
Upper Main Deck: $492
Suite Deck: $492
Inclusions
The cruise on a full board basis, with meals commencing with dinner on Day One and ending with breakfast on the final morning
Drinks including water, wine, beer, fruit juices and coffee served by CroisiEurope during meals on board; drinks served at the bar (excluding Champagne and wines on the wine list)
Accommodation in a double air-conditioned cabin with shower and WC
Onboard entertainment
The services of our hostess on board
Welcome cocktail
The Gala evening
Insurance covering aid and repatriation
All port taxes
Ship Details
MS Cyrano de Bergerac
| | | | | | | |
| --- | --- | --- | --- | --- | --- | --- |
| Built | Length | Decks | Cabins | Passengers | Cabin Size | |
| 2013 | 110m | 3 | 87 | 174 | 13m² | More Details |
Travel Tips
The Garonne/The Dordoge
Travel Documents / Visas
1. Passport
Canadian citizens must have a passport that is valid for at least 6 months after the last date of travel to enter France (EU).
Citizens of other countries should consult with their travel agent or our office.
2. Visa
No visa is required for France for leisure stays of up to 90 days.
Packing List
A handy checklist of what to bring on your trip can be downloaded here.
Insurance
We very strongly recommend the purchase of appropriate travel insurance for any trip outside of Canada. Information on travel insurance options can be found here.
Smoking
Not permitted anywhere indoors. There are designated areas on the outside decks.
Weather
April / May – cool to warm days in the high 10's / low 20's. Occasional rain
June to September – warm days in the mid to high 20's and cool evenings. Mostly dry.
October – cool days in the mid to high 10's. Occasional frost but mostly dry.
Arrival / Departure
Upon booking, we will provide detail instructions on how to meet your ship on embarkation day. If you have not made any pre or post tour arrangements with us, you will have to arrange your own transportation to and from the port of embarkation. We are happy to provide advice or to assist in arranging transfers.
The ship will not be ready for check-in before mid-afternoon. If you have luggage that you need to deposit so you can enjoy some free time in port, the purser may be able to accommodate you provided we know in advance.
The cruise will finish in the morning (usually around 9am) on the final day. It is necessary to have settled your onboard account and to have disembarked by this time as instructed by the cruise director on the day before.
Money
The currency is the EURO. It is uncommon for local shops and restaurants to accept any other currency.
Credit cards are acceptable for larger purchases in retail shops, but often not in restaurants or cafés.
ATM's accepting most international debit and credit cards can be found in abundance.
Gratuities (Tipping)
As always, gratuities are at your own discretion. If you feel the service has met or exceeded your expectations, the ship suggests an amount of EURO $ 5-10 per person per day.
Laundry
Unfortunately there are no laundry facilities on board so bring what you need for the cruise.
Excursions
Most of our programs include a full complement of excursions. Some additional excursions may be available on board at an extra cost. Please check with us or consult the purser onboard for additional information.
Excursions will usually involve a lot of walking, often on cobblestone streets. If you have difficulty walking any distance, please let us know in advance and we will advise how best we can accommodate you.
Regrettably, most of our excursions are not suitable to those confined to a wheelchair.
Activity Level / Strenuousness
Light – At most, participation in the shore excursions requires the ability to walk reasonable distances and some stairs.
Food
Breakfast, lunch and dinner are all included in your cruise fare so you shouldn't be too hungry. It is worthwhile to sample the local cuisine though. If you do get the chance, try the Entrecôte Marchand de Vin which is a local steak specialty best enjoyed with the red wine of the region. Also Agneau de Pauillac (lamb) is a favourite among the residents.
Obviously the wine of the region needs no introduction. There are many great Bordeaux wines that taste fantastic but don't have the price tags of the big name vineyards like Chateau Lafite-Rothschild.
Language
Your shipboard staff all speak English of course, but when you are wandering through the shops in small villages, the local folk may have little English. Time to brush up on that high school French or bring along a phrasebook or translation app.
Medical Facilities
There are no medical personnel onboard the ship. However, the purser can contact onshore medical people for emergency and non-emergency situations and rapid evacuation can easily be facilitated in the most urgent cases.
Phone & Internet
There is a phone in each cabin. As is typical, the charges for overseas calls are relatively high.
Free Wi-Fi is available in the main public areas of the ship but not necessarily in all cabins. As internet is provided through a mobile network, bandwidth (speed) will vary depending on the number of concurrent users, the proximity to a cell tower and other factors.
If you would like to have regular data and phone connection, we suggest either arranging an overseas roaming plan with your mobile operator, or pick up a local SIM card if you have an unlocked phone.
Health / Vaccinations
There are no vaccinations required to travel to France. As always, we recommend being in good health prior to any long distance travel. Consult your physician with any specific concerns in regard to this program.
Safety & Security
Despite recent events, France is extremely safe. Particularly the small cities and towns on this voyage, you should have nothing to be concerned about. This being said, being constantly aware of your surroundings and not taking unnecessary valuables with you is always recommended. Leave your passport, extra money and any other belongings you do not need during the day in the safe in your cabin.
You can access current information about the security situation in France by referring to the Canadian government travel advisory site at https://travel.gc.ca/destinations/france 

Suggested Reading
Eyewitness Guide to Dordogne, Bordeaux & the Southwest Coast