Top of the World
From $36,400
|
14 Days / 13 Nights
This incredible
expedition starts in Murmansk, Russia, where you'll
board a
state-of-the-art nuclear-powered icebreaker for a roundtrip voyage to the
geographic North Pole
! Experience the exhilaration of standing on top of the world, and discover the rarely visited Russian Arctic archipelago of Franz Josef Land.
This is a
n extraordinary
adventure
on a
one-of-a-kind ship
.
View Google Map of Region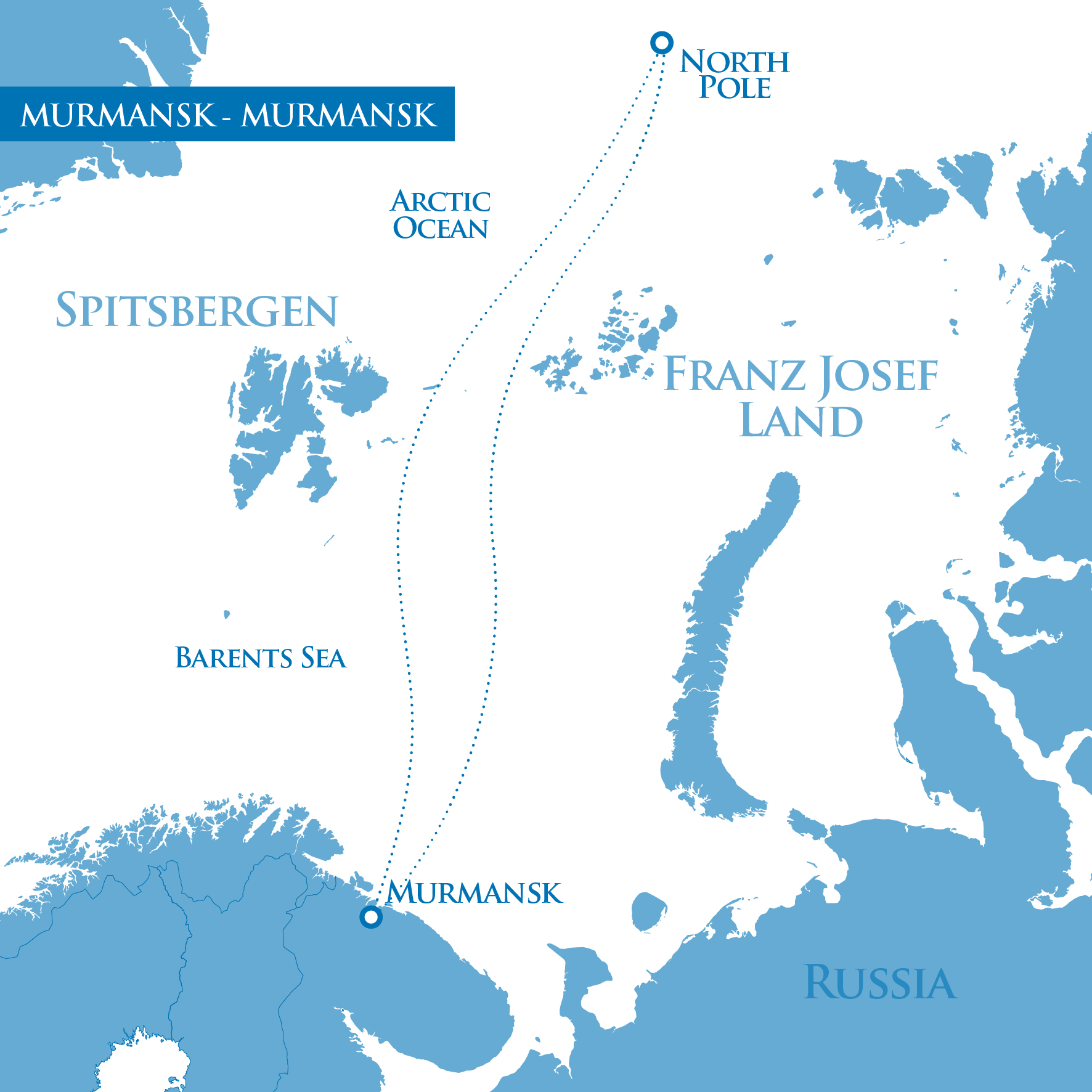 Daily Overview
Day
Destination
Activities
1
Murmansk
Arrive in Murmansk on Russia's Kola Peninsula
2
Murmansk
EMBARKATION

Sail north out of Kola Bay

3-6
Voyage North
Keep a lookout for whales from the deck

Optional helicopter tours

7
North Pole
Drop anchor and disembark at 90° North

Take a walk around the world

8-10
Franz Josef Land
See quintessential High Arctic wildlife

Trace the paths of famous Arctic explorers

11-12
Voyage South
Sail south across the Barents Sea

Enjoy on-board activities and amenities

13
Murmansk

Moscow

DISEMBARKATION

Flight to Moscow and hotel check-in

14
Moscow
Breakfast
Detailed Itinerary
DAY 1 / MURMANSK 
Welcome to the city of Murmansk. Located on Russia's Kola Peninsula, this is the starting point of our adventure. Upon arrival at the airport, transfer to your hotel.
DAY 2 / MURMANSK / EMBARKATION
After a group transfer to the port, you'll be welcomed aboard the 50 Let Pobedy, a nuclear-powered icebreaker. Explore the ship and find your bearings as we slip our moorings and sail north out of Kola Bay.
DAYS 3-6 / VOYAGE NORTH 
On no occasion is it more true that "getting there is half the fun." As we cruise northward through the Barents Sea, you'll have a chance of seeing whales. Meanwhile, you may also choose to learn about the unique icebreaking capabilities of the ship or tour the engine room.
As the ship makes its way across the ice cap, witness firsthand its awesome power. Massive ice blocks give way under the enormous bulk of the spoon-shaped bow. The sensation of being on deck at this time is surreal and unforgettable.
Take advantage of the 24-hour daylight and set off on a helicopter flight-seeing tour. From the air, you can observe the ship crushing a path through the ice. You also have a unique vantage point from which to witness the stunning beauty of this vast polar icescape.
DAY 7 / NORTH POLE 
Welcome to the geographic North Pole! After carefully navigating to 90° North, we ceremoniously drop anchor on a sturdy stretch of ice, and disembark onto the frozen sea.
Now is the time to experience the long-anticipated thrill of standing at the top of the world. Join hands with your fellow passengers and literally take a walk around the world during a special International Round Dance. You will be treated to a barbeque on the ice. You may even have the chance to take a plunge into the icy water!
After a memorable time at the North Pole, the ship changes direction, heading south—but the adventure is not over yet. The High Arctic archipelago of Franz Josef Land is still to come.
DAYS 8-10 / EXPLORATION OF FRANZ JOSEF LAND 
The Franz Josef Land archipelago, part of the Russian Arctic National Park since 2012, is a nature sanctuary. Polar bears and other quintessential High Arctic wildlife—such as walruses and some rare whale species—can be spotted anytime, anywhere in and around Franz Josef Land. Scree slopes and cliffs around the islands host enormous nesting colonies of migratory seabirds, including guillemots, dovekies, and ivory gulls. Take advantage of 24-hour daylight to observe wildlife and set off on excursions via Zodiac and helicopter.
Franz Josef Land is also home to some interesting geological features, such as the mysterious stone spheres on Champ Island. Those interested in geographical extremes may take note that Cape Fligely, on Rudolf Island, is the northernmost point of land in the Eastern Hemisphere.
Franz Josef Land also offers visitors the opportunity to walk in the footsteps of famous polar explorers at well-preserved historical sites. The stories of explorers such as Julius von Payer, Benjamin Leigh Smith, Frederick George Jackson, and Fridtjof Nansen come alive at Cape Norway, Cape Flora, Eira Harbour, and Cape Tegetthoff. Journals, memorials, monuments, crosses, and remnants of dwellings serve as a testimony to the incredible historical events that are further illuminated by our expert lecturers.
Tikhaya Bukhta is currently a Russian Arctic National Park ranger station occupying Soviet-era research buildings. It was once a major base for polar expeditions. Nearby, the fascinating columnar basalt cliffs of Rubini Rock are home to thousands of nesting seabirds.
DAYS 11-12 / VOYAGE SOUTH 
After an incredible experience in Franz Josef Land, cross back south through the bountiful waters of the Barents Sea. Presentations and workshops by our expert staff ensure that these days at sea are not idly spent. You may also take advantage of onboard facilities and amenities such as the polar library, volleyball court, gym, saunas, heated seawater pool, gift shop, and massages. Scout for seabirds and whales from panoramic open decks and exterior stateroom windows.
DAY 13 / MURMANSK / DISEMBARKATION / MOSCOW 
After breakfast on board, say farewell in Murmansk. Take a transfer to the airport or to the city center, depending on the time of your flight to Moscow. After your North Pole expedition, enjoy a stay at a hotel in Moscow.
DAY 14 / MOSCOW 
After breakfast, you are free to make your way back to the airport or to extend your stay in Moscow.
Dates & Prices
Itinerary Code
(Name of Itinerary)
 Itinerary Start Date
 Ship name
 Route
Duration (Nights)
Price Per Person
ENAR-10

(Top of the World)

6/14/2017
50 Years of Victory
Murmansk/Moscow
13
$36,400
6/25/2017
50 Years of Victory
Murmansk/Moscow
13
$36,400
Prices are per person based on double occupancy.
Inclusions
1 night pre-cruise hotel accommodation in Murmansk, Russia, with breakfast;
1 night post-cruise hotel accommodation in Moscow, Russia, with breakfast;
Transfer from airport to the hotel in Murmansk 1 day prior to departure;
Transfer from hotel to the port in Murmansk on embarkation day;
Transfer from the port to the airport or central location in Murmansk upon disembarkation;
Shipboard accommodation with housekeeping;
Shipboard breakfasts, lunches and dinners;
Coffee, tea and cocoa available around the clock;
All shore excursions and activities throughout the voyage by helicopter;
All shore excursions and activities throughout the voyage by zodiacs;
Shore landings included in daily program;
Program of lectures and informal discussions by experienced Expedition Team and guest lecturers;
Professional Expedition Leadership;
Branded Poseidon Expeditions parka;
Rubber boots for shore landings for the time of the cruise;
Hair dryer and bathrobes in each cabin;
Informative pre-departure materials;
Digital Voyage Log;
All miscellaneous service taxes and port charges throughout the program;
All shipboard luggage handling;
Personalized medical insurance covering the risks of evacuation and repatriation. Coverage: 100,000 EUR. Duration: cruise days only. This is only for passengers under 85 years old. Passengers over 85 years old are to purchase their owninsurance policy with coverage not less than 100,000 EUR;
Letter of Invitation. This document should be presented to the Russian Consulate in your area in order to obtain a Russian Visa. Please, contact the Russian Consulate to learn more about the procedure for obtaining a Russian Visa. Do not hesitate to contact Poseidon Expeditions if any questions arise. Let us know if you have any difficulties in visa processing.
Ship Details
50 Years of Victory
| | | | | | | |
| --- | --- | --- | --- | --- | --- | --- |
| Built | Length | Decks | Cabins | Passengers | Cabin Size | |
| 2007 | 160m | 4 | 64 | 128 | 14 - 33m² | More Details |
Travel Tips
The Arctic
Travel Documents / Visas
1. Passport
Canadian citizens must have a valid passport for entry to any of our Arctic destinations.
Our cruise partners require that your passport be valid for 6 months after the end date of your trip.
Citizens of other countries should consult with their travel agent or our office.
2. Visa
No visa is required for citizens of Canada to enter any of our Arctic destinations.
Packing List
A handy checklist of what to bring on your trip can be downloaded here.
Insurance
You MUST have travel insurance to participate in any Arctic program. Options on coverage are available from your travel agent or here.
Smoking
Not permitted anywhere indoors. There are designated areas on the outside decks.
Weather
The weather in the Arctic regions of the North Atlantic can vary greatly depending on fronts that can move fairly rapidly in conjunction with ocean currents. We advise to be on the safe and bring adequate warm cloting.
Summer days often do not exceed 10C, although it is possible for temperatures to reach into the high teens under the strong sun in protected areas like Greenlandic fjords.
It is typically quite dry in the summer months but can be very windy, particularly when crossing open stretches of sea. The wind combined with the cool temperatures could make it feel colder than it actually is. As is so often suggested, dressing in layers is the best way to stay warm and yet account for the changing temperatures.
Arrival / Departure
Upon booking, we will provide detail instructions on where to check-in for your Arctic expedition depending upon your embarkation point.  We strongly suggest arriving at least one day prior to avoid any chance of missing the sailing since there is no easy way to join the ship after it has departed.
On your return, if you are flying back home the same day as the ship arrives (assuming you are not on a program where the charter flight is part of the program), we strongly recommend that you stay over at least one night were possible. Although very rare, weather conditions could delay the exact return time and we cannot assume any responsibility for missed flights due to any delays.
Money
The currency of Norway is the Norwegian Kronor (NOK).
The currency of Greenland is the Danish Krone (DKK).
The currency of Iceland is the Icelandic Krona (ISK).
Onboard, you will be issued a cruise card which you can use to charge all purchases during your voyage. You must provide a Visa, American Express, Diners or MasterCard that is valid for at least 3 months after your trip date.
The final bill will be charged to your account in Norwegian Kronor (NOK).
ATM's accepting most international debit and credit cards can be found in abundance in Norway and Iceland. However, after you leave these cities for the trip, it is extremely unlikely you will see another ATM until your voyage ends. We regret, there is no currency exchange facility onboard the ship.
For small purchases in Iceland and Greenland, you should have some of the local currency as USD may not be accepted.
Gratuities (Tipping)
Gratuities suggested by the cruise line are:
USD 12.00 per guest per day to be divided amongst the entire crew.
Laundry
Laundry service is available for a small fee. Regrettably, dry cleaning is not available.
Excursions
All regular shore landings as noted in the itinerary are included in your voyage. Some additional excursions may be available on board at an extra cost. Please check with us or consult the purser onboard for additional information.
Many shore landings will start a zodiac boat ride to shore where you will land and be assisted onto shore via some portable steps. The ground is sometimes covered with small rocks / gravel.
Activity Level / Strenuousness
Light to Moderate – Participation in the shore landings requires the ability to board (with assistance) a zodiac boat from the main ship and on to shore. There are generally no long distances to walk on the Arctic programs.
Food
Breakfast, lunch and dinner are all included in your cruise fare.
Should you have the opportunity to sample Greenlandic fare, you should jump at the chance. Much of the food here comes either from the sea like the infamous Greenlandic halibut, but also truly 'free range' meat from animals like the reindeer, muskox, and local lamb.
When in Iceland, you'll find that the food is somewhat more "Europeanized". However, local dishes such as "Hangikjöt" (smoked lamb) or "Skyr" (kind of like yoghurt but not), are well worth trying. If you are really brave, look for "Svið" which is boiled sheep's head. They say it's delicious.
Language
In all the stops along the way, you will find that the local people speak at least some, if not fluent, English. You may find run into a real native Greenlander who doesn't understand you, but then you'd be lucky.
Medical Facilities
There is an English-speaking physician and nurse on board at all times. The ship has a small medical facility with the necessary equipment and drugs to handle small emergencies. In the event of a serious emergency, the nearest hospital will be contacted. Medical consultations as well as medicines will be charged to the passenger affected. If you depend on medication, remember to bring sufficient supplies to last through any unforeseen delays. We also recommend that you keep your medication in your hand luggage properly labelled and with clear instructions for its use. If you depend on vital drugs, please inform the ship's doctor upon arrival.  Illness on board can lead to quarantine and orders from the ship's physician and captain, must be followed.
Phone & Internet
There is a phone in each cabin. Call rates are very high as a satellite connection is the only one possible.
Wi-Fi is available in certain areas of the ship at a modest charge. As it is a satellite connection, internet speed will be very slow and we suggest it be used for urgent matters only.
Health / Vaccinations
There are no vaccinations required to travel to Arctic destinations. However, we suggest you consult your physician with any specific personal requirements for this program.
You must also have travel insurance to participate on this voyage.
Safety & Security
Our ships are equipped with the latest in emergency communication, life boats and other equipment to deal with any kind of problematic event. If you have any questions or concerns, please contact our office for more details.
The destinations involved do not currently have any security threats.
Suggested Reading
This Cold Heaven: Seven Seasons in Greenland
Arctic: A Guide to Coastal Wildlife
Vikings: The North Atlantic Saga
Baffin Island: Field Research and High Arctic