Tulip Time
From $3,340
|
8 Days / 7 Nights
Embark in
Amsterdam, with its legendary canals and 17th-century architecture, then follow
the
waterways
of the Low Countries to
Antwerp
where you may
sample local chocolate and waffles.
Opt to e
xperience UNESCO-listed Bruges or the medieval city of Ghent before visiting Rotterdam, the windmills of
Kinderdijk
, and the vast
Keukenhof
tulip gardens on your way back to the
Dutch capital. 
View Google Map of Region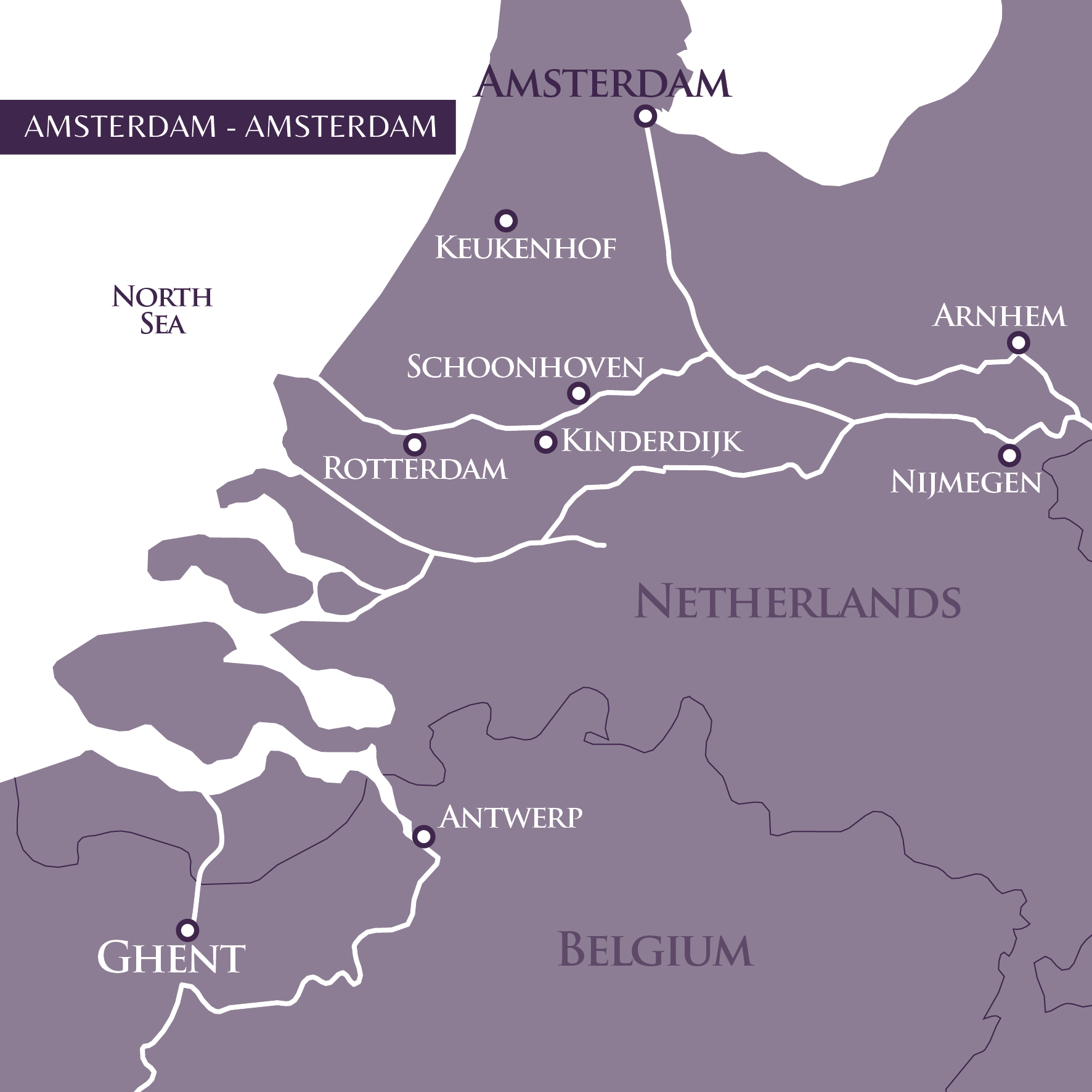 Daily Overview
Day
Destination
Activities
1
Amsterdam
EMBARKATION

Welcome dinner

2
Amsterdam

Hoorn

City tour, including Royal Palace and Begijnhof

Visit a tulip farm OR East India replica ship

3
Arnhem

Visit the Arnhem Bridge and Airborne Museum

OR see the Kröller Müller Museum OR bike tour

4
Antwerp
Walking tour OR visit painter Rubens House

Chocolate and waffles tasting OR bike tour

5
Ghent

Bruges

City tour and chocolate tasting OR city bike tour

OR full-day excursion to UNESCO-listed Bruges

6
Rotterdam

Kinderdijk

Visit The Hague OR Delta Works OR bike tour

See the Netherlands' iconic windmills

7
Amsterdam
Excursion to world-renowned Keukenhof Gardens

Canal cruise OR Zaanse Schans OR Jordaan tour

8
Amsterdam
DISEMBARKATION
Detailed Itinerary
DAY 1 / AMSTERDAM / EMBARKATION 
Welcome to Amsterdam, a modern city with a rich and fascinating 700-year-old history. Explore the Dutch capital's distinctive and elegant architecture, lively cafés, bustling markets, and vibrant nightlife scene. After boarding the ship, meet your fellow travellers at a celebratory welcome dinner.
DAY 2 / AMSTERDAM / HOORN 
Following breakfast, embark on a panoramic tour of Amsterdam, including the iconic landmarks of Begijnhof and the Royal Palace. Return to the ship and relax while you cruise the Ijsselmeer through lunch, arriving in Hoorn in the afternoon. Here, choose to visit a tulip farm, driving through vast fields of flowers, or see De Halve Maen, a Dutch East India Company replica ship, followed by a walking tour of Hoorn.
DAY 3 / ARNHEM / NIJMEGEN 
Arriving in beautiful Arnhem early this morning, choose between three tour options. You might wish to see the monument commemorating the battle made famous in the classic film, A Bridge Too Far. Following that, you'll visit the Airborne Museum and learn about Operation Market Garden, a failed strategic maneuver during WWII. Alternatively, visit the Kröller Müller Museum, which is home to the second-largest Van Gogh collection in the world, or join a guided bike ride through Arnhem.
Following your tour, return the ship for lunch and cruise to Nijmegen, where you'll enjoy some time at your leisure before scenic sailing through the Netherlands en route to Belgium.
DAY 4 / ANTWERP  
Spend your morning in Antwerp on one of the following fascinating excursions: Take a walking tour through the city—see the revered Antwerp Castle, Grote Market, and the Brabo Fountain as you take in the city's superb architecture. Your second option is a visit to Rubernshuis, the former home of Rubens, the famed Flemish Baroque painter. In the afternoon, choose between a tasting of some of Belgium's sweet exports—chocolates and waffles—or a guided bike ride through the city. Following dinner, depart for Ghent.
DAY 5 / GHENT  
Today, you might choose to set off on a full-day excursion to Bruges, the capital of West Flanders and a UNESCO World Heritage Site. Here, explore this medieval city's historic Grote Market and centre, see canals, churches, and almshouses. If you prefer to stay in Ghent, choose between a walking tour featuring city landmarks such as Belfry Hall, the Koornlei, the Graslei, and the Castle of the counts followed by a chocolate tasting, or a guided bike ride through the city.
DAY 6 / ROTTERDAM / KINDERDIJK / SCHOONHOVEN  
Discover compelling Rotterdam on one of three tours. Choose to see the Hague and visit Delft, known for its canals, historic town centre, and Delftware, the Netherlands' characteristic hand-painted blue-and-white pottery. Instead, you might prefer to see the Delta Works, an impressive series of dams which showcase Dutch hydraulic engineering. Or, join a guided bike tour.
In the afternoon, visit the UNESCO World Heritage Site of Kinderdijk, a village renowned as the site of the country's greatest concentration of windmills, all of which date back to the 18th century. Tonight, cruise to Schoonhoven, where you'll have some free time to explore as the ship moors overnight.
DAY 7 / AMSTERDAM / KEUKENHOF / AMSTERDAM 
Today, return to Amsterdam. Admire the spectacular display of millions of flowering tulips during a morning excursion to the world-famous 70-acre Keukenhof Gardens. In the afternoon, experience a scenic cruise through Amsterdam's canals and historic harbour. See the tall, narrow homes lining the water and the fabled Skinny Bridge, as well as the house where Anne Frank's family hid during World War II. Alternatively, you might choose to embark on an excursion to delightful Zaanse Schans, a small, historic village on the outskirts of Amsterdam. Or, stay in Amsterdam for a walking tour of the well-to-do Jordaan district. Mooring overnight in Amsterdam.
DAY 8 / AMSTERDAM / DISEMBARKATION 
Leave the ship behind in Amsterdam as you prepare for your journey onward.
Dates & Prices
Itinerary Code (Name of Itinerary)
 Itinerary Start Date
Embark Date
 Ship name
 Route (Start/Embark/End Locations)
# of Nights (Cruise, Cruise + Land)
Category – Cruise Only Pricing PP
E
D
C
BB
BA
AB
AA
AA+
Suite
RREU-23
(Tulip Time)
23/03/2017
23/03/2017
MS AmaPrima
Amsterdam/Amsterdam/Amsterdam
7, N/A
$3,340
$3,710
$4,460
$5,090
$5,340
$5,590
$5,840
$6,590
$7,340
27/03/2017
27/03/2017
MS AmaCerto
Amsterdam/Amsterdam/Amsterdam
7, N/A
$3,340
$3,710
$4,460
$5,090
$5,340
$5,590
$5,840
$6,590
$7,340
30/03/2017
30/03/2017
MS AmaPrima
Amsterdam/Amsterdam/Amsterdam
7, N/A
$3,460
$3,840
$4,590
$5,210
$5,460
$5,710
$5,960
$6,710
$7,460
03/04/2017
03/04/2017
MS AmaCerto
Amsterdam/Amsterdam/Amsterdam
7, N/A
$3,460
$3,840
$4,590
$5,210
$5,460
$5,710
$5,960
$6,710
$7,460
06/04/2017
06/04/2017
MS AmaPrima
Amsterdam/Amsterdam/Amsterdam
7, N/A
$3,590
$3,960
$4,710
$5,340
$5,590
$5,840
$6,090
$6,840
$7,590
10/04/2017
10/04/2017
MS AmaCerto
Amsterdam/Amsterdam/Amsterdam
7, N/A
$3,710
$4,090
$4,840
$5,460
$5,710
$5,960
$6,210
$6,960
$7,710
13/04/2017
13/04/2017
MS AmaPrima
Amsterdam/Amsterdam/Amsterdam
7, N/A
$3,840
$4,210
$4,960
$5,590
$5,840
$6,090
$6,340
$7,090
$7,840
17/04/2017
17/04/2017
MS AmaCerto
Amsterdam/Amsterdam/Amsterdam
7, N/A
$3,840
$4,210
$4,960
$5,590
$5,840
$6,090
$6,340
$7,090
$7,840
24/04/2017
24/04/2017
MS AmaCerto
Amsterdam/Amsterdam/Amsterdam
7, N/A
$4,090
$4,460
$5,210
$5,840
$6,090
$6,340
$6,590
$7,340
$8,090
27/04/2017
27/04/2017
MS AmaPrima
Amsterdam/Amsterdam/Amsterdam
7, N/A
$4,210
$4,590
$5,340
$5,960
$6,210
$6,460
$6,710
$7,460
$8,210
RREU-23 Single Supplement:
Cruise Portion: 50% of twin price; AA+ and Suites are 100% of twin price
Land Portion: N/A
Inclusions
7 nights deluxe cruise accommodation in an outside stateroom – most staterooms offer French Balconies or revolutionary Twin Balconies
Shore excursions in every port with personal headset included
Limited Edition Tours
Entertainment on demand in all staterooms featuring free high-speed internet access, hit Hollywood movies, extensive music library and English language TV stations
Complimentary Wi-Fi access on board
Terry bathrobes and white-on-white plush bedding in all staterooms
Fine dining with all meals included during your cruise
Multiple dining venues
Unlimited red and white wines from Europe's great wine regions, beer and soft drinks with every lunch and dinner on board
Bottled water in every stateroom replenished daily
Cocktail Reception, Welcome Dinner and Captain's Gala Dinner
Special highlights including lectures, cooking demonstration, onboard music performances and piano music
Bicycles to explore on your own and guided bicycle tours
Services of professional Cruise Manager
All English language on board in a non-smoking environment (smoking permitted only on the Sun Deck)
Transfers between hotel and ship are included with the purchase of cruise and land package; airport transfers are included with the purchase of airfare from AmaWaterways
All local taxes
Ship Details
MS AmaPrima
| | | | | | | |
| --- | --- | --- | --- | --- | --- | --- |
| Built | Length | Decks | Cabins | Passengers | Cabin Size | |
| 2013 | 135m | 4 | 82 | 164 | 19.5 - 28m² | More Details |
MS AmaCerto
| | | | | | | |
| --- | --- | --- | --- | --- | --- | --- |
| Built | Length | Decks | Cabins | Passengers | Cabin Size | |
| 2012 | 135m | 4 | 82 | 164 | 19.5 - 28m² | More Details |
Travel Tips
The Dutch Canals
Travel Documents / Visas
1. Passport
Canadian citizens must have a passport that is valid for at least 3 months after the last date of travel to enter the Netherlands or Belgium (EU).
Citizens of other countries should consult with their travel agent or our office.
2. Visa
No visa is required for citizens of Canada travelling in the Netherlands for leisure up to 90 days.
Packing List
A handy checklist of what to bring on your trip can be downloaded here.
Insurance
We very strongly recommend the purchase of appropriate travel insurance for any trip outside of Canada. Information on travel insurance options can be found here.
Smoking
Not permitted anywhere indoors. There are designated areas on the outside decks.
Weather
In March the temperatures are still quite cool averaging in the high single digits to low 10s. There is a 50:50 chance of rain during this month.
By April temperatures warm up to the low to mid 10s although there is a still a likelihood of rain at least 50% of the time. A good, warm raincoat is a must.
Arrival / Departure
Upon booking, we will provide detail instructions on how to meet your ship on embarkation day. If you have not made any pre or post tour arrangements with us, you will have to arrange your own transportation to and from the port of embarkation. We are happy to provide advice or to assist in arranging transfers.
The ship will not be ready for check-in before mid-afternoon. If you have luggage that you need to deposit so you can enjoy some free time in port, the purser may be able to accommodate you provided we know in advance.
The cruise will finish in the morning (usually around 9am) on the final day. It is necessary to have settled your onboard account and to have disembarked by this time as instructed by the cruise director on the day before.
Money
The currency is the EURO. It is uncommon for local shops and restaurants to accept any other currency.
Credit cards are acceptable for larger purchases in retail shops, but often not in restaurants or cafés.
ATM's accepting most international debit and credit cards can be found in abundance.
Gratuities (Tipping)
Gratuities suggested by the cruise line are:
EUR 3.00 per guest per day for the cruise director
EUR 12.00 per guest per day to be divided amongst the entire crew.
Laundry
Laundry service is available onboard at a nominal extra charge. Unfortunately, dry cleaning service cannot be provided.
Excursions
Most of our programs include a full complement of excursions. Some additional excursions may be available on board at an extra cost. Please check with us or consult the purser onboard for additional information.
Excursions will usually involve a lot of walking, often on cobblestone streets. If you have difficulty walking any distance, please let us know in advance and we will advise how best we can accommodate you.
Regrettably, most of our excursions are not suitable to those confined to a wheelchair.
Activity Level / Strenuousness
Light – At most, participation in the shore excursions requires the ability to walk reasonable distances and some stairs.
Food
Breakfast, lunch and dinner are all included in your cruise fare so you shouldn't be too hungry. It is worthwhile to sample the local cuisine though.
Raw herring may sound a little scary to the uninitiated, but every visitor to the Netherlands should give it a go. You'll spot haringhandels (herring carts) serving up this Dutch specialty all over the city – ask for a 'broodje haring' to get the fish served in a small sandwich with pickles and onions.
Language
Your shipboard staff all speak English of course. The Netherlands has a very high degree of English literacy and you will mostly likely not have a problem communicating with the locals here.
Medical Facilities
There are no medical personnel onboard the ship. However, the purser can contact onshore medical people for emergency and non-emergency situations and rapid evacuation can easily be facilitated in the most urgent cases.
Phone & Internet
There is a phone in each cabin. As is typical, the charges for overseas calls are relatively high.
Free Wi-Fi is available in the main public areas of the ship but not necessarily in all cabins. As internet is provided through a mobile network, bandwidth (speed) will vary depending on the number of concurrent users, the proximity to a cell tower and other factors.
If you would like to have regular data and phone connection, we suggest either arranging an overseas roaming plan with your mobile operator, or pick up a local SIM card if you have an unlocked phone.
Health / Vaccinations
There are no vaccinations required to travel to the Netherlands. As always, we recommend being in good health prior to any long distance travel. Consult your physician with any specific concerns in regard to this program.
Safety & Security
Despite recent events in Europe, the Netherlands is extremely safe.
This being said, being constantly aware of your surroundings and not taking unnecessary valuables with you is always recommended. Leave your passport, extra money and any other belongings you do not need during the day in the safe in your cabin.
https://travel.gc.ca/destinations/netherlands
Suggested Reading
Why The Dutch Are Different: A Journey Into the Hidden Heart of the Netherlands