Vinland Sagas
From $12,680
|
15 Days / 14 Nights
Between 800 and 1000 AD, the feared and fabled Vikings carried out numerous expeditions. Follow the route described in
The Vinland Sagas
, embarking in Iceland and sailing to Greenland before continuing on to Labrador, then Newfoundland, Canada's most easterly province. On the way, visit remote locales which boast fascinating Viking history and astonishing natural beauty.
View Google Map of Region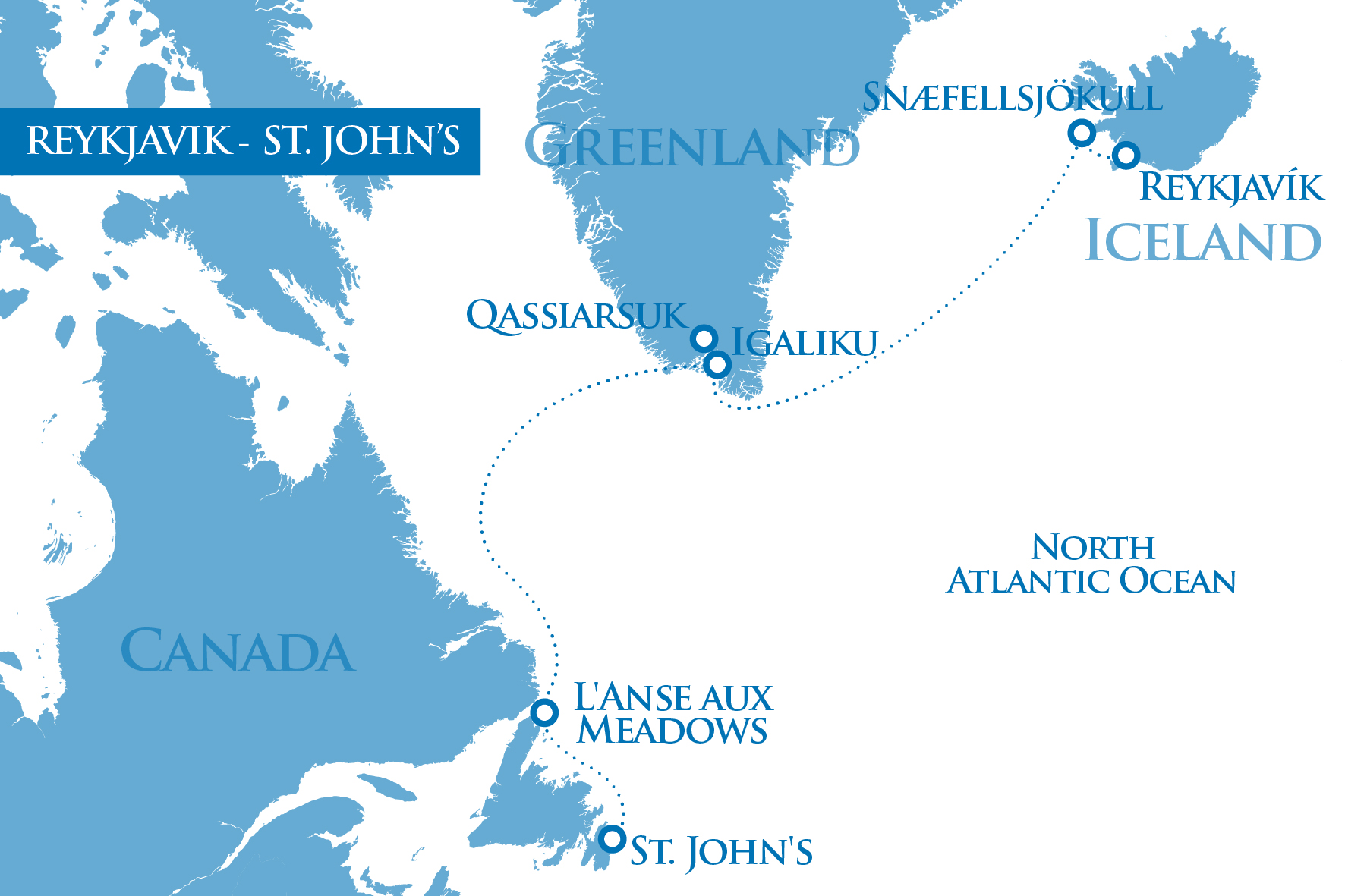 Daily Overview
Day
Destination
Activities
1
Reykjavik
EMBARKATION
2
Snæfellsjökull National Park
See the magnificent Snæfellsjökull glacier

Test your Viking strength at the lifting stones

3
At Sea
Day spent cruising

Learn about Norse Greenland on board

4
At Sea
Sail Prins Christian Sund (weather permitting)
5
South Greenland
See the reconstruction of Erik the Red's estate

6
South Greenland
Discover some of the best-preserved Norse ruins

See the site of the last Viking wedding

7
At Sea
Day spent sailing the same route asLeif Erikson
8
Labrador
Arrive in Labrador, once called Markland
9
Labrador
Experience the natural beauty and wildlife of Labrador
10
Labrador
Hike countless wilderness trails

Learn about local culture and traditions

11
At Sea
Lectures offered on board

Spot wildlife from the deck

12
L'Anse aux Meadows
Explore a UNESCO-listed former Viking camp

13
Newfoundland
Discover local settlements

Learn why Leif Ericsson returned north

14
Newfoundland
Experience Newfoundland's geology and wildlife

Try to spot humpback whales from the deck

15
St. John's
DISEMBARKATION
Detailed Itinerary
DAY 1 / REYKJAVIK / EMBARKATION 
The Vikings were the first people to permanently settle in Iceland. According to The Book of Settlements (Landnámabók), Ingólfur Arnason was the first to settle here, around 870 AD. He named the settlement Reykjavík, "the bay of smoke," after the steam from the area's many hot springs. Today, Iceland's modern capital is the starting point of this expedition.
DAY 2 / SNÆFELLSJÖKULL NATIONAL PARK 
The Snæfellsjökull National Park has many famous sites, and the magnificent Snæfellsjökull glacier is one of the highlights. Other attractions include basalt cliffs and the many fascinating lava formations. At Djupalonssandur, you can also test your Viking strength on the four "lifting" stones: Amlodi (Useless), Halfdraettingur (Weakling), Halfsterkur (Half-Strength) and Fullsterkur (Full-Strength).
DAY 3 / AT SEA 
Rather than rowing a longship across the Denmark Strait to reach Greenland, we'll sail in the modern—and highly comfortable—MS Spitsbergen. Sit in on our Expedition Team's fascinating on-board lectures to learn about Norse Greenland before you arrive.
DAY 4 / AT SEA 
Greenland's southern shores are home to some of the most culturally and scenically diverse regions of this massive island. Conditions permitting, sail through the narrow, 112-kilometer Prins Christian Sund channel, which crosses the southernmost point of Greenland, and enjoy the breathtaking scenery. If the channel is blocked with ice, we will instead sail around Nunap Isua (Kap Farvel).
DAY 5 / SOUTH GREENLAND 
Qassiarsuk is the site where Erik the Red built his Brattahlíð estate in 982 AD. After being exiled from Iceland and escaped to the land he named Greenland. He chose to settle in Qassiarsuk, believing it to be the richest and best site on the island. Join the settlement walk to explore the reconstruction of Erik the Red's longhouse and the church that his wife Tjodhildur made him build.
DAY 6 / SOUTH GREENLAND 
Igaliku is home to the well-known ruins of Garðar, which was once the religious heart of Norse Greenland. In Hvalsey, you'll find some of the best-preserved ruins from the Norse period in the former town of Austurbygd. Erik the Red's relatives established the farmstead in the late 10th century. In 1408, a half a century after the town was established, all of its inhabitants suddenly left. Amidst the ruins, you'll find the remains of the church where the last known Viking wedding took place.
DAY 7 / AT SEA 
At sea once more, you will have ample time to imagine how the crossing must have felt when the Vikings made it more than 1,000 years ago. According to The Saga of the Greenlanders, Leif Erikson, son of Erik the Red, set out in the year 1002 or 1003 AD and the first land he found to the west was covered with flat rocks, so he called it Helluland, the land of flat stones, from the Old Norse hella.
DAY 8 / LABRADOR  
After Helluland, Leif Erikson arrived at a land that was flat and wooded, with white sandy beaches, which he called Markland, which means "Forest Land." Today, this area is known as Labrador.
DAY 9 / LABRADOR 
Experience the rugged landscapes of Labrador, making several explorer-style landings to discover more of the area's astonishing nature and wildlife.
DAY 10 / LABRADOR 
Outdoor enthusiasts will enjoy hiking along countless miles of trails, with much wilderness to explore, whilst others will appreciate learning more about regional history, cultures, and traditions at the numerous historic sites you'll visit.
DAY 11 / AT SEA 
Enjoy a day at sea. On board, there will be lectures on various topics. Or, you may choose to spend some time on deck enjoying the wildlife.
DAY 12 / L'ANSE AUX MEADOWS 
In L'Anse aux Meadows, you'll see the first known evidence of the Vikings settling in North America. This is probably where Thorfinn Karlsefni and several others settled in 1010 AD. In 1960, two Norwegian archaeologists started excavating in this area and discovered the fascinating remains of the Viking camp. In 1979, L'Anse aux Meadows became a UNESCO World Heritage Site. On the recreated camp, you can see original artifacts from this internationally renowned archaeological find.
DAY 13 / NEWFOUNDLAND 
According to the sagas, the Viking settlement Hóp was considered to be the "land of grapes and wheat." When Leif Erikson discovered it, he called the place Vinland, which translates to "wine land." This is where the Norse settlers first encountered Skrælings, the indigenous people. They started trading with the Skrælings, but after a brutal attack, the frightened Norse abandoned this lush land to return north. We can promise, however, that the welcome we will receive while visiting the small settlements in this area will be anything but hostile!
DAY 14 / NEWFOUNDLAND 
With its tiny seaside communities, vast forests, freshwater fjords, bogs, barren lowlands, and striking cliffs, and shorelines, Newfoundland is world-renowned for its complex geology. The wildlife is extremely varied, with large seabird colonies, huge moose and caribou populations, and rich marine life, including several species of whales. With some 10,000 humpback whales visiting the area every year, don't be surprised if you inadvertently capture a whale in a photograph you take on deck!
DAY 15 / ST. JOHN'S / DISEMBARKATION  
St. John's is the oldest and most easterly city in North America. Here, your Vinland Saga Adventure ends. We recommend that you explore this historic town, with its excellent shopping and striking twin clock towers at the Basilica of St. John the Baptist. Next, prepare for your onward journey.
Dates & Prices
Itinerary Code (Name of Itinerary)
Itinerary Start Date
 Route
Duration (Nights)
Ship Name
Fare Range
Category Price PP
Polar Inside
Polar Outside
Arctic Superior
Expedition Suite
B
I
K
J / AJ
A / N
O
P
U
QJ
Q
MG
MX
ENAR-04
(Vinland Sagas)
6/12/2017
Reykjavik/St. John's
14
MS Spitsbergen
Min
$12,680
$13,300
$13,940
$14,760
$16,150
$16,870
$17,540
$18,170
$20,900
$22,040
$23,120
$28,740
Max
$16,910
$17,730
$18,590
$19,680
$21,540
$22,490
$23,390
$24,230
$27,870
$29,380
$30,830
$38,320
Prices are per person based on double occupancy.
ENAR-04 Port Charges: N/A
ENAR-04 Single Supplement:
Polar Inside: 50%
Polar Outside: 75%
Arctic Superior: 75%
Expedition Suite: 100%
Inclusions
Hurtigruten Expedition voyage in cabin grade of your choice on a full board basis (daily buffet breakfast, buffet lunch, and set or buffet dinner)
Wind- and water-resistant jacket
Landings and activities on board and ashore
Professional English-speaking Expedition Team that gives lectures as well as accompany landings and activities
Complimentary use of Muck Boot rubber boots
Complimentary tea and coffee
Ship Details
MS Spitsbergen
| | | | | | | |
| --- | --- | --- | --- | --- | --- | --- |
| Built | Length | Decks | Cabins | Passengers | Cabin Size | |
| 2009; Refurbished in 2015/16 | 97.8m | 6 | 100 | 335 | 9 - 33m² | More Details |
Travel Tips
The Arctic
Travel Documents / Visas
1. Passport
Canadian citizens must have a valid passport for entry to any of our Arctic destinations.
Our cruise partners require that your passport be valid for 6 months after the end date of your trip.
Citizens of other countries should consult with their travel agent or our office.
2. Visa
No visa is required for citizens of Canada to enter any of our Arctic destinations.
Packing List
A handy checklist of what to bring on your trip can be downloaded here.
Insurance
You MUST have travel insurance to participate in any Arctic program. Options on coverage are available from your travel agent or here.
Smoking
Not permitted anywhere indoors. There are designated areas on the outside decks.
Weather
The weather in the Arctic regions of the North Atlantic can vary greatly depending on fronts that can move fairly rapidly in conjunction with ocean currents. We advise to be on the safe and bring adequate warm cloting.
Summer days often do not exceed 10C, although it is possible for temperatures to reach into the high teens under the strong sun in protected areas like Greenlandic fjords.
It is typically quite dry in the summer months but can be very windy, particularly when crossing open stretches of sea. The wind combined with the cool temperatures could make it feel colder than it actually is. As is so often suggested, dressing in layers is the best way to stay warm and yet account for the changing temperatures.
Arrival / Departure
Upon booking, we will provide detail instructions on where to check-in for your Arctic expedition depending upon your embarkation point.  We strongly suggest arriving at least one day prior to avoid any chance of missing the sailing since there is no easy way to join the ship after it has departed.
On your return, if you are flying back home the same day as the ship arrives (assuming you are not on a program where the charter flight is part of the program), we strongly recommend that you stay over at least one night were possible. Although very rare, weather conditions could delay the exact return time and we cannot assume any responsibility for missed flights due to any delays.
Money
The currency of Norway is the Norwegian Kronor (NOK).
The currency of Greenland is the Danish Krone (DKK).
The currency of Iceland is the Icelandic Krona (ISK).
Onboard, you will be issued a cruise card which you can use to charge all purchases during your voyage. You must provide a Visa, American Express, Diners or MasterCard that is valid for at least 3 months after your trip date.
The final bill will be charged to your account in Norwegian Kronor (NOK).
ATM's accepting most international debit and credit cards can be found in abundance in Norway and Iceland. However, after you leave these cities for the trip, it is extremely unlikely you will see another ATM until your voyage ends. We regret, there is no currency exchange facility onboard the ship.
For small purchases in Iceland and Greenland, you should have some of the local currency as USD may not be accepted.
Gratuities (Tipping)
Gratuities suggested by the cruise line are:
USD 12.00 per guest per day to be divided amongst the entire crew.
Laundry
Laundry service is available for a small fee. Regrettably, dry cleaning is not available.
Excursions
All regular shore landings as noted in the itinerary are included in your voyage. Some additional excursions may be available on board at an extra cost. Please check with us or consult the purser onboard for additional information.
Many shore landings will start a zodiac boat ride to shore where you will land and be assisted onto shore via some portable steps. The ground is sometimes covered with small rocks / gravel.
Activity Level / Strenuousness
Light to Moderate – Participation in the shore landings requires the ability to board (with assistance) a zodiac boat from the main ship and on to shore. There are generally no long distances to walk on the Arctic programs.
Food
Breakfast, lunch and dinner are all included in your cruise fare.
Should you have the opportunity to sample Greenlandic fare, you should jump at the chance. Much of the food here comes either from the sea like the infamous Greenlandic halibut, but also truly 'free range' meat from animals like the reindeer, muskox, and local lamb.
When in Iceland, you'll find that the food is somewhat more "Europeanized". However, local dishes such as "Hangikjöt" (smoked lamb) or "Skyr" (kind of like yoghurt but not), are well worth trying. If you are really brave, look for "Svið" which is boiled sheep's head. They say it's delicious.
Language
In all the stops along the way, you will find that the local people speak at least some, if not fluent, English. You may find run into a real native Greenlander who doesn't understand you, but then you'd be lucky.
Medical Facilities
There is an English-speaking physician and nurse on board at all times. The ship has a small medical facility with the necessary equipment and drugs to handle small emergencies. In the event of a serious emergency, the nearest hospital will be contacted. Medical consultations as well as medicines will be charged to the passenger affected. If you depend on medication, remember to bring sufficient supplies to last through any unforeseen delays. We also recommend that you keep your medication in your hand luggage properly labelled and with clear instructions for its use. If you depend on vital drugs, please inform the ship's doctor upon arrival.  Illness on board can lead to quarantine and orders from the ship's physician and captain, must be followed.
Phone & Internet
There is a phone in each cabin. Call rates are very high as a satellite connection is the only one possible.
Wi-Fi is available in certain areas of the ship at a modest charge. As it is a satellite connection, internet speed will be very slow and we suggest it be used for urgent matters only.
Health / Vaccinations
There are no vaccinations required to travel to Arctic destinations. However, we suggest you consult your physician with any specific personal requirements for this program.
You must also have travel insurance to participate on this voyage.
Safety & Security
Our ships are equipped with the latest in emergency communication, life boats and other equipment to deal with any kind of problematic event. If you have any questions or concerns, please contact our office for more details.
The destinations involved do not currently have any security threats.
Suggested Reading
This Cold Heaven: Seven Seasons in Greenland
Arctic: A Guide to Coastal Wildlife
Vikings: The North Atlantic Saga
Baffin Island: Field Research and High Arctic