A Voyage Through Arctic Canada and Iceland
From $6,530
|
14 Days / 13 Nights
Exploring the coastline of Newfoundland and Labrador in Canada is an amazing adventure, with a national park, several settlements, and intriguing cities. Although the area is wild and remote, you'll probably be surprised by the rich history to be found here – along with stunning scenery and exotic wildlife – on our journey between Canada and Iceland. Learn about the fascinating history of the tribes who lived in the area for thousands of years, and the people living here today.
View Google Map of Region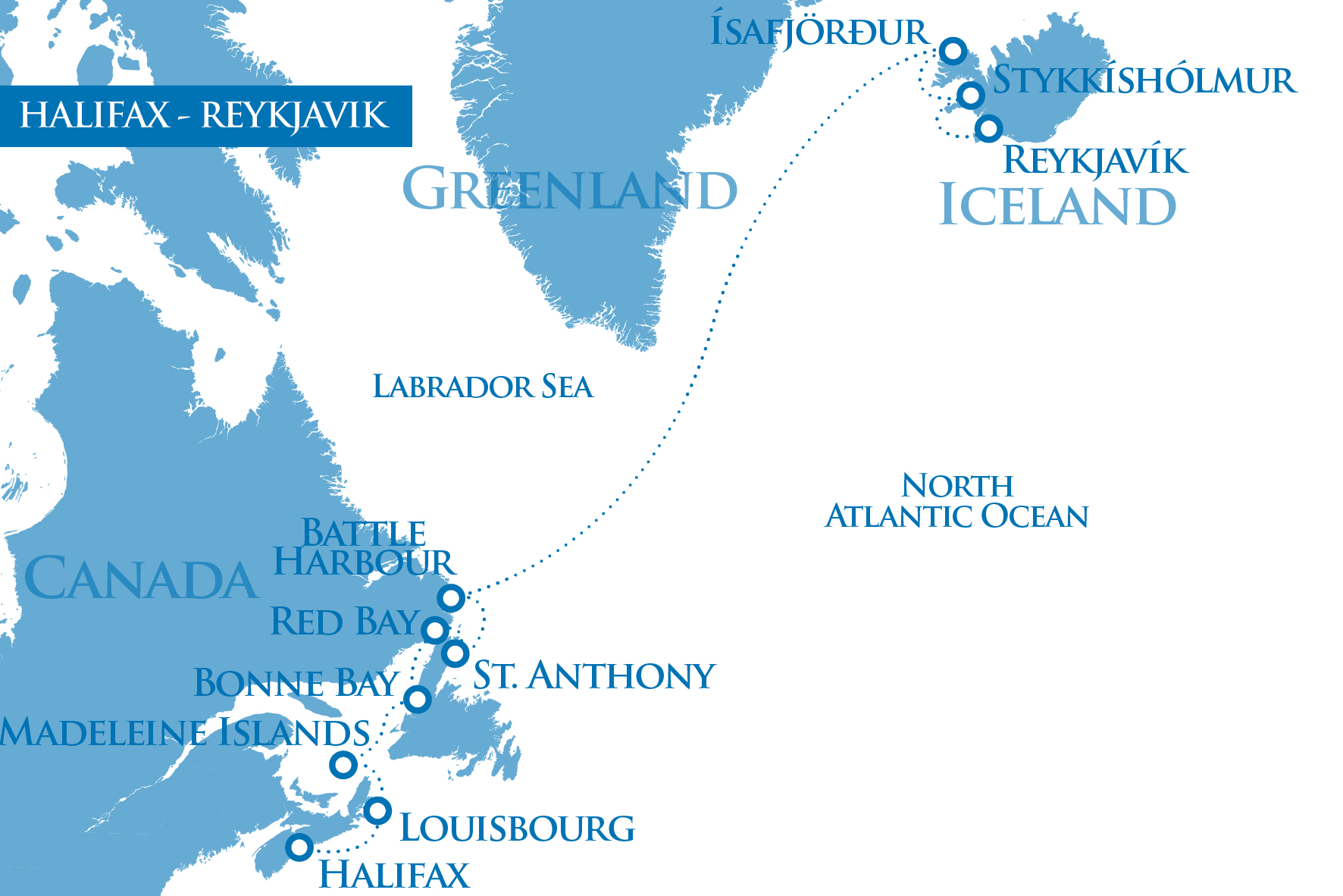 Daily Overview
Detailed Itinerary
DAY 1 / HALIFAX
Halifax's natural harbor first drew the British here in 1749. Today, most sites are located along the waterfront or in the Citadel-crowned hill overlooking this harbor. The 260-year-old provincial capital features Nova Scotia's strikingly modern districts that border the historic heart of town. Both hip and historic, Halifax is well worth an extra day or two before you embark on your expedition with MS Fram.
DAY 2 / LOUISBOURG 
Sailing along the eastern shores of Nova Scotia, we head for the large island of Cape Breton. Then we reach Louisbourg, home to an historic jewel, the Fortress of Louisbourg National Historic Site. Here, you can experience what life was like in the bustling French-fortified town of Louisbourg in 1744. You can also choose to spend the day exploring a secluded beach or go scuba diving among shipwrecks. As you might expect, the rugged coastal setting offers plenty of outdoor adventures, with fantastic hiking and biking trails. As one of the busiest crab- and lobster-fishing villages in the Canadian Maritimes, Louisbourg Wharf is the perfect place to watch the day's catch coming in, and maybe even sample some fresh seafood.
DAY 3 / ÎLLES DE LA MEDELEINE
Twelve islands make up the roughly 62-mile-long sand archipelago called Îles de la Madeleine. The six largest of these islands are connected by many miles of thin sand dunes, peppered with fuzzy tufts of grass. Shaped by wind and waves, the iron-rich red and gray sandstone cliffs amaze with their spectacular forms. The coastline is dotted with harbors, multi-colored houses, and picturesque bays. We dock at Cap-aux-Melules, home to more than half of the archipelago's population. Long before the arrival of Europeans, native people came to the islands to fish and hunt for seal and manatees – also known as sea cows. Preceded by Basque fishermen, Jaques Cartier arrived in 1534 and wrote in his logbook the first recorded reference to the islands. By 1765, the islands were inhabited by 22 French-speaking Acadians and their families. The locals who live here today are called 'Madelinots', and they identify themselves both as Acadians and Québécois. Others are descendants of survivors from the more than 400 shipwrecks on the island. Go ashore and discover this little outpost, where high winds and ocean storms are a part of life. Have a bite to eat at Café la Côte, Pas Perdu, or Café d'Chez Nous, or have something to drink at Bar Le Central to feel the island's bohemian pulse. If you feel like being active, you can go kayaking or enjoy a hike in this relatively flat terrain.
DAY 4 / BONNE BAY
Scenic Bonne Bay is among Newfoundland's most beautiful bays – a deep mountainous fjord located on Newfoundland's breathtaking west coast that divides the Gros Morne National Park in two. Gros Morne is a combination of protected areas and small coastal communities with a rich culture and tradition of fishing and logging. From deck you can see the Tablelands Mountains: flat-topped rock outcroppings that are usually found deep in the Earth's mantle. Their geological uniqueness is the main reason the park has been named a UNESCO World Heritage site. It took millions of years to mould the mountains into what we can see today, and the sight is truly beautiful and awe-inspiring. Woody Point, in the south of the park, is a charming community of old houses and imported Lombardy poplars. Moose, caribou, foxes, black bears, ptarmigans, and eagles are commonly seen here. A visit to the higher regions of this ancient landscape will be unforgettable.
DAY 5 / RED BAY
Red Bay embodies the essence of modern Labrador coastal living amid a tapestry of rich culture and history. From 1530, Red Bay was a center for Basque whaling operations. For more than 70 years, these whalers made the dangerous, month-long journey across the Atlantic to hunt whales and produce the oil that lit the lamps of Europe. At its peak, some 2,500 whalers on 50 ships from France and Spain came to hunt right and bowhead whales for blubber. The discovery of galleons and chalupas used for whale-hunting made Red Bay one of the most exquisite underwater archaeological sites in North America, and the Red Bay Basque Whaling Station is now a UNESCO World Heritage site. Today you can wander around this former whaling town and immerse yourself in history. Tracey Hill Trail is a boardwalk consisting of 689 steps, descriptive panels, rest stops, and two coin-operated telescopes, which offers a breathtaking view of Red Bay. Walk along the Bone Shore Trail that leads to where the whalers discarded whale bones. Take a hike along the beach and step into the interpretation center to see a 26-foot chalupa that whalers used on the ocean to harpoon their giant catch. To gain a full appreciation for the size of these whales, compare the chalupa to the assembled collections of whale bones displayed. These boats showcase a time of prosperity and dangerous adventure, and illustrate a long-ago way of life. Take a kayak trip to Saddle Island Trail, where you can see the remnants of the ovens where whale blubber was rendered into oil and the graves of some 130 men who died here. And if you feel like going treasure hunting while we are here, local legend has it that the infamous pirate Captain Kidd hid a treasure in the Pond on the Hill.
DAY 6 / ST. ANTHONY
As we make our way even farther north, we arrive in St. Anthony, a remote town set in a perfect natural harbor. The waters here contain an astonishing number of icebergs and are also feeding grounds for a large number of whales. Seals, dolphins, and porpoises are commonly seen here too. Just outside the town border is a vast wilderness of pristine valleys and lake-dotted mountains, and perhaps the highest density of moose and woodland caribou in the world. Other wildlife include the enormous black bear, coyote, wolf, snowshoe hare, and Arctic hare. Go ashore to visit the town, and see the Fishing Point Municipal Park. The Grenfell Museum depicts the life and times of Sir Wilfred Grenfell, a medical missionary who devoted his life's work to Northern Newfoundland and Labrador. For the best view of the area, hike up the Tea House Hill trail to the viewing platform or try the Whale Watching trail. For some Viking history, join the excursion to L'Anse aux Meadows. Here, at the tip of Newfoundland's Great Northern Peninsula, you find the first known evidence of European presence in America. This is where a Norse expedition sailed from Greenland and found a beautiful land with rugged cliffs and marshlands over a thousand years ago. They built a small camp, and in 1960 two Norwegian archeologists started the excavation and discovered the fascinating remains of this Viking encampment. In 1979 L´Anse aux Meadows became a UNESCO World Heritage site. On the recreated camp you will find original artifacts from this internationally renowned archaeological find.
DAY 7 / BATTLE HARBOUR 
Located on the edge of the Labrador Sea, Battle Harbour is a nature lover's paradise. The waters here are teeming with life and drama, with ancient ice and icebergs carved by nature. On shore you will find beautiful historic buildings in the middle of the wild nature. Once, Battle Harbour was the bustling salted codfish capital of Labrador. Today, the houses, stores, fishery buildings, and churches have been restored and filled with genuine, historical items. Soak up the atmosphere and fully experience the sounds of the ocean and the simple pleasures of times past. Today it is a great wilderness adventure destination, so you can encounter whales, dolphins, seabirds, Arctic foxes, icebergs, and the spectacular island scenery on one of our hikes or boat tours.
DAY 8 – 11 / CROSSING THE NORTH ATLANTIC
Leaving the coast of Labrador and Canada behind, we head out to sea, our course set for Iceland. Ahead lies roughly 1,300 nautical miles of open water across a stretch of the North Atlantic Ocean. Thousands before us have traveled these waters. In early times, their boats were small and ill-equipped, and their destinations were unknown. Today you can sit back and relax as modern navigational systems guide us to our desired destination. Traveling today is safer, but still exciting. The days at sea will be busy with lectures and you'll have time to chat with fellow travelers, perhaps to share what you have seen and done so far. Take the time to stay out on the open decks. Breathe the salt air, feel the wind, and look for birds, mammals, and icebergs.
DAY 12 / ÍSAFJÖRÐUR
As we sail south we reach the west region of Iceland. Thanks to the ancient volcanoes, this remarkable landscape towers above the deep fjords. Ísafjör?ur is nature at its finest, and as we arrive you will understand why the area is called 'The Sagaland'. Take a stroll around this small town and enjoy its diverse architecture. You'll find the country's oldest dwelling here, along with fine examples of timber houses built by wealthy foreign traders in the 18th century. Ísafjör?ur is also home to the best bakery in Iceland, Gamla Bakaríi?, a place you should certainly visit during our stay here! Our optional excursions offer a variety of experiences from hikes to tastings of local food.
DAY 13 / STYKKÍSHÓLMUR
Stykkishólmur is located by Brei?afjör?ur Bay on the north of the Snæfellsnes peninsula, and is surrounded by so many islands that they can't be counted. There are many reasons why people flock to this idyllic town, but its conservation of cultural heritage and history, as well as its environmental awareness, play a big role. Some of the biggest attractions are the old houses you will find in the midtown, which feels like a place from a different time. The town and its inhabitants have systematically rehabilitated these houses, and they have gained new and exciting purposes. What was once a library is now an art installation space, a fish-packing house is now a restaurant, and the old recreation center is now a volcano museum. Other places of interest include the swimming pool with its Fresenius-certified water, which locals claim has regenerative powers, and several hiking trails. Close by you will also find Snæfellsjökull National Park with its mysterious Snæfellsjökull Glacier, author Jules Verne's entrance to the center of the earth. Take your time to explore Stykkishólmur's environmental diversity with its lava and rock formations, glaciers, volcanic activity, and hot and cold springs. Participate in a range of exciting excursions such as kayaking, hiking, and horseback riding.
DAY 14 / REYKJAVIK
Reykjavik is the world's northernmost capital city, and this is where your expedition ends. Norwegian settlers named the place 'Reykjavik' (meaning 'Smoky Bay') after the columns of steam that rose from the hot springs in the area and made such a profound impression. The surroundings offer fantastic natural beauty with geysers, mountains, glaciers, and geothermal hot springs. If you have some time, explore mythical Iceland before you fly home.
Dates & Prices
Sailing Dates:
May 10, 2018
Hurtigruten uses variable pricing, whereby the price fluctuates depending on how early you book, cabin availability etc. Please call us at +1.866.760.1987 to receive a quote.
Starting from price reflects the price per person for the cruise only, based on double occupancy for the May 2018 sailing in a category I cabin. Price is inclusive of taxes and port charges.
Inclusions
Hurtigruten expedition in the cabin grade of your choice on a full-board basis
Wind- and water-resistant jacket
Landings with small boats and activities on board and ashore
Professional English-speaking expedition team that gives lectures and accompanies landings and activities
Complimentary tea and coffee
Not Included:
International flights
Travel insurance
Luggage handling
Optional excursions and gratuities
Ship Details
MS Fram
| | | | | | | |
| --- | --- | --- | --- | --- | --- | --- |
| Built | Length | Decks | Cabins | Passengers | Cabin Size | |
| 2007 | 114m | 7 | 127 | 318 | 10.5 - 39m² | More Details |
Travel Tips
Coming Soon!
Please stay tuned for travel tips tailored for this itinerary!
For any immediate questions, please contact us as 905.258.7778.